Although every person has a different lifestyle and different ways of leading their life, the one basic thing that everyone believes in and would agree upon is having nice house designs for their perfect home.
As much as you love designing and decorating your interior space, it is important to design your house as well because the right home design caters to the specific requirements of the residents and enables easy movement.
Building a house, in today's day and age involves a lot of investment, which can increase substantially depending upon the location, size, and features you are looking for.
An ideal house design is dependent on various factors like land, topography, environment, neighborhood, and other supporting factors like sunlight, weather, appropriate materials, finishes, and the budget.
Therefore, it is of utmost importance to create a plan with all these factors in mind.
As architects, you understand practicality, economy, function, aesthetics, safety & security, site constraints, style, and a host of other issues whereas interior designers deal with the designing and styling of the house for the accomplishment of the objectives set by the homeowners.
An architect is the best person to incorporate aesthetic appeal into the house by matching the requirements of the client with justified designing, functionality, and structural strength. Understanding and resolving every problem as it comes based on skills and best judgment is required.
Moreover, the client may have endless expectations.
Therefore, an architect needs inspiring design ideas to build a home of their client's choice. Whether it is a certain type of front elevation design, open rooftop with a dining space, big balcony, elaborate garden, wide porch, single-story, or duplex that the client wants, there are numerous inspirational designs for each and every aspect.
That said, it is quite challenging to find both aspects of house design in one place. This makes it all the more important for architects and interior designers to understand both aspects in detail.
Thus, a good and efficient architectural layout and an aesthetic interior space are both equally important. These go hand in hand for the creation of a magical home.
Hence, we have put together few house designs for interiors as well as exterior to resolve this issue and amplify your house.
This article will take you through various aspects of house designs, such as:-
1. House design plan /map
2. House designs 3D plan
a) Living room designs
b) Bedroom designs
a) House window designs
b) House color designs
c) House door designs
d) House floor designs
e) House ceiling designs
f) House staircase designs
g) House wall designs
4. Exterior house designs
a) Farmhouse designs
b) Simple house designs
c) Bungalow house designs
d) Modern house designs
a) House front elevation designs
b) Single floor house designs
c) House gate designs
d) House balcony designs
e) House rooftop designs
f) Duplex house designs
g) House garden designs
5. House design images/ photos
Image Source: Cadbull
As we know that planning is the first step towards the achievement of final goals and objectives. A proper house design plan is one of the major aspects of building the house of your dreams.
A floor plan or a house plan is the rough draft of the house enabling the entire construction process to function smoothly. It is an architectural depiction of what the house will look like when done entirely.
First of all, a floor plan is made to facilitate construction and then any changes or revisions are resolved prior to the commencement of construction work. This results in time utility and saves the money of the homeowners making the process quicker in real-time.
A house plan is a set of construction drawings defining all the specifications of a residential building. It constitutes various factors such as dimensions, materials, layouts, installation methods, techniques, etc.
Image Source: SAMhouseplans
This house design plan is a steal as it is equally stunning for the exterior design as well as interior design.
This 2D house design plan is packed with information and provides basic insights about the house, such as room area, total build-up area, traffic pattern, etc.
Coupled with the placement of windows at strategic points, the house ensures good ventilation and avoids harsh daylight. Moreover, the glass windows make the house look airier and brighter.
Image Source: shaymeadowranch
People tend to love such modern yet contemporary houses for their minimalist yet extravagant style. Moreover, such house designs can be called minimal as well as luxurious and elegant at the same time.
This remarkable contemporary layout is recommended for those who love simple yet lavish concepts. The usage of glass windows dominates the design and takes it a notch higher.
Image Source: Drummond House Plans
This house plan beautifully showcases a well-thought-out design. It is as practical and elegant as it can get.
Full of delightful features, this house design maximizes space in its open floor plan and fits all the requirements that a busy family requires.
A three-dimensional house design plan is nothing but a 3D floor plan. It is a virtual depiction to generate a photo-realistic rendering of the layout of the house from the birds-eye view.
A 3D house plan provides a perspective making it easier to understand the size and layout of a space. It typically includes elements like windows, doors, flooring, etc.
Image Source: Behance
This 3D plan represents the architectural layout of the house much more realistically.
A wide living room area that gives way to the open dining space is a great way of using maximum space. Additionally, it is a lot more convenient when each bedroom has its own assigned bath, just like this floor plan.
Image Source: Behance
A house design plan with plenty of garden space ensures lots of outdoor time. This long and luxurious house is perfectly designed for big or joint families.
Incredibly spacious, modern, and welcoming, this 3D floor plan features a master bedroom with its own balcony making it ideal for most people.
Image Source: Pinterest
This three-bedroom house can be perfect for a variety of arrangements offering a separate room for children. Moreover, this house design plan offers enough space to set up a home office and a guest room as well.
The visualization shows different ways in which the bedrooms can be put to good use.
Interior design for house: Types
People spend the majority of their time in the living room. Therefore, it not only needs to look great but also needs to be warm, cozy, and functional. Although mastering this trifecta can be a design challenge, here are a few living room designs to inspire your decorating projects.
From a modern and formal space to approachable and rustic environments, there's a living room idea you will want to incorporate in your home for sure.
Image Source: EnglanderLine Ltd
Nothing compares to crafting a stylish and rick-looking living room design suitable for enjoying family time.
The white walls and an open arrangement in the floor plan creates an enviable balance to maintain harmony among all the elements of the interior.
Image Source: Pinterest
Apart from being fun and colorful, this living room house design has an energetic vibe to it.
Starting with the accent wall that beautifully reflects the light of the chandelier and the big window with white curtains to avoid harsh daylight, it is the perfect example that it is such small details that make a house well-designed.
Image Source: Modsy
The highlight of this house design is the neutral color palette. It accomplishes the designer feel and brings about a cozy and sophisticated vibe altogether.
Moreover, the furniture is expertly used to bring in the much-needed contrast for visual interest.
The bedroom remains a place of solace and solitude for everyone. Therefore, it is important for it to be warm and welcoming.
Ranging from ultra-sleek minimalism to Scandinavian schemes, there is a bedroom design for every personality to double the style factor without compromising on the functionality.
Image Source: Behance
Although having a dark theme, this bedroom design has the power to promote a positive mood. Providing a safe space to rest and unwind, the bedroom should definitely be designed as per your preference.
Also, make sure that the design reflects your style, incorporates your favorite materials, colors, and patterns, reflects the right light, and maximizes space.
Hence, this bedroom offers inspiration to revamp your old space or even design a new one from scratch.
Image Source: Behance
This bedroom design is perfect for you because it offers plenty of storage space without consuming too much square footage. This is due to the sliding wardrobe on both sides of the bed.
Moreover, the neutral grey color beautifully complements the wooden material of wardrobes creating a minimalist and elegant space.
Image Source: Behance
Make way to a restful night's sleep in this muted grey bedroom that promotes relaxation and sleep. Furthermore, create a stunning headboard feature wall with the help of a sliding wardrobe that is chic as well as highly functional.
This design uses concealed LED lights to make a truly unique installation that is hard to find anywhere else.
To find the most appropriate kitchen design, it is important to keep in mind the different types of kitchen layouts. The most common kitchen layouts in India are L-shaped, U-shaped, straight, island, and parallel.
Each layout has different unique characteristics with respect to the placement of the cooking, cleaning, and storage zones.
Image Source: Urban Company
This country-style farmhouse kitchen will always ensure that you love spending time here.
The white, glossy, and laminated countertop perfectly complements the brown cabinetry and accent lighting. Moreover, a touch of greenery with little plants adds contrast and takes the space to another level.
Image Source: Backsplash
The gloss finish laminates used in the cabinetry of this kitchen design will make your kitchen look bigger, rather than just closing off the occupied space.
It is perfect for softly distributing the daylight peeping through the windows.
Image Source: Behance
This kitchen design offers intelligent storage solutions. Hence, a design like this will help you get the most efficient workspace for your kitchen.
Further, the dark color of the cabinetry is a modern take on modular kitchens and is enhanced by the right placement of concealed LED lights.
Interior design for house: Elements
While considering adding windows to your space, you want designs that will suit your home's overall design and your requirements in general.
Most importantly, windows form an essential element of any house design. They not only add to the attractiveness of the house but also are a means to allow natural light and air inside.
Image Source: Laura Fiorio
This wood window design is a steal for your house as it is a statement-making piece and will surely stand out. The material adds warmth to the space and makes it look larger.
However, the purpose of brightening the interiors remains constant.
Image Source: Collov home design
This window design is ideal for those looking to replace their opaque doors or walls with see-through glass windows.
Adding an aesthetic appeal to the entire space, these windows are best installed where the view is at its best. Subsequently, this window offers an expansive view of the outside which can make or break the entire look and feel of the house.
Image Source: Doughlas sheppard
A long and wide casement UPVC window is perfect for such a setting. These window designs have gained immense popularity recently and are easy to clean as well.
Providing for natural ventilation and chic looks, this window design offers ease of operation as well.
Since every nook of the house serves a unique purpose, it is not fair to design it all in a similar manner.
Likewise, the walls of the have the capacity to take center stage and become a focal point. Choosing the right colour for your house will make all the difference and make your house interior designer approved.
House color design #1
Image Source: Behance
This fail-proof ultra-light powder blue colour for walls ensures brightening up any house and your mood as well.
Pairing it with the classic white ceiling and cornices in the same colour binds together the entire look. Moreover, furniture and accessories in a similar neutral theme elevate and complete the look altogether.
House color design #2
Image Source: Kitty Cotten
If an intense and dramatic colour appeals to you, don't be afraid to incorporate it in your abode. Rather find the right wall to paint it with.
This right here is a great example of such a situation. The dark green color in this living room looks eye-catching and adventurous without making the space look compact.
The correct placement of color, opposite to the window, in this case, changes the entire look and feel of the space.
House color design #3
Image Source: Kaylee Ruppel
When in doubt, go back to basics!
This classic grey neutral house design colour brings out a format and sophisticated look. It is the perfect color to make the space look bigger without making it too dull and gloomy.
Little did we know that there are so many different types of doors to amp up your interior design.
From battened & ledged doors to glass & wooden doors and from hinged to bi-fold doors, there is a vast range of doors available in the market today.
Moreover, choosing from these countless door types will impart your space with the ideal appearance and maintain the functionality as well.
Image Source: est living
These kinds of arched glass doors offer the versatility of style and look visually pleasing as well.
The framework of such doors is made in accordance with the requirement and area in your home. The blue-tinted glass imparts an expensive look and a vague view of the other side.
Image Source: The Local Project
Deciding whether you want a door to open outwards or inwards is very crucial in any house design. This should be done to avoid any hindrance in movement.
This black door makes a chic pair with the wooden flooring and the sturdy material guarantees high durability.
Image Source: Urban Front
When talking about doors, it is unfair to leave out the traditional wooden doors. Although a lot of other materials have surfaced in the market which are loved by the homeowners, wood doors do not seem to lose their charm at all.
However, there are several wood substitutes as well which are equally sturdy and classic looking.
The maximum amount of real space in any house is occupied by the floors. Hence, it is very important to pay attention to floor styling and designing by exploring various available options.
Ranging from tiles to faux wood, floor coverings are available in a wide range. Floors, in a house, not only provide a walking surface but also beautify the space.
House floor design #1
Image Source: R Architecture
Imitating real wood, laminate flooring is a multi-layer synthetic flooring option. It allows you to enjoy a wood-like floor without the actual use of any solid wood in its construction, allowing it to be more environment-friendly.
In this case, a high-gloss laminate is used as the floor covering that beautifully complements the blue furniture. Moreover, due to the glossy surface finish, the floor reflects the right amount of light making the space look bigger.
House floor design #2
Image Source: R Architecture
Modular carpet flooring is easy to move around and easy to replace when required. It offers great design flexibility and is cost and time effective too. It is an easy to maintain and highly durable option.
However, carpet flooring is not suitable for wet application areas.
House floor design #3
Image Source: R Architecture
The charm of natural stone adds a marvelous look to any home design and acts as a cooling element to beat the heat. This is the reason for their seemingly increasing popularity.
The grey color and very fine grain provide the perfect match for the ongoing color scheme. If you want to add a little touch of luxury, stone floor tile provides quality, at a premium price. Some popular ones are granite, marble, limestone, slate, and travertine.
A great ceiling design is responsible for catching the eye and completely transforming the home. However, thinking of ceilings, white, flat, and boring is what comes to our mind.
Although not many people think of incorporating unique ceiling designs in their homes, ceilings give a room unique character that no other element is capable of.
Image Source: CASACOR
Make any small and compact room feel bigger and spacious by installing a floor-to-ceiling design panel. The warmth of the wood and the brightness of the accent lighting confuses the eye into seeing a larger space.
Furthermore, consider the beauty of your ceiling as an integral part of the home decor.
Image Source: The Architects Diary
Install this wooden grid-patterned ceiling design with concealed lights to completely change the look and feels of the room without having to remodel the entire space.
The coffered ceiling is a money-savvy way to enhance the aesthetic appeal of your rooms.
Image Source: Da Vinci Lifestyle
This modern and luxurious ceiling design blends perfectly with the overall theme of the house. While there are innumerable colors to choose from, classic white still remains on top of certain people's lists.
The chandelier is the center of attraction and makes this otherwise simple ceiling a rich, exclusive, and exceptional affair.
More often than not, when people think about designing their home, the staircase is the most neglected element. It is probably one of the last things that pop into one's head.
After all, the idea of playing around and transforming other spaces like the living room or bedroom seems far more fascinating than doing the stairs. But, the staircase can prove to be one of the core design pieces in a home.
Moreover, they add functionality, insane visual appeal, and grab everyone's attention as well.
Image Source: PUFIK
Modern houses composed of stone and glass may not seem as impressive and cozy. On the contrary, this house has elements that are well-thought-out.
The selection of material is approached carefully and the combination of glass, stone, and wood for this staircase design flows perfectly with the theme of the house and ultimately results in a single unit.
Image Source: Bored Panda
This minimalist yet modern and dramatic staircase design resembles a strand of DNA inside the two-story home.
Additionally, the wooden panels provide for the upper and lower levels of the stairway creating a stunning piece. The wooden treads give strength and structure to the design and fulfill the futuristic fantasy.
Image Source: Allen Construction
With curved railing and a contemporary look, this staircase design for the home is a decorative consideration. Serving the dual purpose of functionality and simplicity, the distinguishing feature of this staircase is its colors.
Moreover, the usage of primary colors in the hand-painted tiles, particularly blue, creates an artful contrast with the floor and walls.
In today's designing world, the creative decoration of a particular wall can morph the space completely. When you manage the different factors of light and color in a proper manner, you can easily create a masterpiece. 
When designing the walls of a room, your creativity and imagination need no boundaries. However, you must ensure that the decoration blends well and looks elegantly tied in with the style of the room as a whole. 
Moreover, the materials used for styling the walls must be consistent with the general aura of the room.
Image Source: A+T Associates
Choose your favorite colors, patterns, and designs that reflect your personality and positively affect your mood.
Similarly, this wood accent wall features a cutout with iron bars. It makes your space more inviting and welcoming by adding warmth to it.
Image Source: Behance
No matter what your decor style is, this contemporary and comfortable house design will surely turn heads due to its impactful visual appeal.
Also, the color and style of walls can make a big difference in the overall appeal of the space.
Moreover, this PVC wall proves to be vibrant, exquisite, and economical in the long run.
Image Source: Civil Engineering Discoveries
This modern wood feature wall makes your home inviting, comfortable, and stylish. It creates an ambiance of artistic, unique, eclectic interiors.
Moreover, a wood veneer with warm accents will add a status of class to your TV wall. The arrangement of wooden panels is done in such a manner that each component reflects light at different angles.
Therefore, this wall design idea is impossible to miss.
Exterior house design: Types
Farmhouse plans, commonly known as farmhouse home plans, vary from region to region. However, the gabled roofs and big porch areas are a common feature found in all farmhouses.
Homeowners, usually, neglect the importance of designing the farmhouses and deprive them of practicality and functionality.
Of late, there are several farmhouse designs and styles available to choose from that fit right in with the suburban as well as the rural culture.
Image Source: Dwell
This country farmhouse has a family-friendly design and blends perfectly with the suburban lifestyle. The design has a touch of classic rural farmhouse and offers a homely feeling.
The reclaimed wood frame provides a sturdy outdoor and acts as a decorative element as well. Having a huge wraparound porch and a wide space to easily occupy people, this farmhouse design features a spacious, functional kitchen as well.
Image Source: Farmhouse Living
This modern farmhouse plan features clean lines and an open floor plan. Having a sleek look and stylish outer appearance, this design blends in with the standard sizing.
Conceptualized by the beautiful amalgamation of elegance, location, and size, this is a low-maintenance house wherein the glass windows give a clear view of the outside.
Image Source: homedsgn
This gorgeous farmhouse design avoids using any unnecessary elements and is free from clutter making it way more peaceful and serene. Moreover, the ample windows and open floor plan elevate the look of the house bringing it towards the modern-day.
Additionally, the placement of tall windows at strategic points provides optimal natural light to the key living areas.
This farmhouse design succeeds at having an authentic connection with the agricultural landscape it is located in.
b) Simple house designs
A simple house design has a compact floor plan that does not restrict the design from exploring the best possibilities.
It is a versatile and small home plan that uses the floor to its maximum capacity. Moreover, these designs are not only economical but also easy to build and maintain.
Consequently, small and simple designs are also spacious enough to cater to all the requirements of the family.
Image Source: Homezonline
If you are looking for a simple and cost-effective house that utilizes space creatively and makes it seem larger, this simple design is perfect for you.
This Kerala house design is an affordable choice with luxe amenities like a huge garden and intricate details.
Image Source: R Architecture
This one-story modern house is suitable for small families and can be constructed in a minimum lot area.
The perspective and detailed features make the simple design of this house irresistible. Moreover, the accent walls made in glass and tall windows promote natural lighting and save resources.
Image Source: Kim Jin Cheol
This is a modern take on designing your home. Choosing a design with a lot of windows and glass doors not only makes the space bright and airy but also adds a stylish and modern touch to it.
Moreover, the choice of natural stone brick for exterior cladding is a great idea as it maintains the temperature of the house and is visually appealing as well.
Bungalows gained popularity from 1870 to 1900 by the virtue of Victorian architecture.
With distinctive features like low-pitched roofs, one-and-a-half-story buildings, and deep porches, bungalows can be low-cost as well as high-end.
Moreover, bungalow house designs offer simplicity and coziness accommodating any single-family unit.
Image Source: McDonald Jones Homes
Nothing compares to a house located in a quiet, suburban area to refresh your mind.
Stay on a budget with this simple, beautiful, and welcoming bungalow with a unique Kerala house design. The entryway leading to the porch makes way for you to enter the house.
Also, with a floor plan like so, where one area leads to another, makes the house appear bigger and more spacious.
Image Source: Behance
With the evolution of technology, the building material used in the construction of a house has changed considerably. However, materials with higher strength, durability, and cost-effectiveness still remain the top choice.
Proper analysis and wise selection of material, like stone, in this case, proves to be an excellent option.
Image Source: Fertighaus.de
This modern bungalow has an amazing visual appeal to it because of the wide-front porch and a low-equipped roofline.
Additionally, making the most of the square foot space, the design offers n open floor plan with a hallway and other rooms arranged in an accessible manner.
Plus, the placement of plenty of windows and glass doors lends natural lighting to the interior space making it brighter and more lively.
There is nothing like a modern home design that shows off clean lines, sweeping extensive windows, and an undeniable sleekness.
Whether you are in favor of the industrial metal looks or are pleased by the warmth of wood, there are limitless modern home designs to love and adorn. Kick your house's style factor and take inspiration from these modern facades.
Image Source: The House Designers
This striking house design offers various unique and impressive features. With straight lines and a flat roof, this house aids in energy efficiency.
Additionally, the contract between the wood and the neutral walls contributes to the traditional design. However, the modern floor plan is all about personal preference.
Featuring woodsy craftsmanship, this house is a mix of modern-day architecture.
Image Source: McClean Designs
This striking modern home will capture the beautiful view through its countless windows.
Moreover, with the cleanly-lined modern design featuring an open layout flowing right from the living room to the deck for immersive outdoor living, this house will always have some impressive views to offer.
Plus, the humongous windows allow you to offer a glimpse of your interiors to the outside world.
Image Source: Interiors Addict
The master design is a mixture of a modern open layout and rich exterior space. Moreover, using a combination of wood, stone, and concrete to adorn the exteriors is an excellent way to have a modern-looking façade.
This street-side house finishes off its front area with a row of well-managed garden shrubs to integrate greenery as well as enhance visual appeal.
Exterior house design: Elements
The exterior design or the front elevation design is responsible for the visual representation of how the facade will look like.
Exterior design and front elevation give a new aesthetic to the house and optimizes the presence of the building. It has the potential to transform any building into an absolutely new one.
The front is the first thing to get noticed in a building and therefore, it must be impressive and magnificent.
House front elevation design #1
Image Source: R Architecture
This house design is an amazing combination of balance and symmetry.
The lined-up windows and balconies look streamlined and in perfect harmony with each other. A combination of wood and white elevates the overall look.
House front elevation design #2
Image Source: J Remus
This beautiful multi-level home has an eye-catching design.
In this front elevation design, there is a line of green shrubs and plants that is wonderfully included right on top. It contrasts the tan and white colors on the facade beautifully.
House front elevation design #3
Image Source: Ralph Ravi Kayden
The inclusion of greenery has the potential to add a component of beauty to any house elevation design.
Apart from the plenty of glass doors and windows, the contrasting color scheme makes the front elevation of this house undeniably stylish.
The single-floor houses have an unconventional appeal to them. However, nothing can take away from the ultra-modern and chic style of such home designs.
Single floor houses have recently become very popular since they add an adequate touch of rusticity.
Image Source: JHmrad
This house has an open floor arrangement which is ideal for making the best use of the space. The elaborate garden prompts the entryway with bright hues and an immaculate design.
Additionally, this agile plan makes the house spacious with adequate space in the master bedroom and two other rooms.
Image Source: Dubai Khalifas
This Kerala house design emphasizes the mammoth porch and puts the beauty of the house into perspective.
Moreover, the unique color and features of this house are a dreamy affair. Inspired by modern architecture, this house has no visible curves. The sharp and well-defined lines are an essential element of the house setting it apart from others.
Image Source: pinoyhouseplans
A house like this would be the perfect fit for those who love greenery and still want to enter the modern world. All the features of this house are unique right from the slight slant roof to the reflective glass windows.
However, the house is put together in such a way that it completely stuns you with its beauty and simplicity.
The most convenient way to elevate your curb appeal is to add beautiful fencing and a front gate to your house.
Front gates are installed for various other practical reasons such as privacy and security. An ideal gate is the one that best fits the home structure and style, the owner's personality and needs, and complements its surroundings.
Image Source: The Architects Diary
This single leaf, mesh, swing gate is a solid structure mounted to the side walls by means of an assembly plate.
Operating on hinges, this gate is filled with horizontal bars that are symmetrically divided. Moreover, the black color contrasts the bright outdoors making it a perfect choice for suburban homes and townhouses.
Image Source: Renoguide
This modern grey gate is cool, sleek, and stylish.
Additionally, providing maximum coverage with the front panel, this gate is perfect for modern city homes.
Also, the single leaf design of this swing gate or pedestrian gate offers a variety of lock options as well.
Image Source: Pinterest
This impressive and massive sliding gate is perfect when you have a garden, a front yard, or even a backyard to show off. Designed to match the house, this gate provides average coverage and is a highly durable option.
Moreover, sliding gates provide the convenience of manual operation in case of power failure.
If you are somebody who loves to spend some alone time in a quiet and peaceful atmosphere, enhancing and designing the balcony is your best bet.
Be it a compact or sprawling balcony, one must always take up the challenging task of creating a space they'll love for sure.
Image Source: TheSmartLocal
This small balcony offers a charming outdoor seating area. For a space with a barely-there balcony, this wooden deck acts as a seating area and also doubles up as anything like a coffee table without eating up too much space.
If space allows, add a few planters or even a plant shelf to seal the deal for a more lively feel.
Image Source: Hunker
Filled with contrasting colors like yellow and green, this balcony is a total steal. It offers everything one needs to uplift their mood.
The yellow cushions, green plants beside the railing and hanging from the ceiling, and the patterned carpet makes this balcony seem like something right out of a catalog.
It is an excellent example of how to make the best use of a small space and design it as per your preference.
Image Source: Metalisteria Jofre
For a balcony big enough like this one, turn into the space for some good vibes.
This balcony features minimal decor without any dramatic element allowing us to focus on the natural environment and scenic view. Moreover, the permanent overhead structure is an immaculate cover-up to provide shade and protection.
Also, the placement of accent lighting is a bold move to jazz up the space and take your balcony design a notch higher.
If you have a rooftop in your house you are a lucky one. However, you may not be aware of how to design it it is one of the most neglected areas.
Anything from a garden, fireplace, seating area, or dining area is great to spend some relaxing time. The daylight or the night light, as the case may be, amplifies the entire look and feel.
Therefore, here are a few inspiring ideas you can consider to design and style your rooftop.
House rooftop design #1
Image Source: El Mueble
Wooden deck and plants are a classic combination to enliven any space. With plants, you can easily create a privacy fence to protect from harsh urban environments.
Moreover, there is something undeniably appealing about this space filled with lush greenery and blooming buds.
House rooftop design #2
Image Source: Emily Henderson
This rooftop lounge features a black- pigmented concrete fireplace surrounded by a seating space which makes the environment cozy for all.
Moreover, this modern rooftop terrace is a real refuge in the heart of the city. Consequently, it features plants and lighting that adds to the mood.
House rooftop design #3
Image Source: Home Stratosphere
Moody lights can easily transform any rooftop into a more inviting space if you want to spend your free evening time there.
Additionally, the built-in benches and planters make this terrace look modern and stylish like no other.
f) Duplex house designs
A duplex house is one that consists of two living units attached to each other. However, the living units can either be next to each other similar to townhouses, or above each other like city apartments and lofts.
On the contrary, any building, residential or commercial, having three, four, or more extended units, will not be considered a duplex. These shall rather be called triples, quadplex/ quadruplex, or multiplex in general.
Image Source: Rawson Homes
This duplex house is the size of a single-family house. Commemorating a single dwelling unit spread over two floors connected by an indoor staircase, this house has an open plan design.
Also, the entire house blends well to look like one single larger home.
Image Source: achahomes
The duplex house designs offer a villa look and feel in a small area and with lesser investment.
Having a contemporary design with two attached living units allows two fairly big families to easily dwell in this house. Moreover, the black granite flooring and the flat roof result in a modern and trendy look.
Image Source: mcubed
Moving on, this duplex home design has a mix of wood, bricks, and glass making the exterior one of its kind. The sheer symmetry and linework are the foundation of this house.
Moreover, the contrasting colors – black and white on the facade along with concealed lighting and wood panels catch the eye of the spectators instantly.
Adding a garden is an absolutely sure way of creating a regal feeling in a green space, but for an understated elegance be sure to stick to simple designs.
Moreover, clean lines and open or molded details of a garden design create a contemporary space. Invaded areas are also comfortable and more welcoming than traditional lawns. The key, here, is to compile all these elements to create a striking masterpiece. 
Therefore, it is fair to say that indoor gardens contribute to home living. It offers several benefits ranging from aesthetic beauty to improved health and productivity.
Image Source: Ginggaanbai Ltd.
In this garden, the wooden deck panel accentuates different aspects of the home and allows better use of space. Moreover, apart from being the floor, it doubles up as an extra seating area as well.
The dark flooring complements the warmth of wood and ties the entire look together.
Image Source: Homes To Love AU
A modern garden with plenty of space to work with is the ultimate choice of architects and interior designers.
It creates a scheme that you will love for years and will boost the value of your property. Plus, the massive size of the garden with beds of plants sets the garden on the right track.
Image Source: Westwing Italia
This garden design is a great example showcasing that one must never underestimate the importance of outdoor lighting.
Moreover, the latest inclusion of floor lights can softly illuminate your garden to allow you to use the space long into the summer nights as well as the cooler ones.
Feast your eyes on all these beautiful contemporary house designs. Bursting at the seams with great features, these home designs provide an extremely comfortable and alluring living space.
Conclusion
A house owner is always on the lookout for the best designs while designing his house. Best designs not only in terms of aesthetics but functionality as well.
For the foundation and achievement of the final objectives, it is important to get the floor plan or layout out of the way.
As an architect, you design your client's layout plan and have to factor in a lot of house design elements – both interior and exterior. This would be based on the client's requirements and preferences – both functional and aesthetic.
From selecting the type of house design – bungalow, modern, simple or farmhouse, etc, to working on the exterior design elements like front elevation, gate, balcony, rooftop, etc, the architect has his job cut out.
Similarly, as an architect, you need to pay attention to details while designing interiors of a house – windows, doors, floor, ceiling etc.
Now that you have access to extensive coverage of various house design elements with appropriate visuals, you can get some inspiring ideas.
This would further help you to translate your client's dream of having a unique, beautiful and highly functional into reality..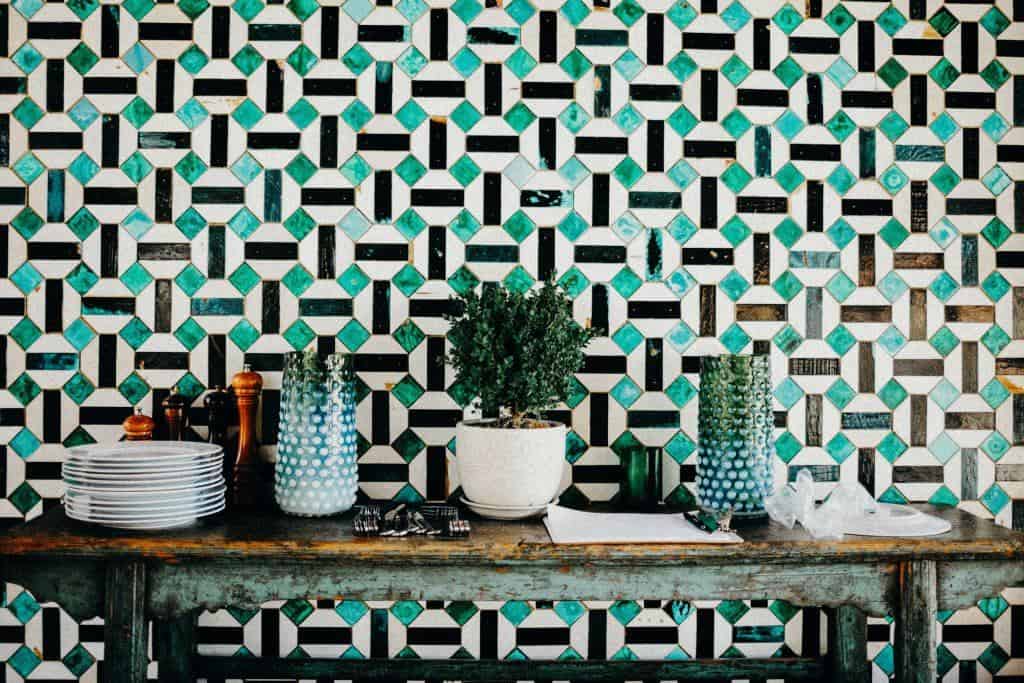 For few people, interior wall designs are nothing but painted walls, while for other creative…