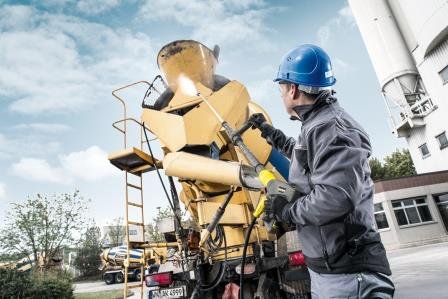 The EASY!Force high-pressure cleaner gun from Kärcher has won an award from the VDE for its exemplary ergonomics and handling. VDE is one of Europe's largest technical-scientific associations. The test experts confirm that the accessories for the high-pressure cleaner make a significant contribution to the relief of the hand and back and that muscles and joints are spared during use. The ergonomics investigation was carried out by the VDE Testing and Certification Institute in cooperation with the University of Kassel (Institute of Industrial Science and Process Management, Department of Labour and Management Psychology) and the DLG-Test Center Technology and Farm Inputs.
The investigation essentially consisted of two parts: a standardized survey of the test persons with the aim of achieving a subjective assessment and an objective evaluation by means of scientific methods. The tests involved measurements of strength and the recording of movement sequences.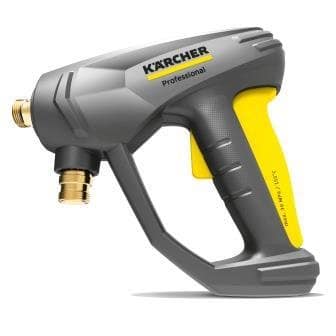 The test results show physical relief especially on the fingers, as it is no longer necessary to form a fist. Consequently, there is also less strain on the wrist, elbow and back. The fine motor movements of elbow and wrist are also supported, which means the user can work in a more targeted manner and more relaxed – also over longer periods of time. This significantly lowers the risk of injuries, particularly those caused by fatigue from redundant movement sequences. All test persons independently describe the very good handling of the EASY!Force high-pressure cleaner gun.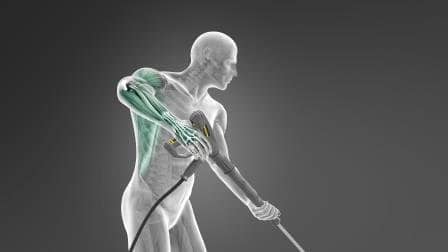 For its industrial cold-water and hot-water high-pressure cleaners, Kärcher has completely redesigned the trigger guns. The essential feature of the new "EASY!Force" is the trigger that is pressed into the handle with the ball of the thumb. As a result, there is hardly any strain from holding after activating the gun, as the recoil of the water stream pushes the trigger by itself into the hand. The continual tightening of hand and finger muscles that was previously required no longer applies and muscle cramping is prevented. Unintentional activation is prevented by a yellow safety lever on the inside of the handle. After a single, brief actuation, it can be released.