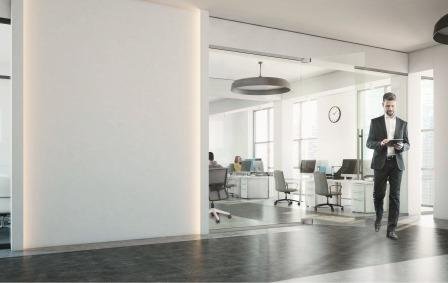 The assortment of fittings for toughened glass assembly from dormakaba has welcomed a new member to its family. For the first time at BAU 2019, the company presented the bottom patch fitting with its built-in hydraulic self-closing function and a stainless-steel and aluminium surface finish in line with the established UNIVERSAL design. With only slightly larger dimensions than the classic UNIVERSAL patch fitting, in turn, however, much more comfortable to handle, the UNIVERSAL Motion provides critical benefits for installation as well as daily use.
Whether it is with a single-action or double-action design, built into an all-glass system or as an individual door directly connected to the building structure without a frame – the UNIVERSAL Motion fitting moves door leaves with 10-mm and 12-mm glass with a weight of up to 100 kg and a width of up to 1 m automatically back into the closed position. The closing force can be set individually for two closing paths via two valves. The larger path here is an opening angle between 140° and 45°. In the area between 45° and the closed position, there is a lower closing force acting as a damper and preventing the door from swinging through to the other side for doors that open in both directions. On the other hand, a stronger closing force for single-action doors provides for an exact zero position. Moreover, the fitting is available with or without a hold-open function to meet users' daily needs.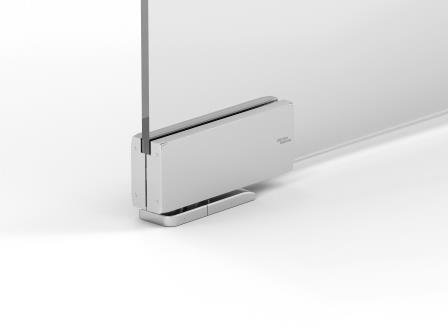 Technicians also benefit from this quick-install patch fitting in combination with a pivot bearing that is easy to screw onto the finished floor. The three-dimensional adjustability of this floor pivot makes it especially easy to adapt it to any building tolerances. All in all, this translates to enormous savings in terms of time and costs when compared to a solution with floor springs.
Clients benefit from the low purchasing costs because there is no need for an additional door closer. What's more, high-quality floors are preserved in the area of the bottom break-out unit, and even a floor heating system is no obstacle. This solution is therefore also suitable for retrofitting, for instance, an office, clinics or the vestibule of a house.