One of the most celebrated shows on building materials – BAU in Munich achieved many records this year. BAU 2019 was spread over an area of ​​200,000 square meters for the first time, 2,250 exhibitors (2017: 2,120) from 45 countries showed their products and solutions in the building materials industry. Of the total of 250,000 visitors, 85,000 came in from abroad (2017: 80,500) from over 150 countries, underline the significance of BAU as the world's leading trade fair for architecture, materials and systems.With almost 70,000 participants, one in four visitors came from the fields of architecture, engineering and planning.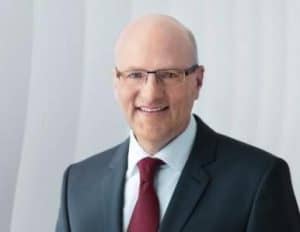 Messe Managing Director Reinhard Pfeiffer looks back with great satisfaction on the BAU 2019: "The strong visitor interest in the areas of building automation and BAU-IT shows that digitization continues to pick up speed and has finally arrived in the construction industry.With our guiding themes for the BAU 2019, we have already focused on the digital transformation in advance. "
India At BAU 2019
India was represented both on the exhibitor as well as the visitor side. Commented Mr.Alok Aggarwal, Managing Director, Ozone Overseas – one of India's noted player in the Architectural Hardware and allied segments, 'We have been coming to BAU for some editions now. We rank this show as one of the important shows in the industry. We get to meet our international customers – a family that has been growing impressively over the years. It's also chance for us to catch-up with the quality visitors that BAU attracts from India.'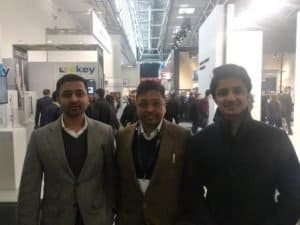 Prominent Delhi-based kitchen sinks manufacturer – Jayna, was also present at BAU 2019. Stated Mr.Naresh Jain, Director, 'We are at BAU to explore new product lines. We are looking at introducing new products in the Indian market. We have been able to identify some interesting products and will be taking it forward after the show.'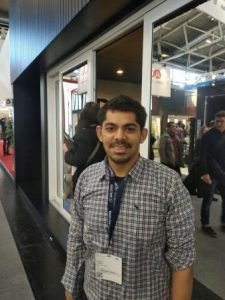 Another notable participant from India, on the visitor side, was Mukund Overseas. It's Director, Mr.Prashant Thakkar also spoke to buildingandinteriors.com. Said Mr.Thakkar, 'BAU provides us a platform to see what's new in the industry. This year, we see a clear emphasis towards smart solutions. As we go along, technology will play even more pronounced roles in the building products, be it hardware, window systems, ceilings, etc. Technology is going to be the common thread for all solutions in the industry. I am pleased to be at BAU.'
Fenestration, which enjoys an impressive gathering of exhibitors and visitors at BAU, saw a frenetic activities at exhibitor booths like those of Schuco. Here also, Indian visitors made their presence felt. A regular visitor at BAU, Mr.Nimit Poddar, Director, Shreeji Facade Systems from Mumbai commented, 'BAU is a must attend for us. Every alternate year, we come to this show to update our knowledge and to see some of the best solutions on display.'
In view of the increasing significance of digitization in the construction industry, Messe München has presented the new trade fair concept digitalBAU in the context of BAU in cooperation with the Federal Association for Construction Software (BVBS). BVBS Managing Director Michael Fritz is firmly convinced of the success of the new event: "We see a high demand among all providers of digital applications to establish a further trade fair in addition to the extremely successful BAU.Planners, contractors and craftsmen have to find out about the upcoming requirements and for this we offer an excellent opportunity with digitalBAU. "
DigitalBAU will take place for the first time from 11 to 13 February 2020 in Cologne.