ISH India powered by IPA, concluded recently in Mumbai (February 28-March 2). ISH India is organised by MesseFrankfurt Trade Fairs India Pvt.Ltd. and Indian Plumbing Association (IPA). The 2019 show was an amalgamation of quality exhibitors, visitors and product innovations in the field of plumbing, sanitation and bathroom fittings. It was for the first time that ISH India powered by IPA moved to Mumbai (western India), thus extending the ISH ecosystem to this market. The show has, in it's earlier editions, proved to be quite successful in Delhi and Bengaluru. ISH India powered by IPA, is a part of the Build Fair Alliance, a consortium of co-located leading exhibitions like Acrex & FSIE coming together to provide integrated building solutions under one roof.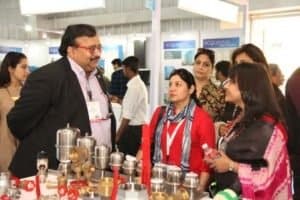 A total of 6,276 business visitors comprising Architects, MEP Consultants, Interior Designers and Developers attended the show. A key-campaign to raise awareness on water conservation – 'I Save Water', was launched at the show. Complementing the campaign tag-line was an impressive display of solutions to help the business visitors with water saving technologies. Said Mr.Vikas Kumar, Product Manager (Bath division), H&R Johnson India – one of the exhibitors at the show, 'We are showcasing our new bath cabinets, faucets and other premium products mainly required for the western markets of the Indian subcontinent. ISH India powered by IPA as a platform has been a very good experience for us. The best part about the show is that it is not cluttered which helped us in connecting with significant influencers. People visiting the stall had a clear agenda for business and seeking information. We received a lot of enquiries and we will definitely participate in the next edition.' Another exhibitor, Mr.Vishal Jaiswal, Assistant General Manager – Sales, Finolex Industries Ltd., commented, 'The visitor profile here is more about quality. Most of the clients we met here are new and we were happy to explain them our products and the pricing. We are hoping for good business.'
Sharing a buyer's perspective, Ms Shamilla Prabhu, Architect, Aakruti Architects said, 'As an Architect, we constantly try to revive the designs and technologies. As compared to the previous edition, I noticed that the number of brands and products have increased. I liked the products from companies like Rothenberger and Nugreen who have come up with equipment that are not only aesthetic but also look very sturdy. I am very happy with my visit at ISH India.' As the show covered advanced products from the plumbing and sanitation segments, visitors from architecture and real estate companies were exposed to a variety of options for their upcoming projects. Among the various real estate giants, also present was Mr.D.R Jalan, HOD – Procurement, Sunteck India Ltd. Said Mr.Jalan, 'As we are coming up with new projects, we wanted to check the technologies and products available in the plumbing and sanitation sectors. I would like to say that I am impressed with the product displayed at the show. Some technologies under the water filter and piping segments are cost-effective and innovative. Our visit to ISH was fruitful with good exposure and as Sunteck we will be able to take things forward for business.'
ISH India 2019 powered by IPA also hosted a technical seminar that saw industry professionals and experts talk about their latest product developments. Topics of discussions included 'Beware of nickel-poisoning in potable water systems', 'Eco friendly water treatment', 'Water saving technologies in bathrooms' and 'Green products'. Another highlight was the hosted buyers programme conceptualised with Build Fair Alliance that brought in key members from the Architecture, Interior Design and the Plumbing Industry for focussed business meetings.