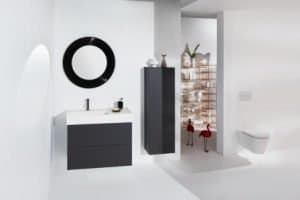 With the 1970s revival that is currently sweeping the international fashion and furnishing markets, the bathroom industry has also started catching up with this trend. Realising the scope and excitement that trends like those of the 70s generate, the Swiss bathrooms manufacturer – Laufen, has worked on an innovative line called Kartell by Laufen Laufen's foundation goes back to 1892. The company manufactures Washbasins, toilets, bidets, bathtubs, shower trays, whirl systems, furnitures, accessories, faucets and has production facilities spread in Switzerland, Austria, Poland and the Czech Republic.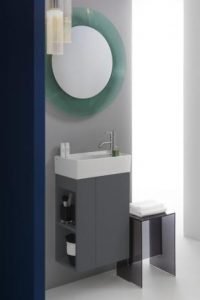 Laufen has paired with the Italian design company Kartell to create Kartell by Laufen (designed by Ludovica + Roberto Palomba). The concept is based on the premise that there are two distinct sets of furnishings in a bathroom. There are the movables – freestanding shelf units, chairs and accessories and the permanently installed immovables – washstand, bathtub, shower and bathroom furniture, which are usually replaced only after a long service life and with much effort. The movables define the 'colour' element and is modular (enabling easy changeovers in tune with the 'colour' trends) and the immovables contribute to a timeless, simple design vocabulary. Hence, Kartell by Laufen represents a modern approach to bringing colour into the bathroom while observing the enduring principles of good taste.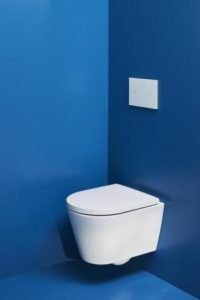 The rich diversity of Kartell by Laufen enables Architects and Designers to run riot with colours and lighting moods without major changes to the immovables. On the immovables part, Laufen has been quite successful with it's understated and timeless geometric design vocabulary for the elements made of its SaphirKeramik and conventional ceramic materials. In addition, an appropriately neutral scheme has been adopted for the colouring, like the glossy and matt variants of classic white, the available shades of matt grey and glossy black that have never been off trend. These colours can also be selected for the new, highly compact and rimless wall-hung toilet, which projects by just 490 mm, so that even small bathrooms can reflect a consistent style.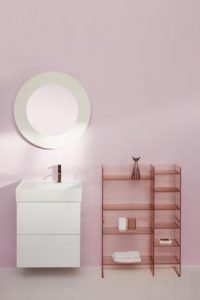 Furnishings and accessories made of high-quality acrylic glass introduce a complementary playful element to Kartell by Laufen bathrooms. Although reflecting a timeless design, the mirrors, shelves and shelf units, lamps, towel holders, soap dishes and beakers are available in numerous fresh colours. Apart from the crystal-clear option, these include powder pink, emerald green, amber, tangerine, blue, smoky grey, gold, silver and copper. An opaque white or black coating can be selected by those who wish to focus more on a perfect match for the ceramics than on transparency.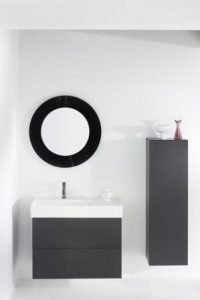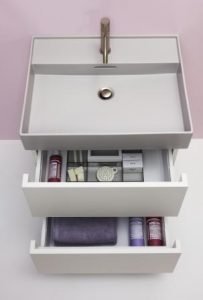 Re-imagined in line with modern minimalist design, the bathroom furniture of Kartell by Laufen sensitively integrates itself into the collection. With a view to achieving colour harmony with the ceramic elements while affording scope for the creation of fascinating nuances, accents or contrasts, Laufen has opted for a matt white, a pale pebble grey and a darker slate grey.
The vanity units, tall cabinets and side elements make the best possible use of the space in the bathroom and thus achieve a harmonious balance between the ceramic items and furniture. A new vanity unit for hand washbasins is ideal for installation in small guest bathrooms. Behind a drop-down door it offers storage space for hand towels or cleaning materials. It is also open to one side and therefore ideal for accommodating frequently required accessories.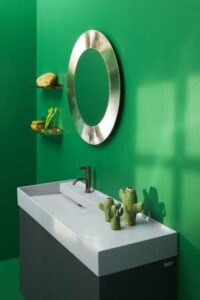 The classic, modest design of the permanently installed elements of the Kartell by Laufen collection ensures that the bathroom remains timeless and is perfectly adapted for everyday use. For their part, the movable furnishings and acrylic glass accessories stress the bathroom's chameleon-like character and, by way of their colour, light and transparency, transform it into a sensual and emotional space. And when a new trend or lifestyle calls for a renewal of the Kartell by Laufen theme – in order to revive the heady days of the 70s for example – these elements can be changed quickly and easily.