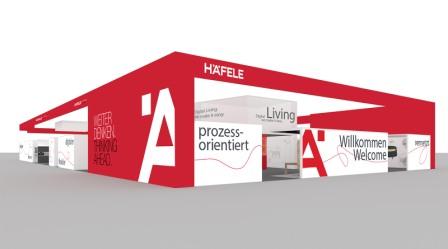 For the businesses and professionals connected with the furniture components (furniture production included) and interior design, Interzum 2019 coming up in Cologne (Germany), is the place to be in. The dates: May 21-25. And like with each edition of Interzum, Häfele – one of the most well-known names in the industry, will be showcasing some of it's latest innovations to the decision makers and opinion leaders from all over the world.  In addition to it's own exhibition booth, Häfele will be present at two special areas of the show – in the Tiny Spaces area, and Micro-Living, displaying it's smart solutions for compact areas.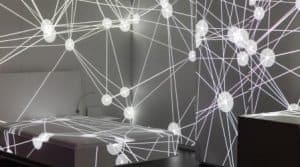 Following the theme – 'Digital living. We make it easy.', Häfele will be presenting specific products and offers that make networking in the living environments easy. All these will be complemented with live demonstrations at the Häfele booth.
Häfele Ixconnect: Completely tool-free assembly of full furniture cabinets
Speed and simplicity are essential when assembling furniture, and connectors are the most important components in putting the furniture together. Connectors also determine how valuable the furniture looks. Unobtrusive and invisible connectors make a piece of furniture look elegant and modern.  The latest developments in the Häfele Ixconnect furniture connector product range, which for the first time allows for the completely tool-free assembly of entire furniture cabinets and can be integrated into any standardised production process effortlessly.
Intelligent details and interacting system solutions consisting of RTA and shelf connectors, shelf supports and rear panel connectors reduce installation time. Häfele Ixconnect furniture connector product range ensures high structural stability of the furniture thanks to connector technology that has been enhanced over decades.
Häfele Loox5 – a new generation of LED lighting
Light is an elementary component of life and influences us in various ways. It can motivate, calm, relax or enliven. Modern architecture uses light to create a desired atmosphere. LED lights are ideal for this because of their low heat build-up, small size and long operating life.
The Häfele Loox LED system illuminates work areas, presentation areas and living rooms from functional to decorative. Thanks to its simplicity and flexibility, Loox meets the requirements of networking and digitalization.
The new generation of the revised Häfele Loox LED lighting product range is easier to plan, install and control and are the basic premise of the Häfele Connect range of smart products. Loox5 offers new, surprising possibilities for functional and atmospheric lighting solutions in furniture and rooms.
The Plug and Play system with easily understandable colour coding makes the system easy to assemble and install. It can be installed without the need for an electrician. Loox5 system comes with the flexibly of a configurable driver at the central heart of the system. Easy and reliable installation using simple plug-in system with clear color coding and are also suitable for large systems. The design and materials of the lights and strip lights fulfill strict quality criteria and are designed to have a long service life.
Häfele Free flap fittings:  World Premiere
In the flap fittings range, a completely new product makes its world premier at Interzum 2019. This range is positioned to offer innovative, extremely small, and at the same time extremely powerful flap fitting. With its compact design, it creates more storage space in furniture than any other popular models in its class.
In contrast to hinged doors, the fittings of the Free family enable more optical and technical design options. Whether a flap is lifted, folded, pivoted or folded – this ensures ease of use and aesthetics. A compact design creates more storage space in the furniture.
Even heavy flaps up to 15 kg can be moved with a minimum amount to effort, resulting in soft opening and closing. Intelligent kinematics and an optimized motion geometry of the fitting parts make slimmer and more restrained shapes possible – and therefore more modern, reduced design solutions. Plugs and pre-mounted Euro screws make it possible to install the fitting with one hand.
Included in the many introductions at Interzum 2019 include the premiere for the H1910 "Textile" furniture handle (above), another Red Dot Design Award winner by Häfele. It marks the fusion of kitchen and living areas in the handle segment.
In addition, Häfele is involved as the initiator of a workshop of the future with young and creative people from a wide range of disciplines. In the special area in Interzum 2019, these young people will present their view on digital living of the future.