ZAHA HADID was a prominent and somewhat controversial Iraqi-born British architect who passed away in March 2016. Her influence is still being felt today in the projects she delivered and those that continue to be progressed by her practice. Here we look at her top five greatest contributions to architecture.
Hadid's work spans several decades and ranges from interior design, furniture and sculptures, to shoes, jewellery and even boats. She is perhaps best known for her architecture, having worked on over 100 projects across six continents during her lifetime.
Such impact makes the selection and ranking of her "top five buildings" a near-impossible task. To help B1M imposed some strict criteria. Firstly B1M is only focusing on buildings (rather than Hadid's other design work) and those buildings won't have been featured on The B1M before now. B1M only allowed one building per country into their top five, to ensure that they fairly recognised Hadid's global influence. Here's what they came up with:
5 – 600 COLLINS STREET, AUSTRALIA
600 Collins Street is a new mixed-use tower in Melbourne's financial district. The 54-storey building is formed from a series of stacked vases that each relate to its various uses; including retail units, commercial office space and residential apartments.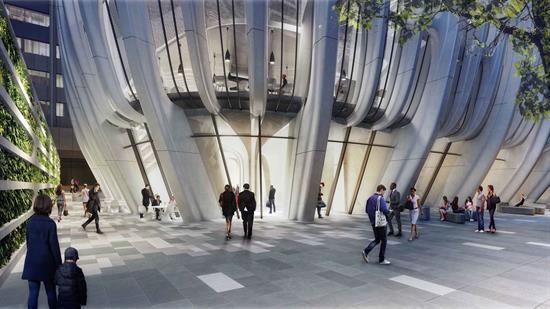 Above and Below: The 600 Collins Street development is currently under construction in the heart of Melbourne's financial district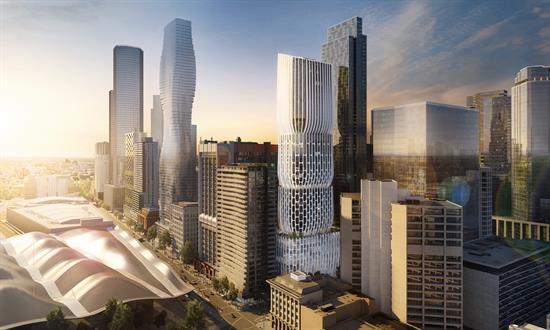 It is claimed that the building uses 50% less energy than a conventional mixed-use tower of the same height. The filigreed façade form, together with solar treatment to the glazing, reduces solar gain. There is also a grey water recycling system and a highly efficient mechanical and electrical installation.
4 – MESSNER MOUNTAIN MUSEUM CORONES, ITALY
Sitting 2KM above sea level on Mount Kronplatz in Northern Italy, Messner Mountain Museum was created by Italian extreme climber Reinhold Messner. The museum's form is intended to mirror the shards of rock and ice in the surrounding landscape. Cast in-situ reinforced concrete canopies create openings for windows, doors and a terrace.
Over 4,000 cubic meters of earth were excavated to enable its construction. This was then replaced once works completed, incorporating the museum into the mountain and helping to regulate the museum's internal climate throughout the year. Watch a fantastic time-lapse of its construction here.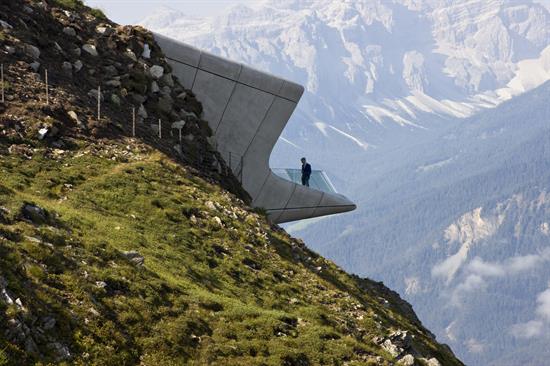 Above: Messner Mountain Museum sits 2KM above sea level on Italy's Mount Kronplatz.

3 – WANGJING SOHO, CHINA
Wangjing in north east Beijing is a hub for Chinese IT and telecommunications businesses. Wangjing Soho is Hadid's mixed used development consisting of three towers, the tallest of which rises to 43-storeys. These are intended to create a cohesive anchor for the Wangjing community, appearing as interweaving mountains that link the buildings with the landscape.
The development is accompanied by a 60,000 square metre public park, further driving social cohesion in the district.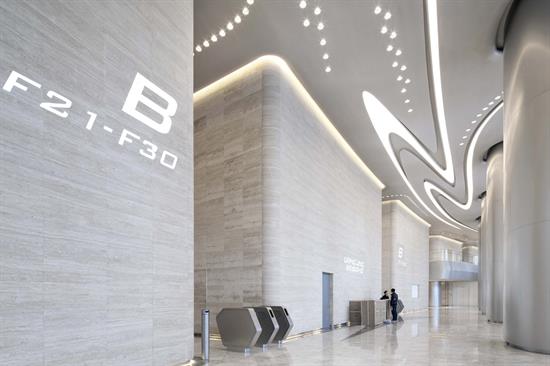 Above: One of the striking lobbies at Hadid's "Wangjing Soho" in Beijing.

2 – LONDON AQUATICS CENTRE, UNITED KINGDOM
Hadid's London Aquatics Centre became a globally recognisable building when it hosted events for the London 2012 Olympic and Paralympic Games.
Built specifically for the games on the Queen Elizabeth Olympic Park to the east of the city, the building initially had larger temporary wings to give it a seating capacity of 17,500. After London 2012 it was dramatically reduced in scale to its legacy mode and now seats a mere 2,500 people.

Above: The London Aquatics Centre configured with "wings" for the London 2012 games and Below: The building in legacy mode.


The facility's form is inspired by the fluid geometry of water in motion, but the structure proved extremely challenging to construct. The impressive roof is widely acknowledged as a significant feat of engineering.

Above: The Aquatics Centre under construction on the Queen Elizabeth Olympic Park. The building's roof is a significant feat of engineering.

1 – HEYDAR ALIYEV CENTRE, AZERBAIJAN
Taking our top spot is the breath-taking Heydar Aliyev Centre in Azerbaijan's capital, Baku. The structure (8-storeys high in places) is named after the country's former president. It is intended to become the primary building for Azerbaijan's cultural programmes and provides a large conference auditorium, gallery space and a museum.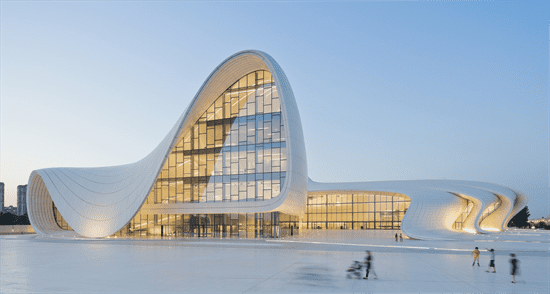 Above and Below: Hadid's Heydar Aliyev Centre topped B1M list.


The core structure of the building including the floor plates, stairwells and lift shafts are formed of concrete, whilst the free-form structure is achieved with a space frame system, clad with glass fibre reinforced concrete panels.
Welding equipment in use on the roof was responsible for the break out of a large fire in 2012. Luckily no one was harmed in the incident and the building was repaired to its former appearance.
The centre's form is intended to deliberately contrast with the soviet-era architecture of Baku and seeks to express the optimism of the Azeri nation, looking toward the future.
Notable omissions from the list of course include Antwerp Port House in Belgium which recently featured in a B1M construction documentary and Dongdaemun Design Plaza which was the focus of one of our B1M case studies.
There's also the Serpentine Sackler Gallery – arguably Hadid's most successful project in the UK – and Beijing Daxing International Airport in China, currently one of the world's largest infrastructure projects.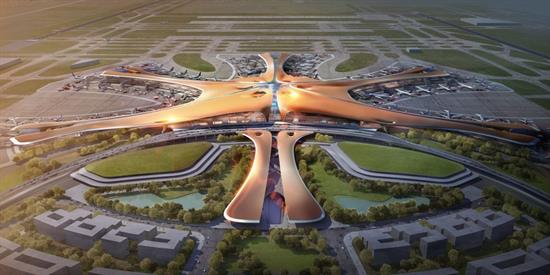 Above: Beijing Daxing International Airport.

(Source: www.theb1m.com)