Shoe racks enhance the visual appeal of your house without consuming extra space. These are practical additions that keep walkways free and guarantee that your footwear is always within reach. Additionally, they serve as a crucial piece of furniture in the home for maintaining the cleanliness of your space and the condition of your shoes. There are numerous shoe rack alternatives available online that will fit in any type of living space, from large homes to little apartments. From wooden racks to shoe racks with seating, there are a variety of designs available online and in stores. Therefore, it could be challenging to find the best storage solution for your collection of shoes.
In this article, we've provided some of the most interesting shoe storage ideas. Furthermore, we have provided Vastu tips for storing your footwear in the right place. Lastly, browse through our top recommendations to declutter and organise your space!
Different types

of shoe rack designs
Wall-mounted shoe rack
Image Source: Yankodesign.com
A wall-mounted shoe rack saves space on the floor and can be made of metal, wood, or plywood. While purchasing, the depth of wall-mounted shelves is the most crucial factor to consider. Make sure they're deep enough so that the shoes don't fall off the shelf. You can choose a sliding door, a closed door, or an open unit depending on their location in the house.
Open shoe rack
Image Source: Walmart
Wooden or metal open shelves are one of the most popular shoe rack designs available online. An open rack can be hung on the wall or laid on the floor, depending on the available space. The shoes are easily available to choose from and put on in an open rack.
Shoe

rack design with seating
Image Source: Shopify.com
Multipurpose furniture units save space without compromising style. Combining a shoe rack and a bench provides you with a comfortable seating area, especially if you have shoes with lace or buckles. These shoe racks include wooden seats with a rack underneath. We recommend making them more comfortable by adding cushions.
Shoe rack design with cubes
Image Source: Overstock.com on Pinterest
This shoe rack design with cubes makes it simple to keep footwear organised because each pair has its own separate compartment. Heels, flats, and sneakers can all be stored in individual cubes. Furthermore, you can choose between a closed and an open rack with cubes.
Pull-out shoe rack
Image Source: Homary on Pinterest
Pull-out racks work well in contemporary and modern settings. They are great for storing a large number of shoes and keeping them off the floor. Shoes are angled within the shelves to improve visibility and display. These racks can store more shoes than a standard shoe cabinet of the same size.
Image Source: Walmart
Adding an ottoman with shoe storage to your space provides comfort, sophistication, and that extra space you need to store your favourite pair of shoes. Furthermore, this shoe storage design idea saves room by serving as both – seating and an organiser. It has small pocket compartments. You can choose from a variety of ottomans with storage available online to make your space appear trendy.
Rotating shoe rack design
Image Source: Amazon.com
Metal, fabric, wood, and acrylic rotating shoe racks come in various tiers to store and display shoes in an orderly manner.Using the layers of hooks on each deck, you may turn the shoe rack to find the ideal match for your attire. When choosing a rotating shoe rack, make sure it can carry heavier shoes as well. You can opt for a compact, four- to six-tiered shoe rack for the closet or a larger, six- to eight-tiered one for the floor.
Vastu tips: Store footwear in the correct location to combat negativity
Although some homes are designed and decorated in accordance with Vastu principles, a few aspects must still be considered. One such example is the right placement of a shoe rack. Placing shoe stands appropriately in your home can bring you good fortune. However, placing them incorrectly might restrict your personal growth and development.
Don'ts
A shoe stand should never be placed behind the main entrance. It is believed that money is blocked by a shelf at the entrance, which also generates obstacles and emotional stress.

Shoe cabinets should never be installed in the bedroom.

Never place a pile of shoes in front of the entryway.

Never place shoe organisers with their faces to the North, South, or East. The East side of a house is believed to bring prosperity and hope. As a result, make every effort to keep these areas clean.

Never set a shoe cabinet near your place of worship. Make sure the shoe stand is far away from your home temple.

Avoid keeping the shoe rack under the cot or the stairway.
Dos
The best location for placing your shoe cabinet is in the West or South-West direction.

Keep the shoe organisers outside the apartment or door if you need to place them at the entrance.

If you're looking for a location to put your shoe cabinet, consider the living room. The South-West corner of the porch or entrance hall is an ideal spot.

In order to invite positivity, have clean and uncluttered shoe stands.
Here are some creative shoe racks for better home organization
Ikea Hemnes Black-Brown Shoe Cabinet
GKW Retail 36 Pair Shoe Rack
Crate&Barrel Batten Storage Bench And Panel Set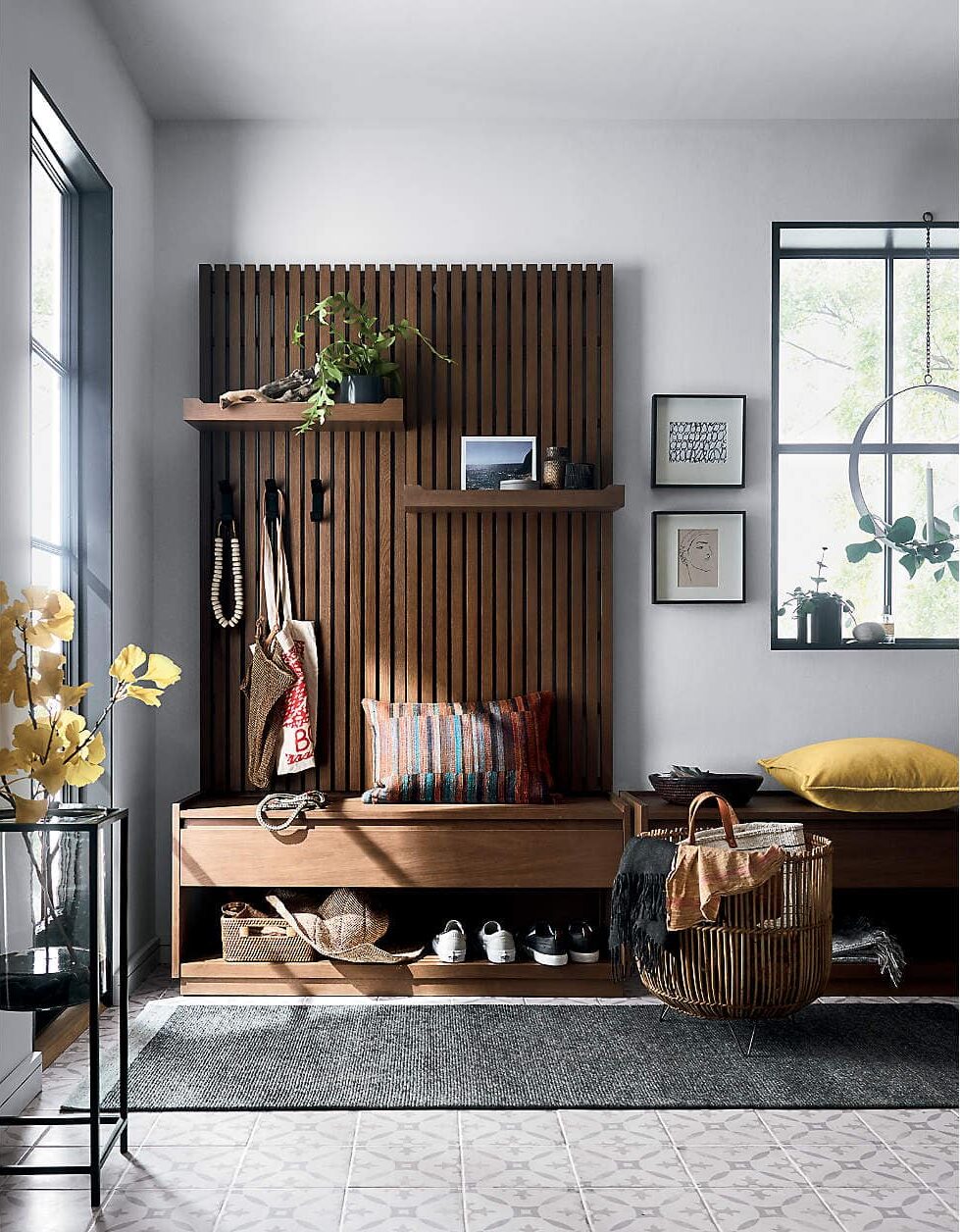 West Elm Mid-Century Shoe Rack-Acorn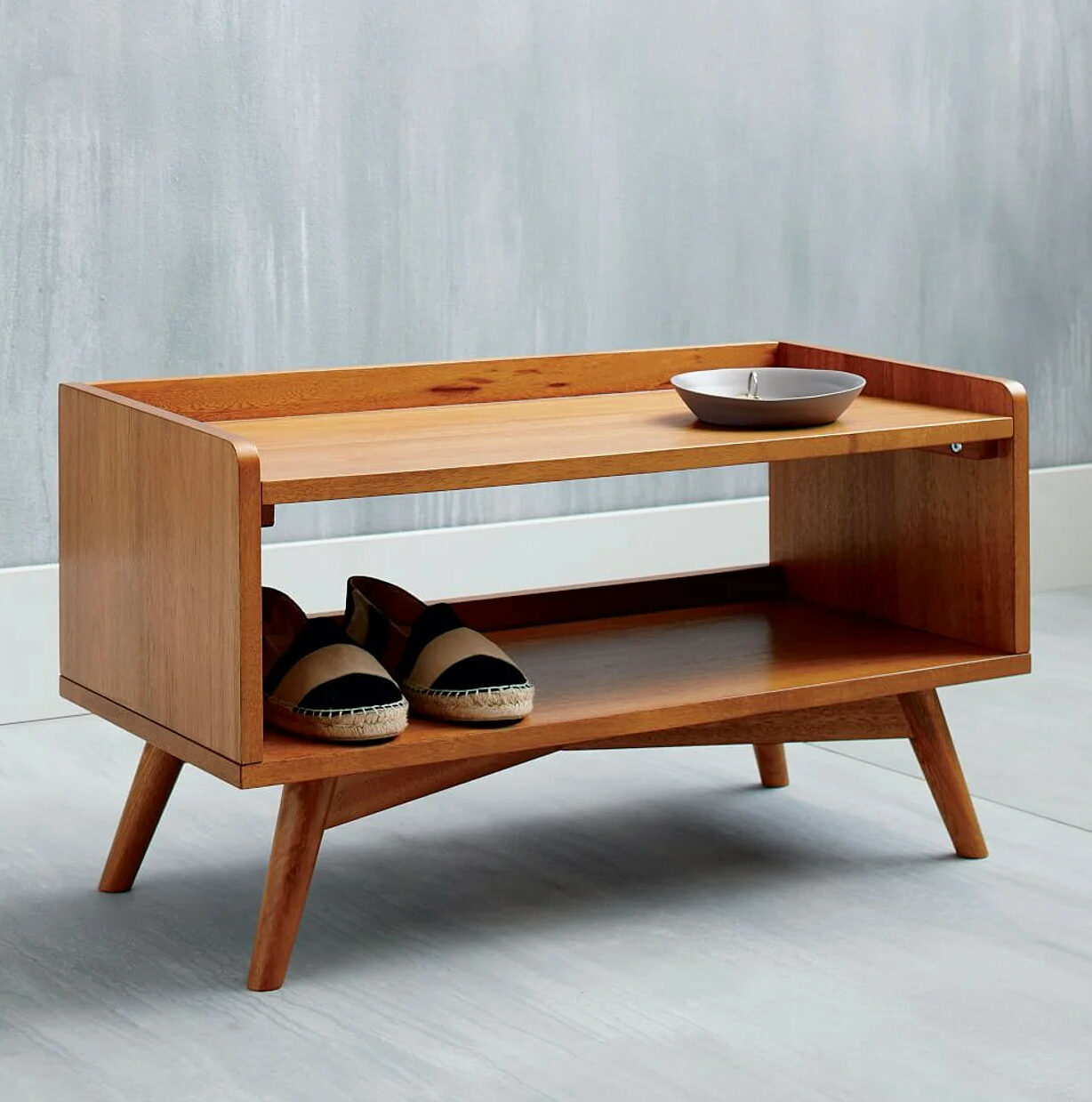 Home Center Polaris Shoe Cabinet With Cushion Seat
Burke Decor Plain Low-Profile Shoe Rack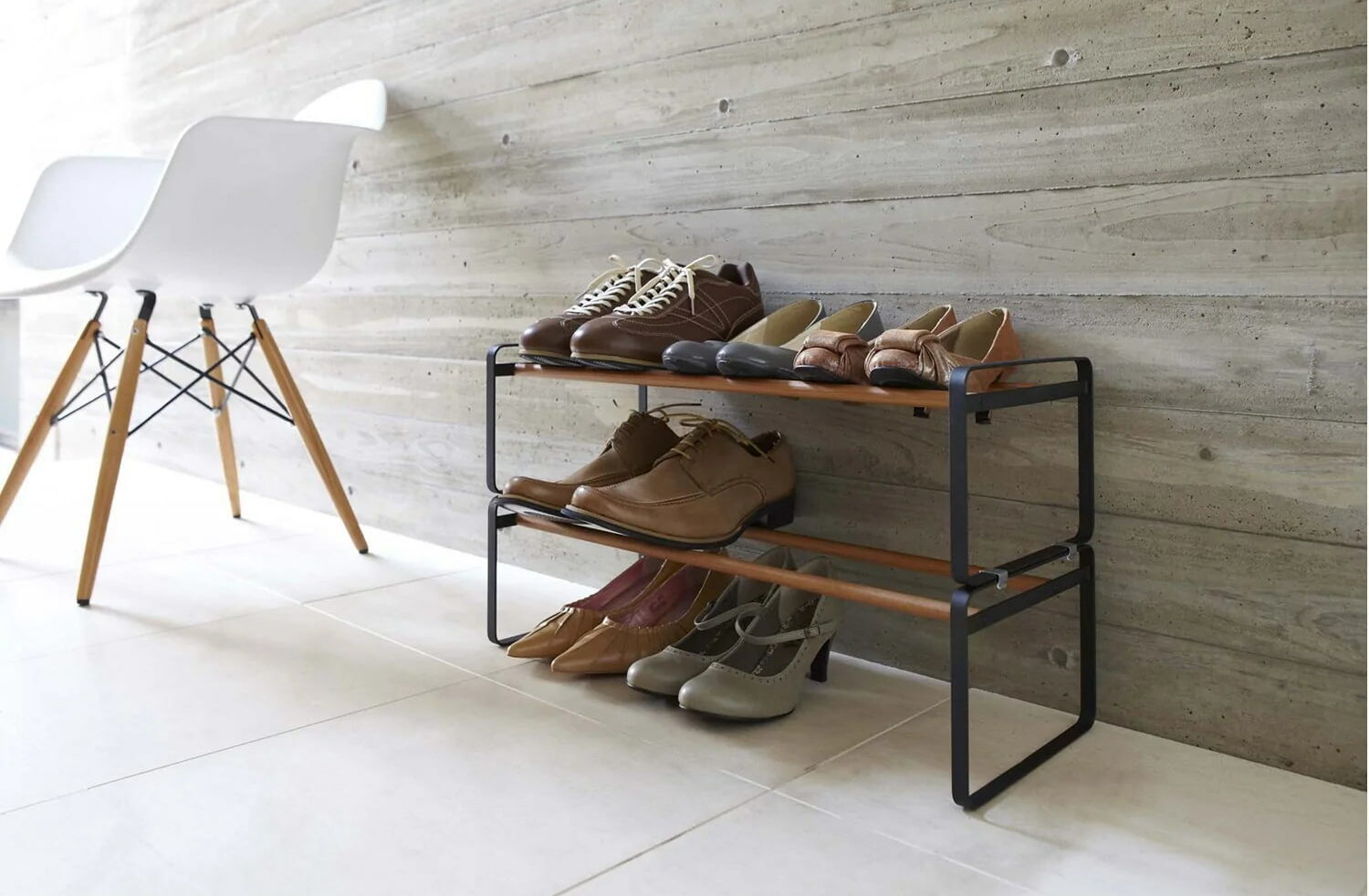 Godrej Interio Brogan Tall Shoe Cabinet
Wakefit Bianca
Ellementry Twine Wooden Bench With Rack
Pepperfry Cindy Shoe Rack In Wenge Finish
Durian Leno Engineered Wood Two-Tone Shoe Cabinet
Conclusion
When it comes to organising footwear, we often neglect it and label it mundane. However, it prevents the cluttering of shoes which consumes extra space, making your home look unpleasant. There are many options available online, ranging from simple to exquisite designs, such as shoe racks with seating, pull-outs, wooden wall-mounted shelves, etc. You can pick the design of your choice that will sync with the rest of the room's decor and provide sufficient storage space.
Now you know all about shoe organisers and how they can negatively impact your space if not properly placed. To avoid this, we recommend following a few Vastu tips for the right placement. The south-West direction of the home (preferably in the living room) is considered to be the best spot to keep a shoe cabinet. Thus, to find the ideal match for your footwear storage, think about the basic factors like design, placement, material, etc. Also, feel free to use our creative ideas and top recommendations to bring home your ideal shoe organiser.
*The featured image used in this article is from Propertypro Insider
An important functional aspect of any bedroom or kitchen is the cupboard or wardrobe. Therefore, its design must be selected after due consideration. It is essential to pick the right cupboard design for your bedroom or kitchen that offers the perfect balance of aesthetics and functionality. Furthermore, a cupboard comes in numerous designs to optimise compact space by fitting in a TV unit or even a dressing table. So, regardless of the size of y