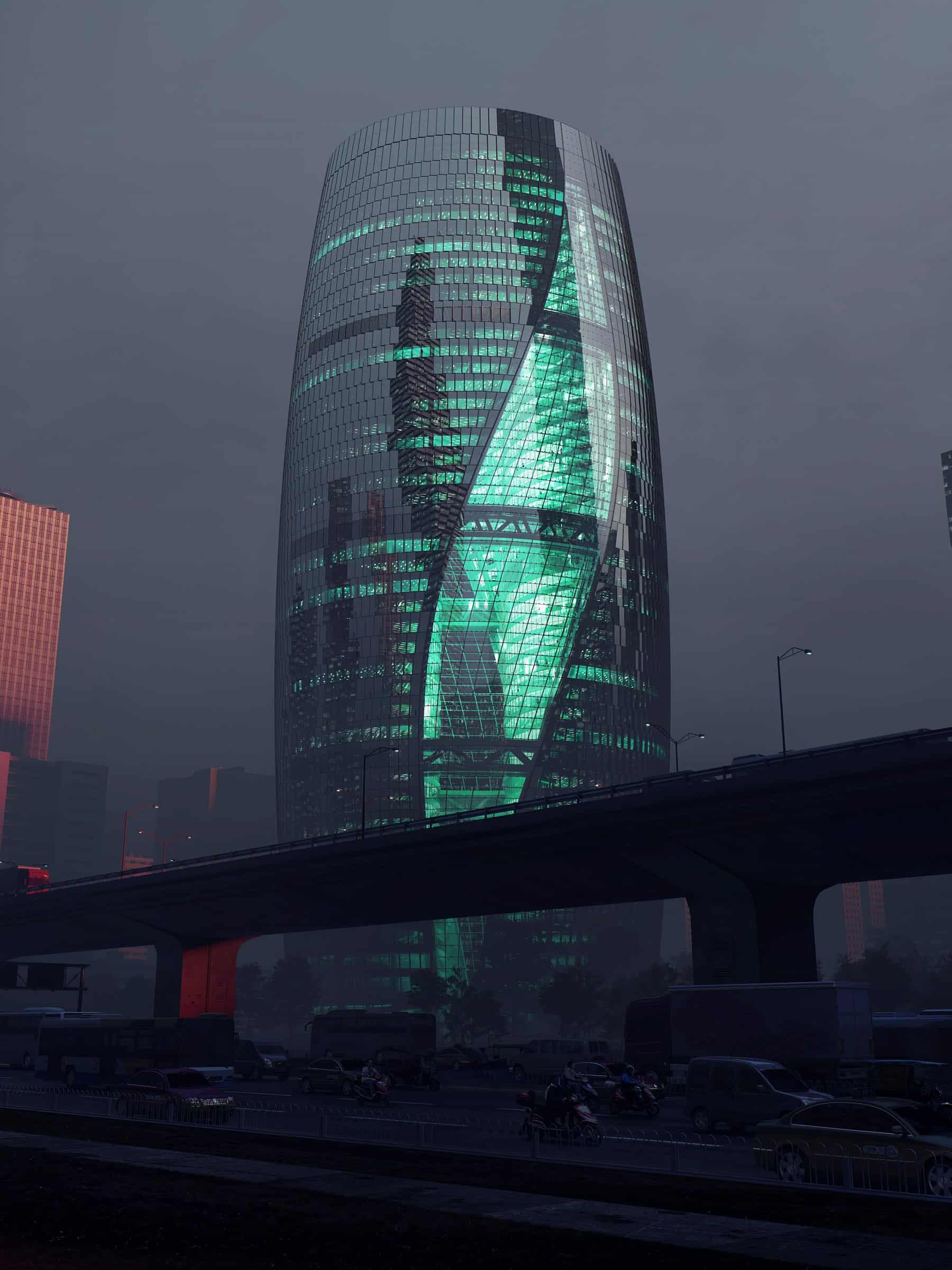 Within the Lize Financial Business District; a new business, residential and transport hub adjacent to Financial Road in southwest Beijing; Leeza Soho is located at the intersection of Lines 14 and 16 currently under-construction for the Beijing Subway rail network. Directly above the new interchange station for the financial district, Leeza Soho connects with the city's bus network on Lize Road to the north and Lou Tuo Wan East Road to the east.
Anchoring the new financial district, the 172,800m² Leeza Soho design has evolved from its specific site conditions. Straddling the new subway tunnel that diagonally divides its site, the Leeza SOHO tower in Beijing rises as a single volume divided into two halves on either side of the tunnel. A central atrium; the world's tallest; extends 194m through the full height of the building and connects with the metro station below, creating a fantastic new public space for the city.
As the tower rises, the diagonal axis through the site defined by the subway tunnel is re-aligned by 'twisting' the atrium through 45 degrees to orientate the atrium's higher floors with the historic north-south / east-west axis on which the city was founded.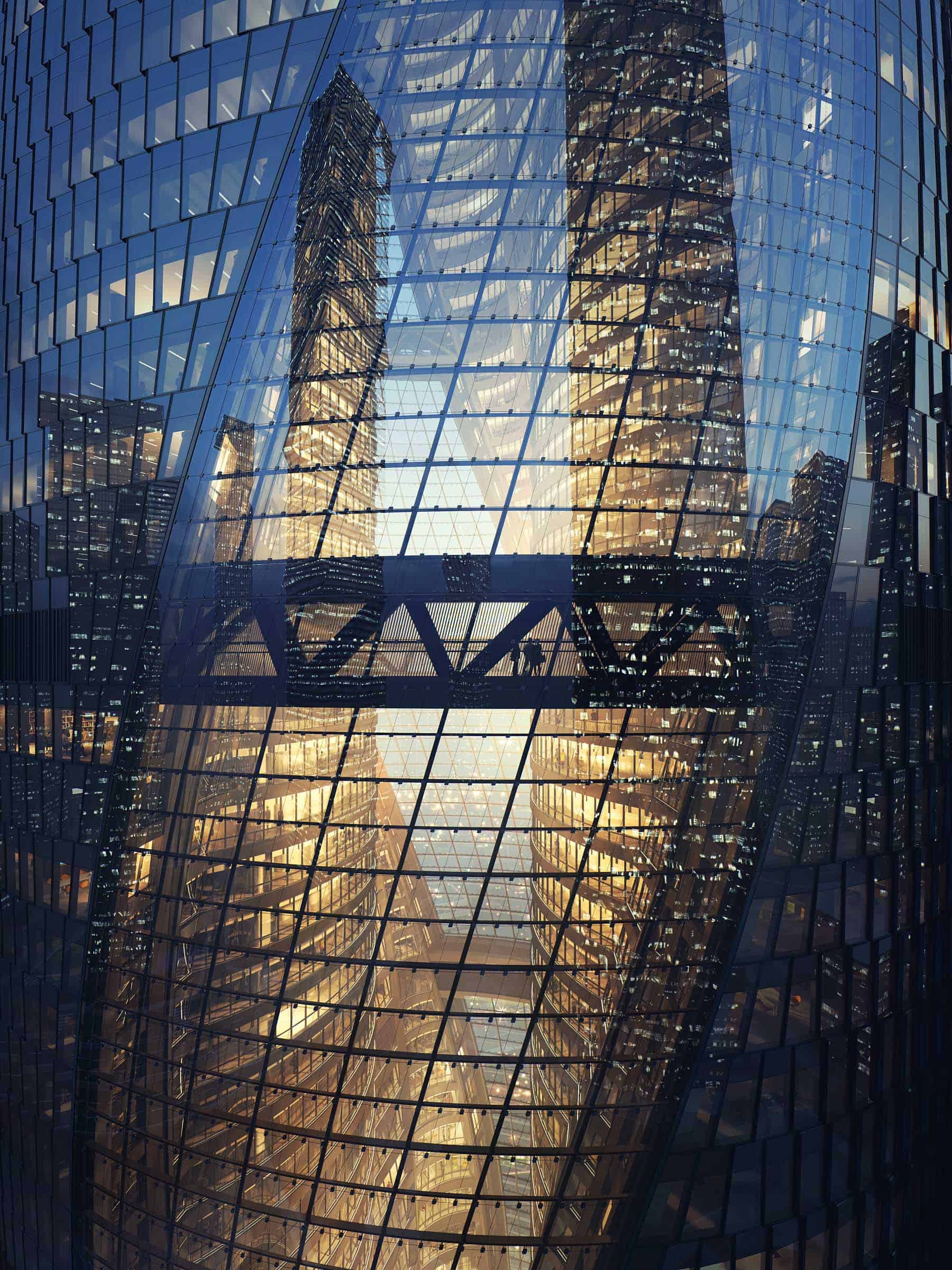 The atrium's 'twist' allows natural light and views of the city from the centre of all floors of Leeza Soho. Sky bridges on structural rings at each refuge/MEP level and a double-insulated glass facade unite the two halves of the tower together within a single cohesive envelope.
The double-insulated, unitized glass curtain-wall system steps the glazing units on each floor at an angle, allowing ventilating registers to draw outside air through an operable cavity when required; creating extremely efficient environmental control for each floor.
The tower provides self-shading for the atrium's public space below while double-insulated low-e glazing (U=2.0W/m²K; SC=0.4) and envelope insulation (U=0.55 W/m²K) maintain a comfortable indoor environment in Beijing's extreme weather conditions.
The core and shell development of Leeza SOHO was awarded LEED Gold certification by the U.S. Green Building Council.
Targeting LEED Gold certification, an advanced 3D BIM energy management system will monitor real-time environmental control and energy efficiency within Leeza Soho, integrating heat-recovery from exhaust air, high-efficiency pumps and fans, chillers and boilers, lighting and controls, in addition to water-collection, low-rate fixtures, grey water flushing and landscape irrigation.
Low VOC materials will be installed throughout Leeza Soho to minimise interior pollutants, and when required, high-efficiency filters will remove PM2.5 particles via the air-handling system.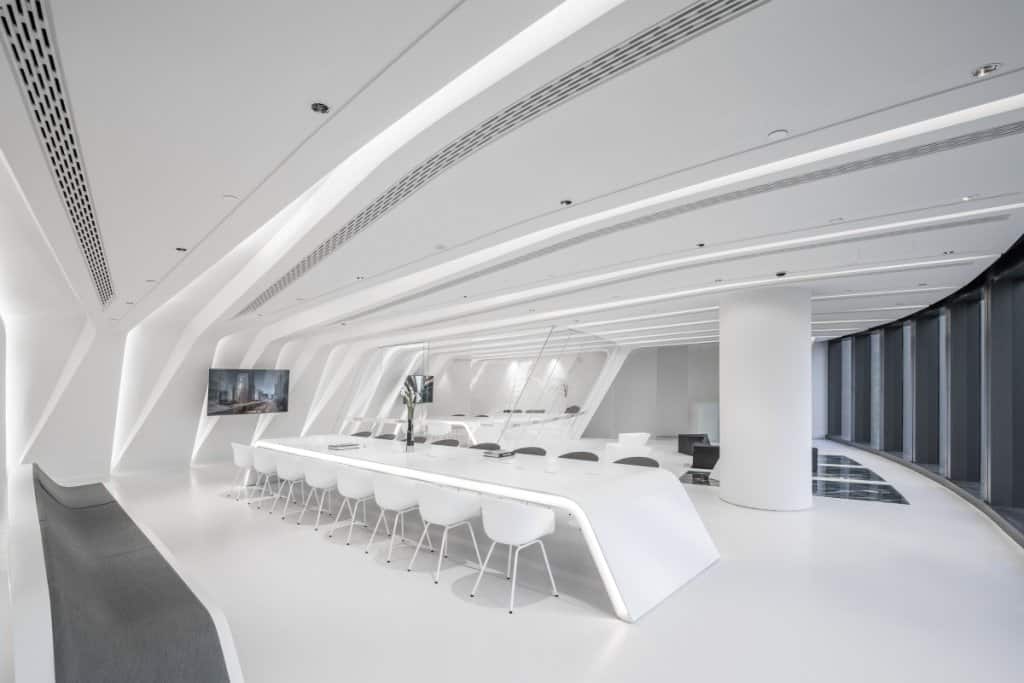 Leeza Soho is the most recent of four project collaborations between Zaha Hadid Architects and Soho China that total 15 million square feet (1.4 million m²) of award-winning office and retail space.

Project Details

Location: Beijing China
Duration: 2015 – 2019
Site Area: 30,688 sq.m.
Gross Floor Area: 172,800 sq.m
Height: 200m (50 levels; 46 above ground, 4 below ground)
Above Ground: 124,000 sq.m
View Complete Gallery