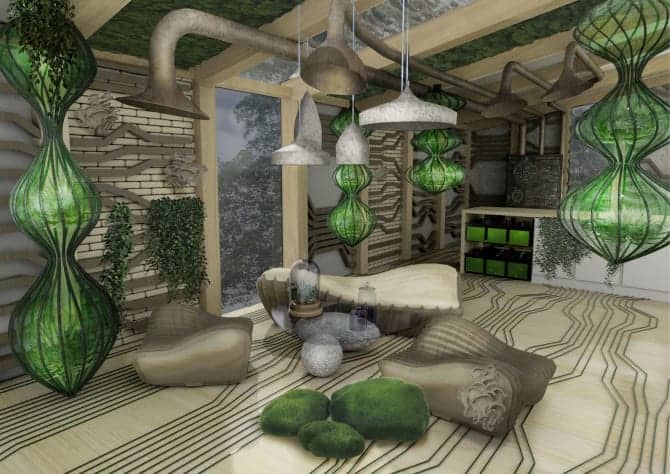 The whole green and sustainable building revolution got an impetus with the two universities – Newcastle and Northumbria – getting £8m grant from Research England's Expanding Excellence in England fund to establish the world's first research Hub for Biotechnology in the Built Environment (HBBE).
The motive behind this was to move away from conventional method of construction, which leave significant carbon footprint & harm our environment; and device new methods to develop next generation of "Living Buildings". These future buildings will be in sync with nature, created using living engineered materials and self sustaining in many ways such as process own waste, cut down pollution levels, generate energy and promote natural way of living.
Hub Co-Director Dr Martyn Dade-Robertson, a Reader in Design Computation in the School of Architecture, Planning & Landscape at Newcastle University, said: "This is incredibly exciting opportunity to create a new field of research. By bringing together architects, engineers and bio-scientists, working with industry and investing in state-of-the-art facilities we are aiming to rethink the building industry."
Hub Co-Director, Professor Gary Black, a Professor in Protein Biochemistry, Northumbria University said: "We want to use the very latest biotechnologies to create living homes that are responsive to, and protective of their environment and the people who live in them. The current construction of buildings is unsustainable due to its carbon footprint, the hope would be to use this model in housing in the future.
The Hub team will explore the concept of microbial technologies which would involve use of microbes to create living materials and see how these materials generate healthy buildings. This will be done by studying the ways the microbiome of the built environment and humans interact.
The HBBE will have The OME, a living lab, built within the Newcastle University's Campus, that will be used as an experimental house for all of the Hub's research activites.
The experts at the new hub will work on developing new microbial technologies that will act as a catalyst in processing a building's waste and generating energy.
Apart from this, the HBBE will also have a Micro-Design Lab, based at Northumbria University and a Macro Bio-Design Lab at Newcastle University. Both these labs will be used by the expert team to work on new technologies from small molecular structures up to the full scale Living Buildings.