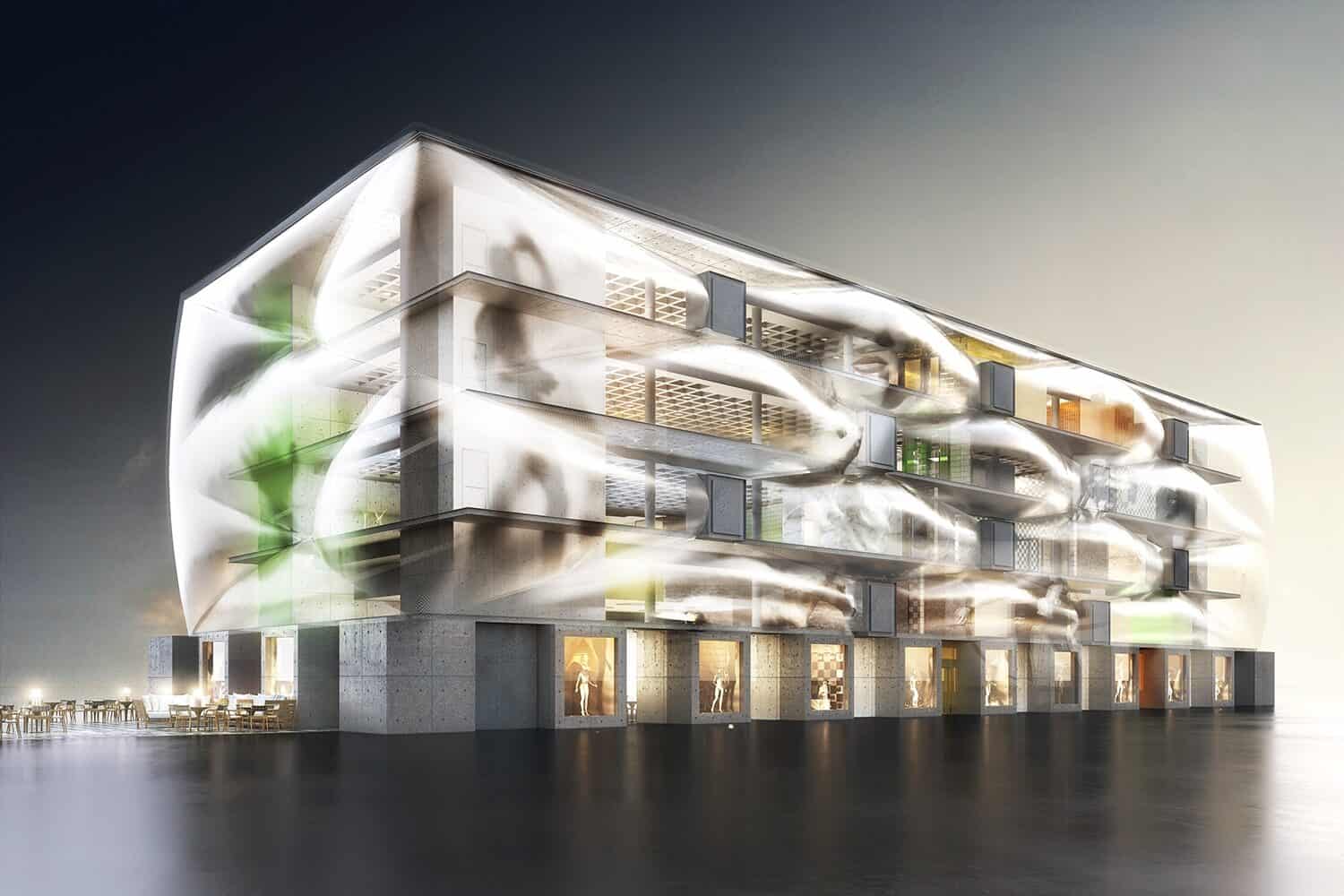 Le Nuage is the first inflatable private building in Europe and a new sign of high architectural quality that distinguishes the young district of Port Marianne.  It is an extraordinary construction which is also ethical and poetical. It is a bubble of 3000 sqm of facilities and services, dedicated to health and well-being. Four villages are articulated around the four floors of the building to centralize in one place, all the expectations of people who care for a healthy and fulfilling life.
"The heart of the subject is life, and we need to surround it with the less possible. I built a simple shelf, in which elements are flexible to adapt to the different rythms of life. Le Nuage is a vertical village that carries the elegance of those who live there. " Ph.S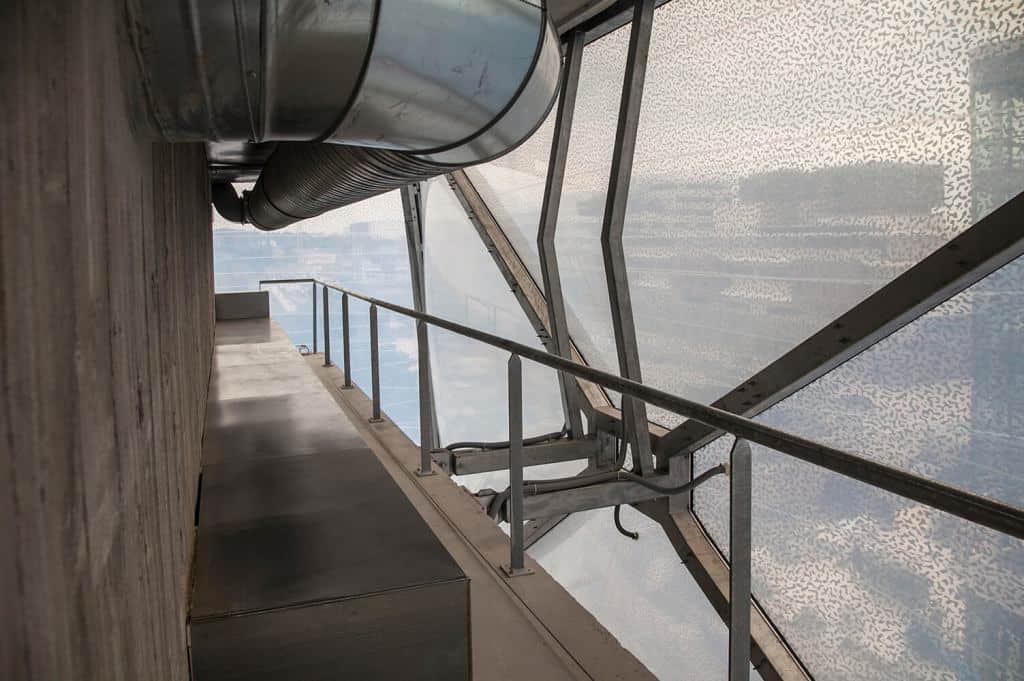 Located between Marianne Park and Avenue Raymond-Dugrand, facing the mirror of water, the project expresses itself beautifully. The architect structurally supports the project imagined by the Group Roxim, while balancing the fact that it is part of a process demanding ethics.
The result is both minimal and impressive. Driven by the notions of lightness, suspension and transparency, Starck hangs his four "villages" in an ephemeral volume of high technicality. Five levels (one ground floor and four floors) for a rise of 17 meters, a facade on the boulevard of 60 meters and a total area of ​​3000 m2.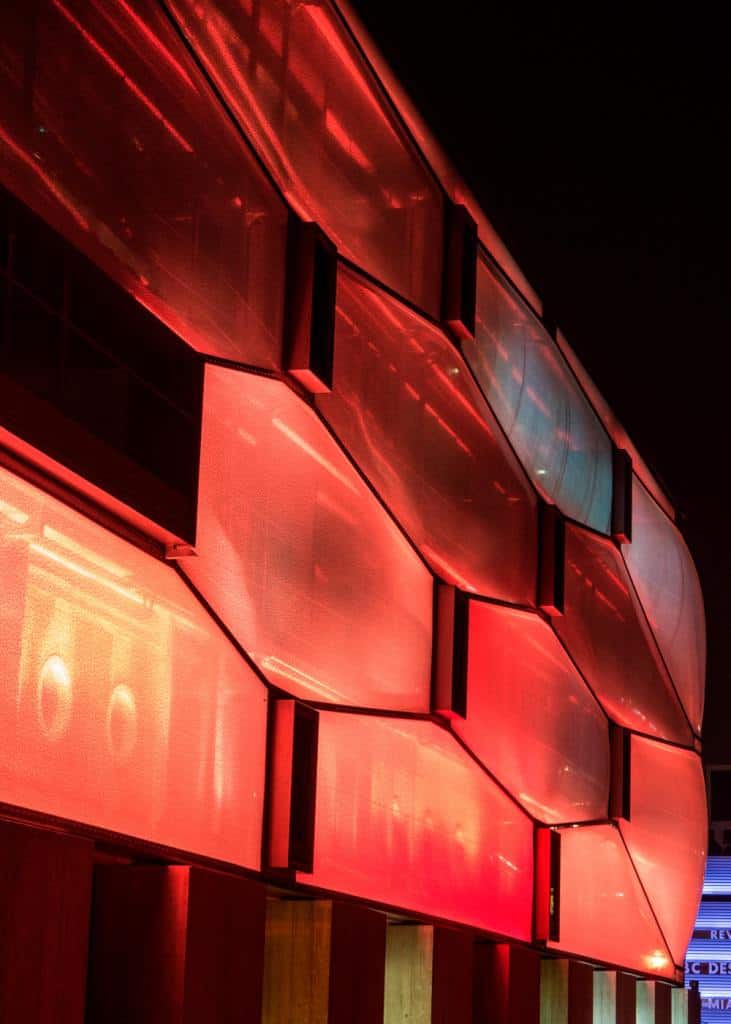 Installed on a hard base that alternates opaque blocks and transparency, The Cloud consists of a framework left raw and built with wooden planks that print on the concrete their veining. The padded appearance of the facade, made of a transparent membrane that is the main originality of the building, is amplified by the play of opaque boxes that act as buttons on a cushion.
This bubble is inflated with air pulsed at 700 bar, around the hard structure. It is made of an ultra thin screen-printed plastic material, a polymer called ETFE, with remarkable thermal properties. An alternative to glass that does not detract from transparency games, lets in natural light, and gives rise to permanent visual interactions between the inside and the outside.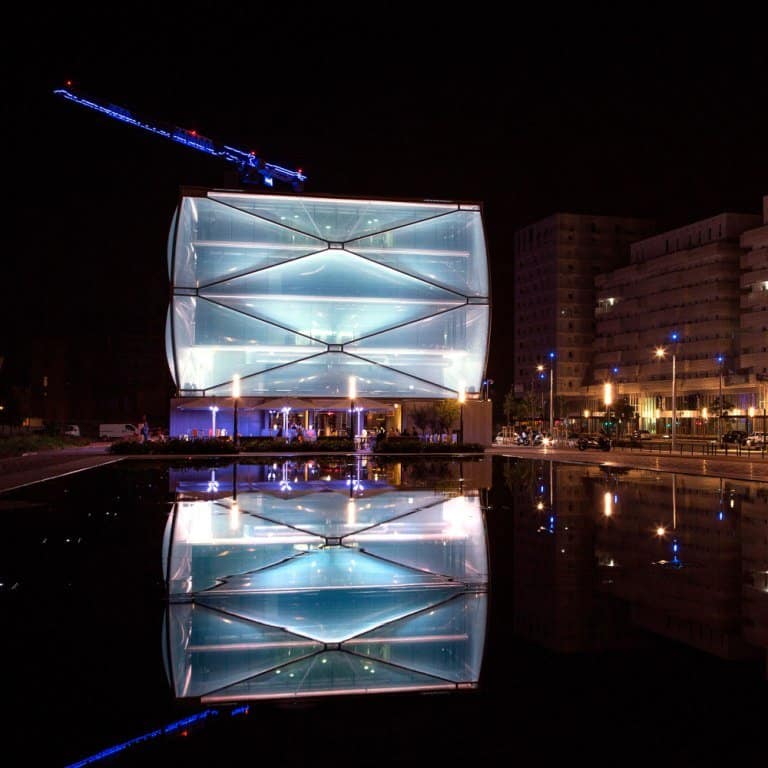 The layout plays on the possibilities offered by the free plan of the trays. Each is structured by micro architectures designed around a choice of materials that induces their function. Plastic Agglo for aesthetic cabins, aluminum honeycomb for shops, translucent curtain for relaxation areas, tiling for wet places, wood for training areas, polycarbonate for places in transparency: the choice of finishes, like materials, shows this attention to detail that could be the signature of the elegance of intelligence dear to Phillipe Starck.
Past master in the art of scripting spaces, he manages to recreate in the sports world, this functional poetry that distinguishes the hotels and restaurants of which he was the author. A warm and comfortable fantasy that makes you feel immediately at ease and easily appropriate the place.
View Complete Gallery