Diwali is known for its lights, diyas, sweets, and bright rangoli designs. Rangoli design is an Indian folk art form generally passed down through generations. The simple and easy rangoli design for Diwali is created with rice powder, colours, flowers, chalk and pulses etc.
Rangolis are also known as Alpana, Ossa, Kolam, Chowk Purana, and Muggu in different parts of the country. Rangolis help in brightening up the entrance of a home and giving a positive vibe to the space.
Here are some simple and unique rangoli-making styles to give you the much-needed inspiration to create the perfect rangoli design for your house.
Unique and easy styles of Rangoli design
#1 Simple corner Rangoli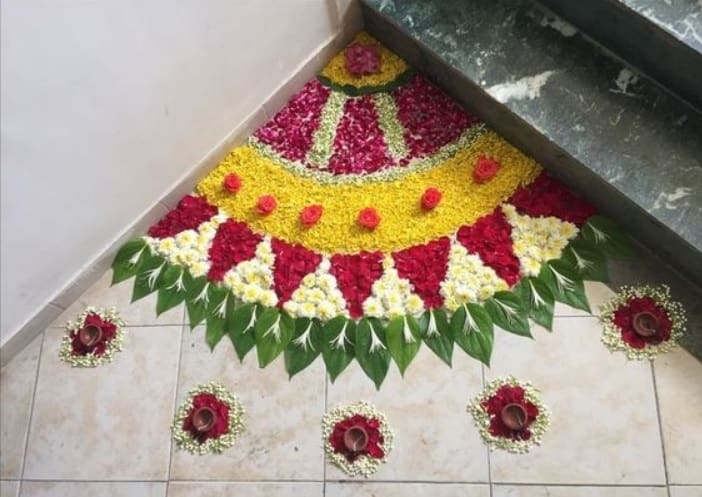 Image Source: Buddy Mantra
When space is an issue, make a simple rangoli design in the corner of a living room in a circular or border pattern. While rangoli designs can be made almost anywhere including entrances, passageways, and on the floor of living rooms, you can also make them in corners with bright and vibrant colours to save space. 
#2 Peacock Rangoli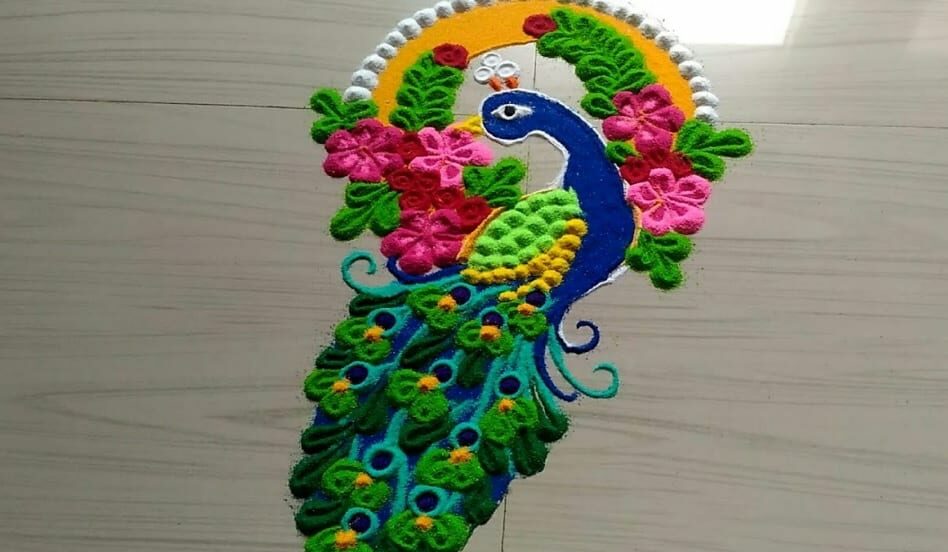 Image Source: Venue Monk
A festival favourite, the colours used and the auspiciousness makes the peacock rangoli design one of the most well-known designs. Start by outlining the peacock body on your desired surface and then extend the pattern outside to make its feathers. Use petals, sequins and other decoratives to make the feathers look diverse and vibrant. This pattern is one of the simpler and time-saving options. 
#3 Chalk Rangoli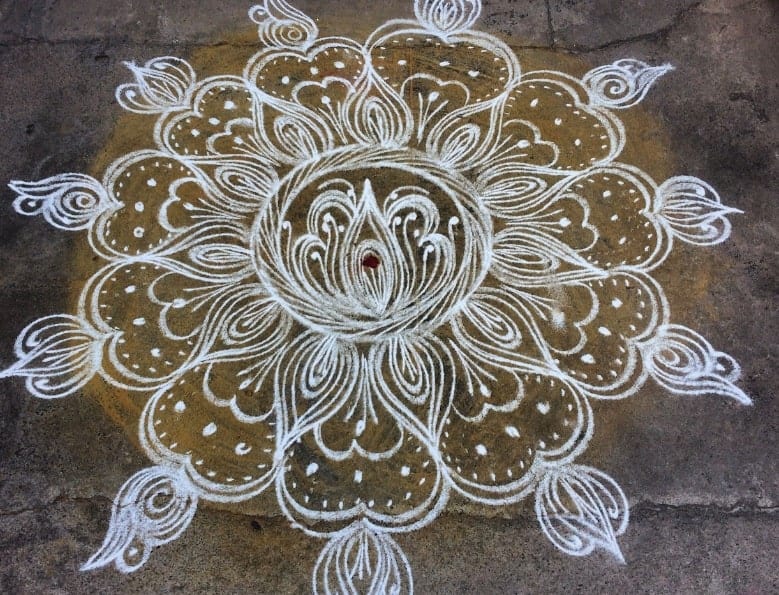 Image Source: Pinterest
The chalk rangoli is perfect for people new to the art of making rangolis or those looking to create beautiful designs without making a mess. Start by chalking out a dotted grid and then trace your desired pattern. Then, fill the outline with white or coloured chalk.
#4 Flower Petal Rangoli design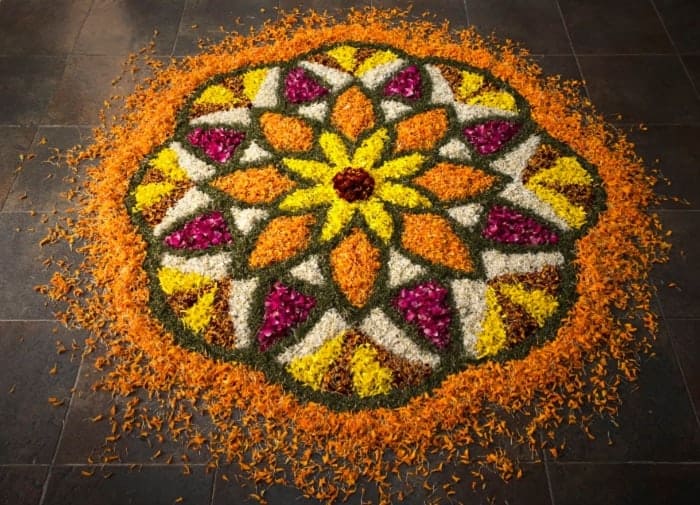 Image Source: Arts and Culture
A significant part of the Diwali celebrations is its flowers. These are used for decorating the house and can also be used to make simple and modern rangoli designs using marigolds, lotus stems, jasmine, carnations, and roses among others. These are not only colourful and pretty to look at, but also give a pleasant aroma. 
#5 Alpana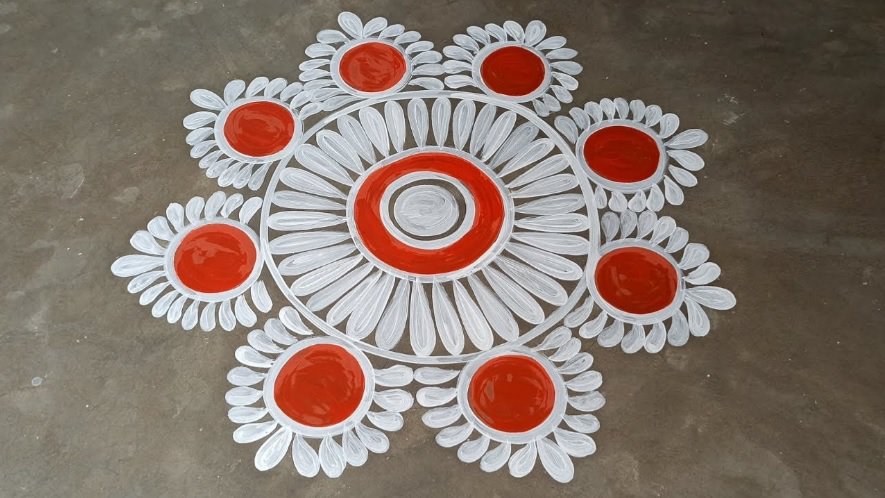 Image Source: Youtube
The Alpana is a popular rangoli form in West Bengal, made using rice powder, charcoal and ash. The traditional motifs of the sun, Goddess Lakshmi, fish, lotus, owl and ladder among others are made. Made using a cloth soaked in rice powder and water these designs are passed down from generation to generation.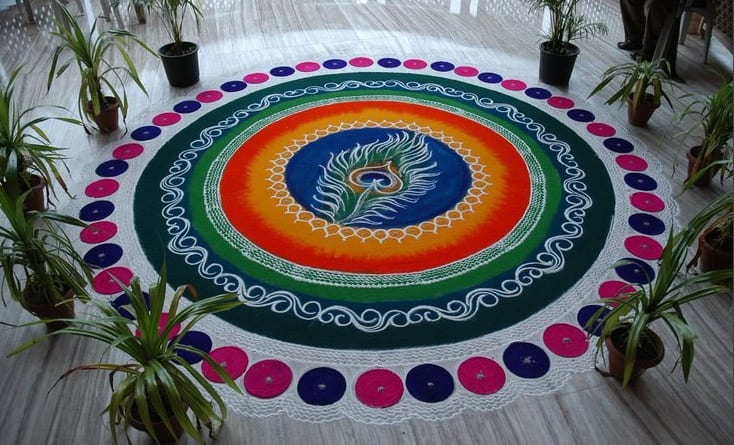 Image Source: Web Neel
This rangoli from the state of Maharashtra showcases detailed patterns. Made using three or five fingers to create fancy designs, first a simple sketch of the design is made. Then you need to fill the sketch/outline with colourful powders. Finish it by using a white-coloured powder to highlight the important elements of your rangoli. 
#7 Water Rangoli design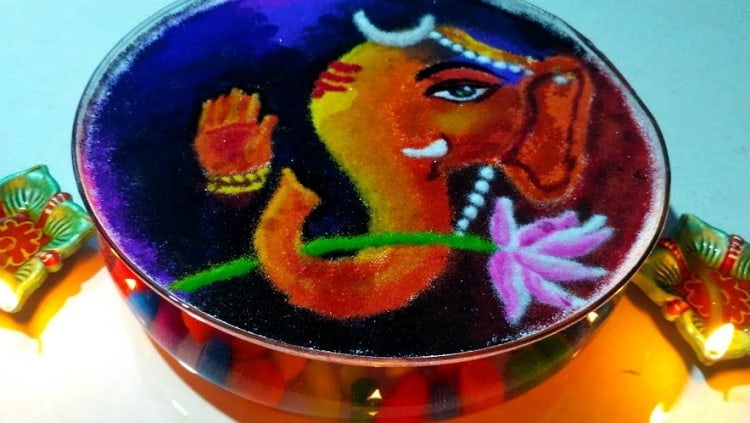 Image Source: Jeet Rangoli
For this unique and easy method of making Rangolis, you will need a large bowl filled with water and rangoli colours. Once you have filled the water in the bowl, add a few drops of oil. The oil will form a layer on top of the water. When you now add rangoli colours to the water, the design will float to the top and stick to the layer of oil. Add floating candles to make the design look complete and festive.
#8 Quilling Rangoli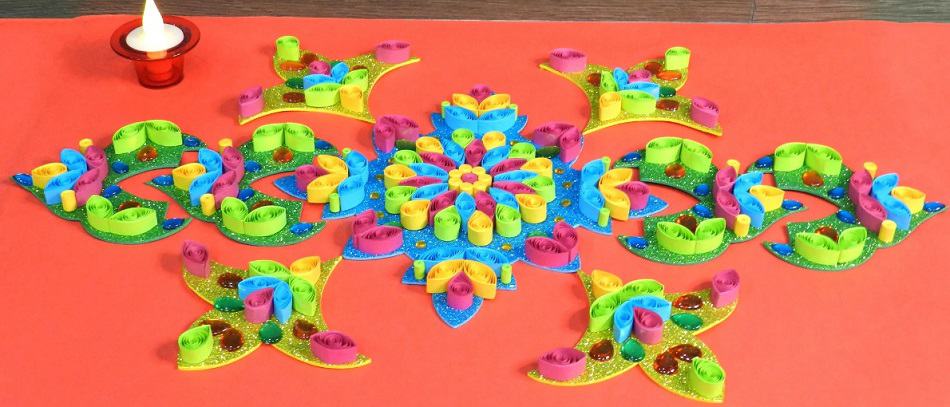 Image Source: Quill On
An art form, Quilling involves cutting paper into thin and long strips. These strips are then rolled into different shapes. To create this type of rangoli design you will need colourful paper strips, a quilling board, glue and scissors.
#9 Rangoli design with pulses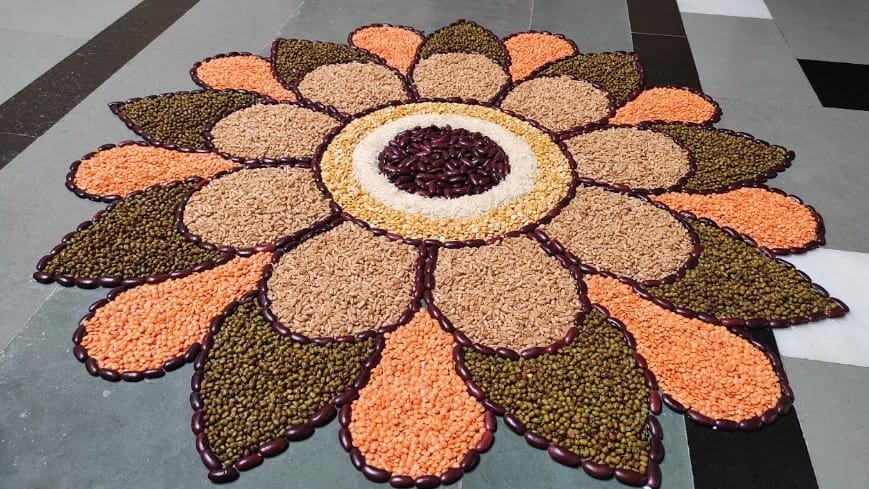 Image Source: Youtube
Made of edible grains like wheat, rice, kidney beans, green grams, chickpeas, and split peas among others the Pulses rangoli looks colourful and vibrant due to its natural colours. To make your art form more festive and attractive simply add Diyas.
#10 Rangoli design with stencils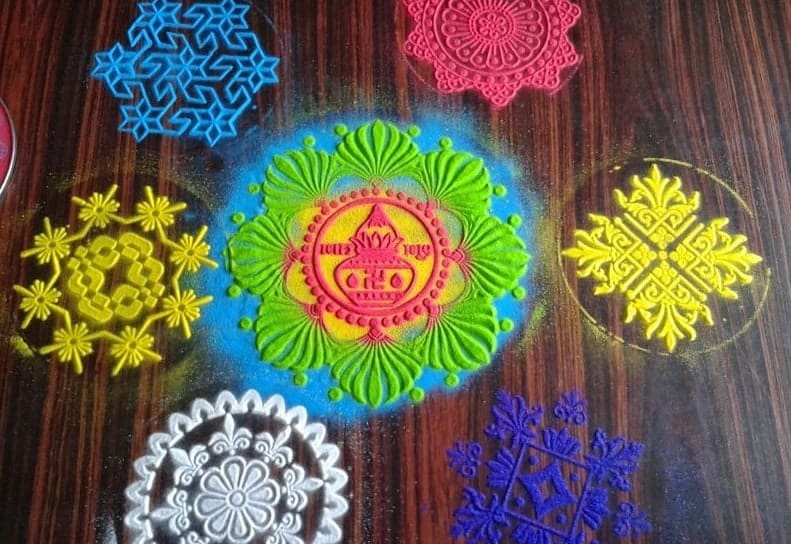 Image Source: Venue Look
For this easy rangoli-making method you can involve the kids as well. Use the readymade rangoli design stencils easily available in the market. All you need to do is put the stencil on the surface and rub coloured powder on the stencil. The hollow dots on the stencil will then make the chosen template design.
#11 Ready-to-use sticker rangoli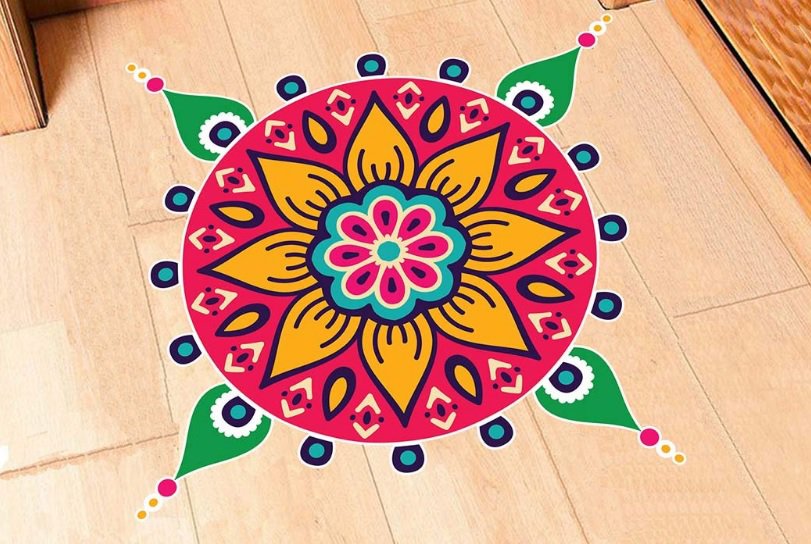 Image Source: 100 Yellow
The newest rangoli trend, sticker rangoli saves time and is available in thousands of different designs. All you need to do is stick this reusable rangoli on the floor. Made on acrylic, wood and plastic sheets these replicate the original rangoli design.
Rangoli design lookbook 
Conclusion
The word Rangoli means a row of colours. Rangolis not only reflect your creativity but also help in making guests feel welcome at your house. Made of a variety of materials like colours, pulses, rice powder, husk, chalk, etc these designs add colour and positivity to the Diwali decor.
While rangolis are a part of Diwali rituals, these can also be a fun exercise with the family. So go ahead and select your favourite rangoli design from our list of hand-picked, bright and colourful options to impress your guests.
*The featured image used in this article is from Pinterest
[vvsmustread]