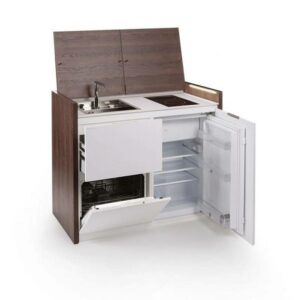 Kitchen is not just a place to cook but a personal space where you unwind. But this personal space is shrinking due to burgeoning population in metropolitan cities, leading to cramped apartments. Therefore it is a challenge for any kitchen manufacturer to give an awesome cooking experience to the individuals given the space constraints. Even if a functional solution is developed, it ends up being more of an eyesore and lack visual appeal.
But Kitchoo, a Swiss company has developed a product that perfectly fits the bill. They offer a mini kitchen that is packed with all the basic appliances – stove, refrigerator, dishwasher etc., yet has a sleek and elegant design – an all-in-one unit.
Kitchoo mini kitchens are characterized by their multi-functionality. The top has a sink with a faucet that can be pushed down and two burner induction stove. There are two lids that can be flipped down so that both the sink and stove gets covered and you can create an extra table surface for working or eating on. This extra bit of functionality gives the Kitchoo an advantage in tiny spaces.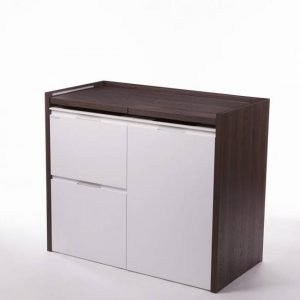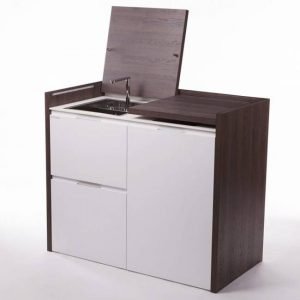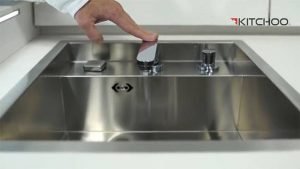 Underneath and to the left, there is a storage drawer for plates, cups and utensils.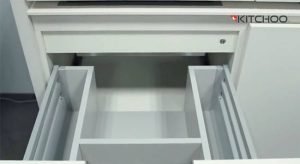 Under that is another drawer, which in the basic model, is just another drawer; in the more full-featured model, there is a mini-dishwasher.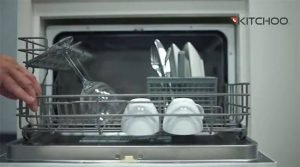 To the other side, you can either have a cabinet in the basic model — or for the higher-end option, you can have a mini-fridge, or even a mini-washing machine.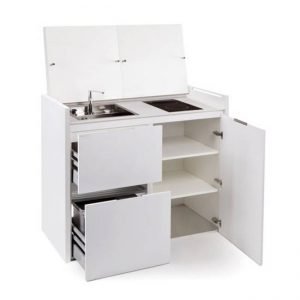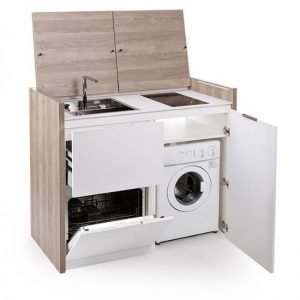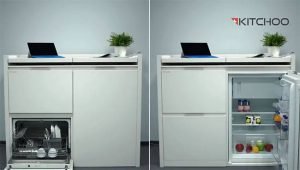 The most interesting aspect of this kitchen is its design; which is modular in nature and offers tremendous flexibility to you. So you can switch out an appliance if you don't need it. It is available in different finishes – dark oak, light oak, white – with an option to change the finish. Even the sink placement can be swapped to the other side, but all of them close up neatly into a compact volume. For more information, visit Kitchoo.