The main focus of each living room is a centre table, commonly known as a coffee table. You should stay mindful when choosing a modern design centre table because they are a crucial piece of furniture that serves both utilitarian and ornamental purposes in your room. The perfect designer centre table will fill in any gaps between pieces of furniture in a room while leaving space for movement and balance. You can establish two or more centre points to give your seating space a balanced appearance if it is spacious or encircled by sectional sofas.
It's crucial to choose the proper size and shape for your centre table. However, its aesthetic appeal also plays a significant role in the selection. Center tables come in a variety of materials, including metal, wood, glass, or glass tops and faux leather top. They also come in a variety of patterns and styles, from rustic picks with a farmhouse vibe to everything in between. Make sure to select a table that blends in with the style that best complements your space.
In this article, explore various types of centre table materials and modern designs for your living room along with important tips for selecting the best one. So, keep reading to shop from our curated picks of designer centre tables!
Buying tips for picking the right centre table for your room
Budget
Before you start shopping, determine how much money you have to spend on other furniture. The cost of a centre table can range from extremely expensive to quite affordable. Furniture purchases such as sofa, dining table, and coffee table can receive the bulk of the spending since these are the core of a living room area.
Shape
Consider the best-suited table shape for your living room. If you have kids or dogs in the house, a round or oval centre table is great. Due to the curved edge, no one would be harmed by the edges. You'll have enough space for movement around the television unit if you use a centre table with a rectangular shape.
Size
You also have to choose the size you require, just like the shape. A centre table's height is crucial because it shouldn't be lower than 1-2 inches from your couch's seat. The ideal standard height for a couch of this size is between 16 and 18 inches. A table that is 20–21 inches tall will be needed to match a higher sofa. When having visitors around, a taller table is good since it makes it simpler to place a glass or a plate down.
Functionality
Knowing the principal use of the table is a vital point to take into account. Will the table be decorative or serve as storage?  For storage, tables can also have shelves or drawers. Choose a piece that is big enough to easily support the plates with the snacks and drinks. If decoration is your goal, then you can also focus on the material, colour, lines, and texture.
Trending centre table designs for your modern living room
Abstract centre tables
As the name suggests, these centre tables are abstract in design and have a unique style. Abstract centre tables are appropriate for modern homes. Since these have an unconventional look, these tables serve as furniture pieces and add a decorative element to your living room. Above are some amazing modern abstract design centre tables for your home. 
Vintage centre tables
This is a meaningful manifestation of eccentric design philosophies from the past. Vintage centre tables occasionally use repurposed materials, such as reclaimed wood or licence plates, and have a vintage feel that blends well with other vintage items in the decor. These types of centre tables are great picks for impressing your guest with attractive furniture.
Contemporary centre tables
The term "contemporary" is extremely inclusive and refers to a variety of stylistic touchstones. It refers to any furniture that is designed with a contemporary appearance and incorporating unique elements. The contemporary design emphasises clarity, crisp lines, and the fusion of practical and aesthetically pleasing goals. So, the contemporary design tables look neat and elegant in a room styled in neutral colours.
Minimal centre tables
The minimal design centre table is for those who believe in the mantra of less is more. A minimalist centre table is a simple piece of furniture that is elegant and sober in its style, with minimum patterns and material contrasts. These are usually seen in clear neutral colours like white, grey and beige. Marble top minimal centre tables are the current popular trend in contemporary apartments.
A small grouping of centre tables
Who said you only required one centre table? You can experiment with several tables. For instance, you can enhance the usable surface area by staggering two sets of identical nesting tables close to each other. Another choice is to collect several garden stools and use them to create a grouping of tables. These types of tables are available in several hues and designs that are ideal for a light-coloured living area.
Folding centre table
Folding, lift-up, or top-lift centre tables are practical and excellent space savers. These are portable, flexible, light, and convenient. You can maximise space by concealing them in the storage area when not in use. Additionally, the strength of these foldable tables is also well-known. So, if you are looking for a solution that is high on functionality, then choose a foldable or lift-up table. 
Industrial centre table
The industrial design uses metal and wood in more abrasive and robust condition to reflect the purposeful appearance of industrial tools. These can contrast beautifully with softer surroundings or go nicely with living spaces decorated in the loft style.
Centre table types based on materials
Wooden centre tables 
The most typical material for tables of all kinds is wood, it always has been. Wood can be handled in the vast majority of shapes, styles, and sizes. It is versatile, warm, ageless, and rich in its visual appeal. Tables with wood tops have the most expensive, sensual feel. Any wood surface, whether treated, untreated, painted, or even weathered, adds a timeless, cosy vibe to the room.
Our recommendations for wooden coffee tables
Urban Ladder Dyson Coffee Table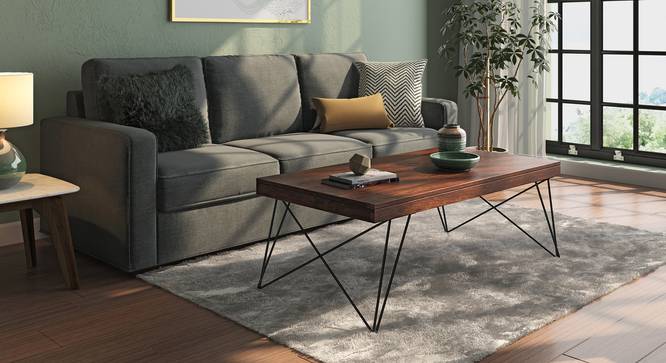 West Elm Chadwick Mid-Century Rectangular Coffee Table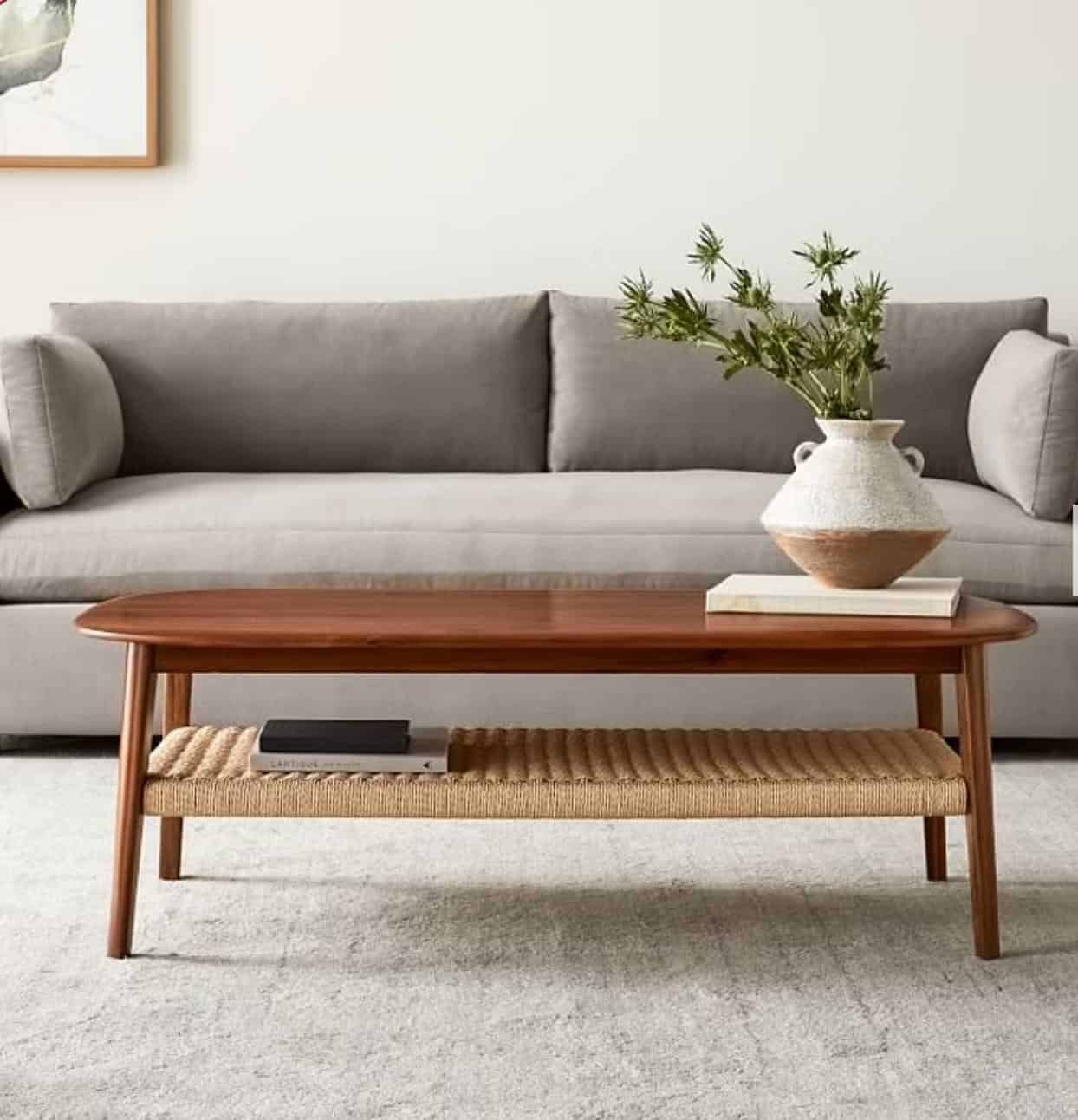 Fabindia Mandala Coffee Table
Glass centre tables 
With contemporary production enabling diverse, spectacular designs more feasible than ever before, glass has progressively increased in prominence. Some tables are made entirely of glass, though they are frequently joined together by metal joints or other support components or may have just a glass table top. Tables with glass tops are quite popular for a reason: they increase visual space, have an opulent lustre, and are resistant to stains and water damage. Any table with a glass top, whether it be made of metal, wood, or another material, looks aesthetically elegant.
Our recommendations for glass coffee tables
Natuzzi Cava Coffee Table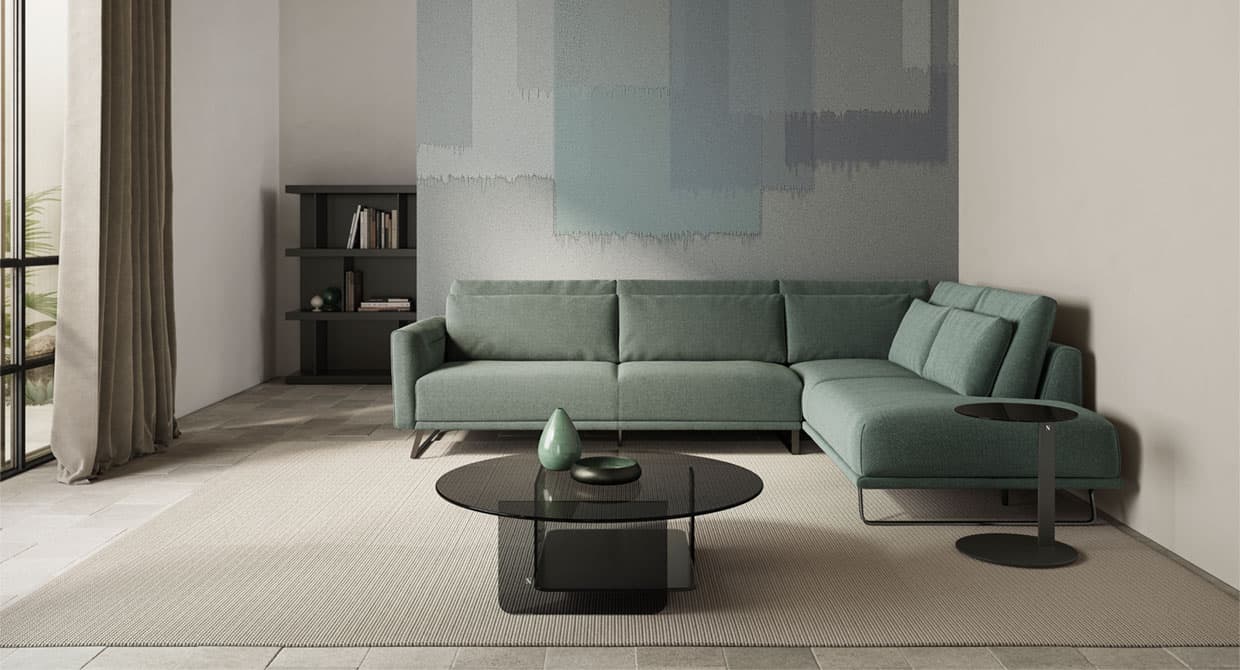 IKEA VITTSJO Coffee Table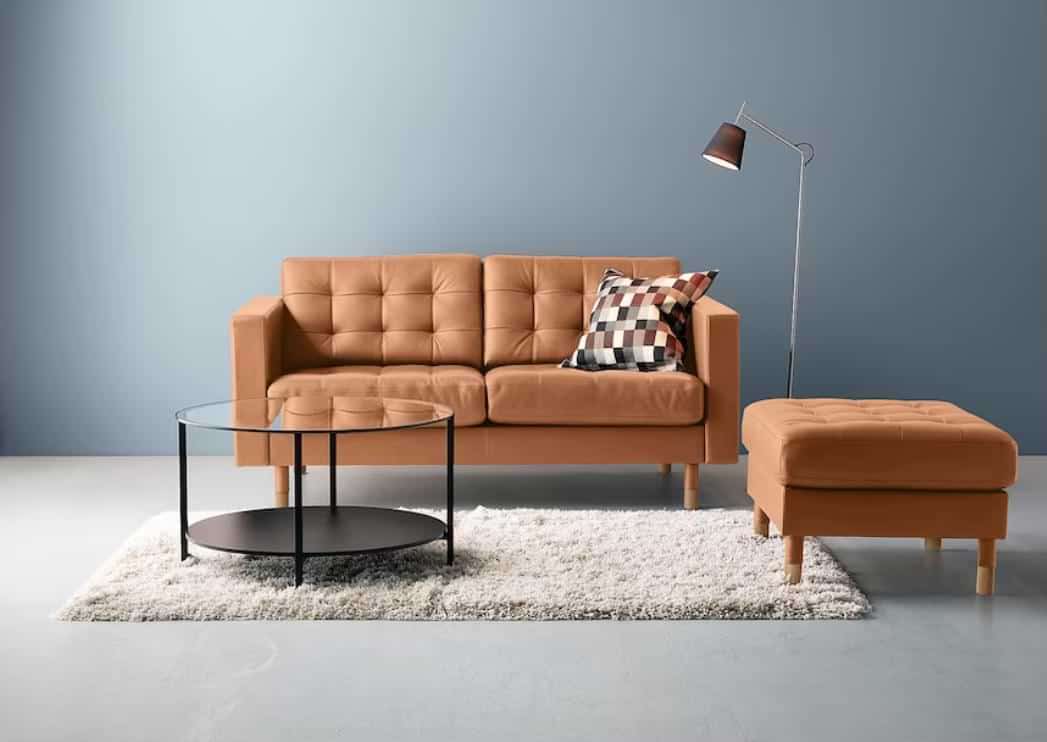 Godrej Interio Glass Abstract Coffee Table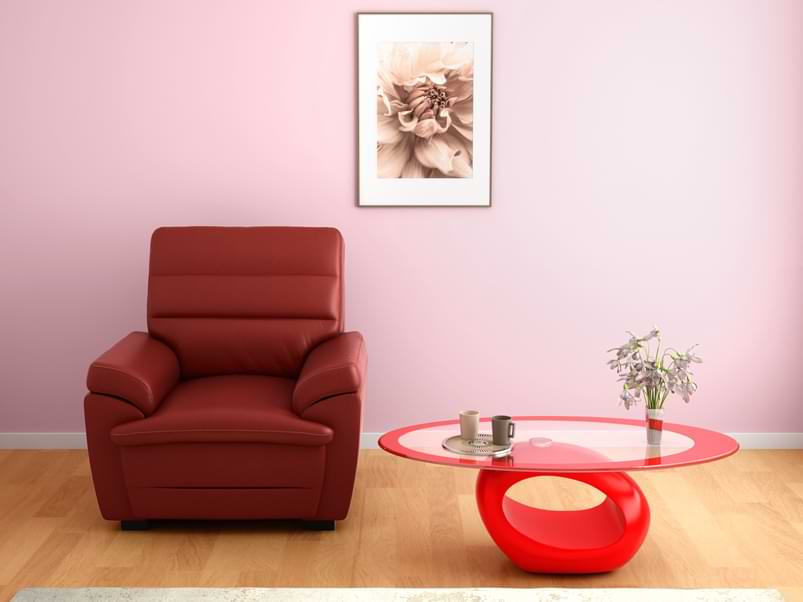 Metal centre tables 
The second most common table you'll notice while shopping is metal body tables. In comparison to conventional wood pieces, these are strong and sometimes lighter in weight. Metal may be formed into unexpected shapes and allows for thinner support structures and legs. Metal table tops frequently appear with industrial-style designs, but they can also be seen with a variety of materials and shapes. A metal top can be designed for classic or distinctly contemporary aesthetics since it is resistant to stains or water damage.
Our recommendations for metal coffee tables
BoConcept Aluminium Ottoman Table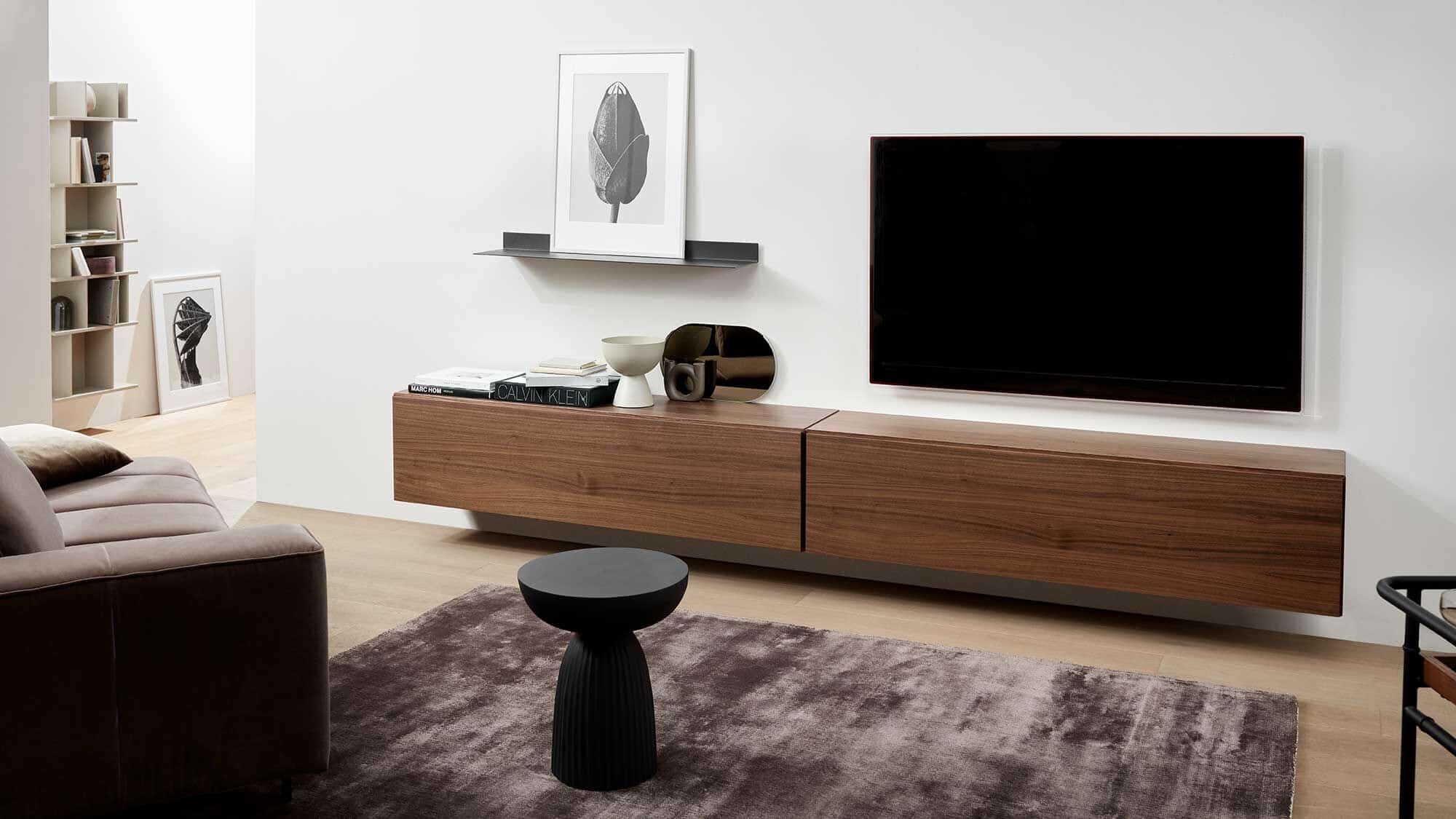 Freedom Tree Dabke Gold Metal Coffee Table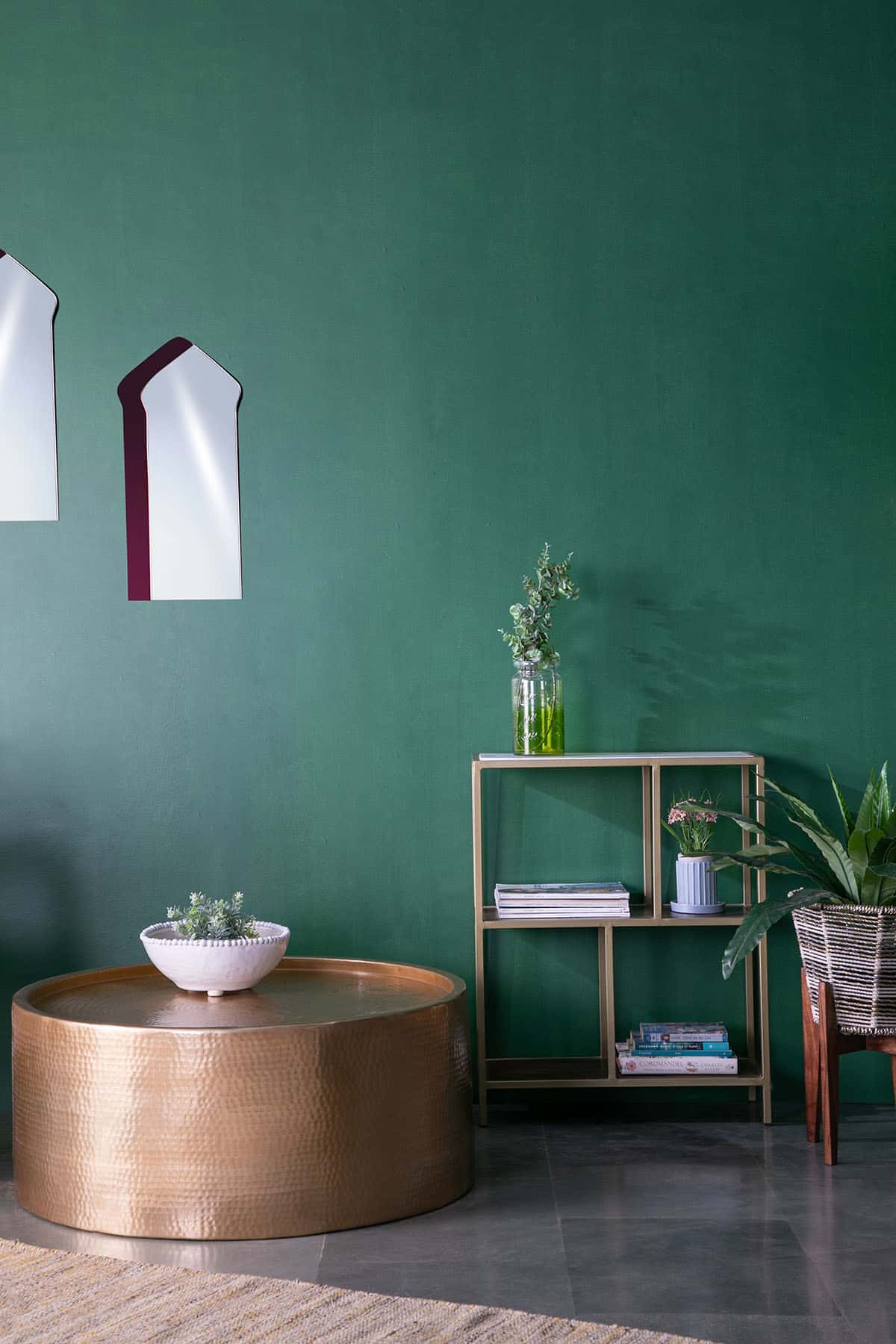 Amala Earth Antique Brass Aluminum Round Table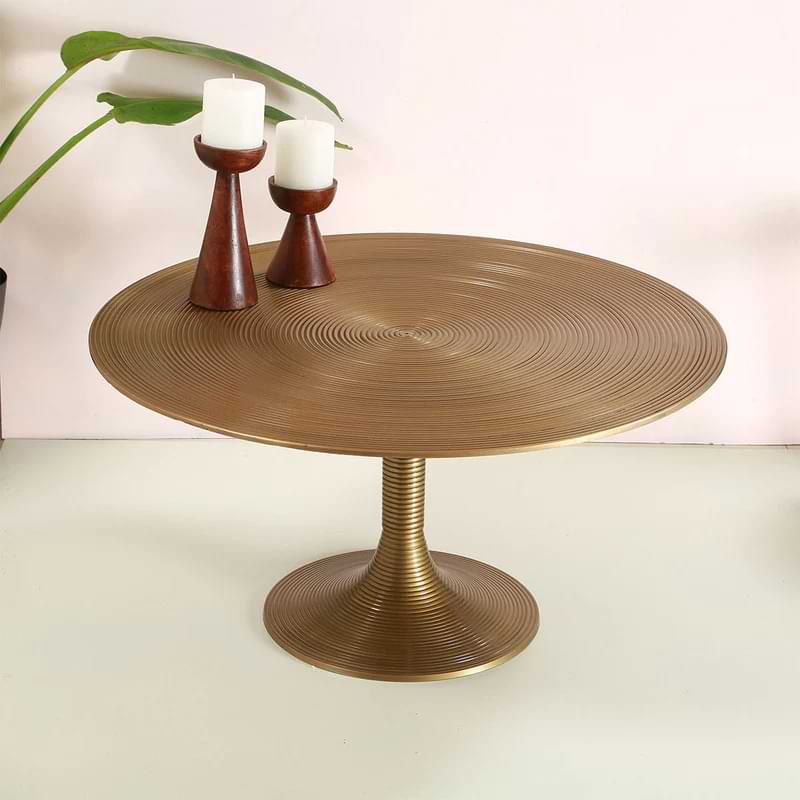 Plastic centre tables
Plastic centre tables are the most affordable type, thus perfect for those with a restricted budget. These tables are lightweight and portable. Modern plastic centre tables are available in a variety of designs, colours, and price ranges. However, they might not be your first choice for the living room, but synthetic rattan tables can prove to be an excellent choice for outdoor sitting areas. Here are some sturdy plastic coffee tables that you can add to your home. 
Our recommendations for plastic coffee tables
Nilkamal 2 Carv & Glass Centre Table 
Home Centre Theon Acrylic Table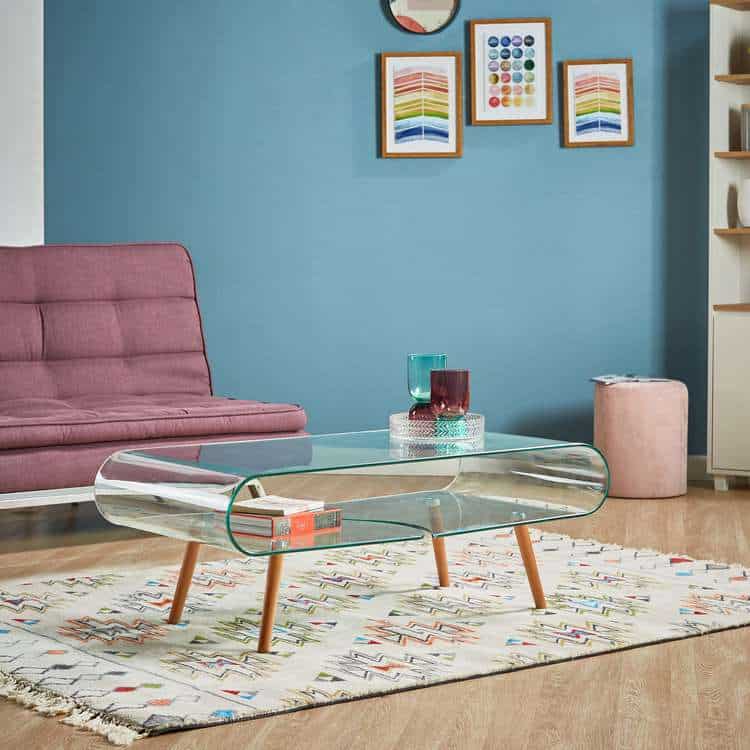 Fleck Rattan Coffee Table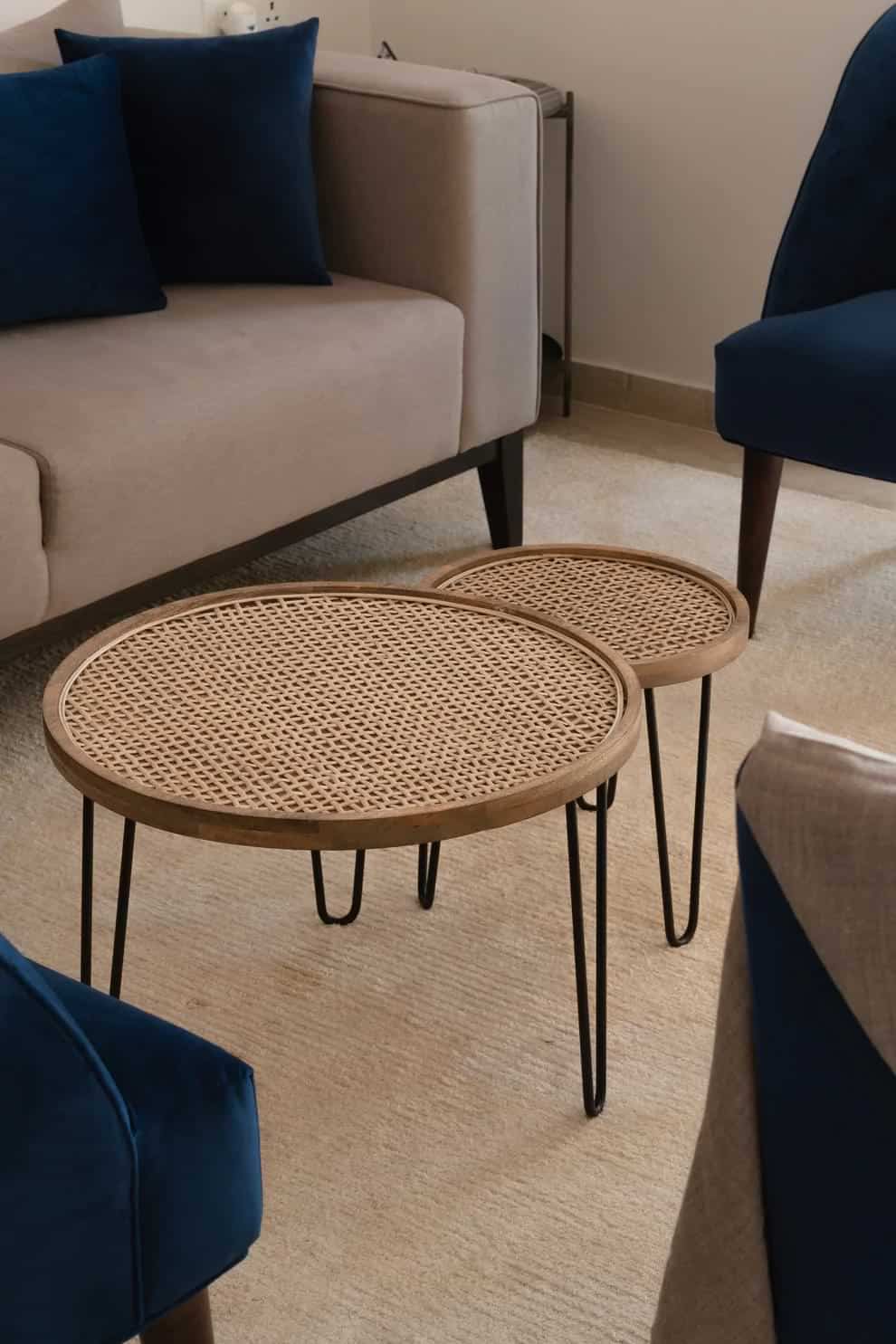 Leather centre tables 
Coffee tables with leather tops frequently appear as an ottoman-coffee table hybrid. When not utilising the item as a table, the material covered with plush padding, creates a nice surface where the owner can rest his or her feet. These are a very unusual variety of coffee tables, frequently accompanied by wooden drink trays for balance.
Our recommendations for leather coffee tables
Gulmohar Lane Leather Trunk Coffee Table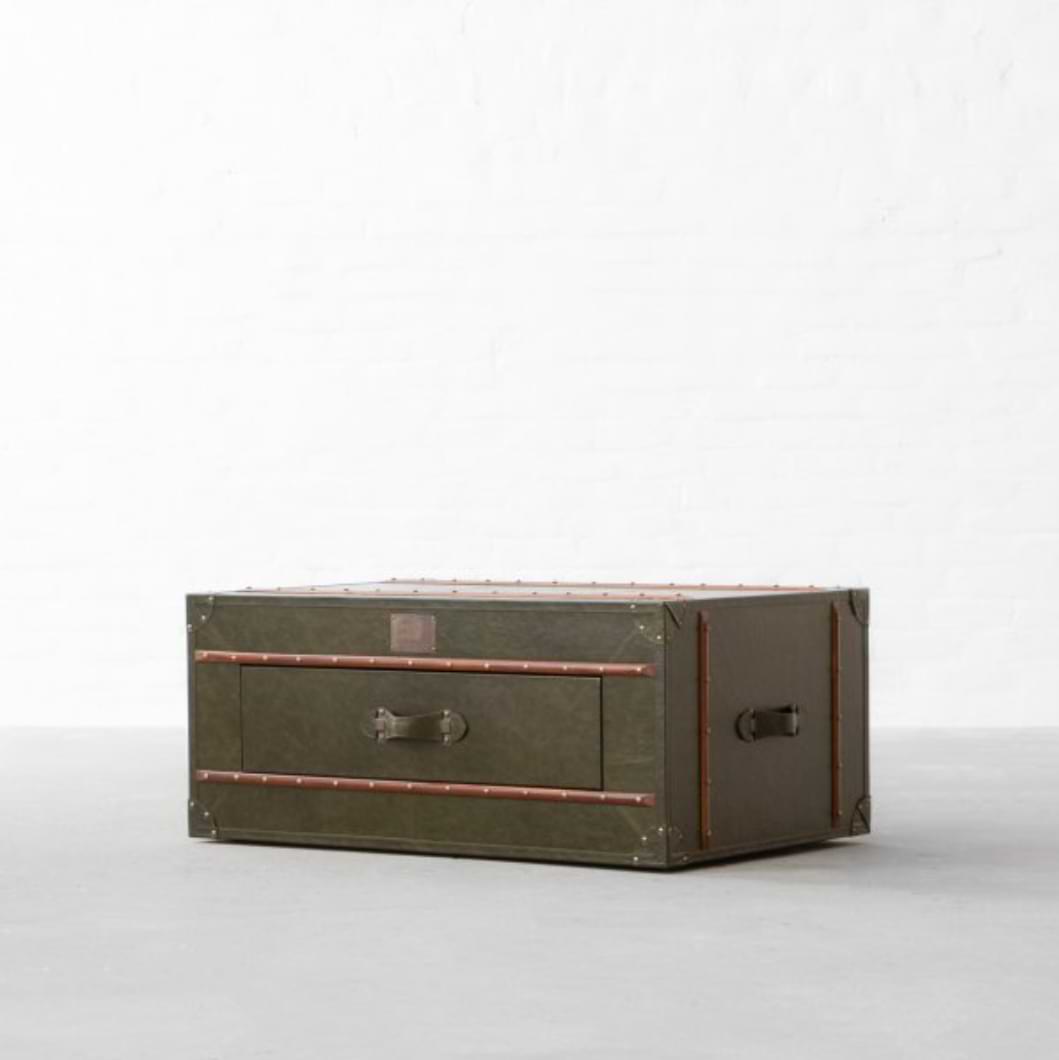 Art Avenue Kilim and Leather Coffee Table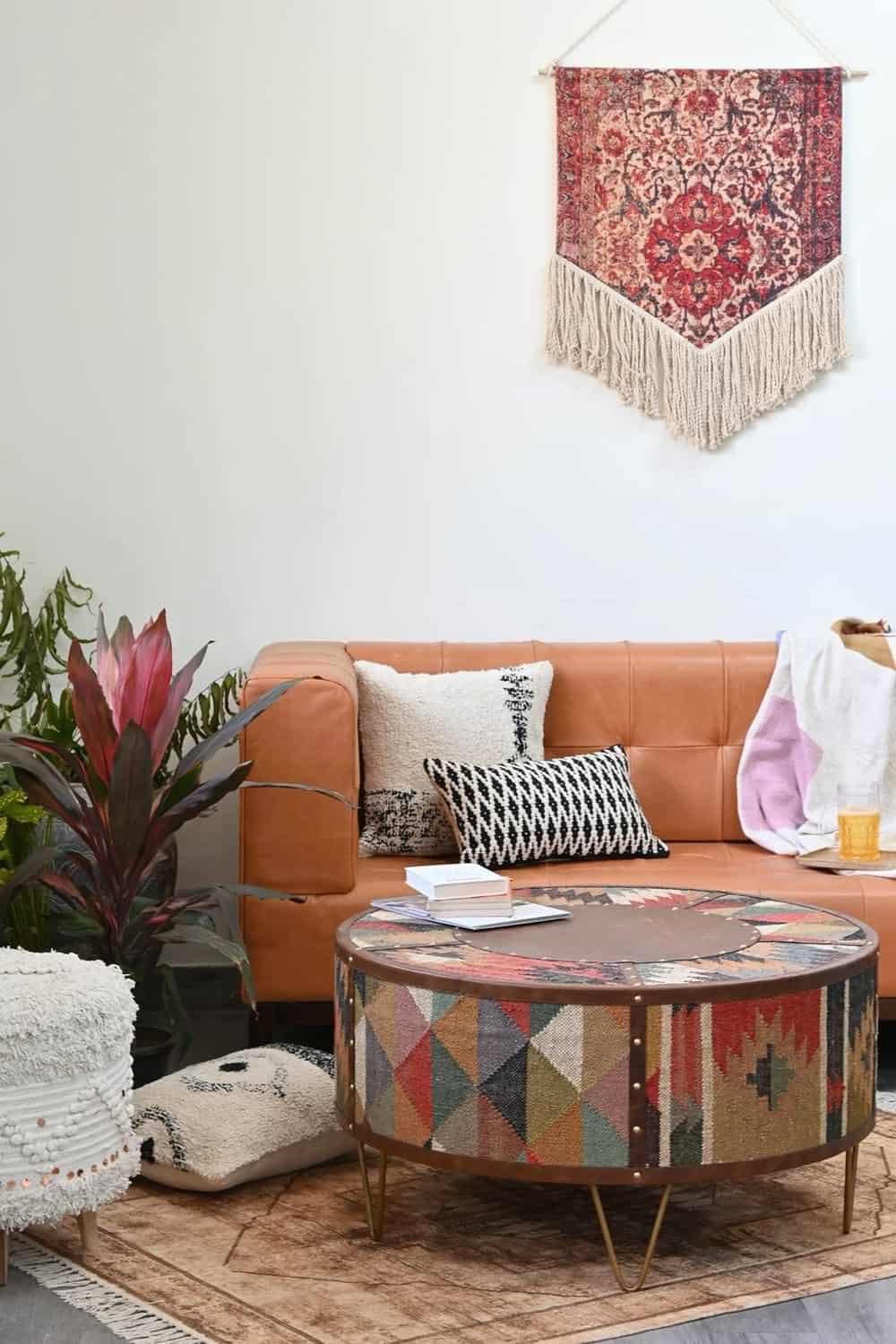 Wooden Twist Wide Leatherette Tufted Square Coffee Table
Conclusion
The centre table is a crucial part of your living room furniture. It provides you with scope to uplift the interiors and make a statement. With time, the coffee table has also evolved in terms of its material and design. While traditional materials like wood and styles like classical are still popular, other modern designs like abstract, contemporary, and industrial are also in great demand. Thus, to find the ideal centre table for your living area, think about the basic factors like budget, size, space, function, and material of the table. Apart from this, always visualise the shortlisted pieces in your living room before buying. Since this piece of furniture is quite literally in the centre of your room, it can easily make or break your room's aesthetic. 
So, feel free to take inspiration from the above gallery images for your living room centre table and buy from our curated list of top coffee tables available online from the most trusted furniture brands in India. 
*The featured image used in this article is from Ralph (Ravi) Kayden (Unsplash)
[vvsmustread]