Modern times call for modern interior accents such as the bean bag chair. Beanbag chairs look quite nice in bedrooms, living rooms, and dens when styled well. It is important that your bean bag blends in with the design of your space. It should be in accordance with your home's colour palette and compliment the textiles already in your space. Luxe materials, muted colours, and unusual shapes make the room look cool and effortless. Thousands of designs are available to cater to this market. When choosing a bean bag you should take into consideration the shape, price and filling used. Giant bean bags are trending because of the comfort they offer.
Your choice should be aesthetically appealing and in sync with your needs. Ergonomically designed ones have health benefits like relieving joint and back pain. 
Read along to find out the key factors that will influence your purchase decision. It is important to understand how the different sizes, materials, and fillers maximize your comfort. Additionally, we have answered some FAQs which will help you make the right choice. Also, we have curated a list of the best beanbag chairs available in India keeping in mind the functionality and style aspects.
How to choose bean bag chairs?
The selection depends on the purchaser's criteria. A variety of factors influence the buyer's choice. These factors are:
Shapes 
These are available in a variety of shapes like:
Square: The square-shaped ones are similar in design to a conventional sofa with the backrest and arms. Thus, they are a good replacement for everyday sofa designs with the support and comfort they provide.
Image source: Styloak
Round: The standard and most commonly available design, the round-shaped ones look like a big ball. These mould themselves as per the user. Additionally, these bean bags are a great fit for informal spaces.
Image Source: Pinterest
Gaming: Designed like an office chair, they provide ergonomic support to the user. Innovative gaming chairs are now available having been pre-fitted with speakers.
Image Source: Test Pit
Rectangle: The rectangular or long ones are an excellent alternative to sofas. These are available in different designs like recliners or modern couches.
Image Source: Noble House Furniture
Freeform: Known more for its aesthetic value than its functionality, this segment caters to kids. It is available in different designs like doughnuts, dinosaurs and racing cars etc.
Image Source: Best Buy
Types of fillers
Different fillings are used for different types of bean bag chairs Each type has its own set of pros and cons which help in choosing the correct filling:
EPS beads: Expanded polystyrene beads are an affordable and lightweight filling option. While this is the most popular choice for filling, this is non-biodegradable. The EPS beads last up to 5 years and are budget-friendly options. This filler is also great for the outdoors.
EPP beads: Expanded polypropylene foam regains its form quicker than the EPS beads thus increasing the time between refills. But the EPP foam is heavy and non-fire resistant. EPP beads are longer lasting compared to EPS beads. Due to their density, they are suitable only for places where they can remain static.
Compressed Foam: Also known as the memory foam, this option is gaining popularity amongst users as it quickly moulds to the shape of its users providing support for the back and neck. But with time the foam may stop reverting to its original shape. It is suitable for indoors only as the compressed foam is not water-resistant.
Natural fillers: Beans, rice and buckwheat hull are common natural fillers used. When used with thick lining these are very comfortable to use but tend to have more weight than the other options. These fillers generally have a life of 2-3 years after which they have to be replaced. 
Types of materials 
The type of material used depends on the versatility and the location where the chair will be placed. The different materials commonly used are:
Leather:  Stylish and easy to maintain,  leather gives a classy and luxurious look while being comfortable. While the price of the leather bean bags is higher than the other options, these generally last between 10-12 years.
Image Source: Amara
Vinyl: Cheap, versatile and durable, this tends to feel a little sticky in humid areas.
Image Source: Totally Furniture
Cotton: Comfortable and stylish, this material is not advisable for kid's bags as it is not stain-resistant. The price of cotton bean bags is lesser compared to the other options.
Image Source: Wooden Street
Corduroy: Durable and comfortable, this material type is a good fit for the living area.
Image Source: Gdf Studio
Nylon: Being water resistant, this material can be used for beanbags placed outdoors.
Image Source: Sears
Budget
The price of the bean bags in the market varies according to their filling, material, size and brand name. While these were earlier associated with college students and children due to their low cost. They have now become a part of the luxury furniture market based on the style, materials used and comfort level. Thus providing high-end options as well. But, if you're running on a tight budget, compared to an armchair or a couch, bean bags will definitely be an economical choice. The price of the bean bags starts from approximately Rs 800 and goes up to Rs 10,000.
Sizes (Kid-sized to giant-sized bean bag chair)
The different sizes that are available in the market are:
Kids: The seat size has to have a circumference of 110-120 inches.
Image Source: Big Bertha Original
Teens: The circumference should be between 130-140 inches
Image Source: Veeva
Adults: 150-160 inches is the ideal circumference for adults.
Image Source: Instagram
Giant: All bags above 160 inches are considered oversized. Commonly known as giant or XXL bean bags they are used to give a laid-back feel to a room.
Image Source: Pinterest
The adult-sized bean bag chair is the most popular and commonly available choice in the market.
Frequently asked questions (FAQs)
How many types of bean bags are available?
Many different types of beanbag chairs are available in the market. Some of the well-known types  are:
Square 

Round

Teardrop

Roma

Gaming

Corporate

Outdoor

Pyramid

Novelty

Kids

Teen

Couples

Giant bean bag

Lounger

Multipurpose
How to select the perfect bean bag size for you?
These are available in different sizes depending on your requirements. For example, if you want to buy one for kids, it should be comfortable for their use. A giant bean bag will be uncomfortable for a child when he or she tries to get up. Therefore, a bean bag chair should be purchased considering your age, body type and purpose. Also, important is the price of the bean bag as it should suit your budget.
How to fill a bean bag?
While making your choice make sure that the beanbag comes with an inner lining. This makes the filling of the bag easy and also allows cleaning and changing of the outer cover from time to time. It is advisable to use a funnel to fill the bag to prevent creating a mess. The general rule is to fill it to two-thirds of its total capacity. How often you will need to refill depends on the type of filling used. For example, the EPS beads generally last up to 5 years. Here is a step-by-step guide for filling bean bag chairs:
Cut open the bag containing the beans. Pour the beans into the cover slowly so that it does not spill. Sometimes due to static power, the beans stick to the poly bag, just sprinkle some talcum powder or water inside the poly bag and shake it. Then pour it into the beanbag.
Fully zip the beanbag cover securely.
Many beanbags have a secondary zip inside for added security of the beans.
Finally, shake and plump up your beanbag into its required shape.
Always check if there are beans around in the room. Also, check the beanbag for a tear.
Is sitting on a bean bag healthy?
One of the best things about a beanbag is that it will completely contour the user's posture. Ergonomically designed chairs help alleviate back and neck pain. Also, it is said that they can help relieve tension headaches as they help in relaxation. Using beanbags is considered healthy as an ergonomically designed piece can help in easing joint pain.
Can I use a bean bag chair outside?
Not all options are suitable everywhere, but many beanbags made specifically for the outdoors are available in the market. The material used has to be waterproof, easy to clean and UV resistant. You can use a cover to increase the longevity of the chair. Since Vinyl is water-resistant and durable it is an ideal choice for the outdoors. Lightweight and easy-to-manoeuvre bean bags are a versatile garden seating option. A good option for lounging in the sun or providing an extra seat during get-togethers, these provide a cost-effective seating solution. 
Are bean bag chairs ergonomic?
Earlier beanbag chairs were produced cheaply and focused only on comfort. In modern times, ergonomically designed bean bag chairs are available in more versatile forms. Ergonomic support will help reduce the tension on your back and spine. While the price of ergonomic beanbags will be slightly higher than the normal ones, they help in relieving neck and back pain.
Our top recommendations (Buy Here)
Hometown Living Essence Leatherette XXXL Filled Bean Bag in Grey Colour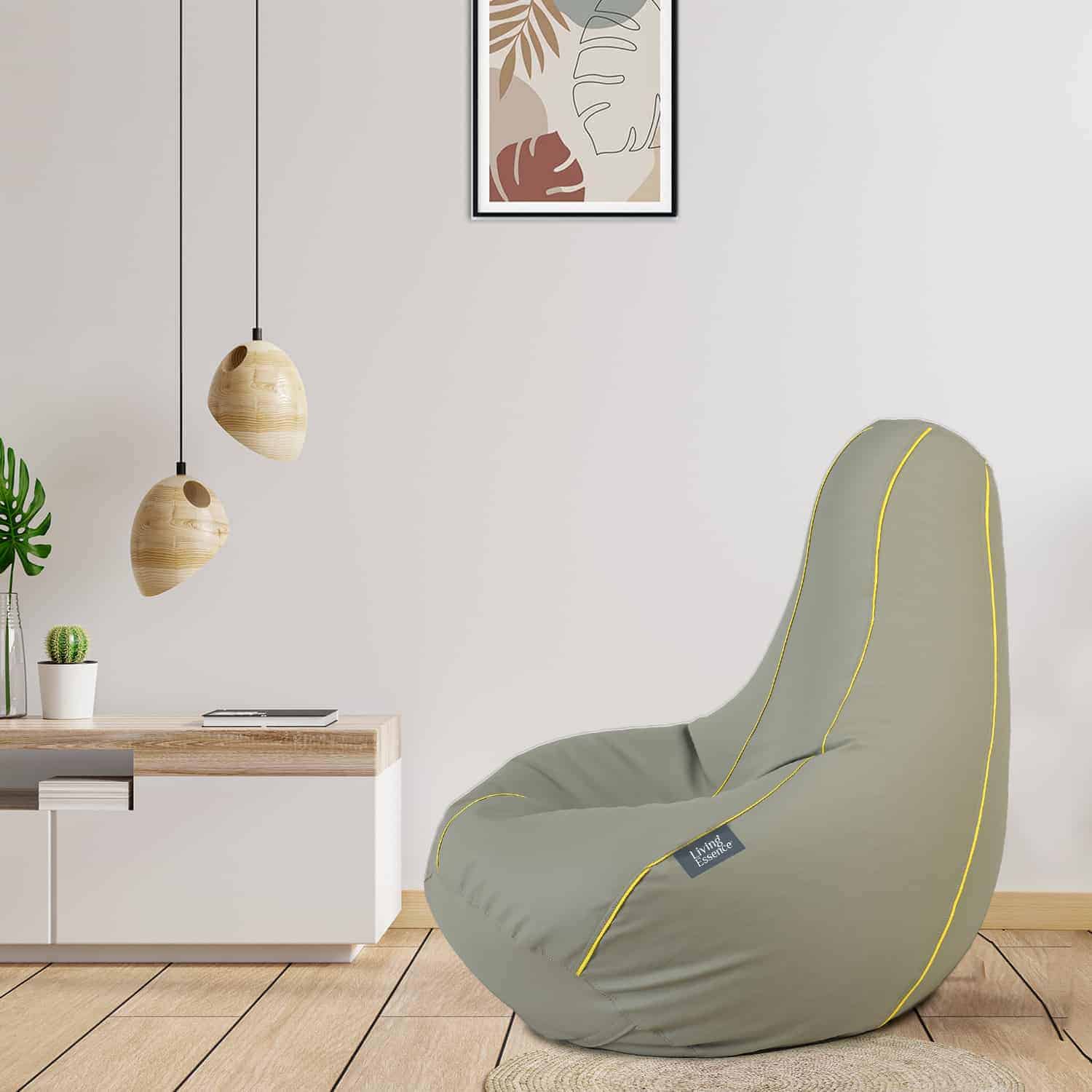 Kids Clan Grey Penguin Bean Bag Without Beans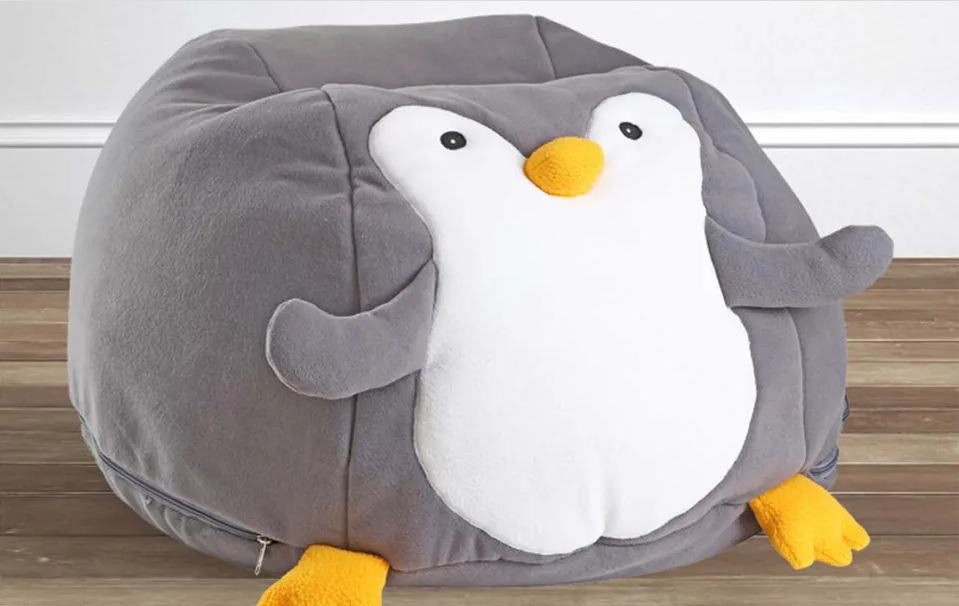 Sattva Combo Muddha XXXL Bean Bag & Round Pouffe with Beans in Black Colour with Pink Piping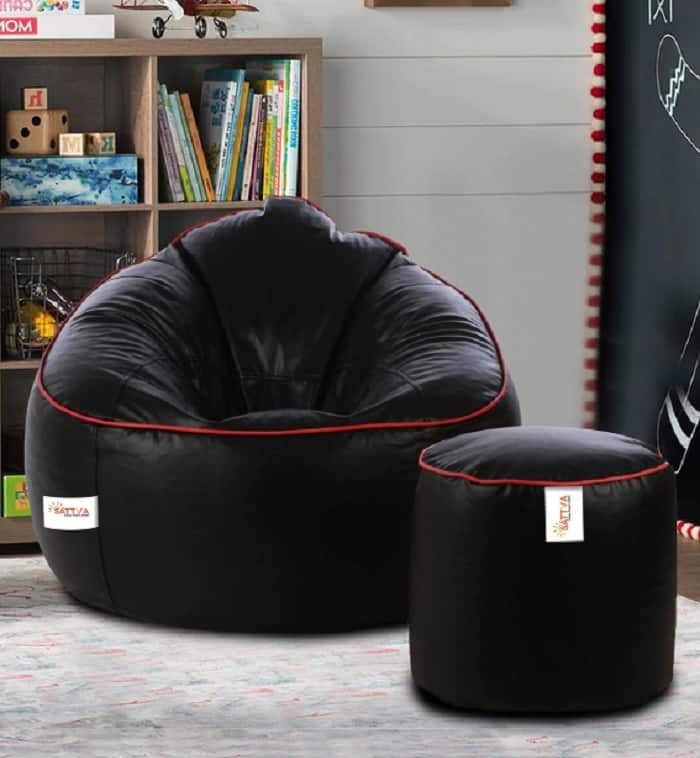 The Fluffy Company Evolution Lounger Bean Bag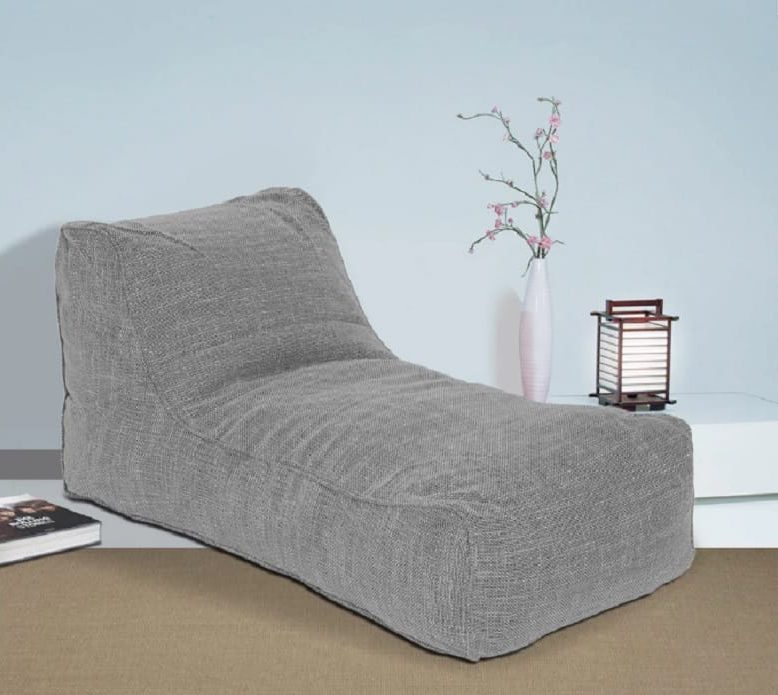 Home Centre Champion Black Faux Leather Rester Bean Bag With Filling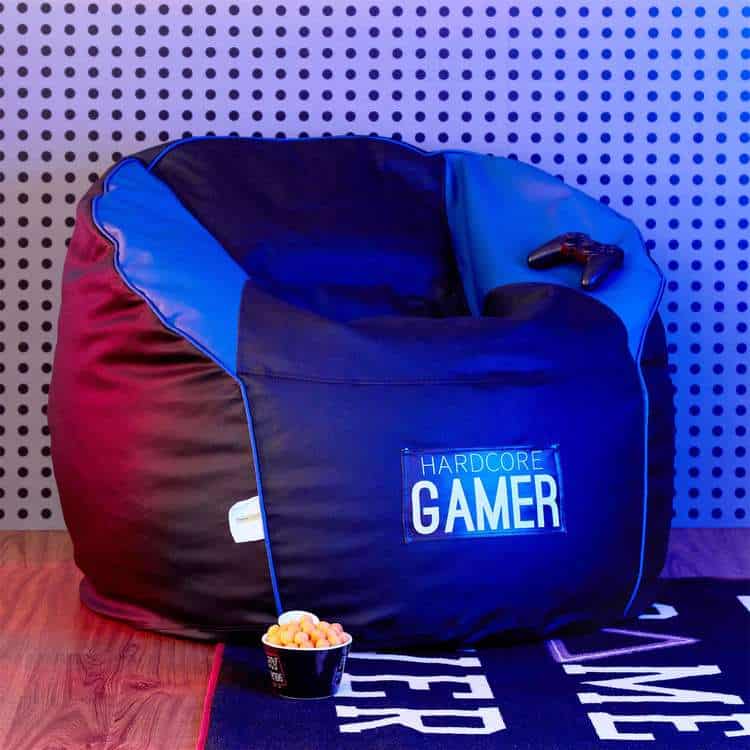 Firstcry Pine Kids Bean Bag Without Beans Football Print – Blue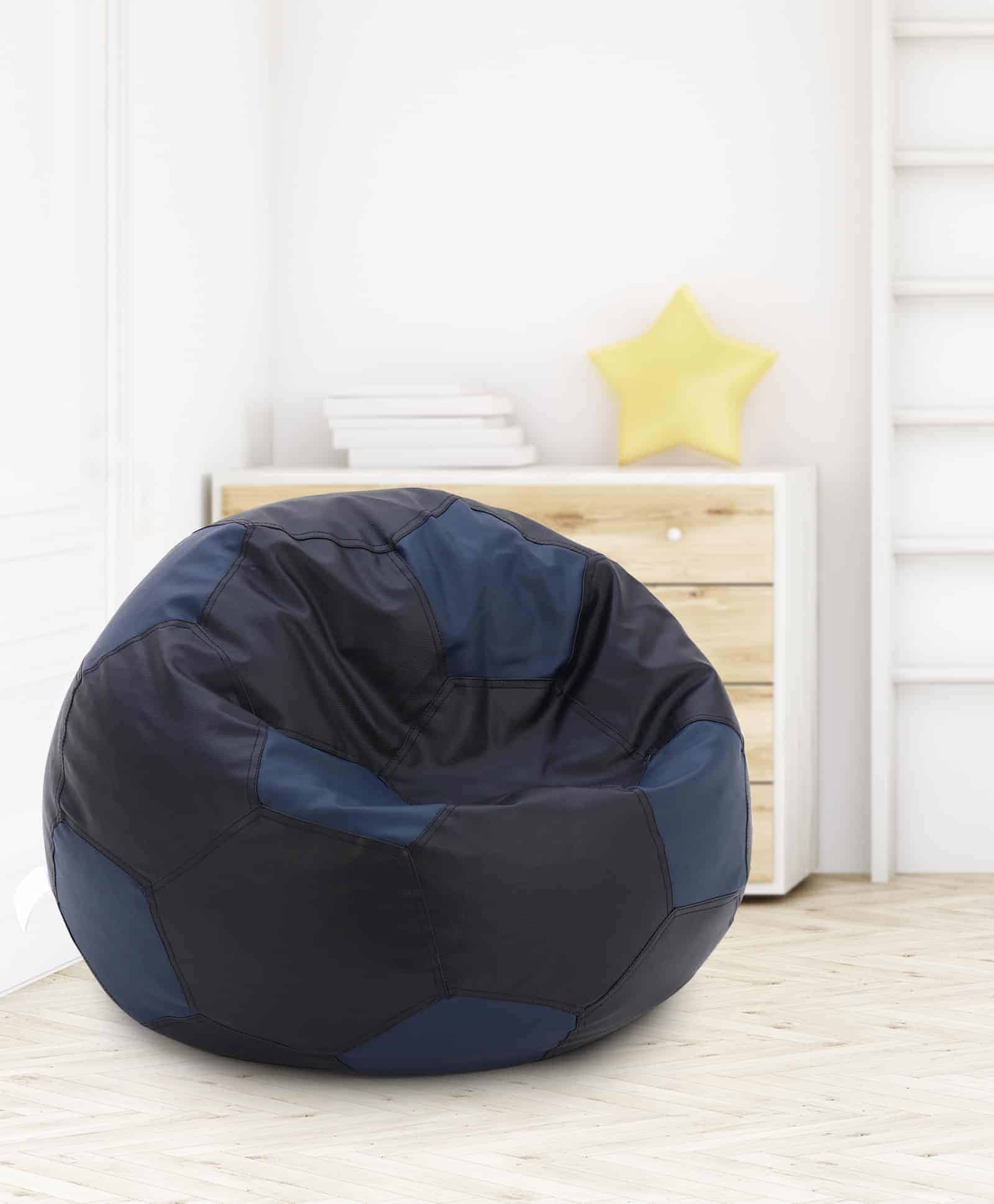 Bear Teddy Moodswinger – cotton canvas beanbag with beans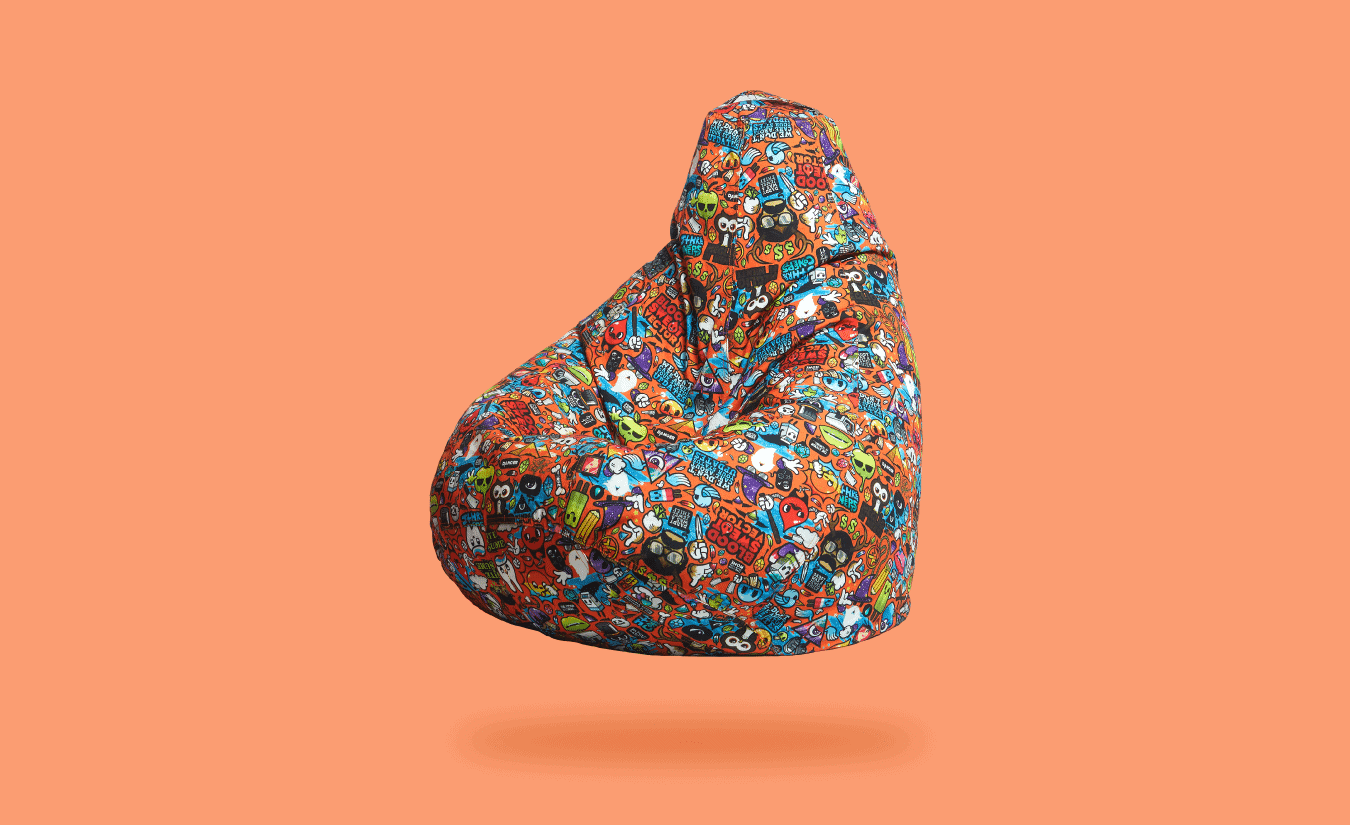 Evok Jumbo Chair /Sofa Bean Bag Without Beans (Jumbo) In Black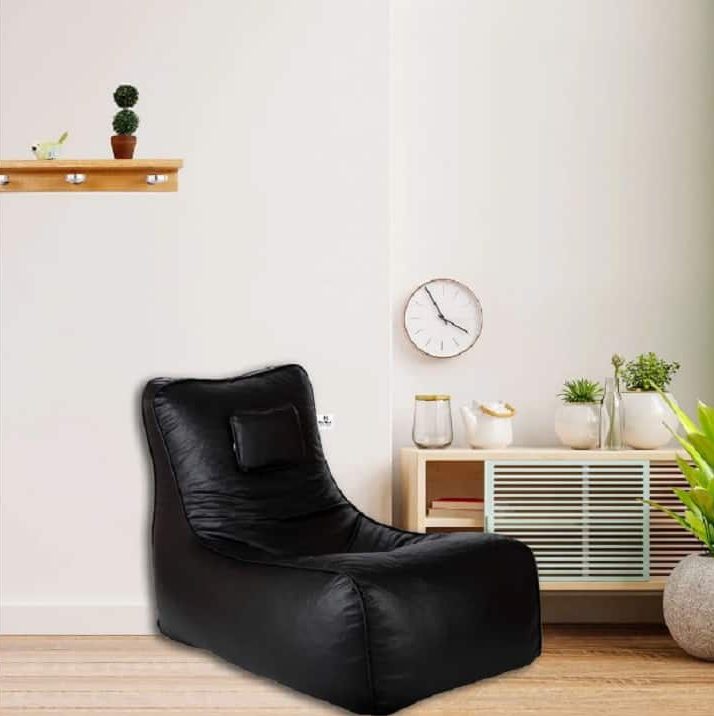 Couchette Jacques Bean Bag Gaming Chair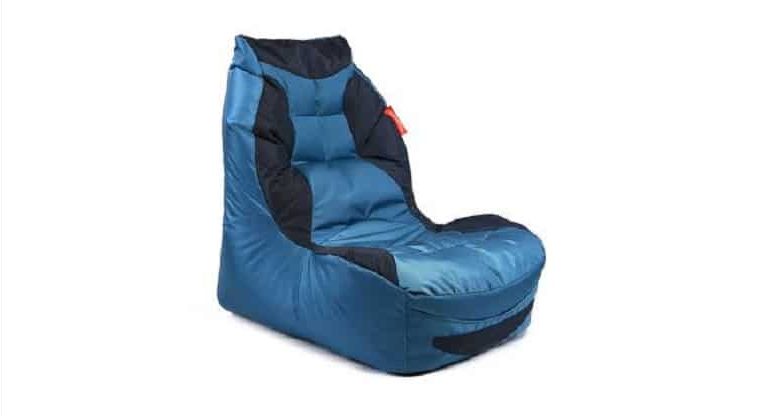 Nilkamal "83" Kit XXXL Leatherette Bean Bag (White & Black)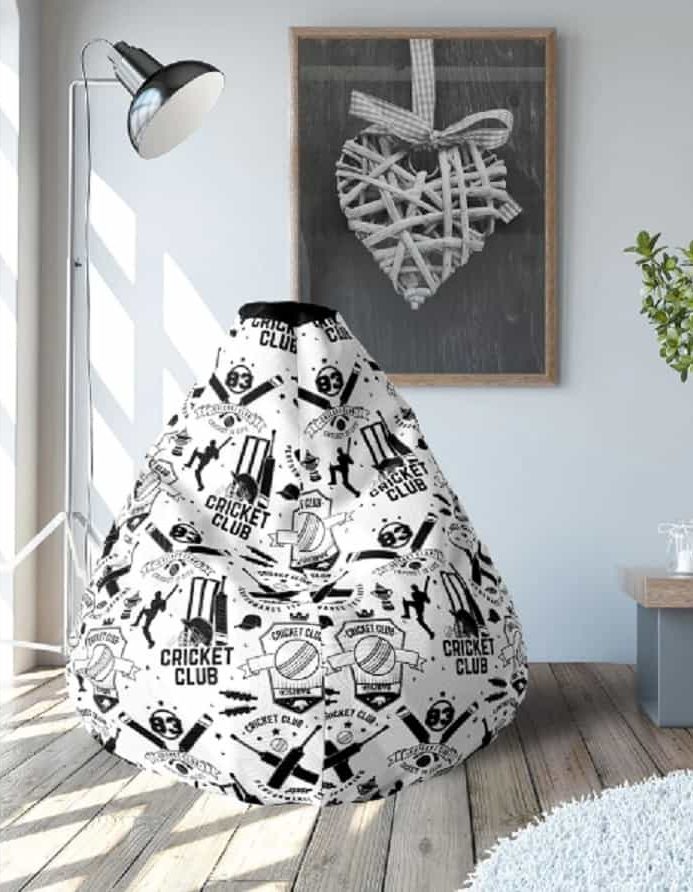 Orka Home Orka Digital Printed Bag Chack De Bollywood Theme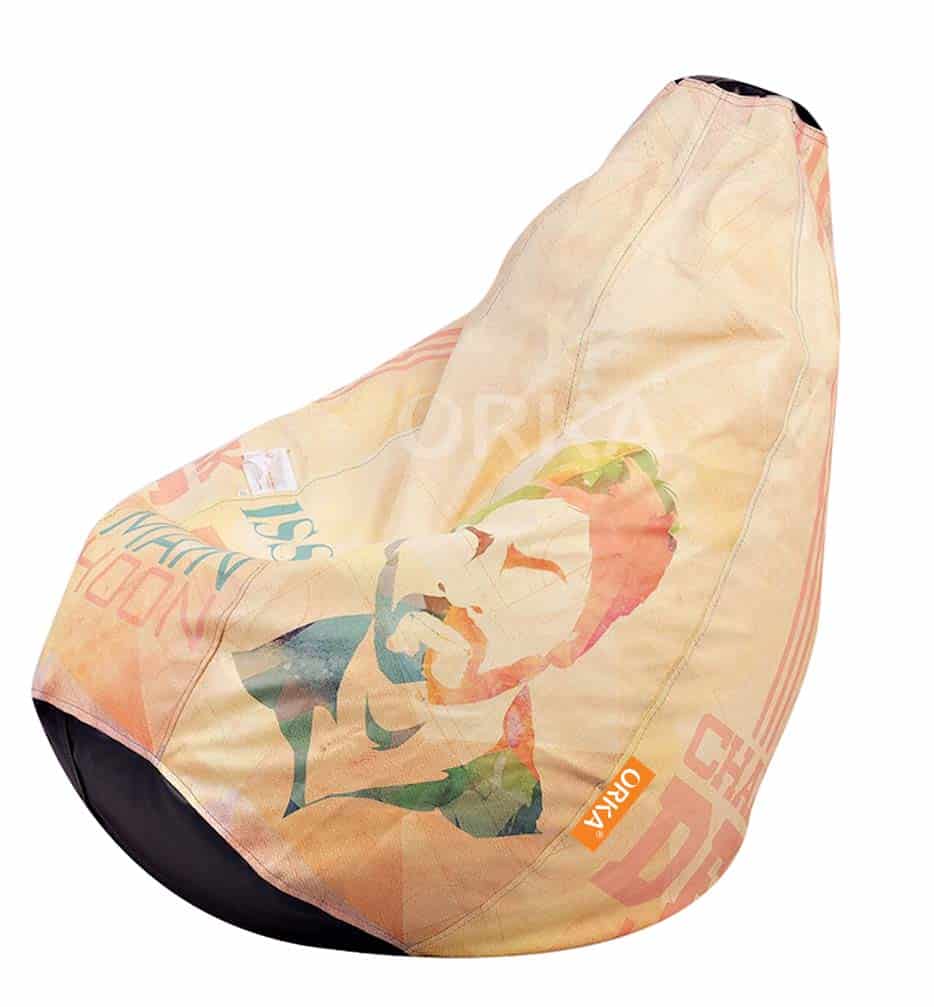 Wooden Street Elega XXXL Bean Bag with Beans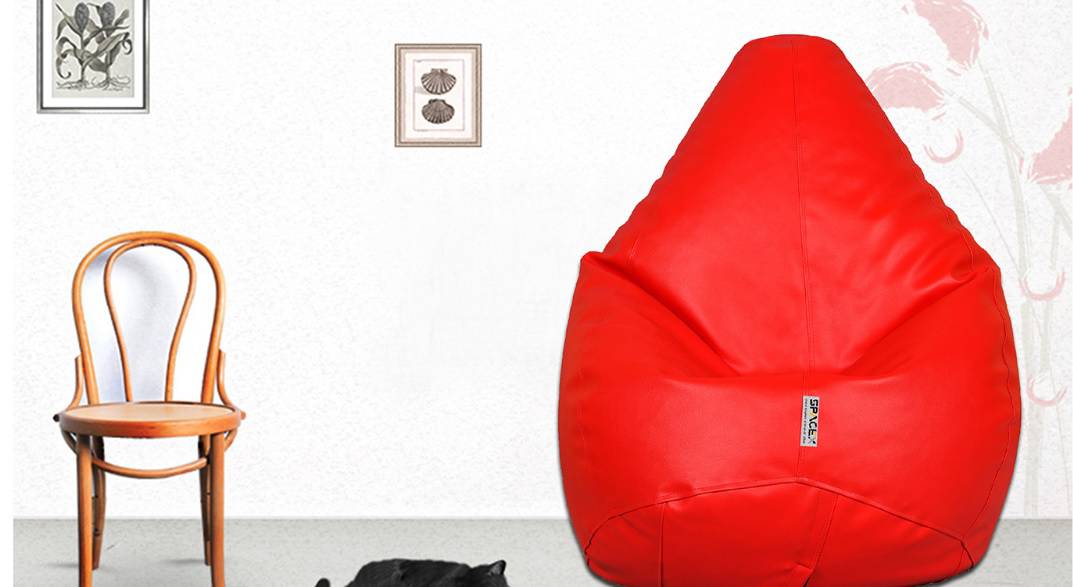 Urban Ladder Rue Filled Bean Bag Chair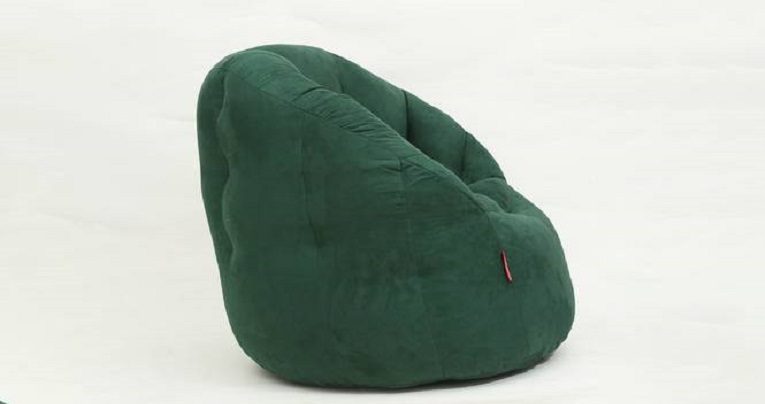 Creaticity Online

Reme Blue 100% Organic Premium Velvet XXL Bean Bag Cover with Beans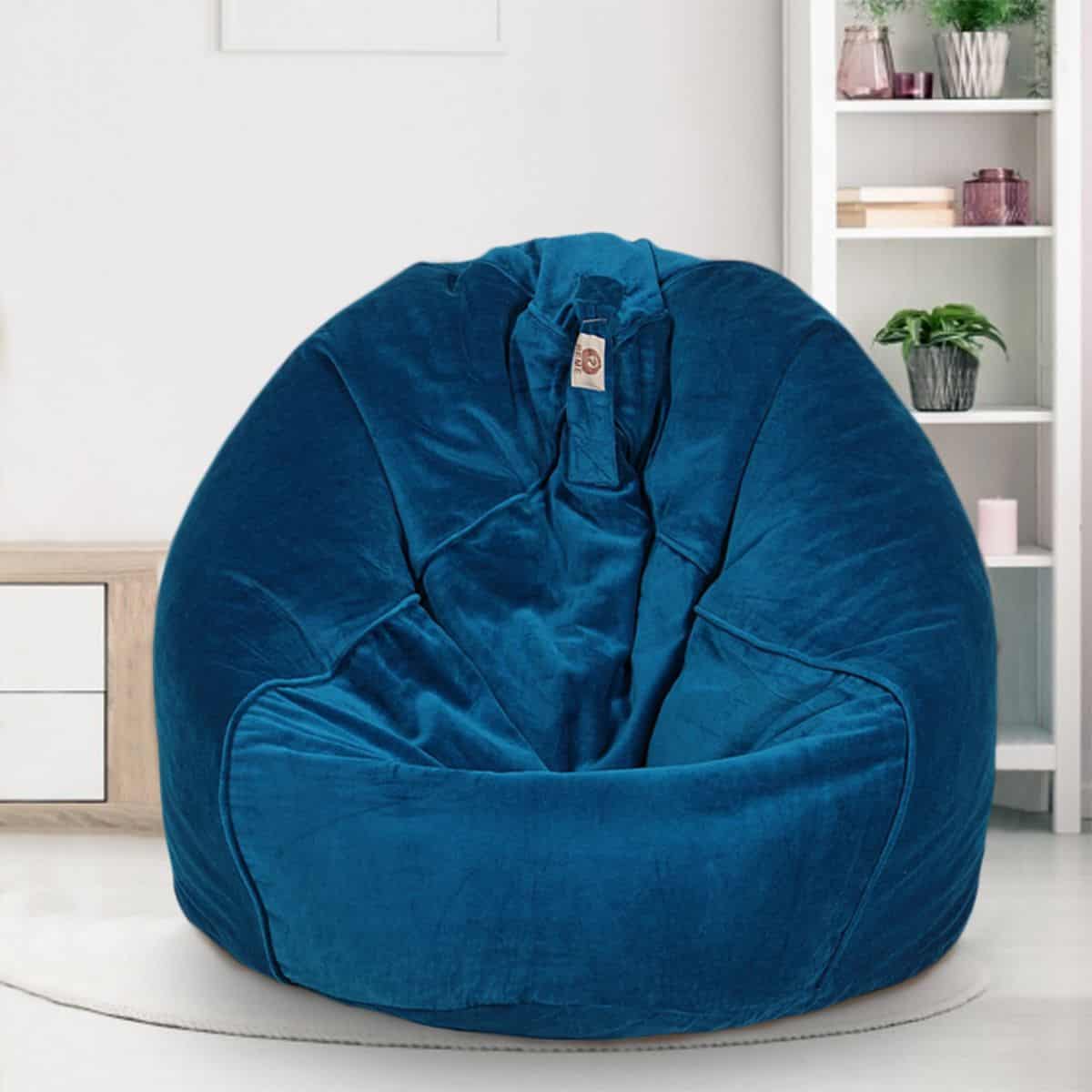 The Fluffy Company Sensory Bean Bag: Max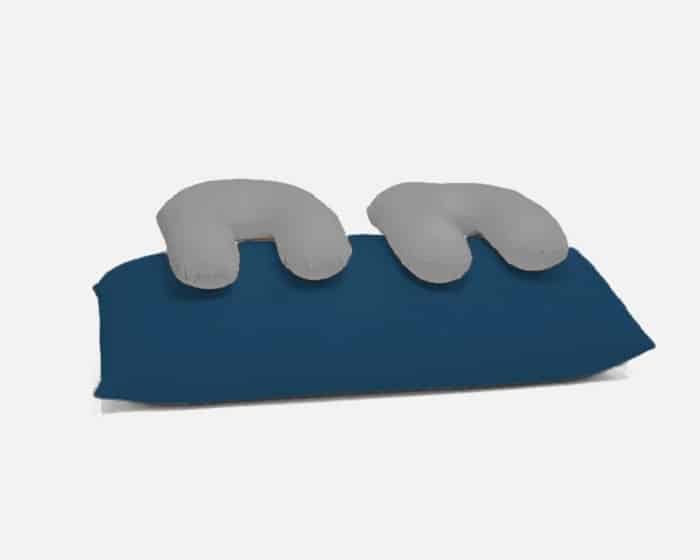 RnS Rest 'n' Sleep Bean Bag Filled with Beans Filler Lounge Relax Chair Black-Rani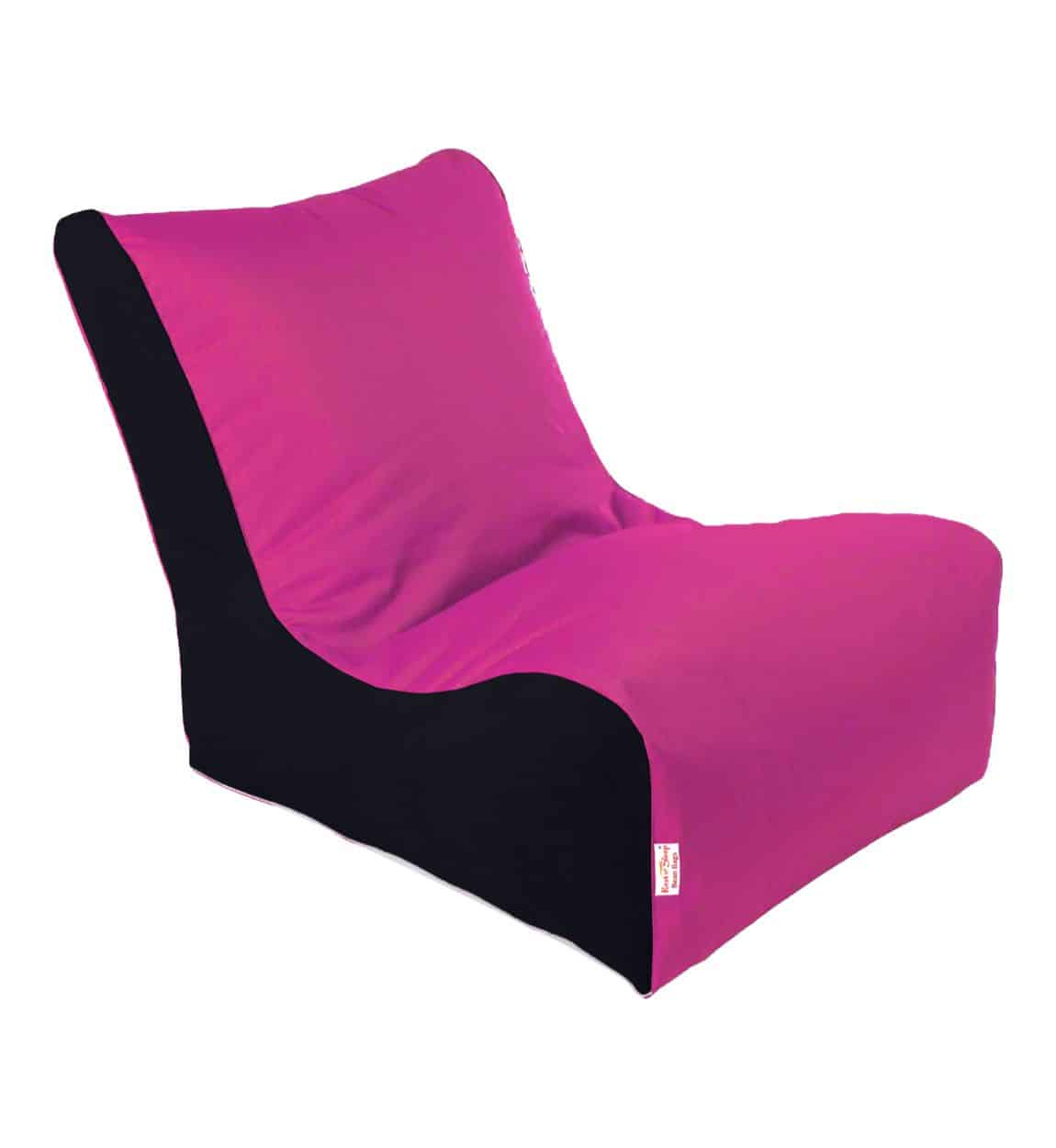 Godrej Interio Comfy Bean Bags – XL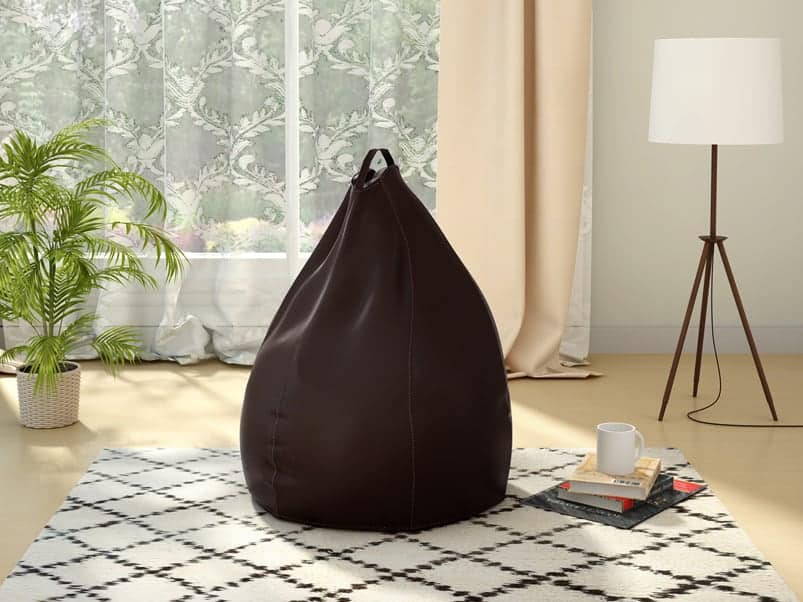 Ubay Jaxx 6 Foot Cocoon – Premium Giant Bean Bag for Adults – Padded Microvelvet, Saddle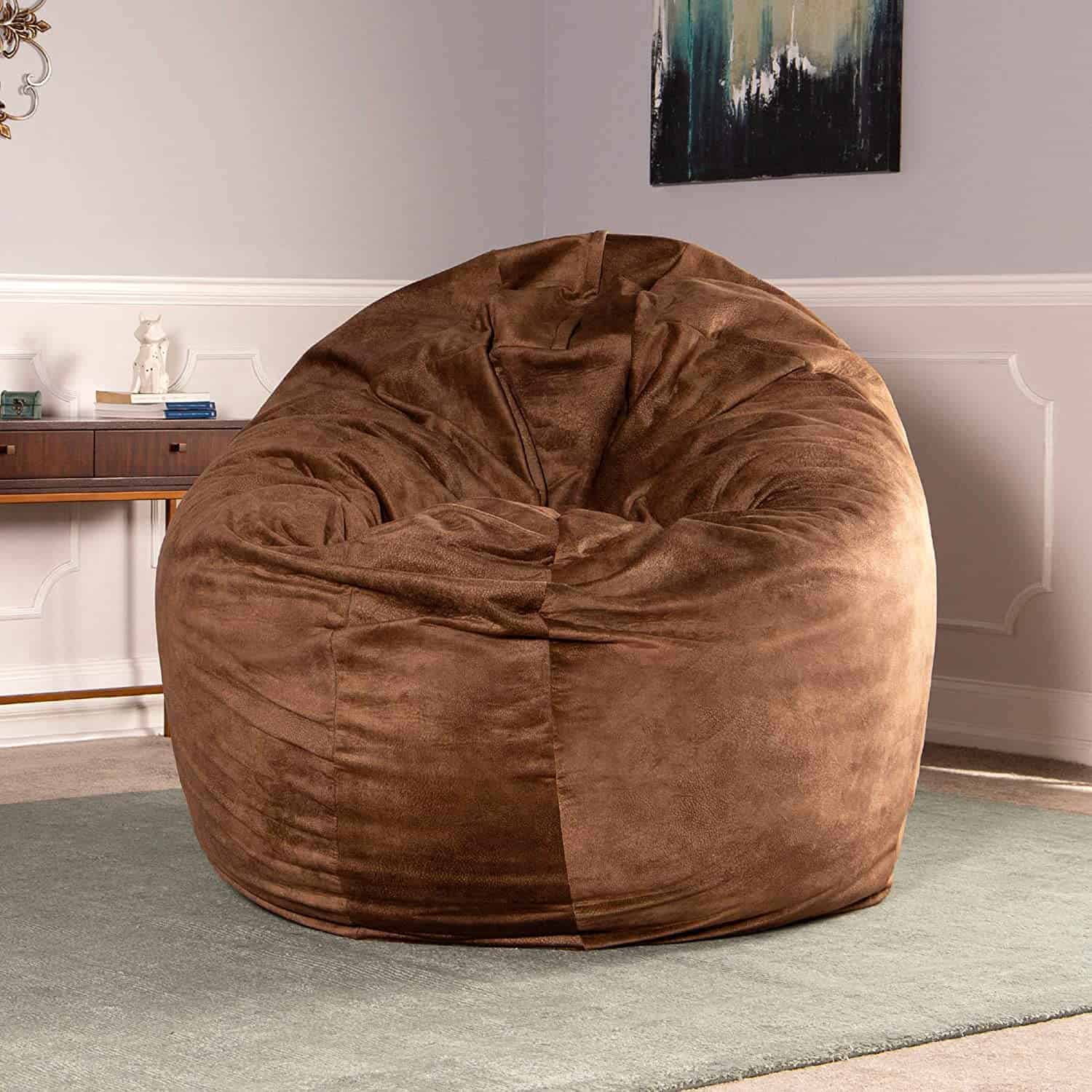 Bean bags chairs for home decor
Conclusion
Beanbag chairs add originality and stylishness to a space. When used in accordance with the colour scheme, they add texture to an area. Available in different shapes, and materials you can style them to match the vibe of the room. It is important to choose a design suitable in size for the user.
Additionally, a variety of fillers are available in the market catering to the preferences of customers like EPS beads, compressed foam and organic materials.
Bean bags are a great seating alternative where the price is a major factor. Also, it is vital to take into consideration the ergonomics and location. For example, while placing the bag outside a sturdy and water-resistant material has to be chosen.
Now that you have all the information required to choose the perfect beanbag chair you can shop from among our recommendations listed above and enhance your home's decor.
*The featured image used in the article is from TLC Interiors.
[cbxwpbookmarkbtn]