Home decor has gained popularity in the last few decades. With the onset of social media, people have started posting their lives online. Therefore, the need for visually pleasing homes has increased. Furthermore, this increasing trend has catapulted because of the pandemic which has made major and permanent changes to our lifestyle. While it is exciting to start a home decor project, it is also a daunting prospect. Finding an idea that matches your personal style and preference can be confusing and overwhelming. Therefore, we have come up with a list of the finest home decor ideas from handmade DIY projects to designer-approved living room or bedroom projects. So, if you are looking for brilliant ideas for decorating your home, you have come to the right place. Feel free to incorporate these ideas into your next home decor project to elevate your space.
Top 6 tips for decorating your home
Before starting any home decorating project, ensure that you have a good idea of the measurement of the room.
After you have the measurements in place, make a floor plan, either manually or with the help of an app or software.
Once you draft your own floor plan, start trying different furniture placements.
Then, you must figure out your own personal style. For that, you can look at the images displayed in this article and save the styles that appeal to you.
Use coloured tape to box out where all the different elements will be to give yourself a better idea of the final placement.
Calculate the amount of money you wish to spend on the project and ensure that you account for the essentials first and use the leftover for non-essential pieces.
Colour can be seen as a powerful tool in home decor. You can create any look with the right colour. For example, you can create a warm or a cool ambience depending upon the shade of the colour you use. Furthermore, you can draw inspiration from the colour wheel to elevate your room decor. For instance, you can create a monochromatic colour scheme with white or different shades of any colour.
Ideas for decorating home #2
Incorporate smart storage solutions
When it comes to styling compact spaces, it is vital to maximise space. So, look for smart home decor ideas that optimise the space available in your living room or bedroom. For example, you can go for a storage bed that will provide you with some extra space. Alternatively, you can go for trundle beds which will provide comfortable bedding that can be tucked away during the day to give you extra floor space.
Have fun with the walls
Walls are like blank canvases filled with immense creative potential. Creating an accent wall at home by decorating it with shelves, plants, or other decorative items is a great idea. Using wall stickers or handmade murals is one of the cheapest home decor ideas for creating a DIY accent wall for a living room or bedroom. Furthermore, you can display paintings, colourful collections, or floating shelves to decorate your walls.
Ideas for decorating home #4
Add interest to your ceiling
Ceilings are often overlooked when it comes to interior decor. However, they can help elevate your space when styled properly. For example, you can pick attractive false ceiling designs to bring your room together. Alternatively, you can opt for a minimalistic look with a statement medallion or gorgeous ceiling lights to add more interest or character to your space.
When it comes to decorating your home with lighting, there are several ideas one can go for. For example, you can opt for beautiful lighting fixtures or ceiling lights. In addition, you can also incorporate floor or table lamps if you wish to subtly elevate your decor. Also, one of the cheapest home decor ideas is to add lighting strips to mirrors to enhance their visual appeal.
Ideas for decorating home #6
Elevate with statement-making furniture
To make your space practical, you have to add several furniture items such as sofas, beds, chairs, etc. However, you can use these essential items to elevate your space by opting for offbeat pieces. For example, you can go for sofas in a rounded shape or opt for a sofa set upholstered with attractive yet eccentric fabric.
Create a cute and cosy balcony
If you have a balcony space you are blessed with the potential of creating a cute and cosy spot. You can turn this place into a cosy reading nook or invite greenery into your life by creating a charming garden. So, if you want to elevate your balcony space you can experiment with different railings and seating arrangements, such as opting for sculptural chair designs or a charming swing. The options are endless.
Ideas for decorating home #8
Set up a striking plant display
Creating an indoor plant display or a cosy balcony garden can be the best way to add more greenery to your life. This is especially appealing for those who live in an urban landscape. It is one of the best home decor ideas for nature lovers who want to create their own handmade DIY plant displays or home gardens.
Play with patterns
When it comes to home decor, patterns play a major role in elevating the look of any space. You can use patterns to create any visual you wish to achieve. For example, patterns can be used to create an illusion of a bigger space, thereby optimising compact spaces.
Ideas for decorating home #10
Experiment with mirrors
Mirrors can enhance the aesthetic of any space effortlessly. One of the easiest ideas to elevate your home decor using mirrors is embellishing them with LED strips; this can be done as a DIY handmade project at home. Alternatively, you can add large aesthetic mirrors to give the illusion of a bigger space. Another great home decor idea is to place a big rounded mirror in the living room.
Conclusion
Having a beautiful home has now become essential for everyone. By putting our lives online, we are opening our homes to the scrutiny of others. Therefore, we are inclined towards beautifying our living spaces now more than ever. However, before starting any project we must ensure that we have planned a budget and taken proper measurements of the room. This ensures that we do not bring home furniture that doesn't fit through our doorway or is out of proportion.
You can opt for a professional grade revamping if your purse permits. Alternatively, for low-budget home decor, one of the best ideas is to go for a handmade or DIY project like a wall sticker or mural in the living room. However, before beginning any project you must have an idea of what your style and preferences are. For that, you can take inspiration from the various images we have handpicked and displayed for you above and start transforming your space now!
*The featured image used in this article is from Maestri Studio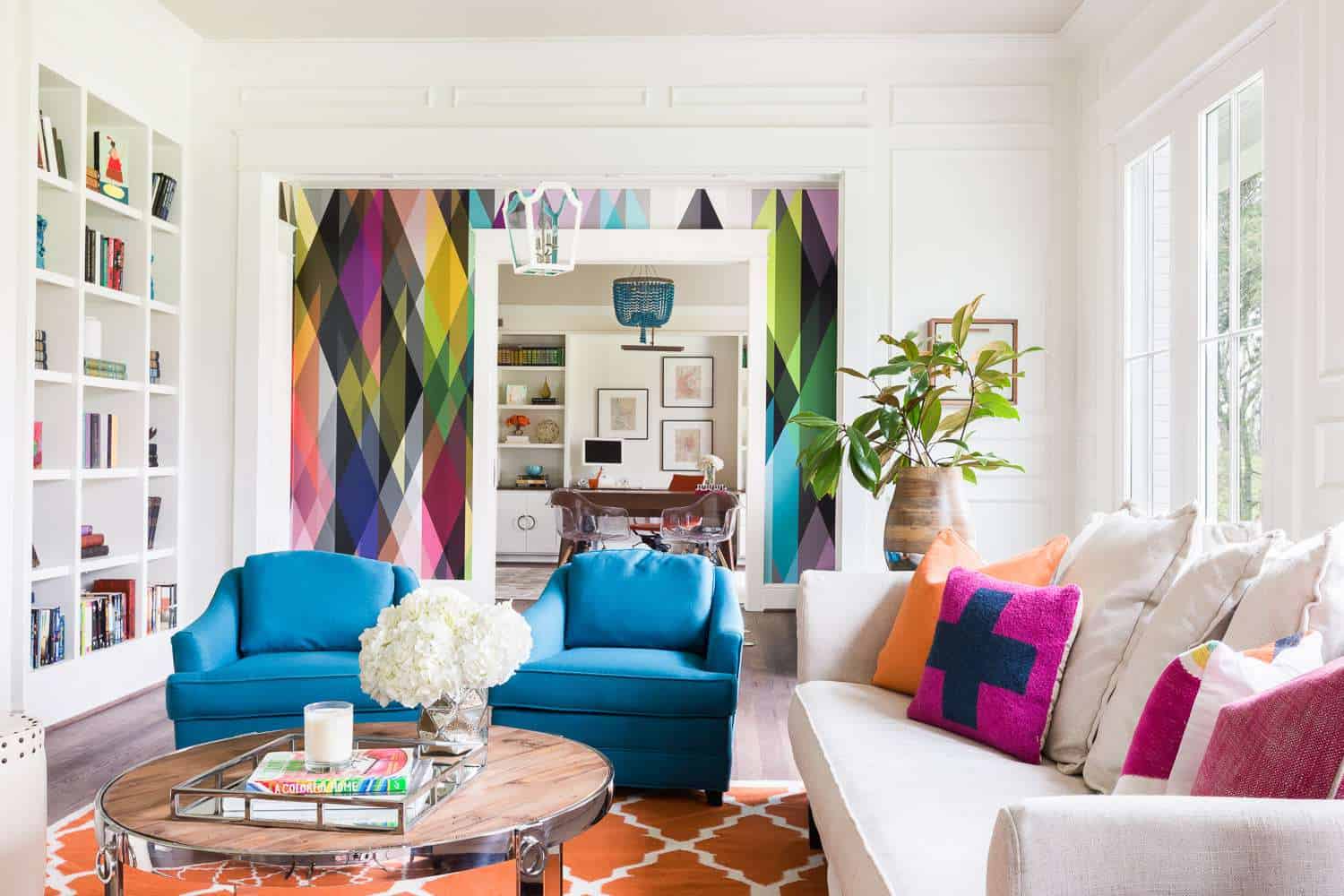 Never underestimate the impact of a well-designed space. Since rooms are private spaces in the house, it's easy to overlook the overall design and decor. Nonetheless, your personal space is deserving of your undivided attention and some amazing room decorating ideas. So, it's only reasonable to decorate them with a stylish bed frame, a relaxing colour scheme, well-considered furnishings, proper lighting, and more. The bedroom and living room prov