Here is a list of all time favourite and most inventive IKEA furniture hacks:
All-in-one digital table for IKEA suggests recipes based on leftover ingredients
A team of students have created a concept kitchen table for IKEA, which acts as an integrated cooking hob and dining table and can suggest recipes based on ingredients you put on it. The interactive table, which was developed by students at Lund University and Eindhoven University of Technology together with design consultancy IDEO, can identify an ingredient placed on it via a camera and image-recognition technology.
It will then suggest other ingredients to combine with it and can take the user through a full step-by-step recipe via instructions projected directly onto the surface of the table.
It sees what grocery you put onto it and decides through colour, shape and size what grocery it is. It will then suggest what will go well with it and give you recipes to guide you through how to cook them.
The idea behind the table, which was presented as part of a concept kitchen for 2025 at the IKEA Temporary show in Milan, is to promote cooking and reduce the amount of food that gets thrown away and encourage people to be more engaged with their food
Magnetic coils designed to fit inside the table could also allow it to act as an induction hob, allowing users cook directly on the wooden surface. The table includes a crank, which means its top can be lowered so that it is the right height to eat at after preparing food.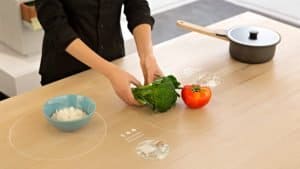 It is a multipurpose table. You can eat on it, you can prepare food on it, you can cook on it. You cook with a heat-insulated pan so it does not leave any burn marks on the wood.
Another idea presented at Concept Kitchen 2025 was a concept for a "visible fridge". Rather than storing perishable food in a closed refrigerated box, the students and IDEO developed a series of induction shelves on which individual cooled containers can be placed.
You can set each container on an optimal temperature, depending on what you have in it. Fish or meat need a much cooler temperature than cheese or milk, for instance.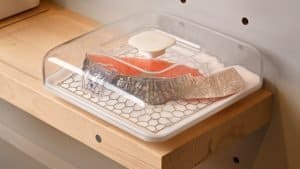 Each of the containers features a transparent lid, so food is clearly visible at all times and so less likely to go off and be thrown away. Empty containers can be switched off to save energy.
"The great thing about the visible fridge is that only cools where you actually have something on it, so it uses much less electricity than the fridges you have today.
Custom furniture for young adults returning to childhood homes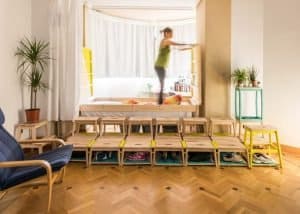 With many of Spain's young adults unable to find work and forced to move back into their childhood homes, a team of architects has developed plans to make these spaces more suitable for adulthood. The fallout from the economic crisis has left 54 per cent of Spain's 25-40 year olds unemployed, leaving many of these people living in spaces filled with furniture that is no longer of any use to them.
Spanish studio PKMN Architectures saw this as an opportunity to rethink the way that living spaces function. By both adapting the old furniture and inserting bespoke elements, the architects believe they can transform these old rooms into functional living spaces that also remind residents of their family history.
On show as part of the Oslo Architecture Triennale 2016, the project is entitled Home Back Home. It involves analysing and developing solutions to a series of case studies, as a means to develop prototypes that could potentially be replicated in various different situations.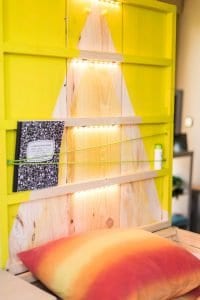 "Home Back Home is a platform for analysis, monitoring and treatment, through prototyping, of housing situations generated by de-emancipation and the coming back home journey," said the Madrid-based architects.
For the Triennale exhibition, Enorme Studio architects Carmelo Rodríguez Cedillo, David Pérez García and Rocío Pina Isla exhibited three completed case studies.
The most recent was a project for PhD graduate Ana Mombiedro, who had returned home to her parents' house after travels abroad. She no longer had a room of her own, so had to colonise parts of the living room.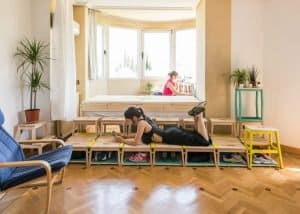 "The challenge was not to compromise the social and celebratory nature of the main communal area in the house," said the architects.
Thanks to a sponsorship from Ikea, the architects were able to add a series of bespoke furniture elements through a process of customisation, also known as Ikea hacking.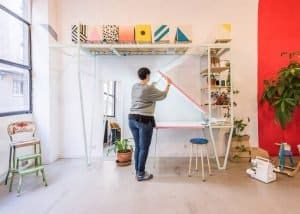 Ikea's Bekvam stool was used to create a raised platform with storage areas tucked away underneath, while other additions include a fold-up bed and a study area that can be concealed behind a curtain.
The two older projects follow similar thinking. For Denudai Claudio Cornejo, who works in fashion, the architects used an old table and shelving unit to create a flexible sewing station.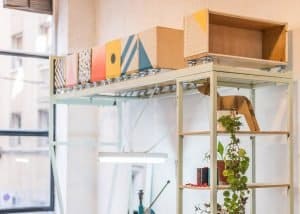 And for young architect Del Montón Caño, the architects designed a custom shelving unit where she can store her new belongings without disturbing her childhood possessions.
For all three case studies, the architects have created illustrated instruction manuals to make them easy to replicate.
IkHa by Oatmeal Studio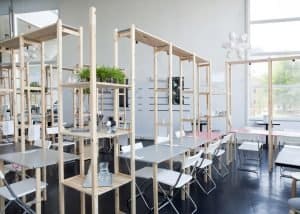 Dutch designers Oatmeal Studio have hacked IKEA furniture to create a pop-up restaurant where diners pick their own tableware and cut their own tablecloths.
Located at the Filmhuis Den Haag theatre in The Hague, the IkHa restaurant is based on an IKEA showroom and is filled with wooden shelving units that integrate both storage areas and dining tables. It's not a self service restaurant in the usual sense of the word. Instead, visitors are invited to participate and customize their surroundings while dining.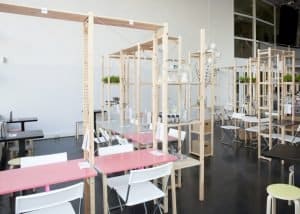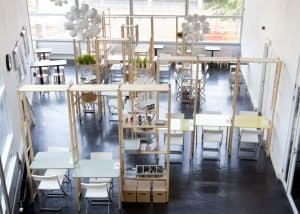 Diners tear their tablecloths and placements from wallpaper rolls that hang from the walls, before making their order using a pad and pencil.
While 'IKEA hacking' – or creating spaces using the budget-savvy Swedish brand's products in new ways – is a popular trend,the designers say they wanted to extend this concept.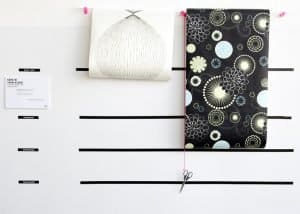 Everything is collapsible and fold-able and when not in use can be quickly broken down to fit within a two square meter space.
This makes it ideal for temporary solutions, events, and festivals, according to the designers.
 (Source: www.dezeen.com)