Clients Name -: Mona Township Pvt Ltd.
Site Area -: 3.92 acres( No. of dwelling units -372)
Location -: Zirakpur
Projects Architects -:  M/s Creative Consortium
Structure Consultants -:  Mr. Devinder Sharma ( M.E. Structure )
Public health consultant -: M/s Creative Consortium
Electrical consultant -: M/s Creative Consortium
Built up area -:  3 lac 40 thousand sqft.
Cost of construction -: 65 crore rupees
Year of start -2012
Year of completion – 2017
The project has received "SILVER RATING "by "Central Govt. Environmental Impact Assessment Committee."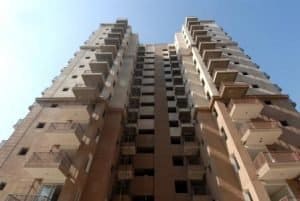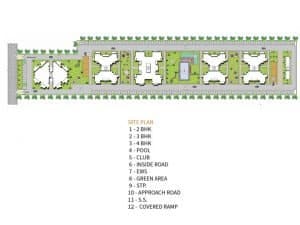 Introduction
Real estate business has seen many ups and down since 2012 onwards. With amendments in policies by the government, small developers happen to withdraw or selloff partly completed projects to other developers. M/S Mona Greens had bought one similar housing plot from M/S Shivalik Greens in which one block of 2BHK was partially completed and rest all site was not yet started. This site measures 948'-8 ½"x189'9" + 189'-9"x142'-4". The existing octagonal shaped 2BHK flats block with shops in the stilt areas and basement parking, placed in the front of the site, was upgraded for improved functionality & profitability by the architect in the overall design & planning. The client had emphasized that the maximum benefits of FSI to be availed while designing the 3BHK & 4BHK flats along with existing partially completed 2BHK flats, community center& recreational areas in form of club, swimming poll etc.
Besides tackling the functional requirements of the client, the biggest challenge was to design the complex as energy efficient, self-sustainable and green complex with an aim to reduce the demand of artificial resources, to utilize the natural resources to their maximum efficiency and also to re-generate the natural resources for their re- utilization. The architects worked diligently & systematically towards providing a functional and modern housing complex.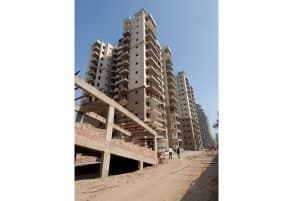 Design & Planning
The overall planning and design was based on the detailed understanding of the functional requirement of clients, user needs and comfort as well as site settings for the design of 2BHK flats, 3BHK flats and 4BHK flats. The spaces are designed as inter locking arrangement of functional spaces and recreational/ open spaces, which work in synchronicity with their surroundings.
The project site measures 3.92acres, shaped as a very linear plot with shorter width of just 190 feet, required a great deal of effort to provide housing blocks with 'quality of life'.
One of the major constraints was an existing partly completed 2BHK tower (stilt+6storey)(48 nos. of flats) structure at site. This needed to be tackled with care, while designing and arranging other towers of 3bhk(168nos.of flats),4bhk(56nos.of  flats )&EWS(32 nos. of flats)along with supporting facilities like convenient shopping , community club, health club, Gym etc. To begin with, the architects improved the design of 2BHK by making the spatial arrangement of rooms practical. 2BHK block was designed for 7 storied structures, so to use the FAR, the remaining blocks were designed for 14 stories with 100percent basement parking. The EWS block was placed on one corner in the rear of the complex. The biggest challenge was to arrange block in the total master planning. Here, the side setbacks were maintained of 35'-0" on the basis of byelaws (1/3rd of the overall height of the building block). Each block was separated from the other block with a distance of 110'-0"- 140'-0" so that the light, ventilation, sun and privacy is not disturbed for each and every dwelling units. Shear walls were used in structure designing to get the maximum column free spaces for car parking in the basement. This involved a great effort and was accepted as a challenge to achieve the coveted results.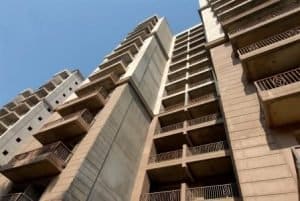 Structure Design Approach (Mr. Devinder Sharma, M.E. Structure )
In many respects, concrete is an ideal building material, combining economy, versatility of form & function, and noteworthy resistance to fire and the ravages of time.
Tall buildings are the most complex built structures since there are many conflicting requirements and complex building system to integrate with high cost of land. Now-a-days tall buildings are becoming more and more slender. Accommodation of vehicular movement around the building tower with maximum green area is the requirement of design.  At MONA GREEN housing complex, it was a challenge to design tower as high as 14 Storey with 100% basement area underneath each tower and extended area for 100% covered car parking below the ground level. This involved tackling various factors such as wind load &seismic forces with innovative structure system to control their dynamic response.
Keeping view of this, the building is designed with main walls as RC shear walls interconnected with coupling beams. The tower is located in very active seismic zone, wind effects are neglected and evaluation of the tower behaviors is limited to its seismic behavior. General consideration at overall torsion, time dependent effects and construction sequence loading has been taken care off in its design. Arrangement of columns cum shear walls were kept in such a manner that maximum utilization of car parking spaces were achieved while managing other factors of safety including the design and aesthetic appearances, as given by the Architect. Extended projections (balconies) were taken care of while providing continuous ring beams along the edge of balconies and binding it with shear walls. Overall all design is functional, economical and outstanding.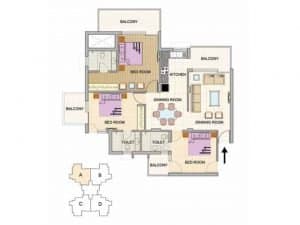 Dwelling Unit & Cluster Design
 An exclusive design of the dwelling unit for each category was worked out to achieve integration of all activity zones such as bed room, drawing room, dinning, kitchen and guest bed room etc. getting maximum advantages of sun light and ventilation and spatial link. An elegant approach from the service core where the residents get a feeling of security and privacy yet maintaining direct visual contact with nature, were considered simultaneously for planning.
The architects adopted a cluster of four units so that each unit acts as an independent block, keeping the approach area from service core as minimum, thus achieving maximum design efficiency.
Interiors had also been planned with utmost care to signify the living standards of globally accepted life style of people. Exterior facades were kept simple and maintenance free with use of exterior grade paints.
In addition to that use of texture paints and tiles at focused area achieved a feeling of modernity and continuation of vernacular feeling in the entire complex.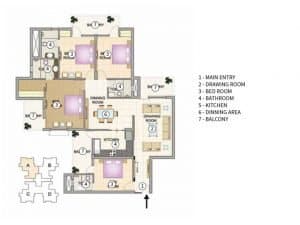 Sustainable Approach
Thus, architects exploited latest techniques and technologies for achieving the Green Building Concepts. Every effort has been made for creating self-sustainable, eco-friendly apartments by way of using rain water harvesting system for all the blocks, solar water heating system for all the residents, photovoltaic street lighting, recycled grey water for flushing and irrigation purposes and use of Fly ash in RCC work and brick work etc. Landscaped courts were planned in and around each building block to achieve comfort from heat and achieving maximum advantages of winter sun and cross ventilation by suitable orientation of each building block. All the blocks are arranged in a direction to achieve maximum advantages of good Sun and cross ventilation, to achieve the concept of green building.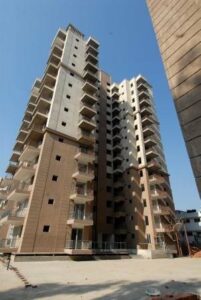 Integration of Planning & Structural Grids
Every effort was made to evolve a cluster which is functionally conducive and structurally stable and allows maximum utilization of parking of vehicles basement floor level. The architects have provided minimum one covered parking space for every 2BHK and 2 covered parking spaces for every 3BHK &4BHK flats.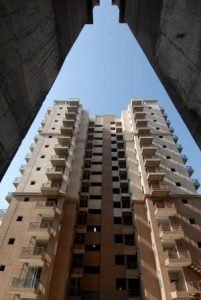 Pedestrian Friendly Social Precinct
The movement of vehicles and pedestrians has been segregated right at the entry to create pedestrian precincts for peaceful, joyous environment conducive to community interaction. Accordingly, ramps have been planned down to basement for parking and residents can reach to their apartments by taking stairs or lifts.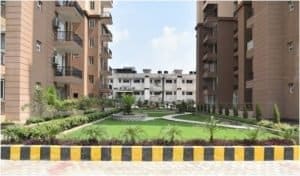 Hierarchy of open spaces – Open spaces play an important role and had been incorporated in design at every level. At the dwelling unit level, these are planned in the form of balconies, where they become the extension of rooms for their maximum utilities and sit outs. And at the neighborhood level the large central green area in between the blocks which was equivalent to 40% of the total site, was planned free from vehicular traffic to achieve playful, safe, secure, green spaces for all age groups. "Sun Space and verdure" were all thoroughly meted with in the design.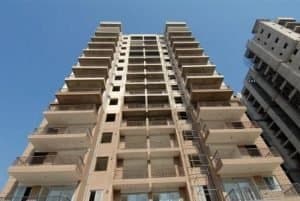 Conclusion
Overall all design is functional, economical and outstanding providing 'quality of life' within a social pedestrian friendly precinct for modern lifestyle living.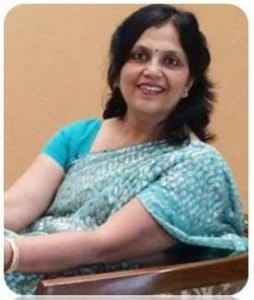 Founded in 1990 by Ar. Madhu Garg (CEO & Founder), Creative Consortium has grown multiple folds with a staff strength of 50 + people. The firm is recognized for its pan-India multi-crore projects spanning a vast array of typologies like residential, commercial, educational, retail and civic designs and has won numerous accolades and awards at national and regional level.
E: admin@creativeconsortium.co.in
T: +91-172-2556694/5064694
W: www.creativeconsortium.co.in