Smart 'assistants' like Alexa and Google Home don't just play your music and tell you the weather anymore. They can turn on your coffee machine, get your induction cooktop going and activate your blender to whip up your favourite smoothie. Builders are ensuring that when tech-savvy buyers move into their new apartments, they are welcomed by Alexa or Google Home. Millennials are buying Alexa-enabled makaans so that they can order roti and kapda at their convenience. 
‍
Imagine coming back home in the evening to a house where a cup of hot coffee is brewing in the coffee maker, the rooms have been cooled to just the right temperature and the microwave is warming your dinner. The curtains have been drawn back, the lights switched on and the strains of your favourite music is playing through the speakers. All you have to do is take off your shoes, sit back and enjoy the evening.
This dream scenario is rapidly coming true with the new tech-enabled homes in the city. With the advancements in technology on a never-before high, real estate developers have started offering homes which come fitted with Amazon Alexa or Google Home. Builders are now vying with each other to give you the best services possible.
The millennials of India who have grown up with technology find that their lives revolve around the apps of Amazon, Flipkart, Swiggy, Ola, Uber, Zomato to meet their basic needs of food and clothing. Now they can extend this to their third basic need – makaan – and add tech-enabled homes – to upgrade their lifestyle.
While startups have helped customers order their meals, enjoy online shopping sprees and plan holidays with their apps, they were not able to buy houses with in-built tech so easily. But of late, real estate developers have set a new benchmark in the industry by offering voice-enabled homes for tech-savvy home buyers.
Rahul Vaswani, entrepreneur based in Bengaluru and Alexa-enabled home buyer, says, "I enjoy technology and appreciate how Alexa was integrated into my building. The future of real tech is smart home." He added that from an investment perspective, this investment is future proof.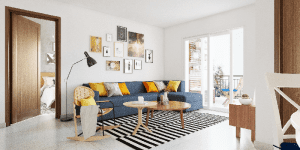 The concept of smart homes has been there for quite some time. Home buyers have been provided amenities like home automation and security solutions. But the integration of "Assistant" in newer homes takes the desirability factor of smart homes a notch higher. With newer and newer technology features getting integrated with smart homes, the demand has grown by 30 percent annually.
Speaking of smart homes, Arun Anand, Director, sales, marketing and CRM, Shriram Properties, says, "The Internet of Things (IoT) is very important for home automation. For example, sensors that can detect leakages in water pipes ensure timely repairs and less wastage of precious resources. App-based technologies are crucial to interface with residents."
In the Shriram Grand City property of the developer in Kolkata, there is a single portal plus – pp – where residents can access events, pay utility bills, reserve facilities, raise complaints etc.
Ashish R Puravankara, Managing Director, Puravankara Limited, says,
"Currently our homes feature smart technology which caters to the safety, security and comfort of our home dwellers. We are currently in talks with some of the leading players in the home automation space to introduce smart homes in our upcoming projects."
 The smart home market in India is estimated to be close to a $1 billion and the key metros where there is lot of traction in this segment are Delhi NCR, Pune and Bengaluru.
Voice-enabled tech hits a new high
In order to tap this huge market, a few real estate developers have just started adding voice-enabled smart solutions to their smart homes offerings. Recently Embassy group launched its "Alexa-enabled project", Embassy Edge, a first of its kind project in India. Brigade Group has also geared up to cater to the new generation buyers and to ensure their offerings are in line with current demands. It is offering its smart homes at Bengaluru – Brigade Woods, a project in Whitefield that has an option of automation within the apartment. "These homes have been designed to be smart with Alexa controls for lighting, curtain management, TV and music and so on," says Viswa Pratap Desu, COO, Brigade Group.

The availability of smart speakers, such as Amazon Echo and Google Home, has also made a basic level of smart home tech accessible to users in India. While it is still an early stage, others are also lining up with their own version of "Smart Homes".
The demand for smart homes is also being fuelled by the changing profile of the working population. Market estimates that the average age of the working population will move to 29 by 2022. In this, the millennial category would constitute around 46 per cent.
Why do we need tech-controlled homes?
On the rationale behind launching Alexa enabled homes, Reeza Sebastian Karimpanal, senior vice president, Embassy Residential Business, says,
"If we look at Bengaluru, close to 35,000 people come to the city to work in the IT and ITES sector every year. Now if I map their persona, I would find that these millennials have grown up with technology. They are used to sharing economy, ordering food online, book cabs/tickets online, etc. When you expand the concept to real estate – technology has been mainly about home automation and security solutions. But we started looking at controlling home automation with voice and started talking to Amazon."
The Alexa enabled homes of Embassy is priced at Rs 36 lakh for the one BHK and it is Rs 81 lakh for a three BHK. Abhishek Bhatnagar, Senior Product Manager – Smart Homes, Amazon India, says, "Right from turning on the coffee machine, to getting your induction cooktop and toaster working, to getting your grinder/mixer to make your favourite smoothie, activating your kitchen chimney, Alexa can let you control your world at home with a simple voice command." Technology has started to gain prominence over the last three to four years but devices such as Amazon's Alexa or Google Home have created an impact in terms of depth and width for the real estate market.
Towards a new eco-system
Shantanu Mazumder, senior director, Knight Frank India, says, "Technology has always played a role in the real estate sector with homes being wi-fi enabled or having sophisticated controls but these were in the premium or ultra-premium segment."
According to Mazumder, Google Home or Amazon Alexa has enabled technology to be brought into the homes into the mid-price segment.
"Earlier the demand for such apartments was limited so the costs were high but as the volume increases, the prices will come down," he says. "These technology devices will do mundane chores for the consumers which are repetitive but essential."
As Bhatnagar says, "Alexa is happy to resolve the eternal conflict of who will get up to switch on the geyser in the morning, all they have to say is 'Alexa, switch on the geyser'." For Amazon, it also encouraging to see products from Indian startups such as Oakter and Smarteefi which are catering to the home segment with smart devices being integrated with Alexa. "The ecosystem is rapidly growing in India with other popular smart plug brands such as Thrumm, TP-Link joining the selection," says Bhatnagar.
(Source: www.yourstory.com)