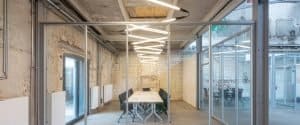 These days, buildings are increasingly being designed on 'open usage' concepts, meaning that there are no fixed-use formats. What is an office today, could be a residential facility tomorrow, or a retail outlet at some other point of time.  Old industrial halls, such as those we see in Mumbai, are being increasingly refurbished for use as office areas and co-working spaces. This demands lighting solutions that fit in with this special industrial look and further upgrade the refurbished surroundings.

To help Architects and Designers with the changing usage patterns in buildings, Trilux has an innovative (and!) Red Dot Award Winning (2019) solution in it's tube-shaped So-Tube LED luminaire. The solution sets itself pleasantly apart from usual luminaire designs in office surroundings and combines industrial charm with high-performance LED technology. This makes it a highlight for prestigious office areas and communication zones. The straight-forward industrial design blends into the unique atmosphere of refurbished industrial halls thanks to its diverse mounting variants (both surface mounted and suspended), and offers lighting designers increased design scope.
The robust charm of the design blends ideally into office landscapes with industrial styles. So-Tube LED luminaire offers modern LED technology with linear light design and a round light emission surface.
TECHNICAL DETAILS:
Construction size: 2,260 mm with ø 50 mm
Luminaire Luminous Flux: Approx. 8,000 lm
Efficiency: To 130 lm/W Ra80
Service Life: Approx. 50,000 h L80 @ ta 25°C
Colour Temperature/Rendering: 3,000 K, 4,000 K, ACTIVE