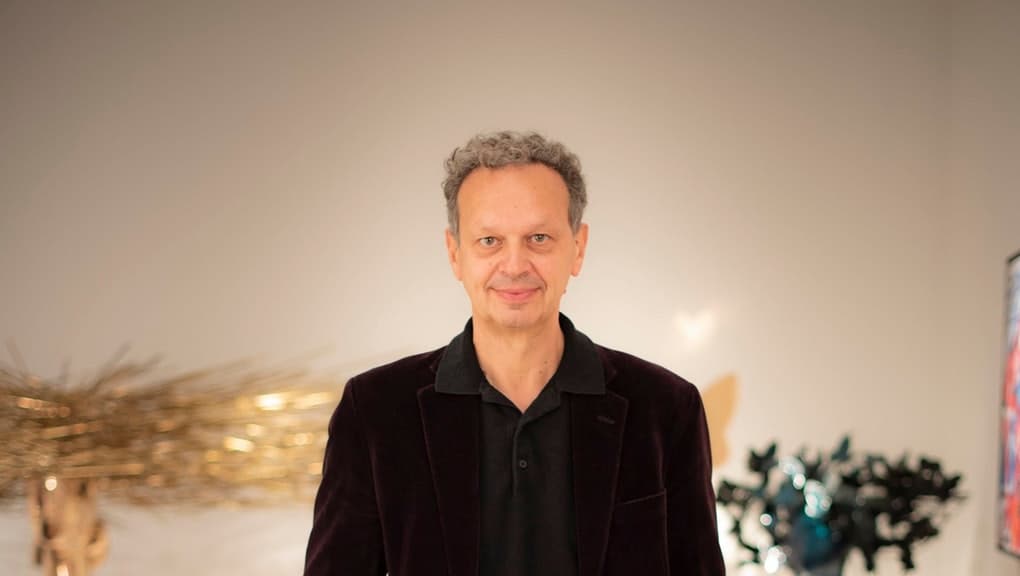 Tom Dixon is a self-taught British designer who serves as creative director of brand "Tom Dixon". The brand specializes in Lighting, Furniture and Accessories. His creations have been acquired by prestigious museums across the globe, including the Museum of Modern Art New York and Centre Georges Pompidou, Paris, France.
Buildingandinteriors.com showcases some of his iconic creations that define his creative instincts and explains what makes him a truly global brand.
The Mirror Ball Family
"Sometimes your biggest failure could be your biggest success", says Tom Dixon. "The aim was to produce a completely spherical, highly mirrored object that would disappear into its surroundings. Instead it does the opposite and is an ultra visible, highly reflective object that mirrors its environment."
Mirror Ball lights are created through a process of blow moulding and vacuum metallization to achieve perfect spheres with abundant and unusual luminosity.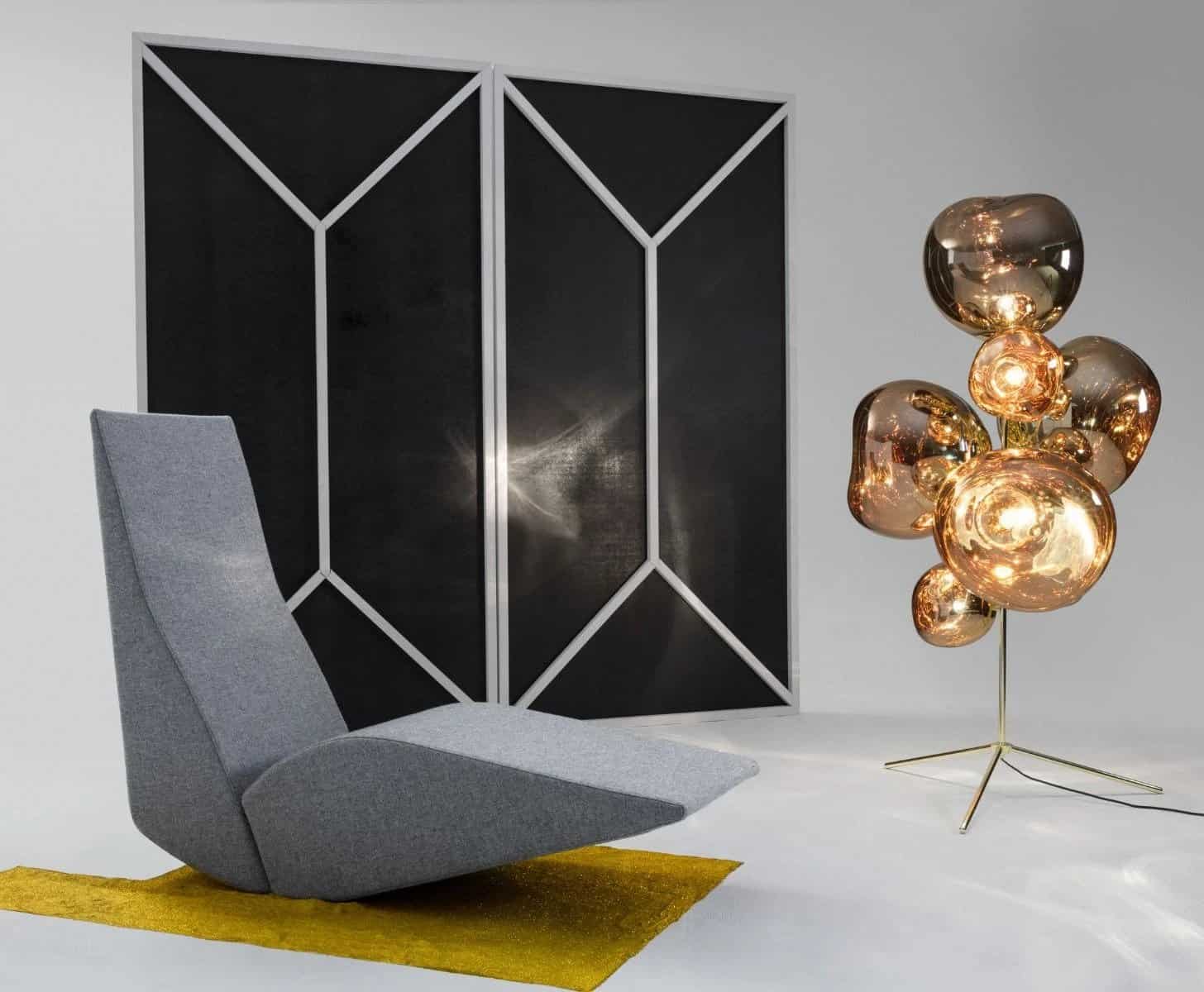 The intended aim of the original Mirror Ball was to produce a completely spherical, highly mirrored object referencing space helmets and disco balls. Through the use of injection blow moulding, a melted plastic polymer moulding is injected into a massive precision-made steel tool, inflated with compressed air and then cooled.
The perfect mirror finish of each pendant is then created by the highly technical process of vacuum metallization. The polycarbonate shell is secreted in the interior of a metallic chamber, the air sucked out, and an immense electrical charge channeled through. With a bang and pop a thin strip of copper foil is vaporized into a fine mist of metallic particles that settles across the interior.
It is available in the original chrome finish, and in gold, with two different designs; pendant and tripod stand,
The Pylon Family
The Pylon collection is a set of semi-transparent and lightweight occasional pieces. They are a light, strong, sculptural celebration of the triangle's simple symmetrical shape.
Pylon Chair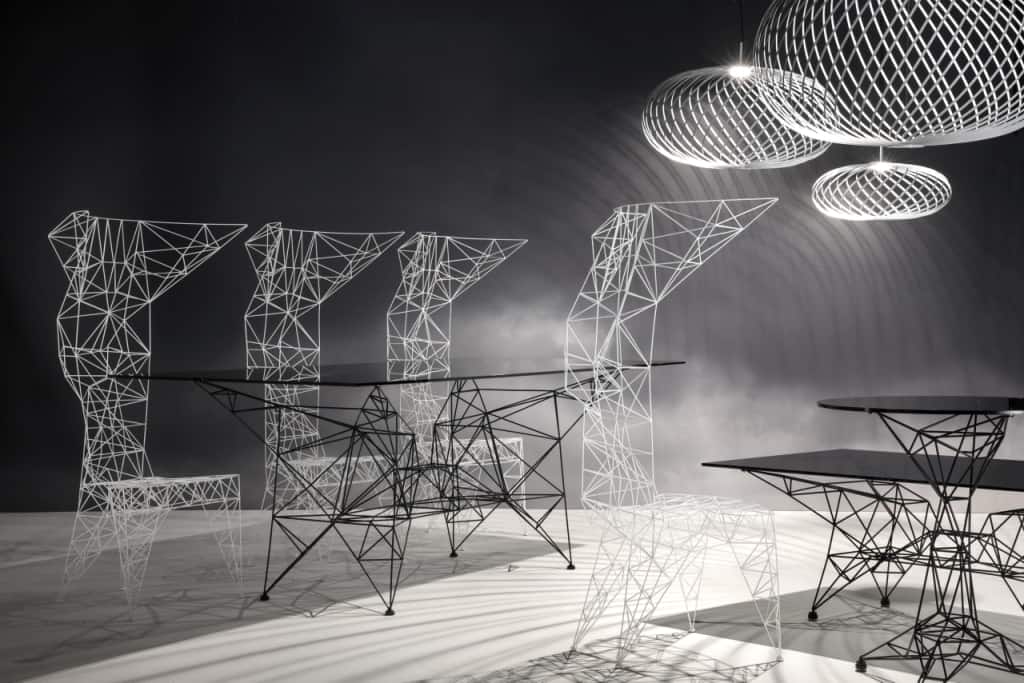 Originally created on a self-propelled mission to design the world's lightest metal chair, Pylon was made in a small series in Dixon's metal workshop in the early 90's. The lattice work of 3mm diameter steel rod is triangulated for maximum strength – an exercise in pure unadorned structure.
The S-Chair Family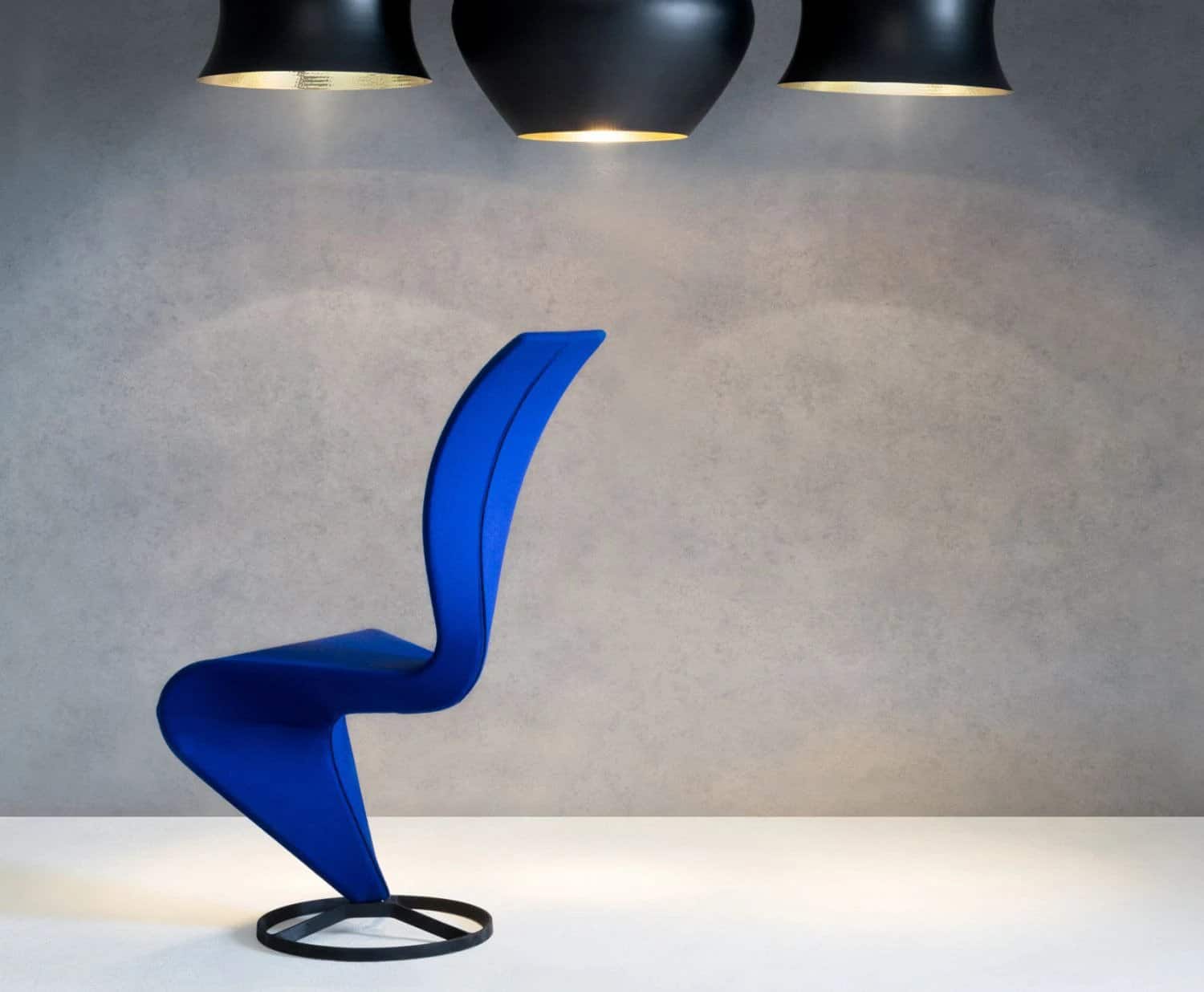 Born in Tom's 80's London workshop, the S Chair has been re-engineered. The original three-dimensional form is now moulded in an industrial hard/soft form with a pure wool cover. The instantly recognizable serpentine curves are now more comfortable and ergonomically active than ever. It sits proudly on its steering-wheel inspired cast iron base.
The Bird Family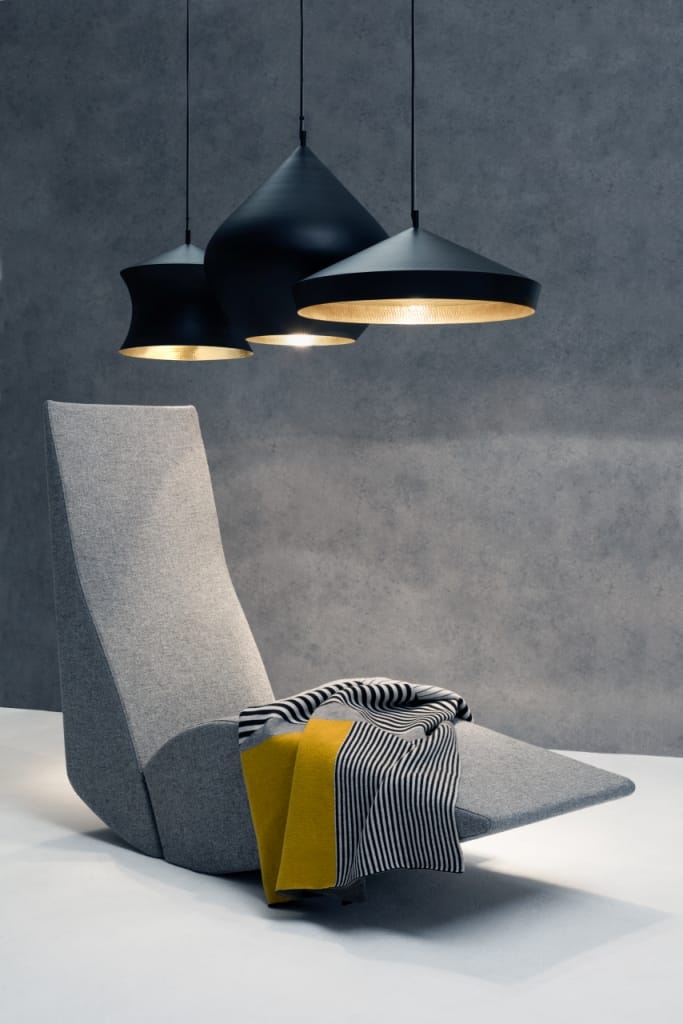 The very rare and unusual furniture typology of the rocking chaise longue is explored in a monolithic form, carefully balanced to encourage a gentle rocking motion with its gentle curves and reduced silhouette. The Bird Chaise is a bold sculptural statement that is destined to bring extra colour and shape, movement and comfort into lobbies, breakout areas and homes.
View Complete Gallery: