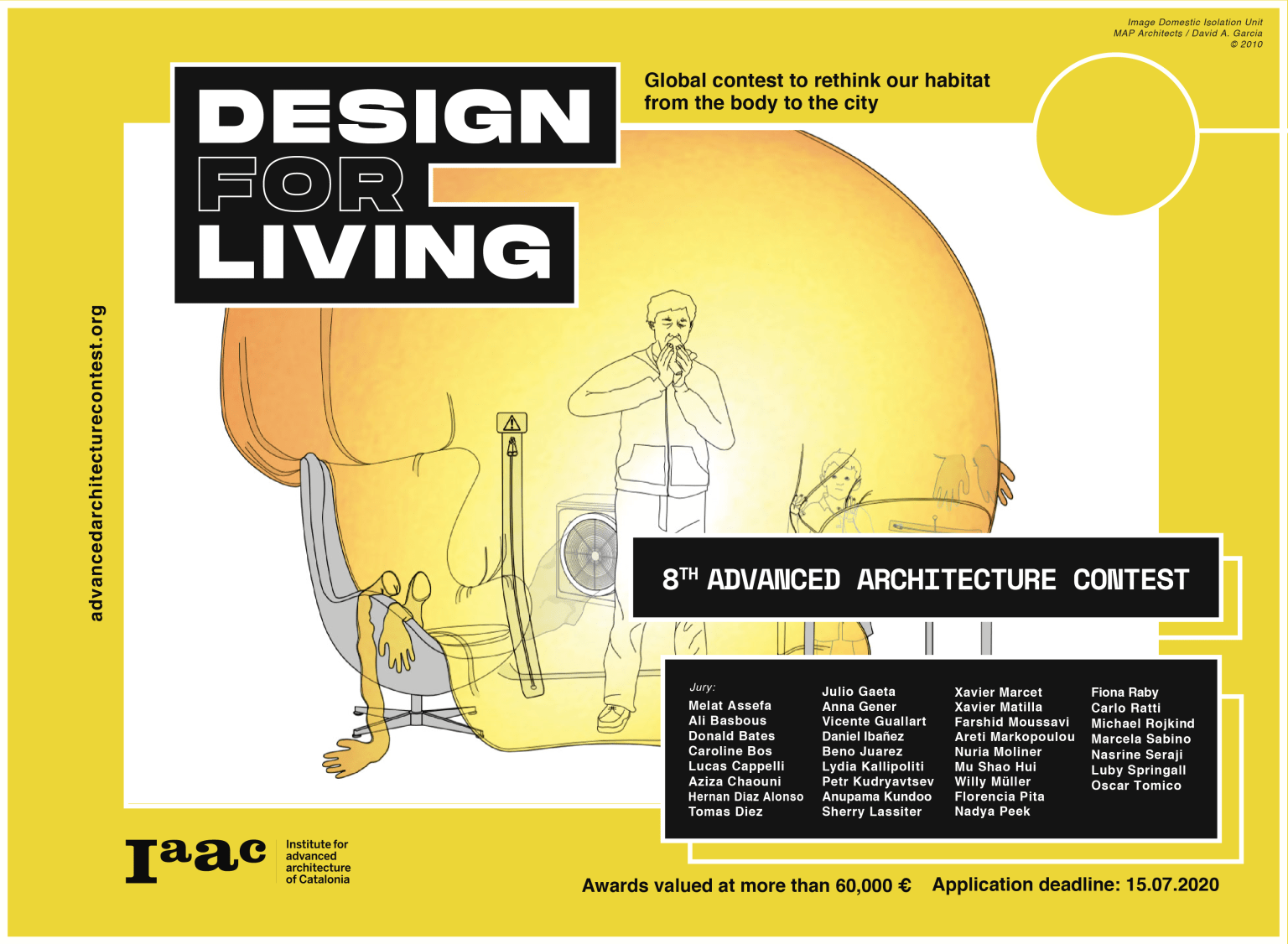 The Institute for Advanced Architecture of Catalonia (IAAC) calls its 8th Advanced Architecture Contest (Design For Living) as a global reflection to rethink human habitats, at a time when the fight for life and climate allows us to consider how we would like to live in the coming decades.
The objective is for students and professionals from all over the world to propose how to design our living environment, at whichever scale most interests them to promote and protect human life: how to rethink our bodies, how to design the objects that surround us, how to redesign the homes that we inhabit, what functions they must incorporate, how to grow communities or re-naturalize public spaces, how to reinvent our cities taking advantage of digital communications in times of confinement and broadly how we define our relationships with others in a time of changes.
In these ways we want to inspire reflection on how we can accelerate our future using design in order to respond to the health, energy, food, production, environmental or social challenges of the coming years.
We like to think that each person's life begins at home, which is the center of their universe and the origin of their social interactions. In times of crisis like the present, we have been confined to our homes and they have become microcities where we live, work and rest, connected to the world through information networks. So, after this experience, how do you imagine the future for our living environment?
The contest encourages participants to propose a design related to their way of life, at the scale that most interests them from our bodies to the city, anywhere in the world, and that reflects different cultural, environmental, economic or social conditions.

The competition is open to students and professionals.

There is no age limit; the projects may be carried out be individually or in groups, with no restriction on the number of members of the team.

RULES & DELIVERY
Click here to read the rules
REGISTER
Click here to register
CALENDAR
Launch date of the competition
May 4th 2020
Closing date for registration
July 15th 2020; 00:00 hs (UTC +00:00)
Enquiries
You can send questions to questionscontest@iaac.net until June 5th

All the grouped replies to these will be posted on the Web site before June 15th

Submission of Projects
The reception of submitted projects will close on July 15th 2020; 00:00hs (UTC +00:00)
Results
Announcement of results: Tuesday 30th July 2020
Book Release
1st March 2021 (20th anniversary first class at IAAC)
International Exhibition
December 2021

EVENTS
Click here to participate in online events/webinars etc.
AWARDS
The three teams leaders will receive cash prizes of 3000 €, 2000 € and 1000 €, and a one-year grant to take a Master Program at IAAC.

All of the projects selected will be featured in a special book produced in conjunction with the Actar publishing house like in the previous editions.

1st Prize: 3,000 € + Master at IAAC (value aprox 18.750,00 €)
2nd Prize: 2,000 € + Master at IAAC (value aprox 18.750,00 €)
3rd Prize: 1,000 € + Master at IAAC (value aprox 18.750,00 €)

Masters at IAAC to choose are among the following:

MAA01 Master in Advanced Architecture

MAEBB Master in Advanced Ecological Buildings and Biocities

MDEF Master in Design for Emergent Futures

MACT Master in City & Technology

MRAC Master in Robotics and Advanced Construction

Exhibition and Book:

The selected projects will go on show in a major exhibition, due to open in Barcelona in December 2020.

The best projects will also be featured in a book to be published ACTAR publishing house like in the six previous editions:

SELF-SUFFICIENT HOUSING
SELF-FAB HOUSE
SELF-SUFFICIENT CITY
CITY SENSE
SELF-SUFFICIENT HABITAT
PRODUCTIVE CITY

Website: https://advancedarchitecturecontest.org/