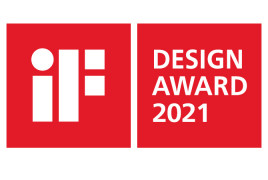 In difficult times, trust counts. Since 1953 the iF label has been a reliable sign of good design, awarded in Germany and renowned worldwide, both by consumers and within the design community. Designers, manufacturers, architects and interior designers who want their product or project evaluated by internationally recognized design experts have turned to the iF DESIGN AWARD for decades. They do so to prove their company puts design in the focus of its business, and to attract international attention. Winning an iF DESIGN AWARD helps a company stand out from the competition, improve its branding and reach new target groups. Now the iF DESIGN AWARD 2021 has been changed to reflect the increased digital times and make it even more transparent.

What is new?
New 2-step jury process –Step 1 – Online Pre-selection:
Independent international jurors will convene with our virtual jury tool to select the best 50% of all entries as finalists. Finalists will be published online and will receive five ranking points per entry.

Step 2 – Final Jury:
All finalists will be invited to the Final Jury, where about 50 design experts will come together in Berlin in March 2021 to select the winners of the iF DESIGN AWARD 2021. Award winners will receive 20 points, iF gold award winners will receive additional 100 points.
New criteria system – enables detailed feedback to participants
New benefits – scorecards for each entry, jury report for winners, iF WORLD DESIGN INDEX, publication and ranking points for finalists
More eco-friendly – 50% fewer shipments means less environmental impact
More categories and disciplines – reflect more aspects of global design
More insights – a jury report tells winners how compare to others
Disciplines & Categories
Click here to see all categories
Dates – iF DESIGN AWARD 2021
26 Jun 2020:  Early bird registration
30 Oct 2020:  Regular registration
1 Dec 2020:   Last chance registration
18 – 22 Jan 2021: Jury step 1: Online Pre-selection
28 Jan 2021: Results of the Online Pre-selection will be communicated
1 Feb – 12 Mar 2021: Shipment of selected entries to the Final Jury
29 – 31 Mar 2021: Jury step 2: Final Jury at Messe Berlin, Germany | Results will be announced in April
Apr 2021: Winners Publication | iF WORLD DESIGN GUIDE, press releases, social media, newsletter
10 May 2021: Awards ceremony | iF design award night at the Friedrichstadt-Palast in Berlin, Germany
FEE
Registration Fee per entry (Online Pre-selection)
The registration fee applies to all disciplines:
Registration by 26 June 2020: EUR 250
Registration by 30 October 2020: EUR 350
Registration by 1 December 2020: EUR 450
The registration fee has to be paid to participate. It covers the costs for the organization and execution of the online pre-selection.
Jury Fee per entry (Final Jury)
All disciplines: EUR 200
The jury fee has to be paid for each entry selected in the online pre-selection for the final jury. Participation in the final jury is mandatory. The jury fee includes organization and assessment process. The participant must pay all transport, customs and insurance fees.
Winner Fee per entry
Discipline
Benefits for winners
Product / Packaging
EUR 2,700
Communication
Interior Architecture
Professional Concept
Service Design
Architecture
User Experience (UX)
User Interface (UI)
EUR 1,600
This fee is a mandatory fee for each awarded entry.

The entries selected by the jury will receive the iF DESIGN AWARD. Upon the granting of the award, award winners are obliged to accept the 'winners' package and to pay the relevant fee listed above. All fees are listed as net amounts. VAT may have to be added depending on the type of service and on the participant's place of residence. Participants in the Federal Republic of Germany will be charged an additional 19% VAT.
Evaluation Criteria
IDEA: 
Relevance: Is it relevant?
Fit for purpose: Is the idea appropriate?
FORM:
Aesthetics: Is it beautiful?
Emotional appeal: Does it engage the user?
Execution*: Is it made well?
FUNCTION:
Usability*: Can it be used with ease?
Efficiency*: Does it work well?
User Benefit: Does it serve the user?
*Not judged in online pre-selection for categories with physical entries.

DIFFERENTIATION:
Innovation: Is it new?
Brand Differentiation: Does it support the brand?

IMPACT:
Social Benefit: Does it serve society?
Sustainability: Is it sustainable?

SCORECARD
Individual scorecard per entry based on updated evaluation criteria
The jury will use updated criteria to evaluate the entries, which have been developed with international design experts. The criteria will be used by the jurors to give scores to individual aspects of each entry.
Winners will receive a detailed jury report for each awarded entry. It will include the newly developed criteria scorecard with scores for the individual criteria. Winners will be able to compare their result with others to see where they stand in the field of all competitors. The jury report will give the participants more insights into the reason for the decision of the jurors and will include helpful data on trends and observations iF collected during the jury process.
Registration
Click here to register