Acclaimed Pune-based architect Vikas Sheware has been in the industry for close to two decades and has witnessed tremendous changes in the architectural style that people are adopting. His exemplary work has brought him recognition on the world canvas. Over the years, his brainchild Concur Designs Studio has earned several prestigious accolades. On 18th August 2022, Ar. Sheware won the Top 30 Trendsetter & Prominent Architect & Designer India 2022 and the Most Futuristic & Leading Architecture & Interior Design Firm of the Year 2022 Maharashtra Award under Township Projects, Hospitality Projects & Commercial Projects awards at the global edition of Architecture & Interior Design Excellence Awards 2022.
The international edition of the Interior and Architecture Awards and Conference honoured interior designers, architects, design studios, interior and architecture firms, businesses in the design industry, and e-commerce websites. These Awards serve as a modest expression of gratitude for the people who contribute to society's dignified future.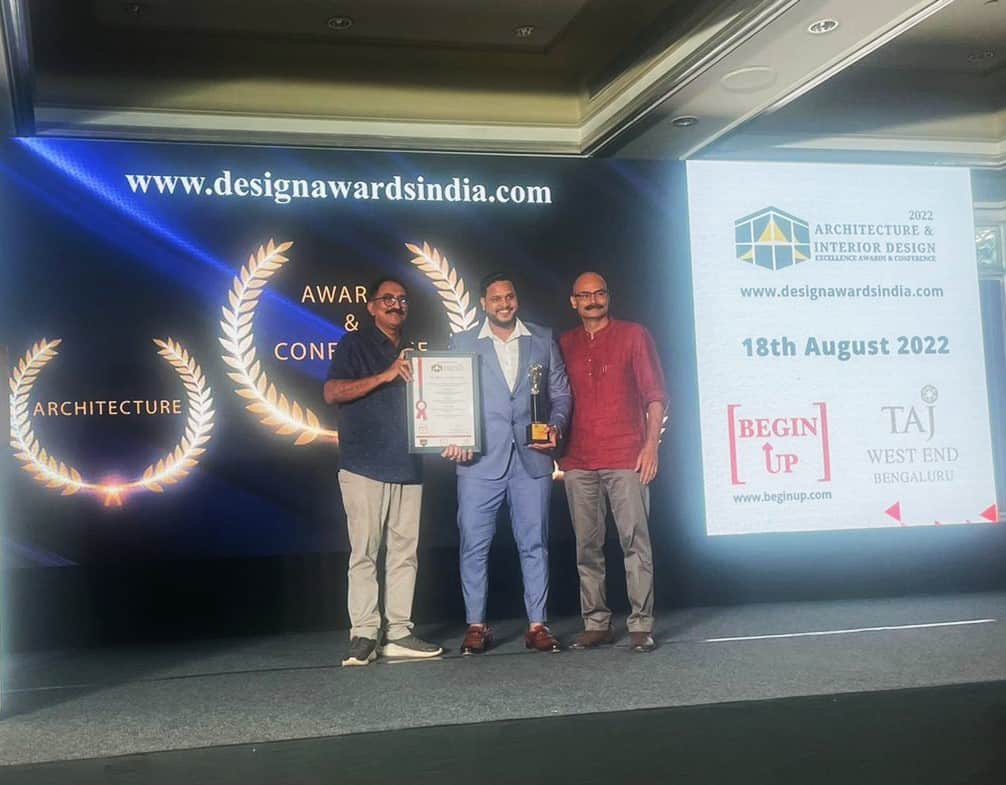 Ar. Vikas Sheware's design philosophy
Ar. Sheware is greatly influenced by European architecture. His style is the impact of extensive travel and the influence of various forms of designs. Moreover, he follows a vision of creating spaces that are a blend of innovation, quality, and artistic minimalism. He holds an artistic view towards logic and leisure and therefore likes to call himself the 'Explorer of Design'.
Concur Designs Private Limited is the innovation of Ar. Vikas Sheware, a dynamic and visionary entrepreneur. It is a 360-degree multi-disciplinary architecture firm that caters to exclusive design solutions across multiple industries, such as hospitality, corporate, healthcare, township, residential, villas, and retail.
Concur Studio – An eccentrically designed workspace
Concur's office design interweaves an immaculate workspace that marks excellence and shines as one of the well-known projects across India.
Planned according to Vastu standards, Concur is a workplace designed with a distinctive geometric structure and realistic prints. Believing, in the state-of-the-art norms, the Principal architect's cabin has been made of leather panels on the roof, a vast table with a metal cut world guide as the backdrop; natural marble on the flooring, and a realistic print of Berlin's Stadium, alongside a dazzling mosaic example over the triangular texture embellish the territory.
The functional zone in the design studio is innovatively planned with particular straight workstations and the roof is tastefully structured, like the RCC beams on the ceiling are decorated with antique architectural newspaper cutouts, the library follows the concept of Open Library where you can coy up in the bookshelves and sit head on head with the books and indulge yourself in dynamic hues on the padded seats with lights.
The use of star screws at the entrance for the Concur logo and Lamborghini tiles at the reception flooring are seen for the first time in Pune, thus creating magic out of spaces.
"The office is a reflection of my 18 years of challenges, growth, and an ambition to be better every day. And my journey has just started!" proudly says Ar. Vikas Sheware.
Township project – A panorama of elegant luxury
The ingenious planning behind this project is exhibited in each and every element. The perfectly spread landscapes are sure to let fresh air roam around in the wide open spaces and soothe your senses. The majestic grand entrance is a perfect reflection of an affluent lifestyle that's hidden behind it. The spaces in and around are creatively conceptualized to give a matchless way of living. Wide concrete roads are spread across major pathways of the project.
Surrounded by plants and landscapes, the Township remains a pollution-free society thanks to its sustainable design. Spread across 14 acres on the Daldal Seoni Road Raipur, Chhattisgarh, India, this project is a township with several magnificent Villas, Row Houses, a Club House, Temple, Solar Garden, Landscape Gardens, Sports Arenas, and much more.
Alternating landscaped terraces act as community break-out spaces. These create varied experiences and promote social interactions and community activities and interlinking corridors, extending the streetscape beyond the ground plane to higher levels of the building. Thus, this brings the street character into the building.
The development plan envisions various unit types and modules for different workforce sections as well as necessary amenities, play areas, infrastructure, and open spaces. Additionally, the project demonstrates a high-standard, sustainable quality of life amongst various sections of users.
"The 4 major green landscape pockets in the site plan have different landscaping elements keeping in mind the hot and tropical climate of Raipur", confirms Ar. Sheware.
Q&A with Ar. Vikas Sheware on designing the Concur Studio & Township Project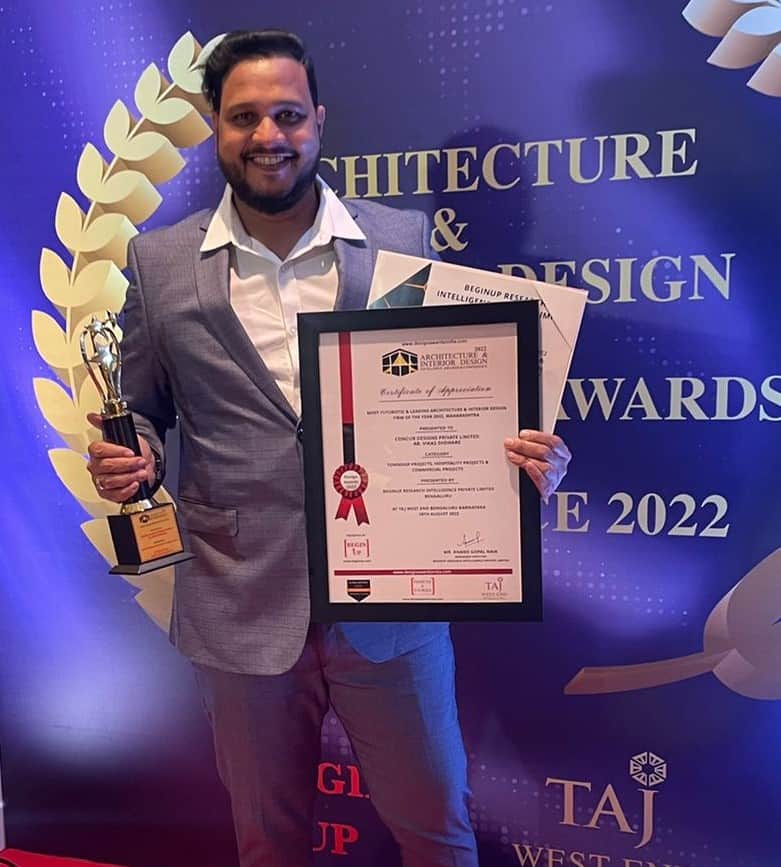 B&I: How did you integrate sustainability while designing the Concur Studio?
VS: We used multiple ways to incorporate sustainability into the design. Following are a few of them:
Innovative green methods, such as energy-saving technology, sustainable materials, recycling, repurposing, and other elements that support long-term ecological balance.
Natural light as well as ventilation in all possible ways.
A sustainable office space drives productivity, conservation, and employee well-being. Thus, it drives efficiency without any qualitative sacrifice.
Energy efficient light fixtures, ergonomically designed furnishings, and aesthetic floorplans.
B&I: How did you overcome the material challenges you faced while designing the studio and the township?
VS: We used multiple ways to avoid any challenges along the way, such as:
Firstly, a lot of R&D for the material selection.
Secondly, making 3D views to get the exact ideation of the material before the selection.
Finally, doing mock-ups on-site to explain and train our execution team.
B&I: In your opinion, what should be the overriding criteria for designing townships?
VS: The pandemic has made people realize the importance of living in a holistic ecosystem. So, an increasing number of customers are now seeking homes that offer absolute convenience to them and all their family members as well. There is a growing demand for an ecosystem that offers ease of living along with an abundance of a green and eco-friendly lifestyle. The increased need of leading a self-sustained life has created a significant inclination of buyers towards the integrated townships.
Functioning as mini-cities, the townships offer extravagant benefits as well as an exclusive community that creates a self-sustainable ecosystem. So, buying a home in integrated townships provides a cost-effective and comfortable life for the residents living there. Homebuyers seek to invest in integrated townships that guarantee family safety along with improved living. Moreover, we are seeing an ever-increasing trend amongst the customers to make their way of life distant from the hustle-bustle of the city and moving towards the journey of progress and development.
[vvsmustread]