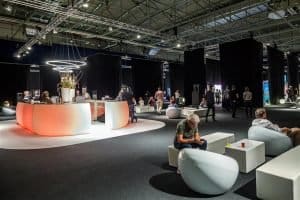 We live in a world where, in order to get the attention of the visitors, the exhibition companies (read: organisers) are constantly experimenting with the norms of the trade fair business. We have some very successful shows like SICAM (with a focus on furniture components), which have condensed the exhibitor-visitor interface. As a result, one sees a very structured (and minimalistic) booth space, requiring minimum set-up times for the exhibitors and an objective & simpler visitor experience.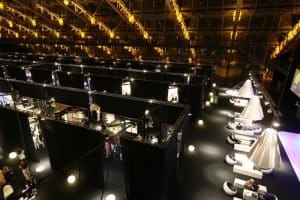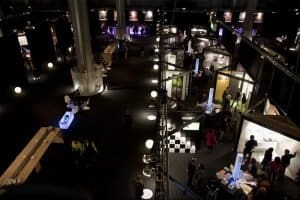 With a crisp-format and spread over 30 locations across 15 countries – mainly in Europe, ARCHITECT@WORK is another show format that is now popular across Europe. Targeting Architects, Interior Designers and Consultants, this exhibition format leads the visitors along a route that winds its way through it's small, uniform booths. The innovations are showcased within the dimensions of the corner unit and on the (shell scheme) walls. Each box contains four corner units and a multimedia console which takes the centre-stage. At ARCHITECT@WORK, traditional aisles (as seen in many exhibitions) are transformed into lounge zones – places to enjoy a drink, to chat and to provide further explanation about innovative products, applications or services.
At ARCHITECT@WORK, potential exhibitors have to pass through an approval panel of Architects and Interior Designers. The result – innovative products, materials, applications and services for the visiting specifier fraternity. Well-trained and experienced representatives on the booths provide visitors with the ideal solution for their specific  requirements.
At ARCHITECT@WORK, considerable focus is laid on the exchange of knowledge and innovative ideas. Short seminars provide the opportunity to present hot topics or for fellow architects to share their experiences with visitors. Architects, Interior Designers and other specifiers (example – Consultants) are invited through a customised and exclusive registration system. A uniform all-in concept and free catering for exhibitors and visitors ensure that costs are kept to a minimum. ARCHITECT@WORK is a time-efficient exhibition where one gets to meet an exclusive audience of relevant specifiers over a period of just two days.
Exhibitor profile for ARCHITECT@WORK includes the manufacturers, importers and national distributors of:
Exterior joinery, façade and exterior cladding, insulation, air & water tightness, roof construction, load bearing structures, roof covering, drainage and rainwater systems,lighting, sanitaryware, HVAC, electricity and controls, plumbing, renewable energy, interior layout/design, interior joinery, floor coverings, wall coverings, partition walls and ceilings, paints and adhesives, door fittings.
The upcoming editions of ARCHITECT@WORK are:
ARCHITECT@WORK Paris – 26 & 27 September, 2019
ARCHITECT@WORK Turin – 23 & 24 October, 2019
ARCHITECT@WORK Istanbul – 01 & 02 November, 2019.
More…
For your entry to ARCHITECT@WORK, click here.