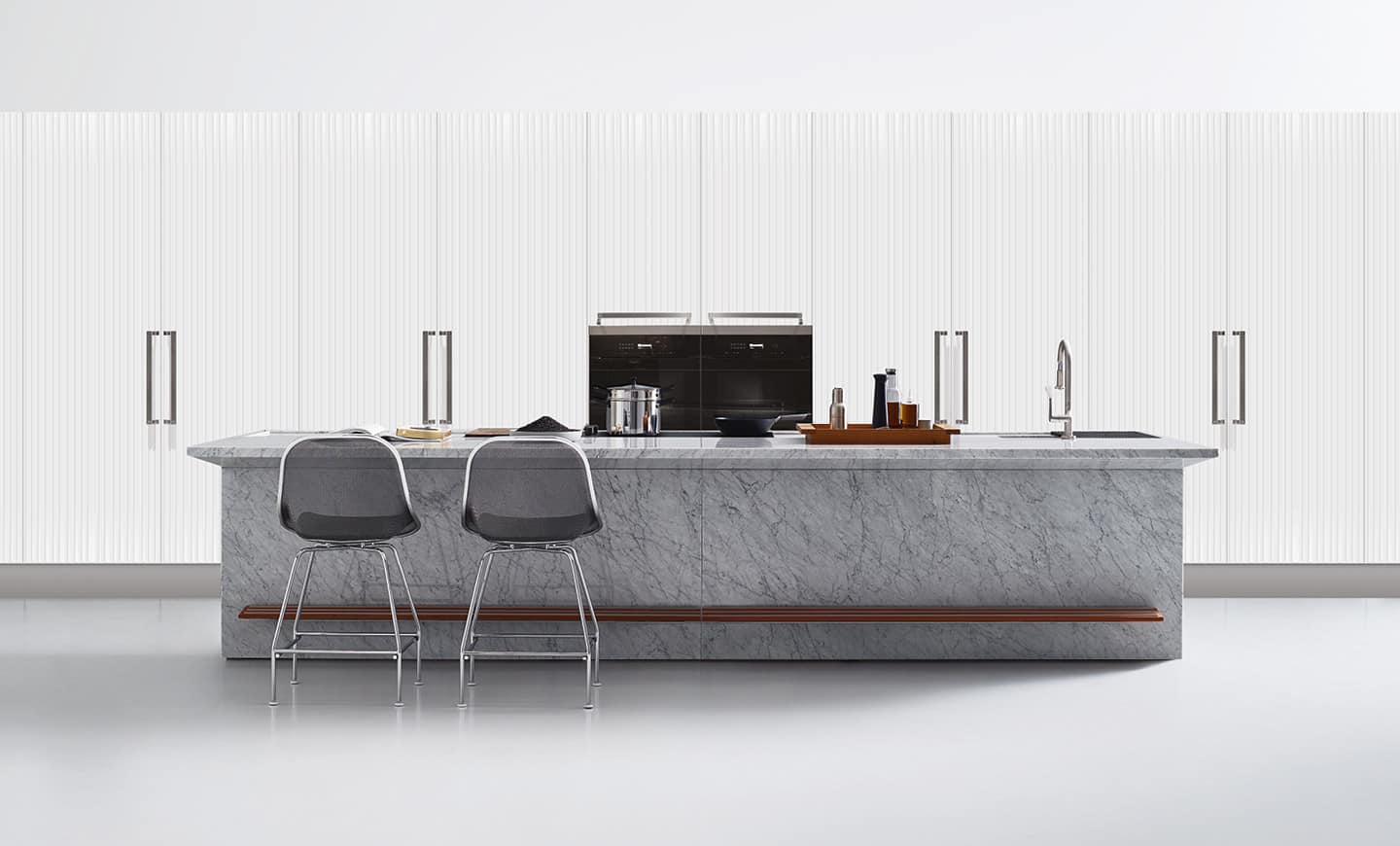 Kitchen holds a very special place in our house. It is a place where love and warmth is found in abundance, where rituals are invented, desires are expressed and which defines the local culture. And the world renowned kitchen maker Arclinea uses its expertise to deliver all of this and more. Arclinea defines its kitchens as the abacus of elements compatible for designing, creating and easily meeting real, everyday needs.Kitchen should make the core activity – cooking, a pleasurable experience and that is why it needs to be a customizable area featuring with innovative technologies and modern timeless design. Keeping these basic principles at its core, Arclinea has always foreseen the changes in trends and evolutions in society and translated them in its kitchen designs, to match the tastes.The concept of the Arclinea Island Kitchen – Lignum et lapis is expressed through Design, Exclusive Manufacturing Processes and Transversality.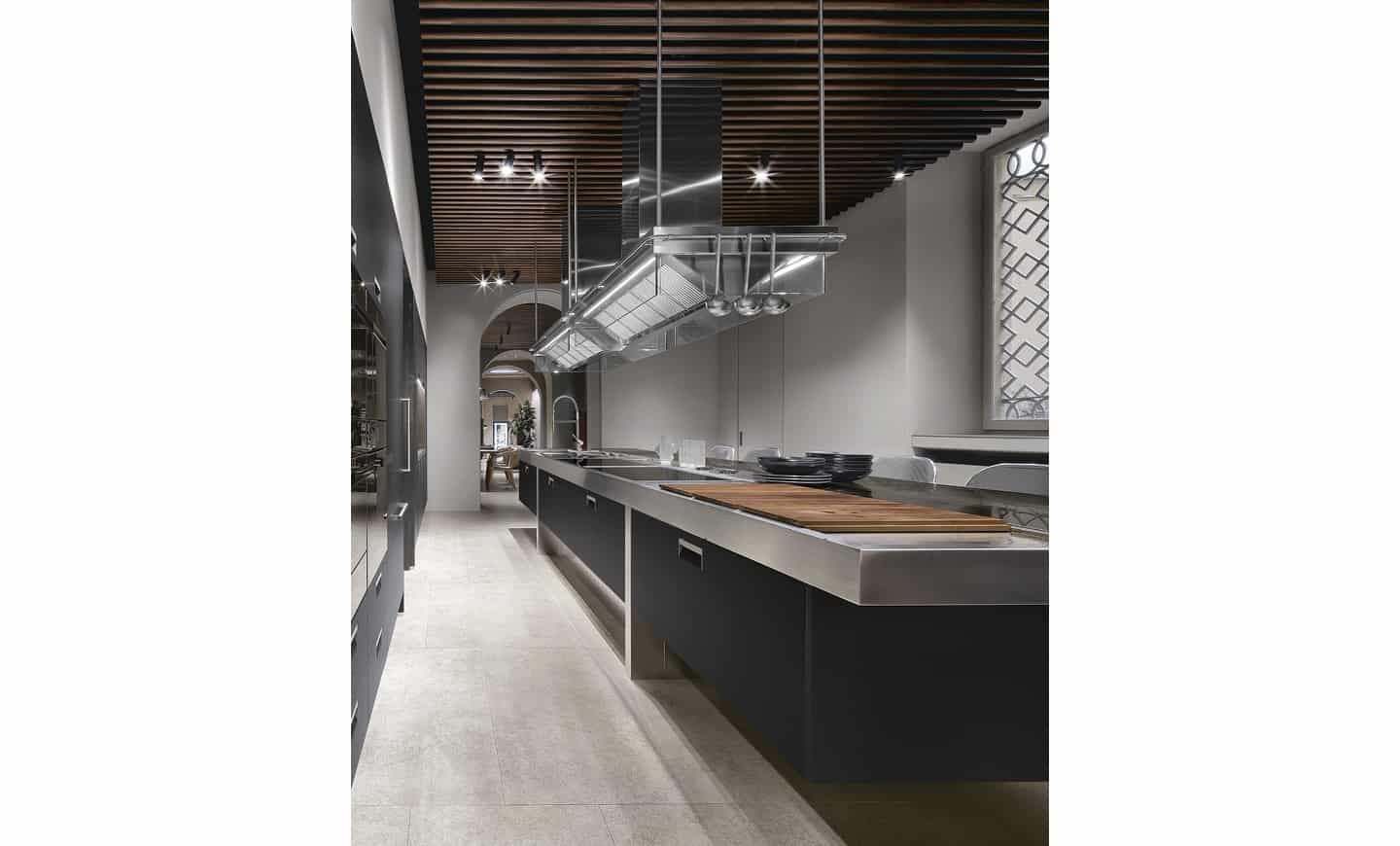 Arclinea Island Kitchen – Lignum et Lapis is primarily made form stone and wood, which are used purely for design and creative purposes. Production of islands, worktops and workbenches in stone gives the feel of industrial sculptures and is a result of research and technology. The unusual door enhances the fineness of natural wood with its exclusive stave design in variable widths and distances. It is available in various finishes: larch, mahogany, Nordic Oak and in all the lacquer colours from the Collection.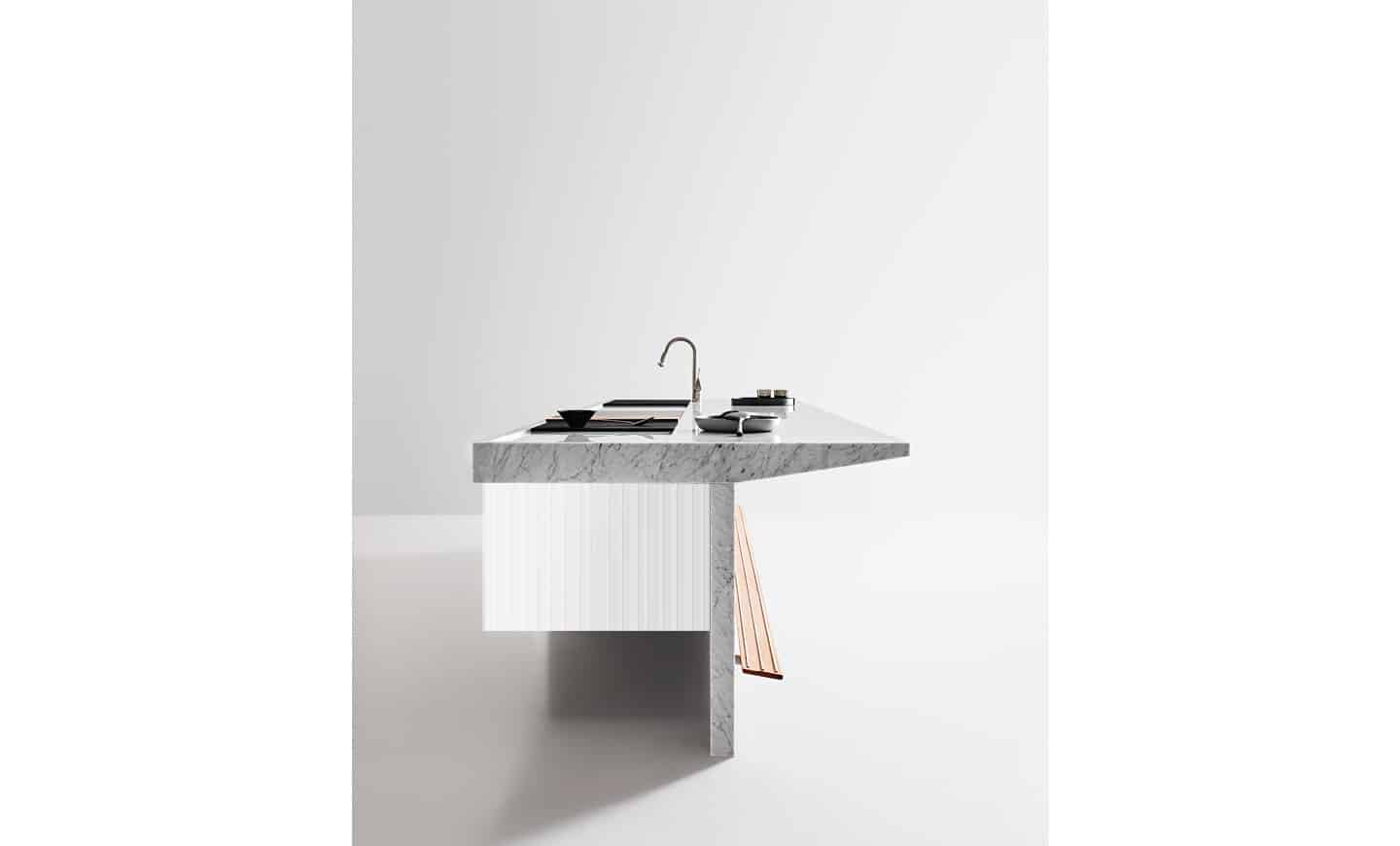 ISOLA LIGNUM ET LAPIS
The Lignum et Lapis island and adjacent Pocket functional wall of storage together form a project that focuses on the instrumental needs of work in the kitchen and the gestures involved in preparation and convivial consumption of food. An 'exclusive sculpture' in white Carrara marble with large operational worktop, end elements and side panels that support and trace an elegant silhouette, housing suspended base units.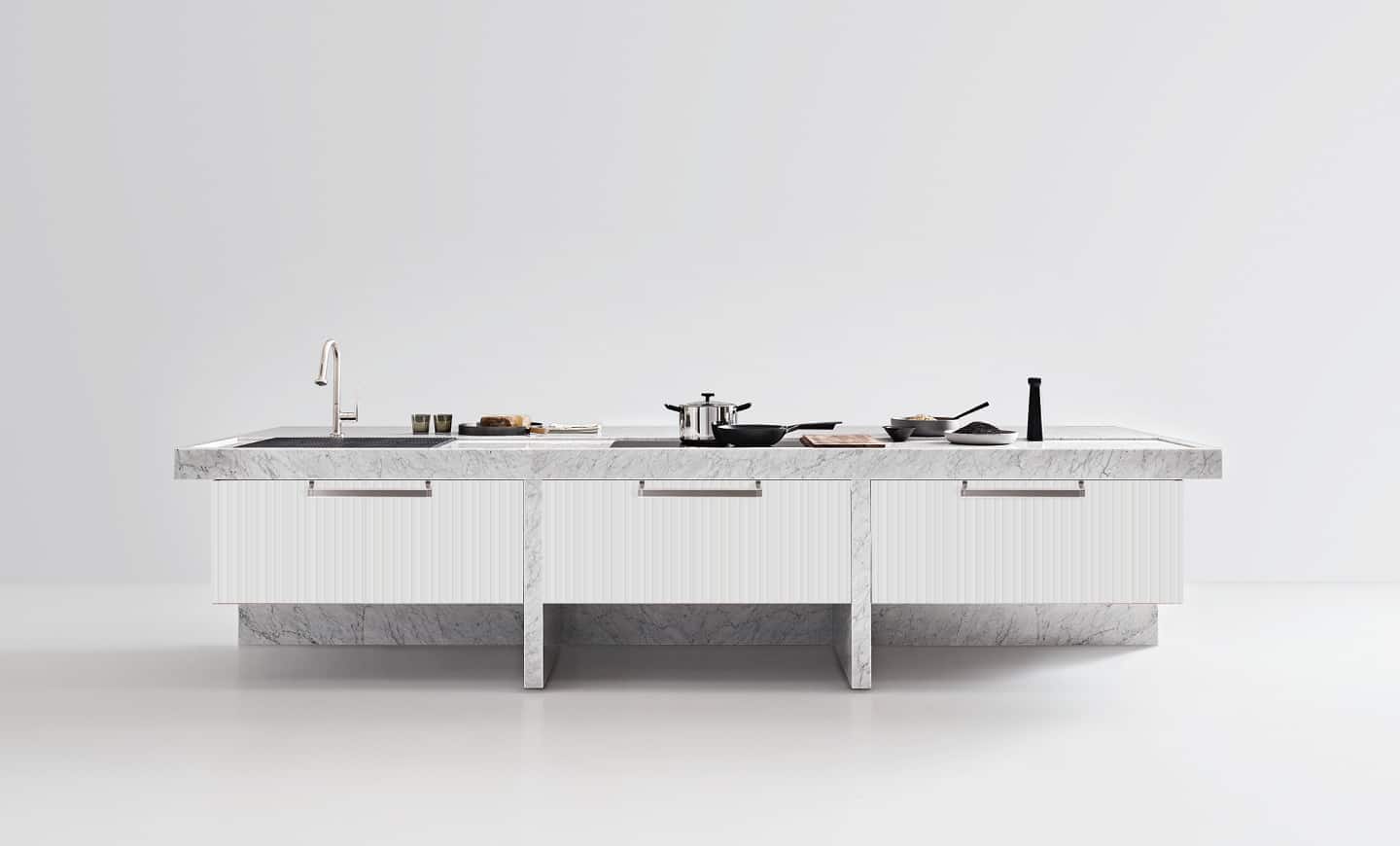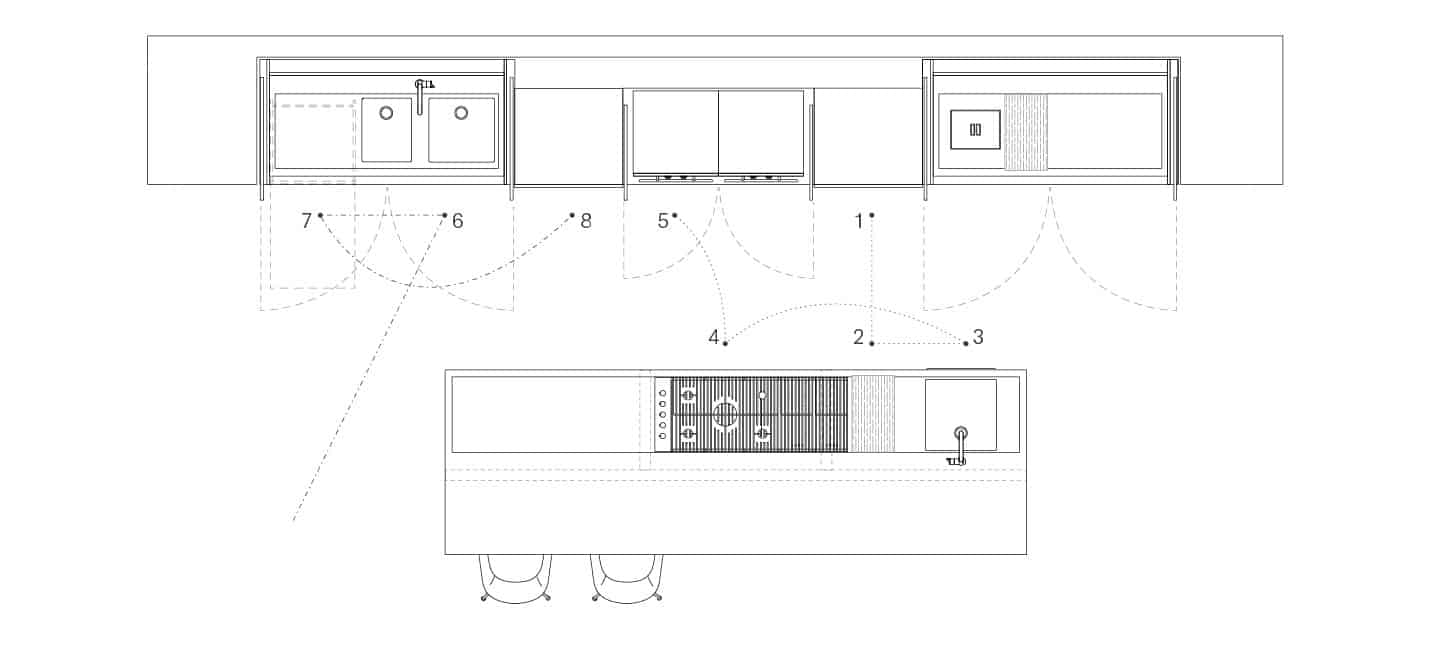 1. Fridge 2. Food Preparation 3. Sink 4. Cooktop 5. Oven 6. Waste bin 7. Dishwasher 8. Tall units
–.–.–. Washing cycle
……… Food Preparation cycle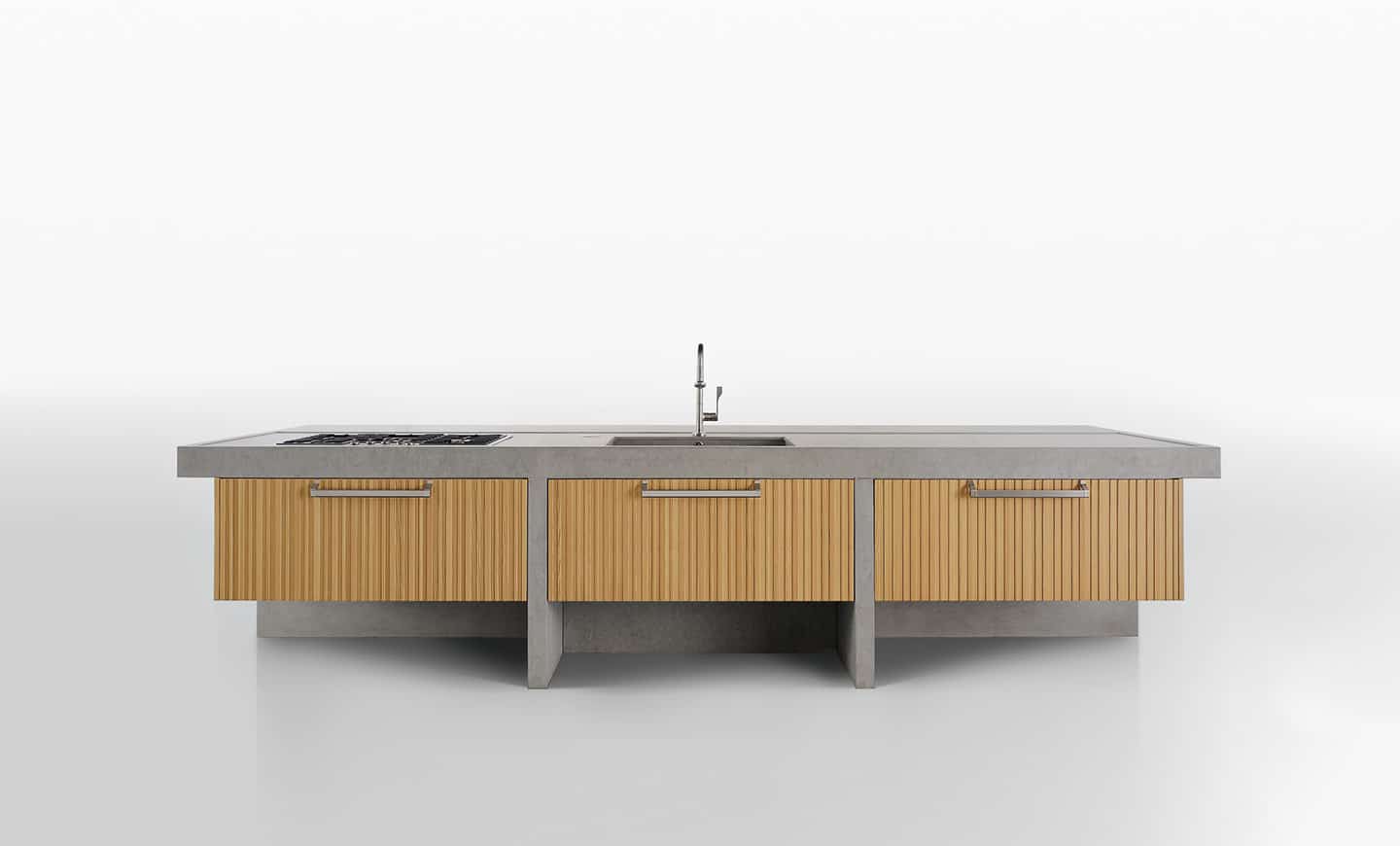 LIGNUM ET LAPIS ISLAND
A monolith in stone partnered with Eulithe (lightness) and aluminium (mechanical resistance) with supporting elements (side and end panels) that act as a base. The worktops are designed and realized with a drip guard, shaped snack bar area, integrated stone basins: ready to accommodate stainless steel hobs and sinks. The suspended base units have larch-stave or lacquered doors and Greca handle in stainless steel.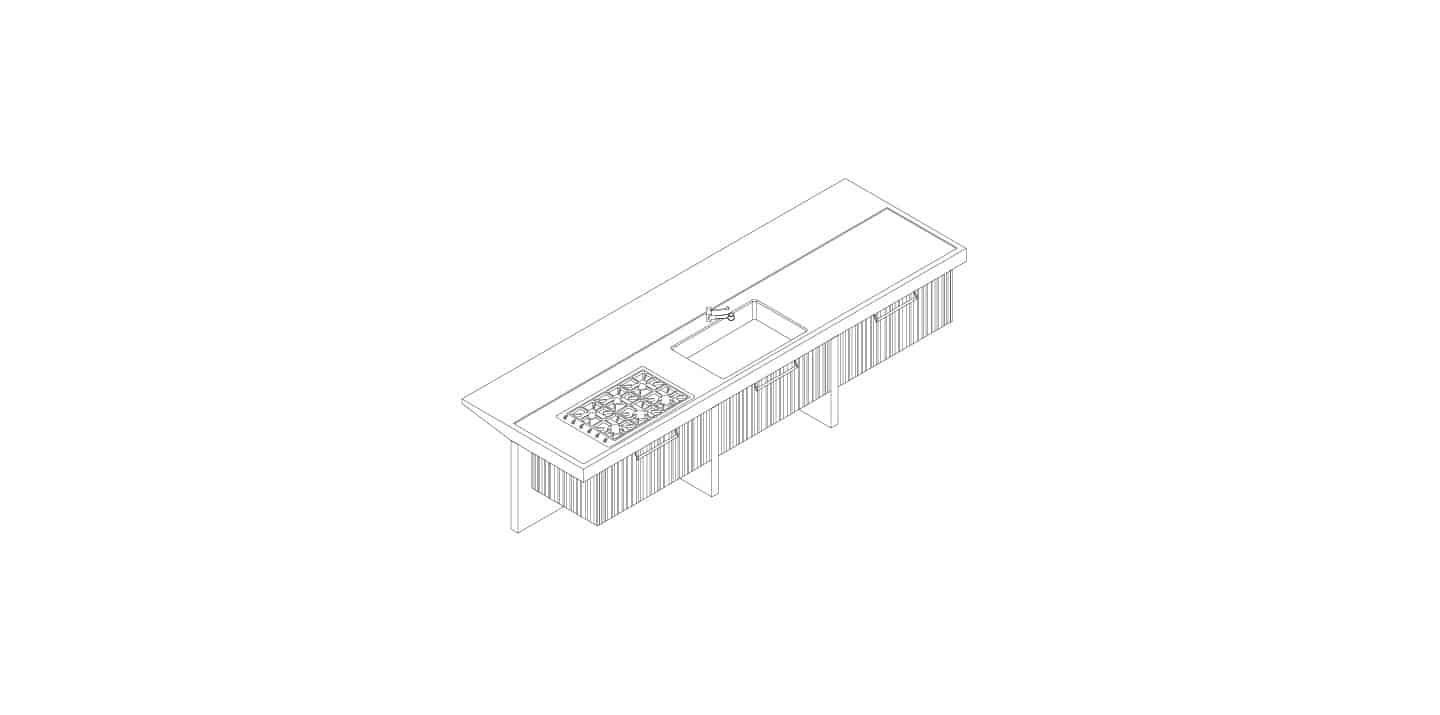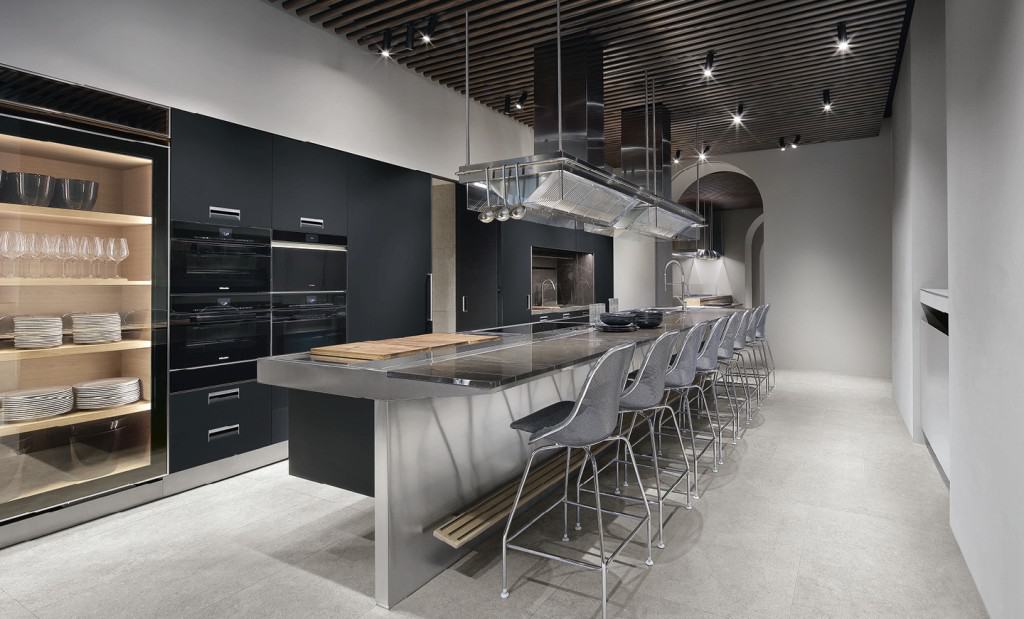 LIGNUM ET LAPIS INOX
It is a large work space, an environment offering high-level professional performance, perfect for hosting and sharing the pleasure of cooking and tasting. In the centre, the designer has given the "sculpted" Lignum et Lapis island with stainless steel structure: a large recessed worktop houses the hob and the sink, a worktop waste bin, sliding PaperStone® grids and walnut wood chopping boards. The new accessorized channel down the middle divides the work space from the snack bar with an insert in marble. Two large New Artusi Professional hoods in stainless steel with glass border are provided to extract the fume. Behind the work island is the accessorized wall, which houses fridges, ovens and wine unit Vina, a tall unit and a dishwashing area. Maximum practicality and ergonomics for the finishes in steel and black Fenix NTM®, with recessed Italia handle. A big table with Arclinea bench in natural oak completes the room layout.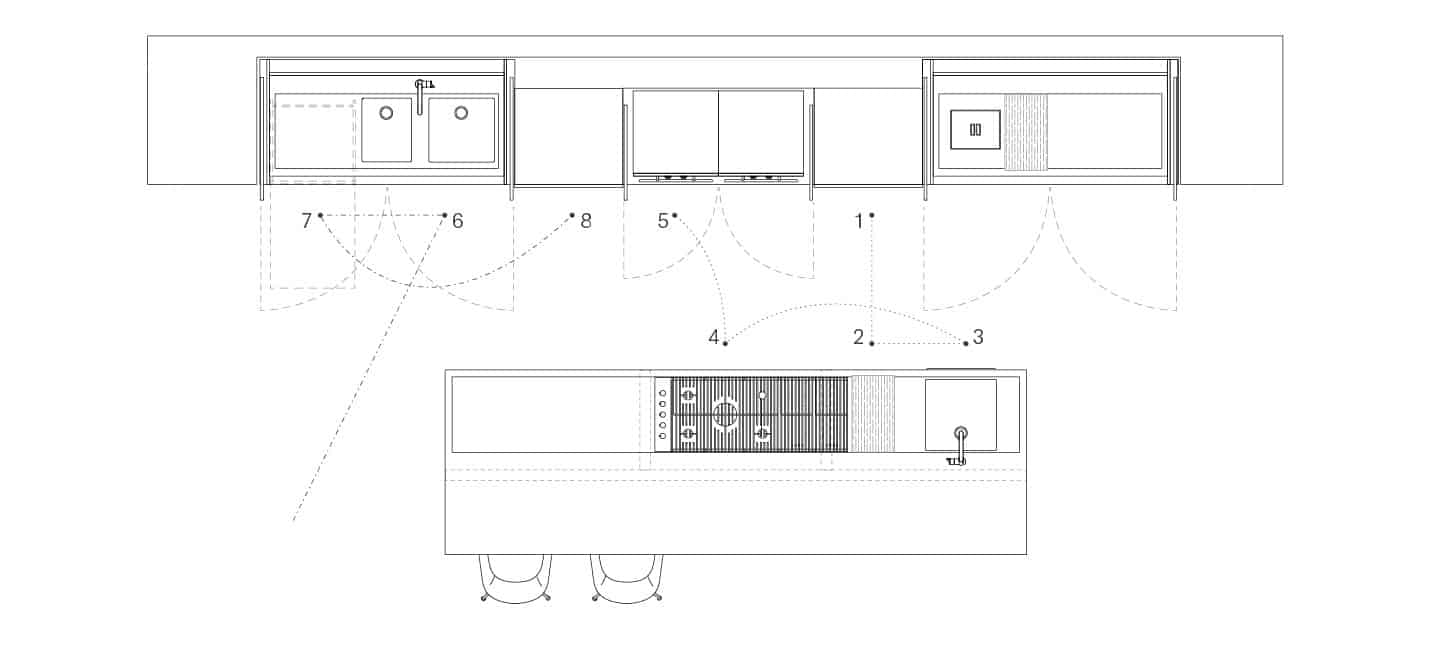 1. Fridge 2. Food Preparation 3. Sink 4. Cooktop 5. Oven 6. Waste bin 7. Dishwasher 8. Tall units
–.–.–. Washing cycle
……… Food Preparation cycle
DETAIL OF ARTUSI HOODS
Detail of work area, Italia door in black Fenix NTM®, stainless steel structure and New Artusi Professional double hood.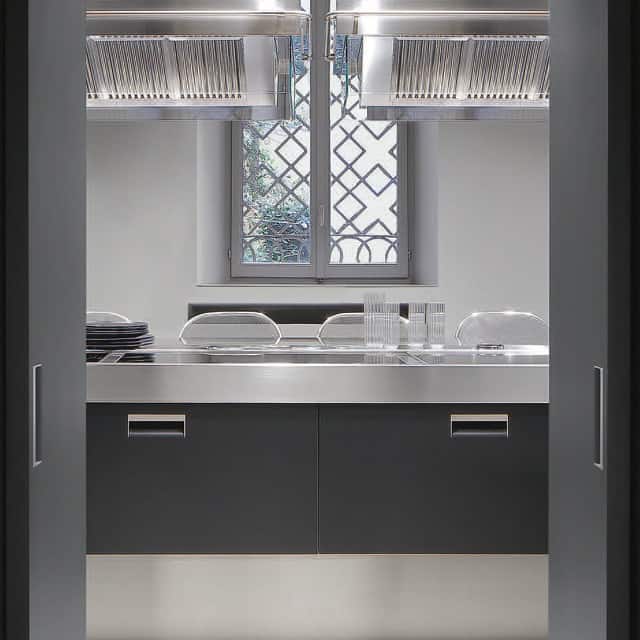 INTERNAL DRAWERS
Deep drawers with internal drawers with black bottoms, sides and fronts and new accessories. 12 cm thick top in stainless steel with 12 mm recess.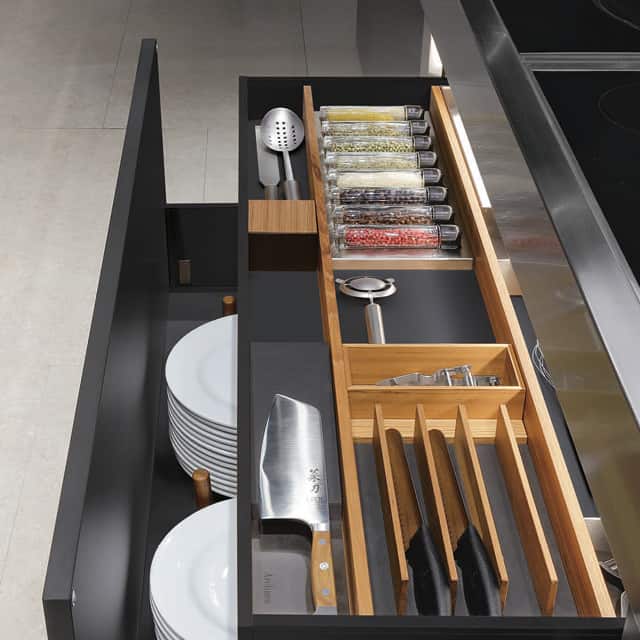 Tall units with door in black Fenix NTM® and Italia integrated handle, internal teak finish and diffused indirect LED lighting.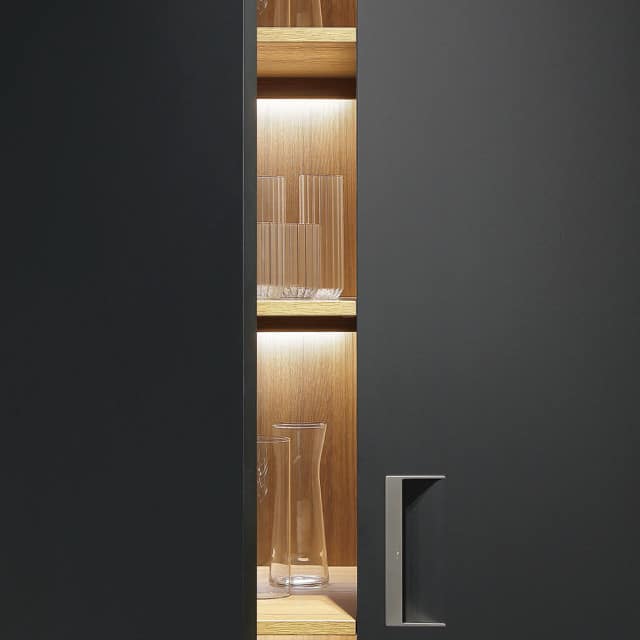 LIGNUM ET LAPIS DOOR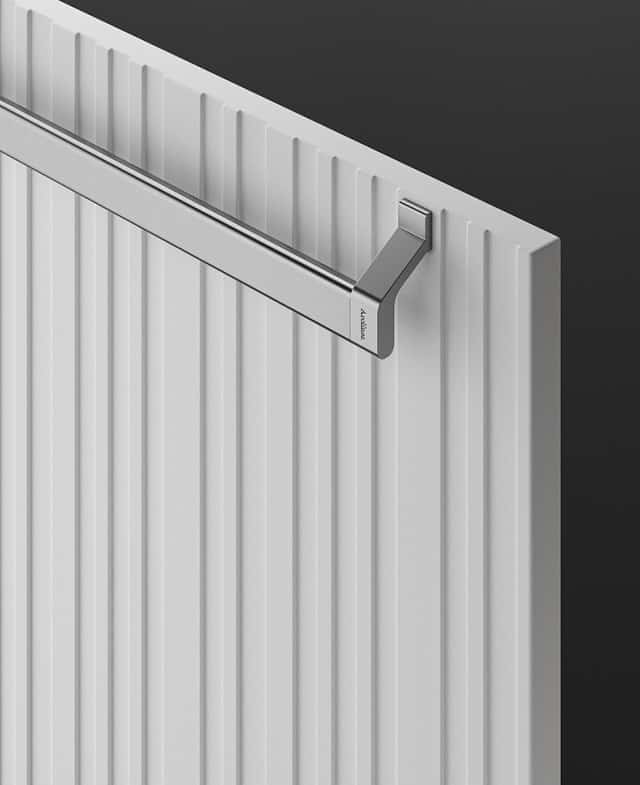 Matt lacquer with vertical staves, available in 36 colours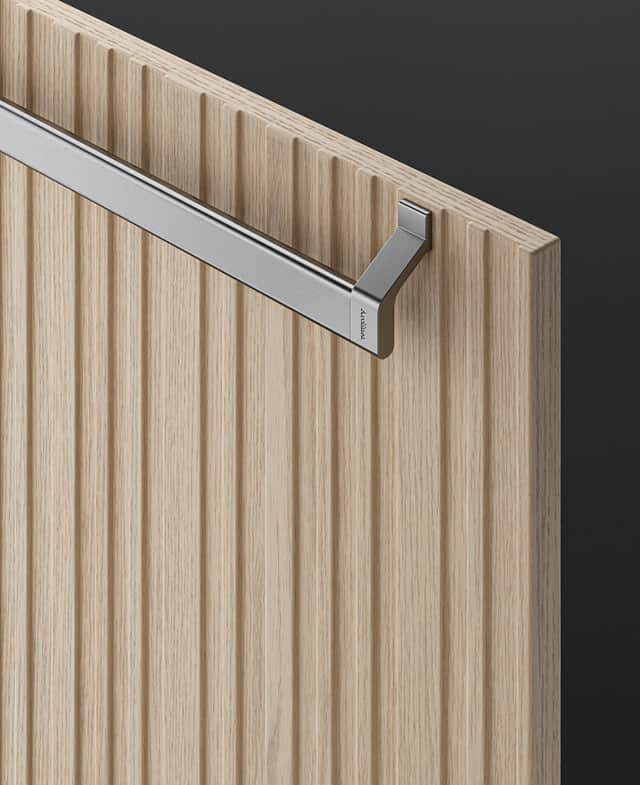 Wood in vertical staves, available in nordic oak
Doors are available with Greca handle or Selene handle.