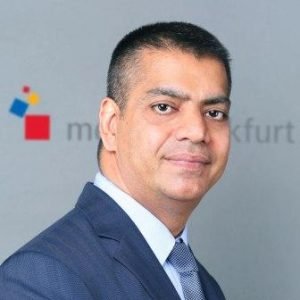 The Indian building products market is gradually moving towards a 'systems approach', wherein, the products from across segments are being seen as 'part of a bigger system'. Platforms such as Light India 2018, which now has a strong 'Electrical Building Technology Show' as a co-located event, give the Indian market a unique flavour of the how the future buildings are going to work. In an exclusive interaction with buildingandinteriors.com, Mr.Raj Manek, Managing Director, Messefrankfurt India Pvt.Ltd., gives useful insights into what the Indian market can expect from the 2018 editions of the shows.
B&I: How is Light India faring? How does it compare in size to other lighting shows you have across the globe?
RM: Light + Building is the world's biggest trade fair for lighting and building services technology and presents solutions that cut the energy consumption of a building at the same time as increasing the level of comfort. The platform represents everything from LED technology, via photovoltaic and electro-mobility, to intelligent electricity usages with smart metering and smart grids. In India, we have introduced Electrical Building Technology fair alongside Light India which brings this concept to the Indian market and has received an overwhelming response with confirmations and bookings from leading players for this biennial fair. Together, the two fairs will occupy over 18,100sqm of exhibition space dedicated to promoting technologies and energy-efficient concepts in commercial and residential building development.
With regards to the size of the exhibition, surely we cannot compare it with Light + Building Frankfurt, but it is by far the biggest exhibition of the industry in the Indian subcontinent.
B&I: What are the challenges in growth trajectory of Light India?
RM: India's fast-developing public infrastructure together with plans for highway expansions, smart cities and smart homes is expected to drive adoption of intelligent, energy-efficient and connected technologies in the lighting, solar and building technology space. The industry is headed for growth and our platforms – Light India & LED Expo have been instrumental in leading this transition. Not only us as organisers, but the industry was apprehensive of two big shows happening within a span of less than two months. But with our clearly defined strategy and focused exhibit segments, we have ensured both the fairs develop in their respective sectors. While Light India and EBT India focus on intelligent lighting and building solutions, LED Expo that we do annually in Mumbai and Delhi is growing steadily and has been able to position itself as the only exhibition covering the entire cross-section of the LED Industry.
What remains to be seen now is how quickly the market gets ready to adopt thes eadvancing technologies and how our platforms can progressively work towards highlighting the sector opportunities, challenges and growth outlook. Going forward, we are also working on new features for the platforms that will highlight futuristic product innovations and penetrate deeper into the target decision-making visitor groups.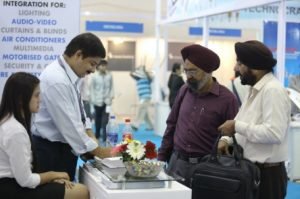 B&I: Many shows like ACREX keep rotating cities. Any plans to do so with Light India?
RM: As a networking and business platform, Light India has been able to attract buyers from government, commercial and decision making sides and has positioned itself as a key event for procurement and exchange of knowledge that the industry looks forward to every edition. And with the event representing key stakeholders on one platform, the government and concerned ministries also look at the exhibition and its conferences as forums to voice its policies, challenges and announcements or to draw up white papers that would take the industry visionforward.
With the show currently in New Delhi, where we have the seat of the power and most of the bulk buyers, we have been able to draw visitor interest from across India and 27 countries. There is a good traction in the capital city and at the moment, our immediate focus is on growing its scale – both in terms of exhibitors and visitors while also expanding its scope into the building automation and technology segment through the launch of Electrical Building Technology India thus bringing the Light + Building concept to the Indian market.
B&I: Don't you feel that a biennial show is too long a gap between two editions? Would we see an annual lighting show?
RM: Lighting has evolved. Today, it is smart, more energy efficient and can be used as standalone decorative pieces or even mood enhancers. Within the lighting industry, LED technology isone of the driving forces behind new lighting concepts and applications. As the technological potential of LEDs is beginning to be recognized, rapid changes are taking place in lighting product design.
LED Expo, which covers LED lighting products and technologies in India is filling this gap in alternate years. With editions in both Mumbai and Delhi, the fair provides regional reach and networking opportunities for industry players.
B&I: You have an LED and Light India too near to each other (in the even years, of course). Doesn't it merit to co-locate them in the even years?
RM: We have taken this initiative with ELCOMA and are in talks for an all-inclusive platform for the industry going forward. The decision will be a collective based on thefeedback from the industry stakeholders and is likely to be announced after Light India 2018.
B&I: What can the specifier and trade community expect at Light India 2018?
RM: The expectations of the industry from Light India havealways been high. Sector players are certainly excited to see advancements – in terms of technology and policies in this sector that Light India brings to the fore. Also, the exchange of international know-how and joint ventures from countries who are exploring India as their key market is something that the trade community would be eyeing before and after the fair.
For more details on Light India 2018, click here.
For more details on Electrical Building Technology 2018, click here.