A globalized world with global businesses also demands solutions that function across borders. ASSA ABLOY has developed a number of unique technology platform families for hi-tech door and entrance environments. Let us understand all the Assa Abloy Access Control Technology Platforms, in detail.
Aperio – Wireless possibilities for online door control
Aperio® is a new technology developed to complement existing electronic access control systems, providing end-users with a simple, intelligent way to upgrade the controllability and security level of their premises.
The heart of Aperio is a short-distance, wireless communication protocol, designed to link an online electronic access system with an Aperio enabled mechanical lock.
Any number of existing doors can be equipped with Aperio, and at a much lower cost than installing the regular electronic access system on every door.
Aperio is easily integrated with most units and systems, regardless of the manufacturer, since it has been developed around an open standard.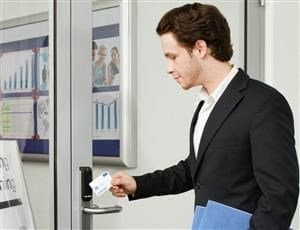 Expanding your system by adding Aperio technology on additional doors increases the total security level of the premises. It is easy to install and enhances both the management and surveillance of the complete system. It also provides an intermediate level of security between wired doors and mechanical cylinders.
With all doors linked online, authorization is updated in real time, providing a high level of control. The possibility to audit trail and time zone increases monitoring of the system.
Aperio technology fits perfectly into a system with wired doors, but it is also designed for future security demands, e.g., it uses AES encryption via a wireless connection.
ASSA ABLOY Accentra – Security solution for multifamily housing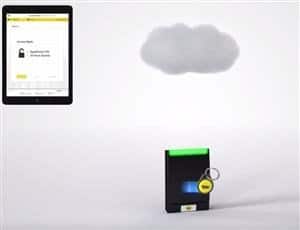 A global cloud-based access control system built with a user centric approach where the user experience is in focus and simplicity is paramount. Simple and effective in both regards to scale and features to meet the needs of specific markets.
ASSA ABLOY Accentra supports multiple global products at door level (Aperio, Yale, ASSA and HID readers) and is developed for, and deployed in, a true cloud environment for a global reach, while complying with local demands.
The fully scalable infrastructure is through a cloud provider, giving high-levels of service ability and full control over information in a centrally managed system. This gives the owner the ability to update credentials daily if required.
ASSA ABLOY Accentra is an access control system with a foundation that can be used to build other types of access control systems for multi-family units and small to medium businesses which need an easy-to-buy, easy-to-install and easy-to-use solution.
CLIQ – flexible access and key management solutions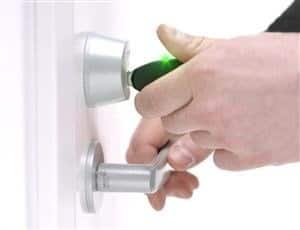 CLIQ® is a security locking system with high-end microelectronics, programmable keys and cylinders.
The system offers a variety of combinations of mechanical and electronic systems to match different security and flexible access needs.
Available on the global market place, it provides flexible access and key management solutions for all kinds of locking applications.
A wire free system, each key can be programmed and updated individually to allow access to specific areas at specific times and dates, accommodating constantly changing access requirements and ensuring maximum flexibility. The power is provided by a battery inside the programmable CLIQ key.
The intuitive software makes it simple to manage access rights, enable and disable keys and customise access schedules, on site or on the go.
ASSA ABLOY can also host your data securely for complete peace of mind.
Hi-O – bringing network intelligence to the door
Hi-O™ (Highly intelligent Opening) helps to simplify door installation, service and maintenance, thanks to its proactive maintenance technology and plug and play installation.
Hi-O is a standardized technology for security and control of doorway environments. Hi-O enables inter-connectivity – communication capability between all the devices involved in a door way solution. They all speak the same language, regardless of the make of system. This not only means higher security, but also far greater simplicity in management and ongoing control.
By building intelligence into each device instead of a centralized logic unit, Hi-O technology allows the operational status of the door opening to be readily communicated, enabling planned servicing and predictive maintenance.
This advanced feature enables the replacement of malfunctioning components before they breakdown, pre-empting costly reactive repairs and helping to create a more secure environment.
In addition, Hi-O's plug and play installation makes set-up easy and cost effective. When connected, the new device automatically discovers other network components and starts sharing information, simplifying system updates and expansion.
Hi-O uses a CAN data communication network, allowing connected devices to share and exchange encrypted information.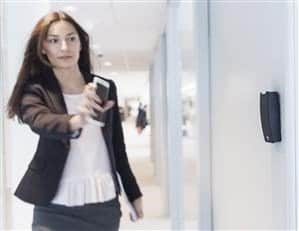 Seos® is a breakthrough credential technology that represents a new way of thinking about end-user experiences. Solutions that are powered by Seos offer the freedom to use your device of choice – from smart cards to smartphones – for secure access to more applications….with the confidence of best-in-class security and privacy protection.
Seos powers solutions that range from building access, computer login and cashless vending to Internet of Things (IoT) applications, time-and-attendance, secure print authentication and an ever-increasing number of other uses that are in demand.
As a dynamic, standards-based technology that is already proven in the marketplace, Seos introduces a new realm of choices.
With solutions powered by Seos, customers have the potential to use any combination of smart phones, smart cards, tablets, wearables, bank cards, keyfobs, inlays and other smart devices to secure more applications than ever before. Seos is available from ASSA ABLOY through its own solutions across different markets as well as powering third-party products through licensing that accelerates wider adoption.
By providing a common standard for both mobile and smart card based credentials, communicating over NFC and Bluetooth Smart, integration into access control systems is flexible and easy.