LIXIL remains dedicated to innovative water technology, treatment, conservation, shower, and bathroom fittings. Mr. Bobby Joseph, Leader – LIXIL Water Technology, India & Subcontinent talks to BuildingandInteriors in this edition. Find out what he has to say about their new strategies and innovations.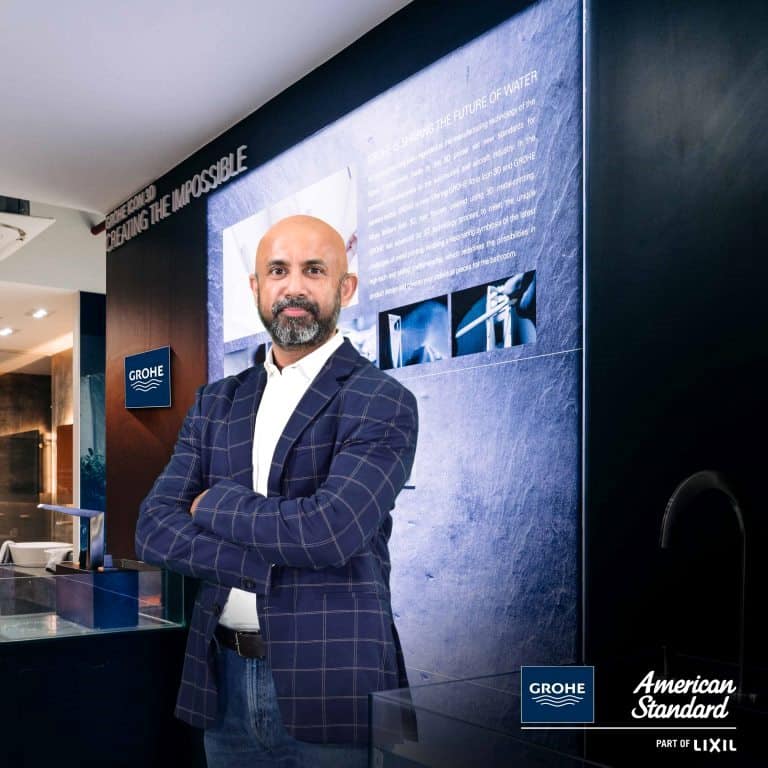 B&I: GROHE focuses a lot on water conservation and sustainability through its range of bathroom and kitchen solutions. How is the Indian market performing in its appreciation of such factors in the purchase decisions, both at the B2B and B2C levels?
BJ: Sustainability is gaining importance and relevance, not just among influencers like builders, architects, and designers, but also among end consumers. Knowledge and awareness have improved around various sustainable features of bathroom products from lower water consumption, to lower heat (energy) utilization, use of recyclable materials, reducing plastics, 'Green' manufacturing, and so on.
LIXIL is a pioneer and a leader in the transition to a Circular Economy with its cradle-to-cradle manufacturing, products, and technologies. At LIXIL, we have always advocated and campaigned for water sustainability through our product portfolio, whether it's the GROHE EcoJoy and SmartActive water-saving faucets and showers, or the American Standard water-saving toilets.
We also take great pride in our net-zero carbon emissions manufacturing with CO2-neutral production. We have found that these sustainable features resonate strongly with Indian purchasers, be it, B2C or B2B, and we will continue to invest heavily in increasing the sustainability aspect of our brand and product portfolio.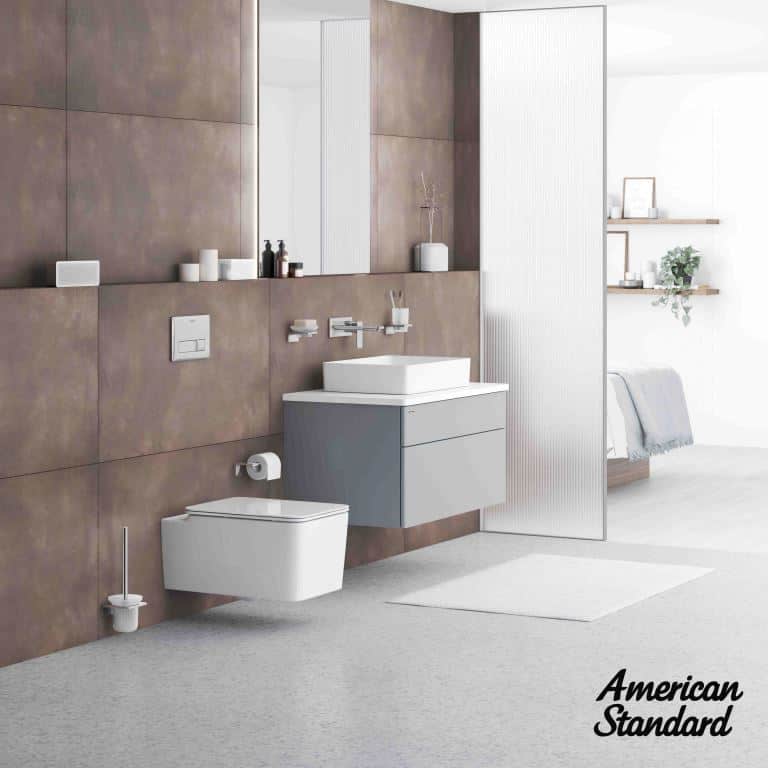 B&I: Which geographical territories/tier-classified regions would you be focusing on over the next 1-2 years?
BJ: India is one of the leading markets in Asia and is poised to become LIXIL's third-largest market after the US and China over the next decade. Given the strong economic, social, and demographic parameters, India will continue to present a significant growth opportunity and a unique potential for re-shaping the sanitary ware industry.
Currently, we have a wide network of 300 showrooms and approximately 1500 sub-dealers across 150 cities in the country. Our constant endeavor is to build infrastructure and expand our network especially in Tier II and III towns. Our aim is to reach 10,000 outlets in the next 5 to 6 years.
B&I: Going forward, what role do you see water technology play in the bathrooms and kitchens solutions?
BJ: The need for intuitive products that help users immerse themselves in their personal time in the bathroom has grown over the last few years. Technological advancements have not just made better designs a reality, but they've also helped offer consumers superior hygiene, enhanced comfort and convenience, and more sustainable water technology solutions for the bathroom.
GROHE has always been known for setting the innovation standard in the industry. We are the leaders in the highly technical thermostatic mixers category, with the GROHE SmartControl shower system featuring push-button and turn technology. In a few years since its launch, this product has captured a large share of the thermostatic market, making India the second-largest market for this product worldwide.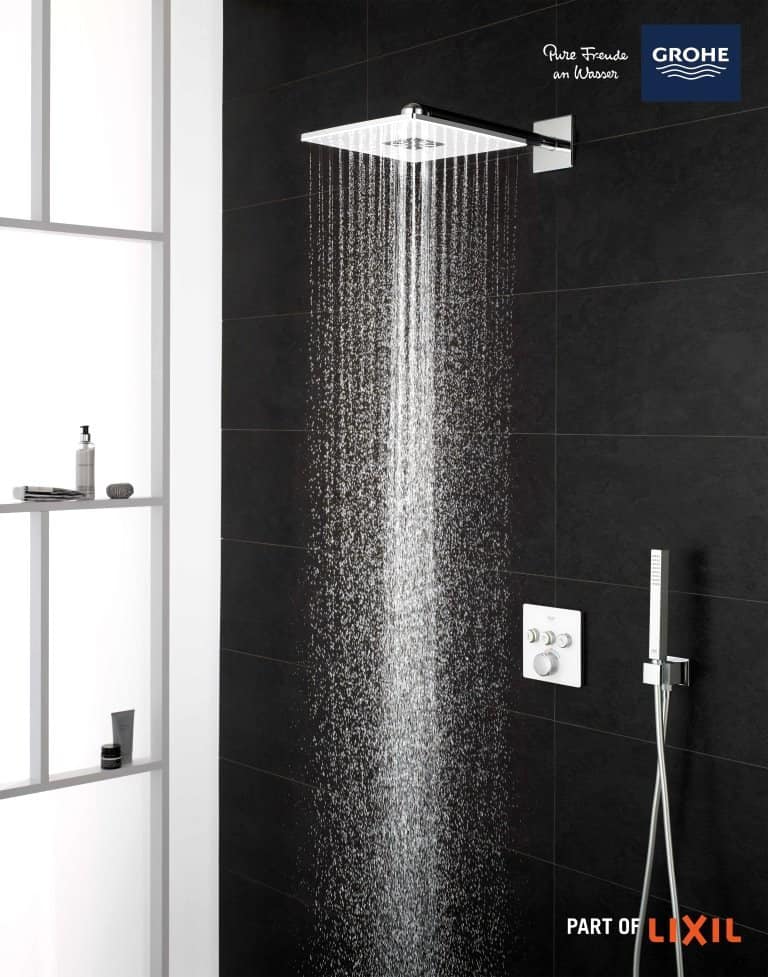 We also offer the most advanced innovations in anti-microbial and hydrophilic glazing technologies in our American Standard ceramics portfolio. We have also introduced a number of products like smart water technology Shower Toilets, Spalet, 3D Faucets, and SmartActive showers, which are redefining consumer experiences in the bathroom.
B&I: B2B and B2C are both important markets for a player like GROHE. How do you see the two playings out for you in India over the next few years?
BJ: Both B2B and B2C are important segments for GROHE and American Standard, and we have a strong presence in both. However, with the onset of the pandemic and the resultant delays in ongoing projects as well as a reduction in new Project launches, we see Retail becoming more predominant in times to come. Our strategy has always been to build on our distribution network to expand into tier I and II towns so that more consumers have access to our ground-breaking products and water technology solutions.
We believe that Retail expansion is the more sustainable business model to ensure success in the long run. Having said that, we will soon be launching new products specifically tailored for the high-volume, price-sensitive Project segment, which will give us a boost in the B2B space as well, and we are expecting strong growth in this division of our business too. 
B&I: How do you see the Architect, Interior Designer, and Consultant interface changing in the post-pandemic scenario, including your use of different communication mediums like online, print, outdoor, events, etc.?
BJ: In today's highly competitive environment, a brand that wants to stay ahead must have the ability to engage with its stakeholders through every relevant channel possible, and the hi-end sanitaryware market is no exception. With the pandemic restricting movement and face-to-face meetings, Digital means of communication and interaction have taken precedence over the more traditional, offline formats. These days, consumers and influencers tend to do their research and initial interactions with the brand online, before walking into a store or setting up a meeting.
Recognizing this trend very early on, we at LIXIL took steps to address this emerging trend. On March 22, we launched the Virtual LIXIL Studio – a unique online portal that showcases the best that GROHE and American Standard have to offer in a fully navigable 3D environment.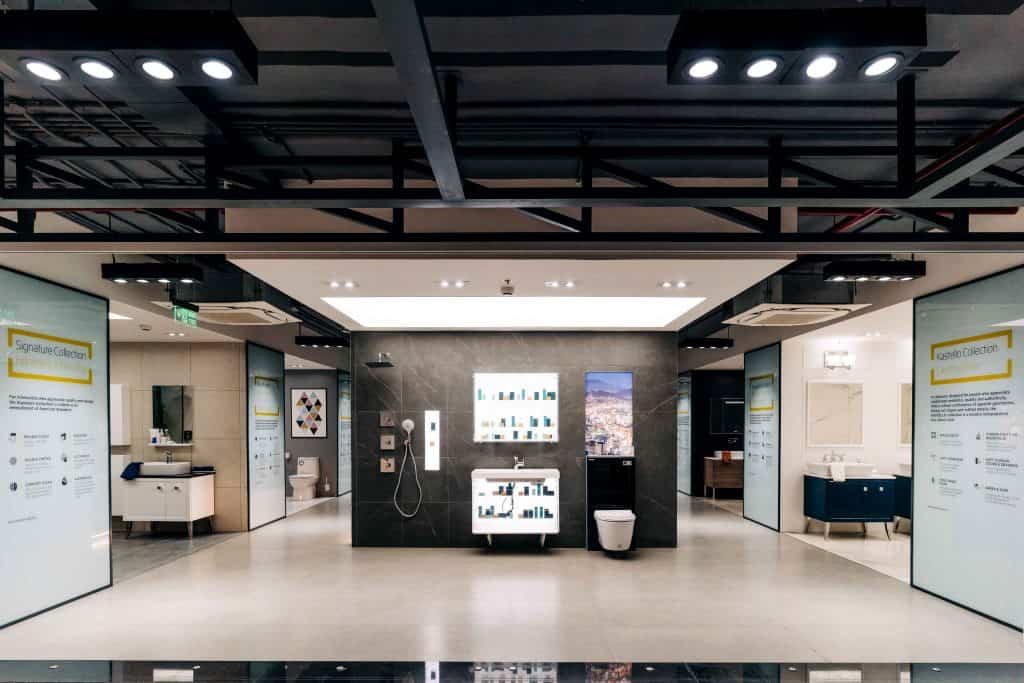 Consumers, architects, designers, or developers can view our various products, water technology solutions, and bathroom concepts in full HD realism, right from the comfort of their home or office, and even on the go through their mobile device.
Architects and designers can take clients on guided tours without ever having to leave their safe environment. In addition to this, we have recently launched the industry-first Inside Sales function, in which a team of highly trained consultants offers consumers and specifiers in-depth brand and product support.
They help anyone looking for GROHE or American Standard products and solutions conceptualize and realize their ideal bathrooms, remotely through online means.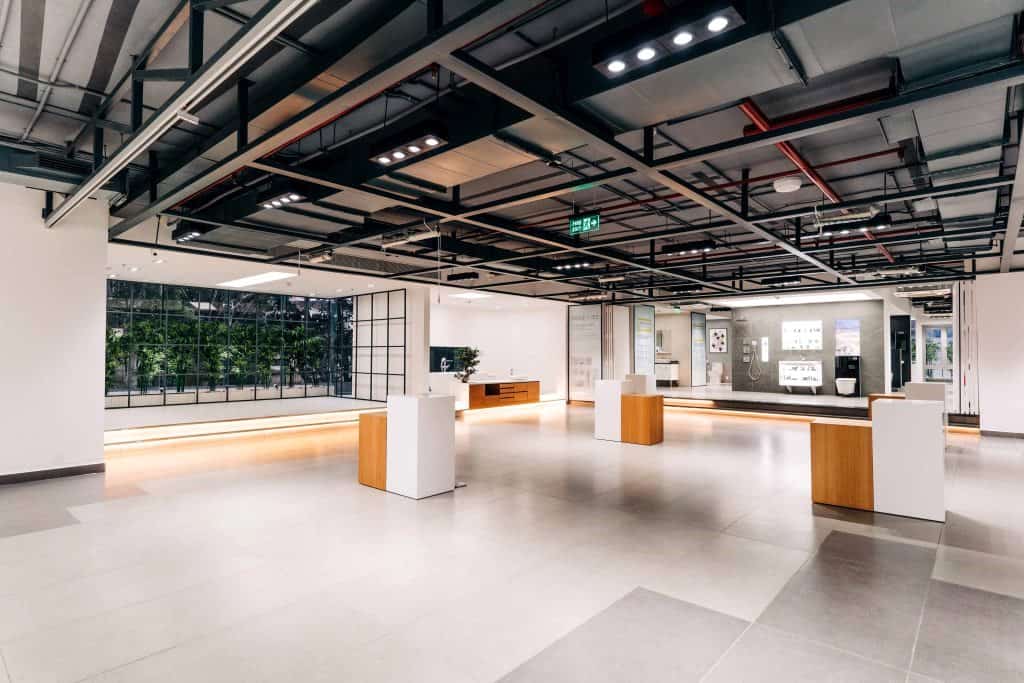 B&I: What are some of the water technology products (in your line of business) that you feel will get popular with the specifier community over the next few years?
BJ: The newly launched 'GROHE Colours' faucets and showers are already gaining immense traction, especially among architects and designers who understand and appreciate the difference in quality between our products, which are imported from Germany, and others available in the market.
The GROHE Colours range is available in our most beloved designs – Grandera, Eurocube, Lineare, and Essence, in some of the most popular finishes in the market – gold, rose gold, and black.
Last year, we also launched the GROHE Essence Ceramics range, which is sure to excite the specifier community because, under the GROHE brand name, we now offer the complete bathroom – including faucets, showers, toilets, basins, cisterns, and accessories. This means that consumers can now benefit from cutting-edge German design, quality, and engineering expertise in all their sanitaryware products.
Another major addition to our line-up, which specifiers will love, is the new SmartActive body shower, which features a unique twist-turn feature to change spray pattern, and which flows at only 3.3 L/min, making it a water-efficient body spray with smart water technology – a rarity in this segment. It also pops out of the wall when turned on, giving it a greater range of motion or adjustability to target the right spot on the body.
Under the American Standard brand, we have launched, what we believe is the best-looking wall-hung toilet in the market – the Acacia SupaSleek Square. Its stunning, rectangular, skirted design stands out in any bathroom décor; and it's also packed with our ground-breaking flushing and anti-microbial technologies like Double Vortex and Aqua Ceramic. The ultra-slim, easy lift, and easy release seat cover add convenience to the whole bundle making this an extraordinary product, which will thrill specifiers and customers alike.
B&I: After-sales service (including the servicing costs) is an area that has attracted a lot of attention from players in the Indian building materials industry. How are you addressing this area?
BJ: After-sales service has always been an important aspect of the sanitaryware industry because of the nature of bathroom and water technology products and the skill required to install and/or service them correctly. At GROHE and American Standard, we have always stood for the highest levels of customer service in the industry.
It continues to be our highest priority and one of the pillars upon which we have built our brand in India and around the world. In the recent past, we have initiated several industry-first innovations in customer service.
For instance, we are the first in the industry to start a 6-hour resolution of technical queries from customers. This is something that we started during the lockdown in 2020 when our Technical Service team came up with ways in which to address and solve customer queries remotely through video/audio calls.
We built upon that experience and took it further to focus on the fast and effective resolution of as many calls as possible. Proud to say that today, more than 60% of our customer queries are resolved within 6 hours, through remote assistance.
Another example is how we have moved the Customer Service department into our head office in Gurgaon, thereby, giving us more control and better supervision of this critical function. Happy to announce that the Customer Service department now operates 7 days a week, and our answering rate stands at 99%. We have also started WhatsApp based call logging and call back facility so that customers can log queries 24×7, even after working hours.  
B&I: Market segments for water technology are getting re-defined every passing year. Luxury and premium players are getting into mass-market solutions, in one form or another. How do you see this trend?
BJ: It is indeed true that the luxury and premium segments are not growing as fast as they were in the past. It is also a sign of the times that the mass segment is outpacing the rest, mainly because of the huge Indian middle-class starting to consume more of the sanitaryware and water technology industry.
Affordable housing is on the rise, and everyone wants a share of the pie. Intense competition among foreign as well as domestic players, especially in the extremely price-sensitive mass/economy segment has led to constant erosion of prices in the market.
Although traditionally, we are known for our luxury and premium product range, we at GROHE and American Standard, are also mindful of the opportunity that lies in the mass segment, which is why we are strengthening our portfolio at these price points with the launch of new collections like the Bau Next, New Eurosmart, Metrica, and so on. As always, our endeavor is to offer our world-class products and solutions to a wide spectrum of consumers, at various levels of affluence.
B&I: On the supplier side of the market, do you see consolidations, alliances in India?
BJ: Although rare, we have seen instances where companies within the industry have consolidated brands at a group level, in order to go leaner and reduce operational overheads. However, we at LIXIL believe more in strategic alliances with companies from adjacent and/or complementary categories, rather than large-scale consolidation or restructuring.
For instance, we recently tied up with UltraTech Building Solutions (UBS) to leverage their wide footprint of home construction stores to offer our world-class bathroom products to tier II and tier III towns.
We have allied with leading online home interior solutions providers, like LivSpace, to offer GROHE and American Standard products to e-consumers. In addition, to expand our business, we are in the process of evaluating mutually beneficial partnerships with leading brands from complementary categories like shower enclosures, water technology, tiles, and so on.
[vvsmustread]