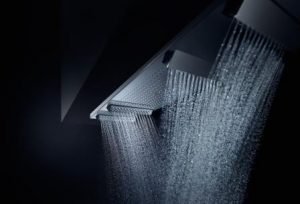 Showcasing water in an elegant interplay of purist design and state-of-the-art engineering: this is how AXOR presents its new flagship overhead shower. An unprecedented shower spray, perfected over many years of research, appropriately compliments the new AXOR ShowerHeaven 1200 / 300 4jet and is a unique homage to the precious element of water. A design piece for body, mind and shower space, the AXOR ShowerHeaven 1200 was developed in collaboration with the Stuttgart-based Phoenix Design.
Showering in a new dimension of radiant beauty: the AXOR ShowerHeaven is an impressive overhead shower with a 1.2 metre long and 30 centimetre wide generous, plane surface of high-quality metal. Its four retractable "wings" and integrated ambient lighting, not only make it a fabulous stage for water, but also create a new archetype in the shower. Three jet types guarantee a luxurious showering experience: the concentrated mono jet in the middle, the expansive rain jet, and the body jets with their unique PowderRain spray. A relaxing massage spray, a soothing rain shower, or a gentle drizzle: the AXOR ShowerHeaven 1200 allows users to shower using each jet type individually, or all three in unison – a spectacular sensory experience.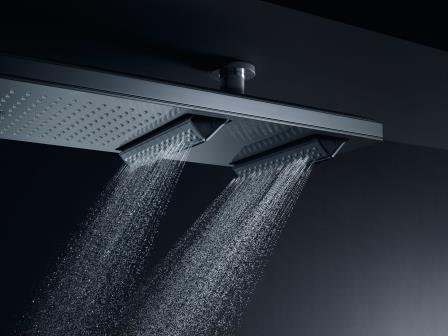 The result of extensive research, the highly innovative PowderRain spray type produces a result not previously possible. Fine silicone nozzles, evenly distributed and embedded in the four retractable "wings" of the AXOR ShowerHeaven, create a spray of luscious, silky raindrops. Soft, quiet, and yet powerful, the new spray type can be experienced exclusively in AXOR's luxury showers.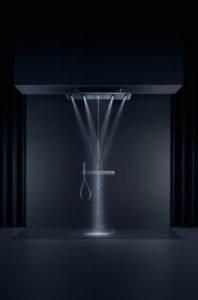 "The AXOR ShowerHeaven is the ultimate overhead shower. It's a spectacular stage for water; a generous, plane surface ensures a luxurious showering experience with a symphony of perfectly coordinated jet types and spray modes. Each individual component reflects respect for the material, and a precisely and perfectly calibrated mechanism. Products like these are always the result of our uncompromising pursuit of perfection when it comes to design, craftsmanship and functionality," explains Silke Giessler, Head of AXOR Brand Marketing.