It has been over a century that fossil based materials have become the default standard for making acoustical products, used in interior design and buildings. While it has served its purpose, but now is time to accelerate change towards a fossil free future. It's time for a new kind of material; one that is natural, sustainable and environment friendly. BAUX Acoustic Pulp is that revolutionary material!
BAUX Company was started with the belief that building materials should be sustainable, surprisingly functional and remarkably beautiful. With this aim they looked at nature for inspiration and developed world's first 100% bio-based BAUX Acoustic Pulp panel. This panel has the right combination of performance properties of sound absorption, safety, durability, sustainability and modern aesthetics. It is indeed a revolutionary product in acoustics.
Ingredients
BAUX Acoustic Pulp is made out of the following ingredients:
Sustainably harvested Swedish fir and pine trees
Recycled water
Non-GMO wheat bran
Potato starch
Plant-derived wax
Citrus fruit peels
Zero chemicals
Journey from ideation to production
The BAUX team started playing with origami, experimenting with different folds, structures, architectural lines and shapes. This experimentation finally resulted in discovery of a series of simple patterns that gave the desired results – both in aesthetic and functional sense.
They then tied up with a high-tech life science laboratory – Royal Institute of Technology in Sweden, to bring this vision to life.
The laboratory works with biomimicry to organically modify cellulosic fibers from recycled streams of Swedish pine and spruce trees. Biomimicry is a design approach that seeks sustainable solutions based on the idea that the answers already reside within nature itself. It's through this technique that they developed a patented, 100% bio-based material that drastically pushes the boundaries of cellulosic properties to a completely new level. This proved to be the perfect starting point for their experiment. Further fine-tuning of the formula and processes resulted in the desired product with required properties. i.e.  a highly functional, sustainable and beautiful acoustical product.
The product was completely chemical free as everything was derived from nature.  To create fire-retardancy, the natural wood fossilization process and the resilience of grass roots were mimicked. For color, wheat bran was added. For water repellency, superhydrophobic surface of the lotus flower was looked at. To achieve extra sound absorption and durability, while maintaining a lightweight product with minimal material usage, the hexagonal honeycomb structure originally invented by bees was borrowed. For strength, they utilized a naturally catalytic combination of potato starch, plant-based wax and citrus fruit peels from lemons, limes, and oranges to provoke the cellulosic molecules into creating a powerful matrix of intermolecular fusions.
The final product comes together in built form in a local factory that runs on 100% hydropower. First, all of the ingredients are mixed together with water and fed into a 3D mold. Next, the contents of the mold are pressed with 40 tonnes of weight and dried under pressure using a highly technological vacuum technique so that it becomes extremely dense. The dried surface is then nano-perforated using an advanced laser technique for enhanced sound absorption. Finally, each front panel is adhered to a honeycomb structured back made from the same material. When the process is complete, all of the leftover ingredients and water are recycled back into the factory's closed circular system to be reused again in the next batch. The only emission generated from production is a tiny amount of pure and clean water vapor that's released as the material dries.
As mentioned above, to add colour wheat bran is used instead of chemical paints. Different colour shades are achieved using different percentages of wheat bran – 0, 5 and 30%. Together with the three origami patterns – Energy, Pulse, Sense – there are nine color-pattern combinations and endless possibilities for mixing, matching and harmonizing with different space designs.
Origami – Sense
Origami – Pulse
Origami – Energy
In nut shell, BAUX Acoustic Pulp panel has the following features:
100% bio-based
100% recyclable
100% biodegradable
0% pollution or waste
Biomimicry engineered
Lightweight
Durable
Fire retardant
Water repellent resistant
Colors made of wheat
Laser enhanced sound absorption
The product has been designed by "Form Us With Love"- one of the most influential Swedish industrial design studio operating from Stockholm.
Few Applications:
Acoustic Pulp Closed Rooms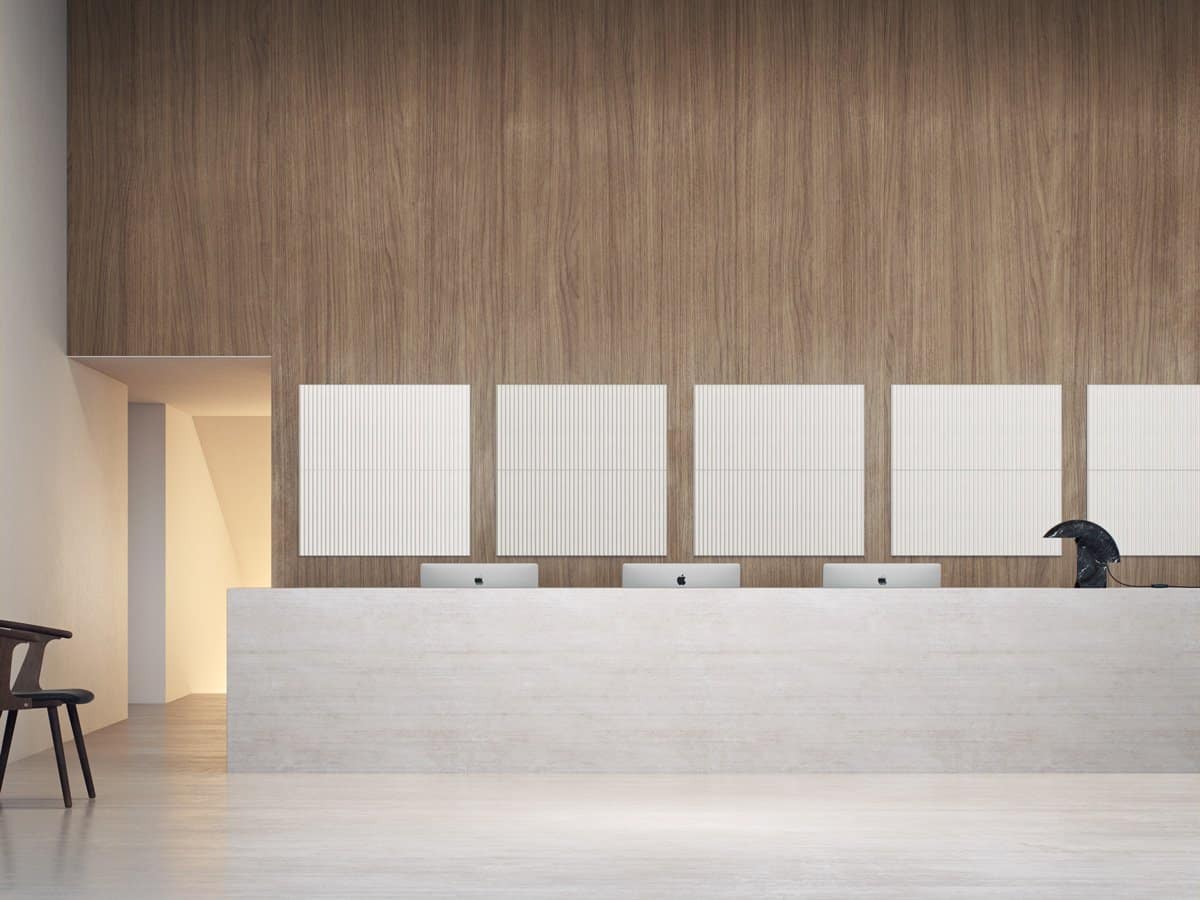 Acoustic Pulp Reception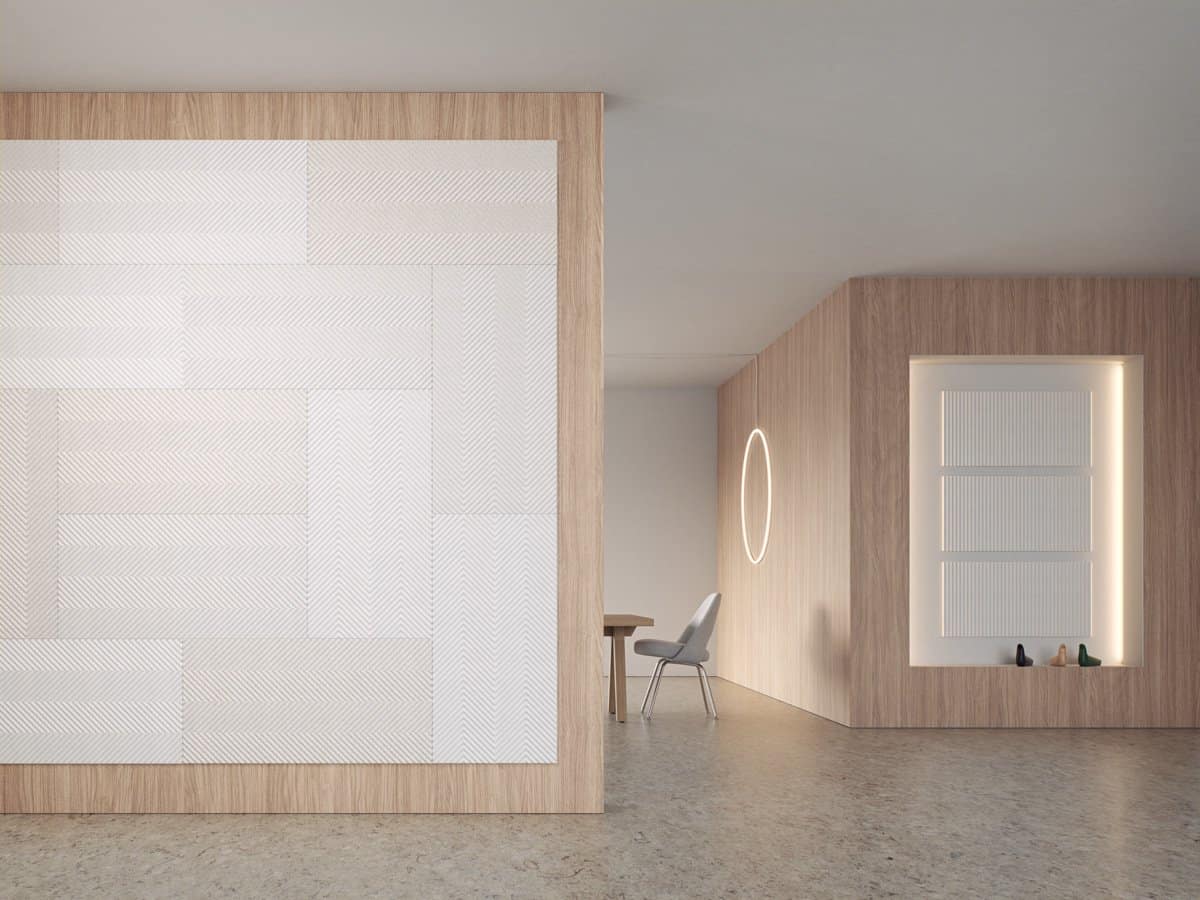 Acoustic Pulp Hall & Meeting Room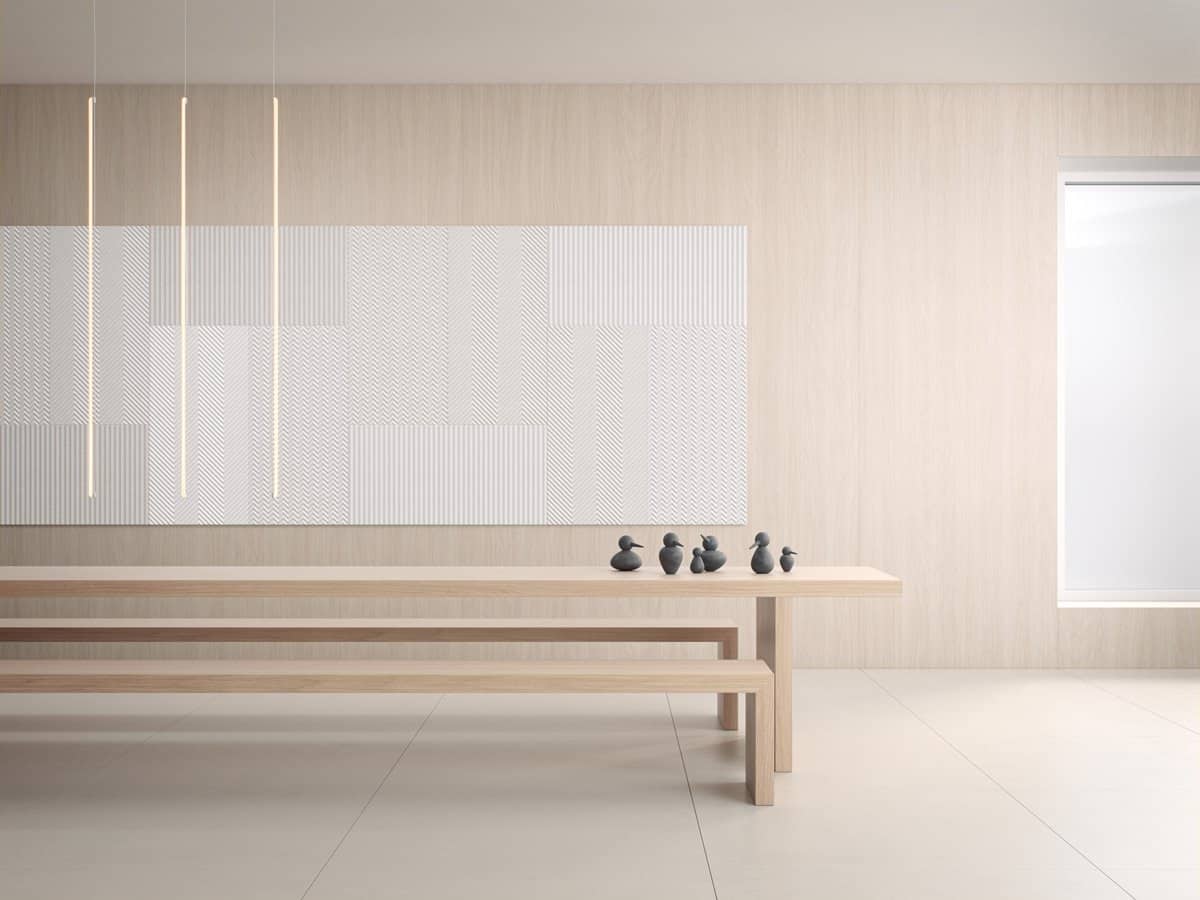 Acoustic Pulp Meeting Room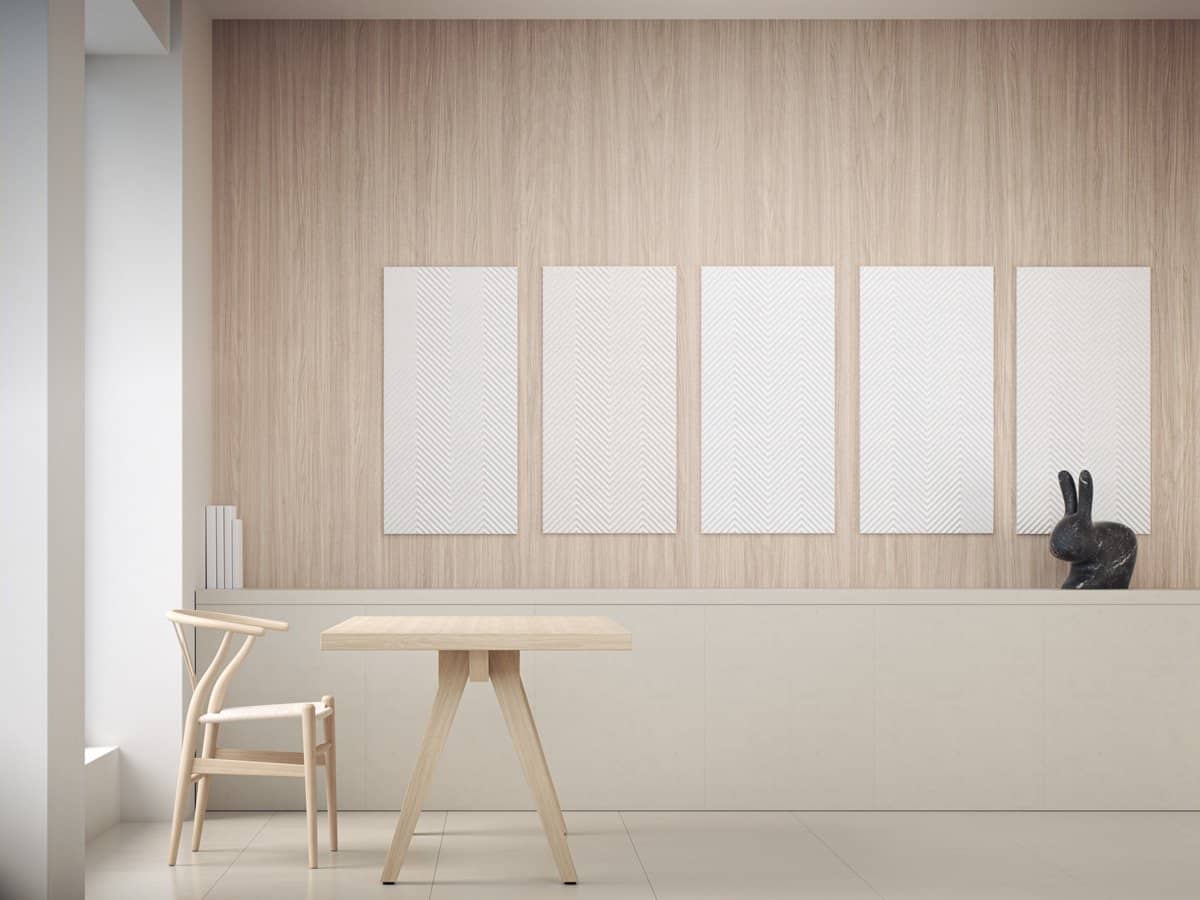 Acoustic Pulp Office Room