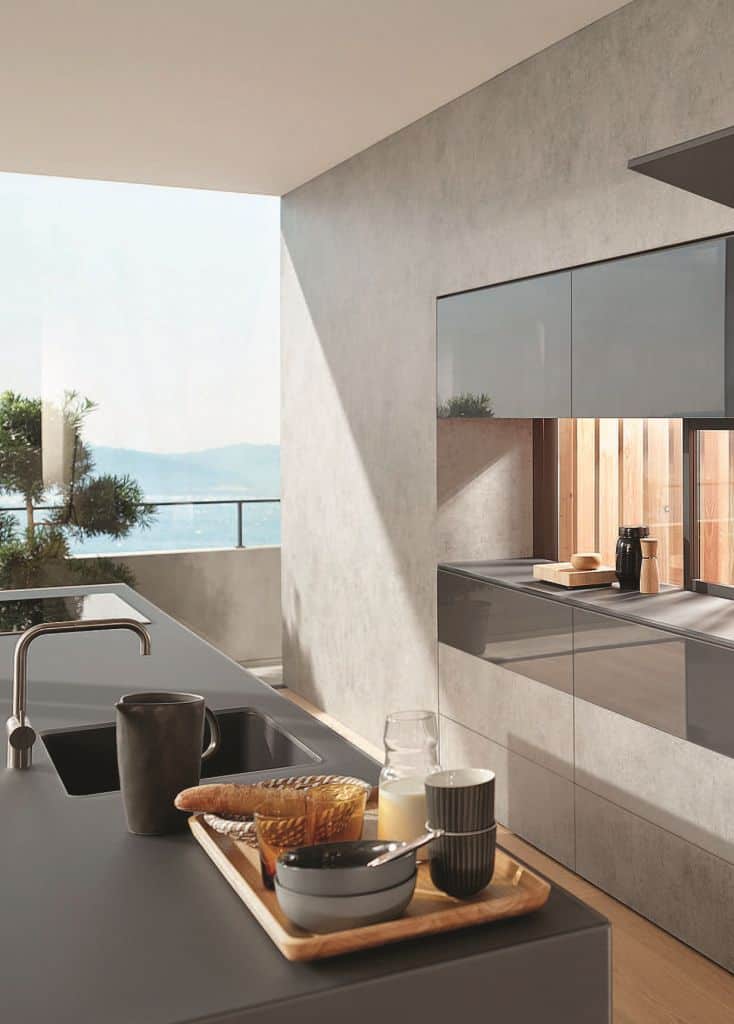 "The Number 5 has many connotations – it speaks of completeness when you think of skill and dexterity of the 5 fingers and 5 toes; it imparts balance when all the 5 senses of your body align; it exhibits force when the 5 elements of the nature unify; it delivers change when you travel through the 5 phases of life; but above all, the number 5 stands for versatility as it can be used to classify, summarize and unite the various differences around us"
Taking the many facets of number 5 as inspiration, Hafele applies the "5X5" rule to your home improvement needs and introduce 5 different ideas for each of the 5 main areas of your homes, giving you the opportunity to not imagine but clearly visualize your dream homes and make them a reality.
Here is a compilation of all the ideas under Hafele's "5 ideas X 5 areas" theme for maximum convenience in your kitchen.
1. AVENTOS HK TOP

With Blum's new fitting for stay lifts – AVENTOS HK Top – It's possible to achieve easy access and better workflow for overhead cabinets in the kitchen. With just a touch to the front, the cabinet front moves up and out of the way and stops in any position and can be left open while the kitchen is being used. This makes the cabinet contents easy to access at all times. Even large and heavy fronts open with ultimate ease. The new AVENTOS HK top being small in size and top in functionality merges beautifully with cabinet interiors, thanks to its clear-cut design.





2. EXPANDO-T

Minimalistic furniture is what the customers currently seek out with the rising trend of implementing open living spaces in home interiors. Blum Offers a single fixing system which can enable wall cabinets, doors and pull-outs to have extremely thin fronts – Expando T. The fronts can be as thin as 8 mm and can be made up of any material, such as Dekton surfaces by Hafele, chipboard, HPL or ceramics. This innovation gives you the ability to implement your own design ideas and stand out even more with bespoke solutions.





3. CLIP TOP BLUMOTION HINGES




4. CRISTALLO HINGE

CLIP top BLUMOTION CRISTALLO HINGE is a combination of elegant design, innovative technology and high quality of motion. Intended for glass shutters this hinge comes with an adhesion plate that gets glued to the glass/ mirror eliminating the need for any glass drilling. The built-in BLUMOTION function of this hinge imparts the quietest and smoothest closing for your delicate/ valuable glass doors.

5. SPACE STEP

Now your overhead cabinets can be within a convenient reach with Blum's innovative SPACE STEP that cats as a step stool and allows for additional storage. You can combine this new innovation from Blum with their box systems as well as integrate Blum's patented motion technologies to get the same seamless experience of push-to-open and soft-closing drawers.