Modular kitchens had been coming to the centre-stage in homes, albeit slowly. With people having to use kitchens by themselves in the lockdown period, the speed of the shift has picked up speed. Typically, the modular kitchen appliances have held the limelight in a modular kitchen. BSH – the German multinational in this space sees a huge opportunity in addressing the growing aspirations of the Indian customer. The company has been very both aggressive and innovative in reaching out to the customers in India. Mr.Neeraj Bahl, Managing Director & CEO, BSH Home Appliances India speaks to buildingandinteriors.com on the company's positioning, it's India market and the shape of things to come.
B&I: Modular kitchen appliances market in India is a highly competitive segment. How does BSH differentiate itself from other brands in the market? How has that differentiation helped you to increase your market share?
NB: At BSH, we have a three brand strategy in India to address consumers in different segments. These are:
Mass-Premium and Premium Segments: Bosch as a brand caters to this set
Premium Segment: Siemens brand caters to this set
Luxury Segment: Gaggenau brand caters to this set
Our aim is to continue developing products that fulfill the needs of our customers in India and at the same time, bring-in the relevant products from our global portfolio. We are amongst the fastest growing brands in India in the segment and aim to keep this momentum going and introduce more localized offerings and innovative products to address the ever evolving social class in India.
B&I: In the modular kitchen appliances business, what percentage of revenue you generate from retail vs OEM business? What is your focus area going to be over the next 2-3 years?
NB: Both the retail and OEM segments have specific importance, inter-dependence and dynamics. We will continue to focus on both the channels as per our strategy in mid to long term. We have specialized teams to manage the diverse needs of these two segments.
B&I: Unlike the other components in modular kitchens, the choice for modular kitchen appliances is made by the end-customer, and reaching out to him for brand pull is an expensive exercise. How do you see this dynamics and how do you address it?
NB: Building right brand awareness is an integral part of our strategy. We will continue to invest in this area with very high focus on consumers, influencers and channel partners. Our experiential marketing approach is very immersive. It gives an engaging experience to the consumers and influencers. This approach has helped us emerge as a key player in modular kitchen appliances in India.
B&I: How has the home appliances market evolved over the past 10 years? What are the factors that you think are the key drivers of this evolution?
NB: Yes, the home appliances market has definitely evolved over the past 10 years. The sole reason being that consumer preferences, needs and wants are dynamic and keep changing with time. BSH caters to the changing need and wants of its consumers. For instance, keeping in mind the present scenario, discerning consumers put a priority to their purchases based on their needs, convenience and hygiene. BSH is addressing these requirements quite successfully.
B&I: Can we expect any new disruptive technologies in future that are likely to change the way people use appliances? Is BSH working on modern technologies like AR/VR/IoT etc. to enhance the product applications and/ or user experience?
NB: After years of social, economic and political change, technology has been a forerunner in the quest for a complete transformation. Artificial Intelligence and Machine Learning are now creating a new ecosystem of constant engagement and consumption. Hence, home automation is on the rise. At BSH, we are concentrating on not just giving our consumers a connected appliance, but a connected eco-system. The future of technology is about creating human-robot interaction and that requires a different set of skills. Our objective of deploying these technologies is to create an interface to communicate with consumers to help and support them accomplish their daily chores seamlessly and with utmost convenience. One can assume that smart homes/home automation may soon become the "New Normal" and with the increase in demand, there is a vast scope of innovation and efficiency of this technology. Globally, BSH has also invested in AI-Based Kitchen Assistant Chefling. In the near future, you will see all these solutions being launched in India as well.
B&I: How has business been for you in the Covid19 period? How have you prepared yourself for operating in these times when social distancing is the norm?
NB: With the Covid-19 outbreak, things are not the way we planned them to be for the year 2020. It has been a tough time for the consumer durable industry. However, we are optimistic about the overall business as hygiene and convenience will motivate a lot more consumers to look at buying washing machines, dishwashers, good quality Mixer Grinders, Microwaves Ovens etc. hence increase penetration of these categories. We have already been receiving pre- orders for lot of these products.
B&I: How do you communicate with your target audience? In these times when people consume information primarily through digital mediums, how has your communication strategy evolved?
NB: Today, the digital and Social media have become the primary source not only for entertainment but also for communication for the consumers. Hence for brands like us, we have also evolved our brand and media strategies to suit these preferences. Digital media is more targeted and engaging but traditional media is still relevant and has a huge mass reach. Once other sources like Malls/Cinema/IPL (live events) are back to normal, we need to see how this dynamic shifts.
B&I: What differences do you see in the usage and buying pattern of the consumers in India vs other countries? Do you have any India specific range that caters specifically to Indian sensibilities?
NB: Yes, we have a huge India specific range in freestanding as well as built-in appliances range. The buying and consumption patterns mostly define the needs for different countries. In matured markets like US and UK, large size refrigerators are necessary as culturally they are into frozen foods and cold cuts etc. When it comes to the Indian market, we are inclined towards having hot/warm meals three times a day. So, the requirements to cool/freeze the food in refrigerators in India are limited.
B&I: Given the fact that market dynamics have become more complex, do you feel that alternate distribution channels will evolve to keep pace with the changing market dynamics?
NB: Market dynamics will always open new opportunities and based on consumer needs. BSH will keep focussing on the right distribution channels. For example, we have in place the direct-to-consumer channel (D2C Model). In this innovative model, we are going to take-over the responsibility 'from billing to installation' for our products thereby giving superior purchase experience.
B&I: What role do influencers (Architects, Interior Designers) play in home appliances segment? How do you engage and communicate with them on an ongoing basis?
NB: Architects and designers play a crucial role and they are very important for our business. We engage with them a various levels via our regular meet and greet sessions. We participate with them on a lot of exhibitions and events.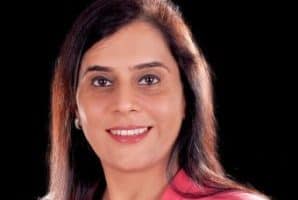 The building materials market in India is a challenging place for professionals. The variables that they need to handle makes the country a good learning ground. Being a price-sensitive market, these challenges only add-up if one is working for a premium brand. Add to that – holding the top position at such a place and it can't get tougher. Ms.Renu Misra is one such professional who headed GROHE India before moving to th