Established in 1867, Madras Boat Club is one of India's oldest rowing clubs. Located by the River Adyar in Chennai, the club actively promotes and encourages amateur rowing. The membership is a healthy mix of rowing and social members.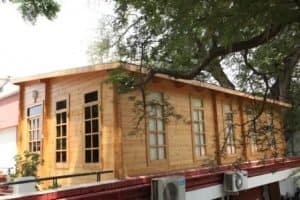 The Challenges
When a billiard room was suggested as an addition on the roof terrace, a keen social member and solid wood manufacturer, suggested a lightweight wooden hall which could be pre-fabricated at his modern manufacturing facility in Dindigul and simply erected onsite. The area available on the Club's roof terrace would only just be large enough to accommodate the billiard hall if the design allowed for the concrete plinth and foundation joists to be placed to the extreme forecourt edge. Another challenge would be the Club's non-negotiable stipulation that the 100-year-old tree providing canopy shading over the roof area should not be pruned or disturbed in any way.
Once the design and layout were approved it would be important to complete the project in the shortest time possible with minimum disruption to club activities, upstairs swimming pool access, adjacent guest accommodation, ground level car parking, garden area and member access, since construction would proceed without compromising day to day business.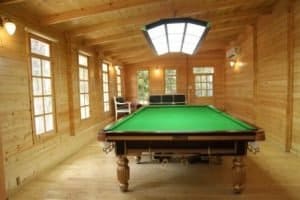 Opportunity
Such parameters are "gold" for pre-fabricated timber buildings which are light weight, easily transported and easily handled with minimal machinery. Buildings constructed with wood from sustainably managed forests and certified lumber are eco-friendly, carbon positive, efficient in terms of temperature and sound insulation and aesthetically pleasing.
The manufacturer chose to design and build in a simple tongue and groove interlocking design using Canadian spruce-pine-fir (SPF). The method has become popular in India, particularly in beach resorts, hill stations, difficult terrains and forested areas. It can be constructed in various styles including floating accommodation, single and multi-storey weekend getaways, farmhouses and tree-houses.
Products Trials
SPF 38 x 140 mm J-Grade, sized, planed and seasoned, was selected due to its structural grading, working properties, pleasing colour and appearance and PEFC certification. The manufacturer was conscientious about setting up floor joist spacings to support the full-size billiard table weighing ~1250 kg plus a group of members (up to 15) weighing ~1250 kg for a total load of 2500 kg. A topical preservative treatment was applied to the floor joints and a barrier placed between the wood and concrete plinth, then the prefabricated notched planks were added to construct walls with window and door openings, roof and floor.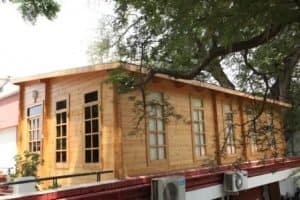 Key Takeaways
The club committee and members have expressed immense satisfaction with the result and the billiard room is a wonderful asset and addition to the club's facilities. In fact, the club is so pleased that another timber building is being contemplated for the remaining roof terrace area.
Solutions offered by Canadian Wood bring many advantages to the table – for all stakeholders in a building project – be it the Architect, Designer or the Developer. These include:
Sustainable, green building material
Long-term performance
Multipurpose applications
Easier manufacturing ability
Quality assurance
To incorporate Canadian Wood into your product line, the 'Try Canadian Wood' initiative is the most ideal way to use, experiment and understand it's numerous advantages. For technical or procurement assistance free of cost, please send an email on info@canadianwood.in, or call +91 22 49221600