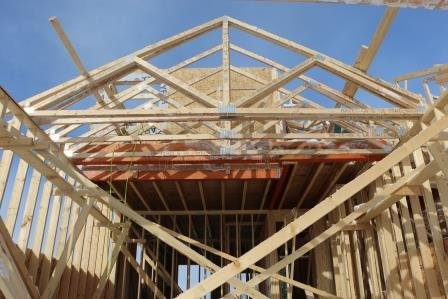 Light Wood Frame construction, is the assembly of dimensional lumber or engineered wood that is regularly spaced and fastened together with nails to create floor, wall and roof assemblies.
The structural parts are of wood or are dependent on a wooden frame for support and the structure can be pre-fabricated or built on site. It is one of the most common forms of construction in North America.
In residential construction, mainly lightstructural lumber is used, it is milled from Conifers (softwood trees) such as spruce, pine and fir (SPF) that are sawn and machine-planed to standard dimensions (2×4″, 2×6″, 2×8″, etc.)
LWF construction is light, as the name suggests and allows quick construction with no heavy tools or equipment. It is able to adapt itself to any geometric shape, and can be clad with a variety of materials. There are a huge variety of products and systems tailored to this type of construction.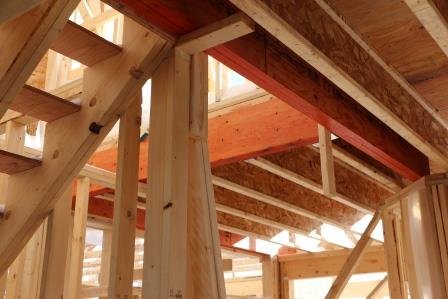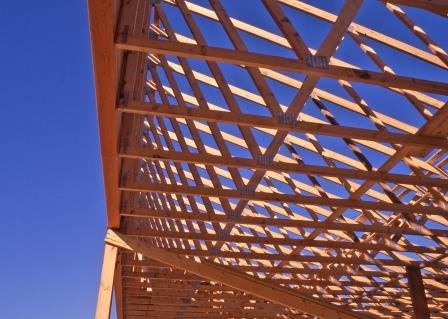 FII India (Canadian Wood), a crown agency of the Govt. of B.C. Canada with a mandate to promote B.C. Forest Products in offshore markets, first displayed the North American style home, constructed using the light wood-frame (LWF) method at the DelhiWood show in 2017.
The exhibit was a walkthrough installation with unfinished walls and ceilings, topped by an exposed roof structure. The partial-finish theme allowed visitors to closely inspect and thereby understand the unique construction and weatherproofing on display, the discreet inclusion of services and insulation, the prefabricated style, as well as the interface of structural materials with interior fit-out and exterior claddings.
This exhibit garnered not just awareness, but also interest, resulting in numerous enquiries to FII about LWF design. FII was aware that wooden houses were gaining popularity in India for resorts at beach locations and hill stations, and for farmhouses and countryside homes with infrastructure and access challenges, because these wooden houses were either de-mountable or portable, and constructed in a different style. The predominant method was prefabricated tongue and groove-interlocking boards, hence it was encouraging to see the same manufacturers who preferred this method expressing interest in LWF construction.
The challenge for FII then, was to provide the relevant training and knowledge sharing that is necessary for interested parties to construct effectively without compromising on industry standards, as well as to impart the necessary skills and techniques to their workforces.
In response to the overwhelming interest from Southern India manufacturers FII thus roped in a professional builder and instructor from Canada, to conduct training at FII's inaugural LWF training course in India at Mysore. It helped that a similar exercise had previously been conducted at Shanghai, China for Canada Wood, so the experience as well as the course structure was already in place, including a detailed-but-edited version of "Guide to Good Practice" that could be used as a training resource for India.
It was a 10-day training program and it was heartening to see the commitment of all the participants (over 20 in number) ranging from company directors to factory floor employees. The enthusiasm of the group, some of whom ran their own businesses and competed in the market place, yet still came together under one roof for a common objective was heart-warming.
The response to its first Wood College (LWF training program) at Mysore has encouraged FII India to plan its second training program from 18th to 28th February 2019 in Delhi/NCR. This has already generated great interest amongst manufacturers who missed the first program at Mysore.
The course is hands-on training, with all participants contributing to the cutting, nailing, measuring and construction of the foundation and the floor, wall and roof framing, and bracing, using a variety of quality tools.
The course requires all participants to learn through action how to build a light timber-frame house constructed from start to finish over the duration of the course. The resulting house consists of prefabricated stud wall sections over two levels with flooring and sheathing, three windows, an inside partition wall and door opening, roof trusses with eaves and fascia, and a fully sheathed roof. With the addition of an entry stair-case the house is considered complete to lockup stage.
The second Wood College being organised by FII India in February 2019 at Delhi/NCR will be identical in format to the inaugural course at Mysore in August 2018 and FII expects it to be oversubscribed too as was the case with the inaugural training program.
We at BuildingandInteriors hope that training programs organised by organisations such as FII will help spread the culture of building with wood in India in an organised manner and overall benefit the wood fraternity.