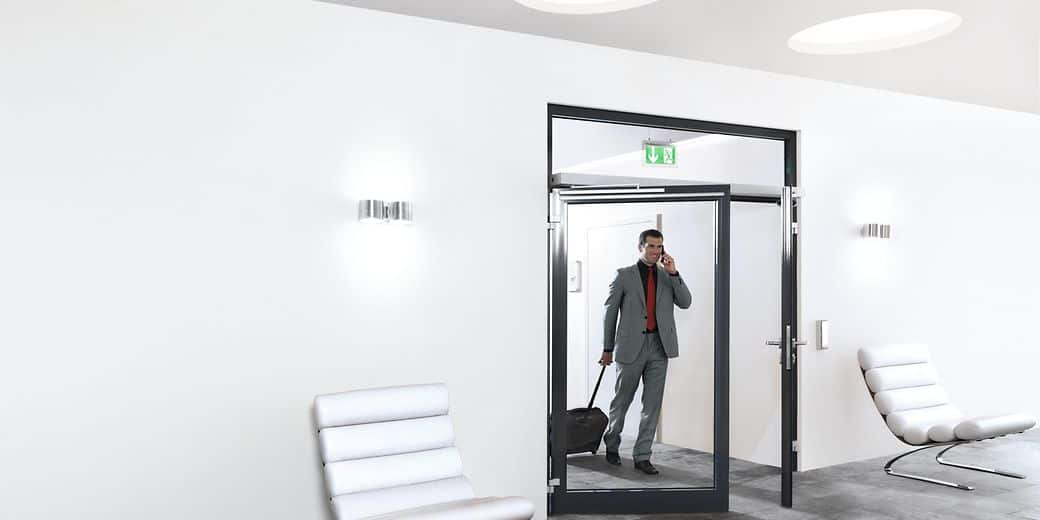 As the world opens for business post-Covid19 pandemic, the need for hygiene in commercial areas has been gaining ground, especially in high-traffic/public areas. The right entrance solution can reduce the risk of infectious diseases by minimizing human contact with doors and handles and ensure safe flow entry. Through it's dedicated platform, dormakaba India – the technology-player in the security/access control segment, is offering a range of solutions for providing touch-free access solutions, including those for the retrofit automatic doors market. The solutions basket includes Automatic Swing Doors, Automatic Sliding Doors, Activator and Safe Checkpoint Tower.
dormakaba's touch-free solutions offer the following advantages:
Safety – The low energy automatic door operators are safe to use even for the elderly and children. Touch free access ensures safety for all.
Hygiene – By eliminating the need to touch contaminated surfaces, one can enhance health and well-being of the visitors.
Entry is convenient, as the doors open even when your hands are full of carrying bags and packages.
The application environments (both retrofit automatic doors and new installations) include high-traffic/usage areas such as the Main Entrance Doors, Lobby and Corridor doors, Banquet & Restaurant doors, Meeting & Board Room doors, Toilet Main Entrance & Physically Challenged Toilet doors, in Offices, Hotels, Hospitals, Factories & Airports.  dormakaba provides a highly skilled team of professionals to support the customers across India in completing the conversion of a manually operated  door into touch free automatically operated door in 3 easy steps:
Step 1 – Remove mechanical closer and pull handles
Step 2 – Install activators and safety sensors
Step 3 – Install automatic door operators
To get in touch for retrofits and new installations:
Email: service.india@dormakaba.com
Call: 1800-121-6414 (Toll-Free India)
Also Read:
Dormakaba Has Taken The Products And Solutions To The Architects' Door Steps Using The New Age Virtual Reality (VR) Solutions: Mr.Natesh Balakrishna