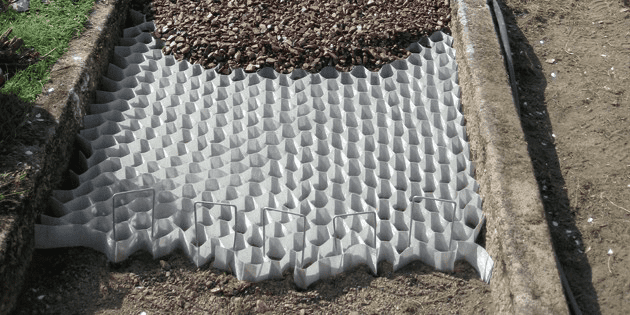 DuPont Plantex GroundGrid is an innovative, three-dimensional and flexible grid. This geotextile-based structure is used to confine aggregate, stone, gravel or soil to provide a stable surface for both pedestrian and trafficked areas, such as private driveways, paths, private car parks, golf courses and artificial surfaces sports fields.
Its high tensile strength and the honeycomb structure prevent the infill from spreading thus avoiding subsidence and rutting. The loose infill material and the porosity of the base material allows water penetration, both vertically and horizontally making DuPont Plantex GroundGrid the ideal choice for sustainable drainage applications.
Supplied in a compressed concertina format for ease of storage and transport, DuPont Plantex GroundGrid is simply extended on site. Unfolded, each grid covers an impressive 10 square metres (length 8 m x width 1.25m).
Applications:
Stabilization of gravel or mineral infill surfaces
Stabilization of pond edges with soil or sand
Path
Patio
Driveway with light traffic
Parking lot with light traffic
Private parking with light traffic
Drainage system
Park
Walkways
Roads with light traffic
Benefits:
Flexible material for terrain conformity
Each grid covers 10m²
Easy to transport
Easy to install
Can be cut to size
Water permeability of cell wall
Prevents localized flooding during heavy rainfall
Standard sizes:
55/50, 110/50
55/100, 110
Avoid any contact with herbicides or pesticides.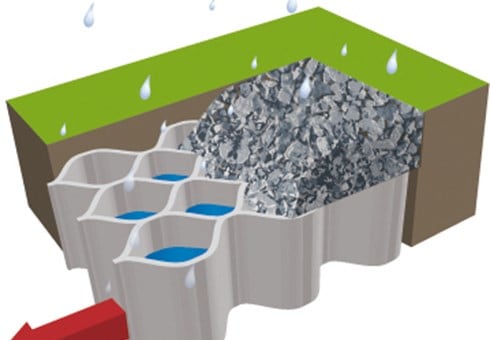 How DuPont™ GroundGrid® gravel stabilizer works?
How to install DuPont Plantex GroundGrid?
You need
2 to 3 workers
Metal poles or pins for (temporary) pegging
Shovel, rake
Wheel barrow
Tape measure (8m length)
Knife or scissors
Stapler if joining 2 or more grids
For large areas a machine can be used
Step 1
Plantex® GroundGrid® is delivered in a compressed pack. Lay the Grid at the starting point for the area. Anchor one-edge using 2 or 3 metal poles (re-bar poles are ideal). Once anchored, pull the grid out to a maximum length of 8m. At this point the width should be 1.25m. Make sure that the cells are a uniform shape. Then anchor the Grid with more poles at the extended edge. Plantex® GroundGrid® is easy to cut with scissors or a sharp knife. This means you can cut around trees or obstacles or fit it to an irregular shaped area. Grids can be laid side by side for larger areas. You will need enough poles for anchoring (4 or 6 per grid). Overlap the open edge of each Grid.
Remember you cannot walk on the grids until filled. If you are covering a large area and using a barrow to fill the grids make sure you have access to work when filling. One method is to fill each grid as you lay it, leaving the cells nearest the overlap empty until the second grid has been laid.
If you are using a machine such as a backhoe then you are only limited by the "stretch" of the machine's arm.
Step 2: Fixing to the ground
There is no need to permanently fix Plantex® GroundGrid® if the soil is level; the infill and surcharge will keep the grid in position. If working on a small slope however it is good practice to permanently fix the grids with pins to the ground at regular intervals. It is important that the grid should always be in contact with the ground when filling to stop the grid lifting, thus preventing the infill material flowing under the cells. Lay a length of pole or wood over the grid whilst filling and remove as you work.
Step 3:  Infill
Fill each end of the grid with a handful of aggregate to hold it in place. The grid has to be in constant contact with the ground when putting aggregate into the cells. Use a timber board on top of the grid to ensure contact is made. Use the correct size infill material for the cell size. Limit the drop height to no more than 1 meter. Whether using a wheel barrow or machine please take your time to make sure the infill material does not "lift" the cells. Spread the infill material evenly over the surface and ensure that each cell is fully filled using a shovel or rake.
Please ensure only crushed, angular gravel must be used to fill the cells. Pea shingle or cobble type products may only be used as a decorative surcharge on top of the grid.
Step 4 Finishing
A surcharge of material is required on top of the grid especially in trafficked areas like car parks.
If the surcharge is a different material than the cell infill then make sure you have filled the cells to capacity and have allowed for settlement. You may wish to use a hand roller or a compactor/vibrator to achieve final compression of the infill material.
Being manufactured from a geotextile material, the edges of Plantex® GroundGrid® are very thin and as such not very visible. However, it is always advisable to maintain the recommended surcharge on top of the area to protect the edges from car wheels.