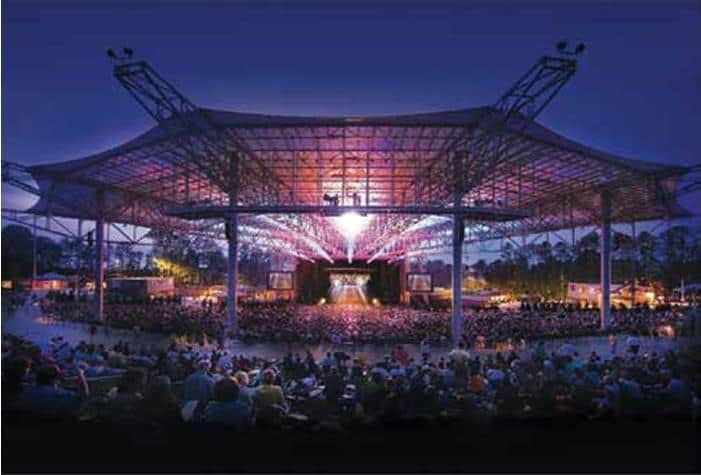 DuPont Tedlar PVF film is a fluoropolymer invented by DuPont for commercial applications. Tedlar® film can be laminated on a variety of materials, including metals and can vary in thickness. Compared to paint coating and other film materials, Tedlar® is made up of 100% fluorescein PVF and possesses unique properties, including excellent weatherability, ductility, durability, physical stability and resistance to many chemicals, solvents, pollutants and corrosive agents.
DuPont Tedlar PVF film dense surface is easy to clean; non-reactive and inert; resistant to stains and fire, as well as fading, chalking and cracking; and safe and environmentally friendly, making it ideal for a wide range of industries and applications.
Tedlar® film, free of plasticizers such as acrylic acid, comes with excellent aging resistance and maintains toughness and flexibility over a wide temperature range.
Application in Construction
Resistant to fading, cracking, mold and mildew, Tedlar® film can help prolong the life and aesthetics of both interior and exterior constructions. It can be used for wide range of applications, some of which are mentioned below.
Architectural Fabric including: air-inflated structures, canopies, awnings and stadium domes
Residential and commercial roofing, siding, trim and accents
Corrugated paneling &Flat paneling
Commercial buildings & Public Buildings
Industrial Plants& Animal Husbandry
Buildings in Coastal Regions
Highway Sound Barriers
Photovoltaic Module Backsheet in Solar Panels
Exterior Surface Protection – Includes curtain walls, infrastructure, public buildings, roofing and more.
Interior Surface Protection –
Includes wallcoverings, acoustical panels, flooring, furniture, ceilings and more.
Metal lamination: Product structure and processing flow
Tedlar® film is laminated onto a metal substrate using a special adhesive invented by DuPont based on a hot laminating process. The process and product structure are similar to those of a fluorocarbon coil coated metal sheet.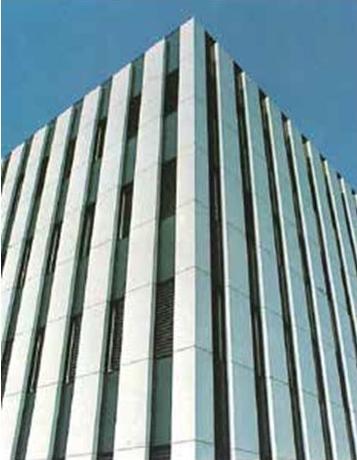 National Computing Centre (Denmark)
Building solutions : System solutions for building
Tedlar® film-based metal lamination
Tedlar® film-based metal lamination provides a guarantee of more than 30 years of service life for the roofing of any new project.
Composite metal sheet with Tedlar® film interior finish
Tedlar® film interior finishes not only have the delicate texture of fabric, but also have excellent properties such as fire-, stain- and corrosion-resistance and ease of cleaning. Organic combination with steel sheet makes the Tedlar® interior finish suitable for medical environments.
Membrane fabric materials laminated with Tedlar® film
Tedlar® film can be laminated with various coated fabrics to form membrane fabric structures at much lower construction costs than steel. With excellent weatherability and dirt-shedding properties, membrane fabric is a cost-effective material for buildings like stadiums, convention centers, commercial facilities and transportation hubs
Tedlar® for architectural sheet metals
In coastal and tropical/sub-tropical natural environments with high temperature, high humidity and especially high salt spray, pollution brought by industrial development is gradually evolving into a highly corrosive atmospheric environment. Metals exposed to these environments for many years are highly susceptible to corrosive damage caused by moisture, oxygen and corrosive substances (such as impurities, acids, salt ions, dust and surface deposits).
Tedlar® film consists of 100% fluorocarbon resin without the addition of plasticizers such as acrylic acid. The chemical stability and aging resistance of fluorocarbon resins ensure the excellent weatherability of Tedlar® . In addition, Tedlar® film for buildings and construction has been subjected to biaxial stretching to improve mechanical, optical and barrier film properties. The surface of the film is resistant to pinholes, cracks and other abrasions, and provides long-term effective protection for the metal substrate. The excellent weatherability and corrosion resistance of Tedlar® film laminated metal sheets have been proven in numerous practical application cases over the past 30 years.
Ford's Theater (US)
Features
Durable:
Tedlar® film has delivered excellent weatherability and proven protection in a number of practical applications.
Stylish:
With ultra-low color differences, a smooth and fine texture and excellent formability, Tedlar® film is stylish and aesthetically pleasing from installation until its removal. Its matte surface finish even prevents light pollution.
Easy to clean:
Non-sticky and stain resistant, Tedlar® film can withstand all types of dirt and grime. Chemically inert, the film can be cleaned with various cleaning agents and requires little maintenance.
Safe & environmentally friendly:
Tedlar® film is non-flammable and non-reactive, and it doesn't support bacterial growth. Additionally, it produces minimal volatile organic compound (VOC) emissions during processing.
Colour Collection
The color uniformity and fade resistance of Tedlar® allows it to hold its color and maintain its original appearance for decades. It comes in 3 major colour collections, with multiple shades in each collection:
Cool Collection – Inspired by nature, the cool hues and understated bright tones in this collection bring to mind the sea, sky and lush foliage.
Neutral Collection – Minimalistic and serene, this collection includes soothing tones and natural, soft hues
Warm Collection – Taking cues from the sun and sandy beaches, the creamy hues in this collection evoke feelings of comfort and warmth.