Architects and contractors are choosing DuPont's high-performing building envelope solutions to construct buildings that meet and exceed expectations.
A high-performance envelope doesn't need to be complicated. DuPont delivers stout exterior wall systems that are easy to install. Let us understand each one of these.
Thermax™Wall System (TWS)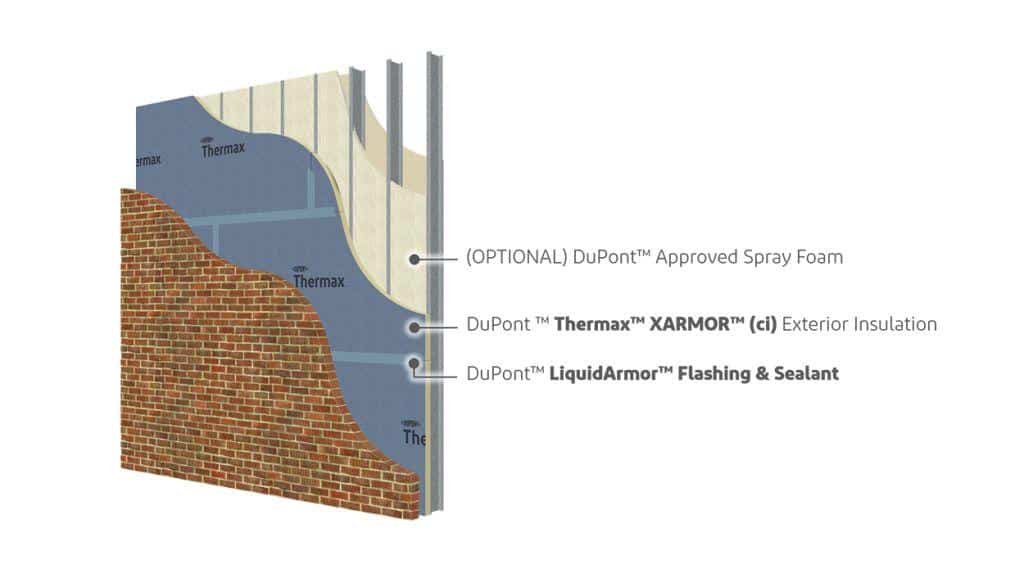 The DuPont™Thermax™Wall System (TWS) is more than an insulated wall – it's a systematic approach to achieving efficiency at every level: simplified design, streamlined construction and optimized energy consumption for a reduced carbon footprint.
Steel transfers heat amazingly fast – up to 300 times faster than wood studs and reduces the effective R-value of metal stud wall designs by 40–60%. The ASHRAE prescriptive continuous insulation requirements for steel-framed, above-grade walls recognize this phenomenon, and in most climate zones, call for a layer of continuous insulation (ci) to be added to the assembly to help stop the steel thermal shorts that can decrease the energy efficiency of the wall system.
To meet continuous insulation code requirements it is critical to also account for condensation within the wall assembly. Even if a wall is adequately designed to prevent liquid water from entering the assembly, condensation can still occur as a result of the interior and exterior temperatures as well as relative humidity.
DuPont's Thermax™ Wall System combines the strengths of powerhouse solutions to deliver a total package of benefits including:
The insulating power ofThermax™Brand Insulation
The air and moisture protection of weatherization technology such as LiquidArmor™Flashing and Sealant
As an optional component, DuPont-approved spray foam in the stud cavity for added air and water sealing
The combined Wall System meets all applicable IBC and ASHRAE requirements for continuous insulation, moisture mitigation, air sealing, and vapor barriers. This system eliminates the need for exterior gypsum sheathing, applied air/vapor barrier membranes, and extensive site coordination, making it both cost effective and easy to install.
Tyvek™CommercialWrap™
A stout weather barrier for commercial building envelopes, Tyvek® CommercialWrap® controls air leakage, stops water infiltration, and prevents mold by allowing water vapor to escape.
An air and water barrier made to stand up to the rigors of commercial job sites, with high tear-strength, durability, and up to nine months of UV resistance. DuPont™ Tyvek® CommercialWrap® building wrap is one of the easiest ways to make a significant difference in energy efficiency and overall building performance. Tyvek® CommercialWrap® can help in three vital areas, as part of a building envelope system:
Controlling air leakage, which can impact the efficient operation of HVAC systems, costing the commercial building sector billions each year.
Preventing water infiltration, which can reduce the effectiveness of insulation, and cause wood damage and corrosion.
Allowing water vapor to escape when moisture does get in, letting wall systems dry, helping prevent mold, and protecting and improving building air quality.
Features & benefits
Continuous structure
 Tough and tear-resistant to ensure durability

 Designed to allow up to nine months of UV exposure

Air resistance
 Reduces air infiltration and exfiltration to help HVAC systems operate more efficiently

 Reduces energy needed for heating and cooling for lower costs

 Protects insulation from drafts

Water resistance
 Keeps insulation dry and performing to installed R-value

 Helps prevent costly wood and metal damage and mold

Vapor permeability
 Allows water vapor to escape to help improve indoor air quality

 Helps prevent mold
Tyvek®Fluid Applied WB+™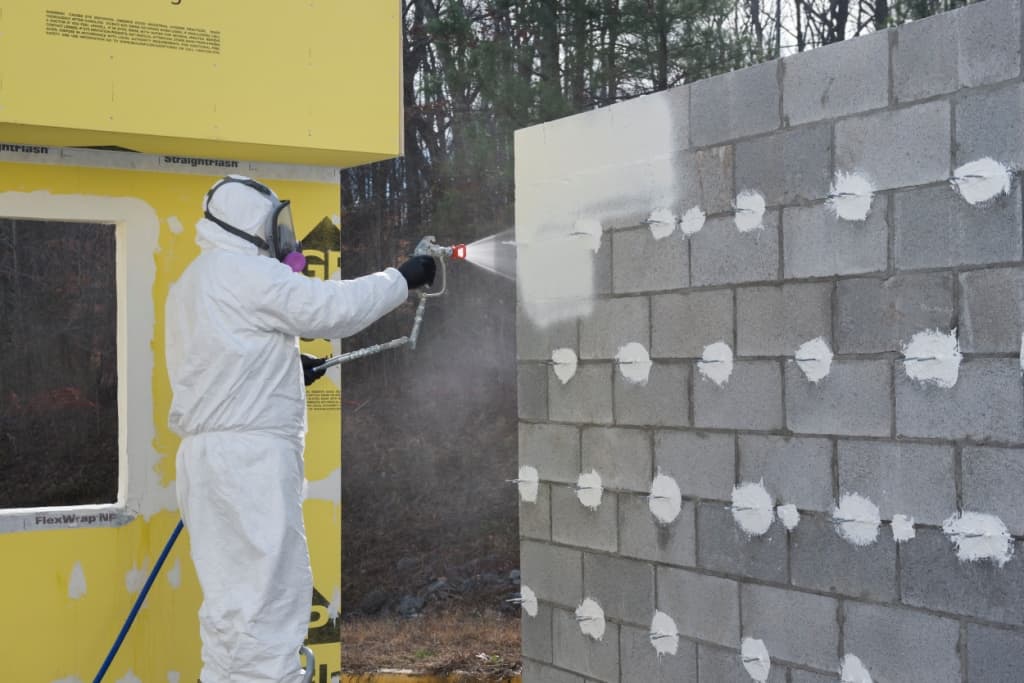 Developed with silyl-terminated polyether (STPE) technology, Tyvek® Fluid Applied WB+™ delivers a durable weather barrier that's tailored to meet the demands of heavy commercial construction projects.
DuPont™ Tyvek® Fluid Applied Weather Barrier+™ Systems provide water and fluid applied air barrier protection designed for the unique demands of heavy commercial construction projects
Features & benefits
STPE (silyl-terminated polyether polymer) technology
 Exceptional elongation and recovery

 Minimal shrinkage and cracking during curing

 Will not wash off when exposed to liquid water

 Low temperature application to 25°F

 Minimal surface preparation required

 2-3 times the coverage in one coat

Seamless protection for building envelope
 Reduces air infiltration and exfiltration

 Helps insulation perform to specified R-Value

 Improves energy efficiency

Vapor Permeable
 Helps prevent metal corrosion and wood rot

 Reduces risk of mold growth

Durable
 Enables long-term performance

 Application to a variety of substrates

 Offers easy installation