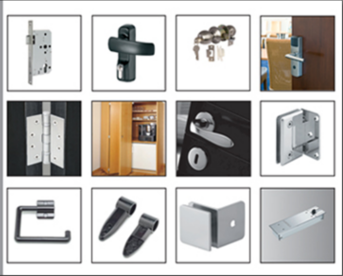 Architectural Hardware plays an important role in every type of construction. Whether it is for residential or commercial purpose, every infrastructure is incomplete without Architectural Hardware. Hence, the intense need of Quality Architectural Hardware is driving companies to offer complete array of Architectural Hardware, to their customers. We bring to you a list of dominant players (manufacturers and suppliers) of architectural hardware and glass fitting products in India and the product range they offer.
Kich Architectural Products Pvt. Ltd. is Rajkot based India's leading manufacturer in the Premium segment of Architectural Hardware, Glass Fittings, Furniture Fittings, Bathroom Accessories and Handrails & Baluster Systems. With a vision to deliver superior quality and long lasting durability in architectural products category, Kich was established as an export oriented unit in the year 1992. Although having a very humble beginning, Kich grew at a very fast pace due to unmatched quality and unique craftsmanship of its products.
Kich architectural products are the epitome of enduring strength, stunning aesthetics, unique designs and impeccable functionality. With a vast network of more than 54+ product galleries, 2 application centers, 600+ dealers and a team of more than 70 marketing executives across the country, Kich has always been able to deliver uncompromised pre and post sales service support to its customers. Besides being well-rooted in India, Kich has a vast sales and service network in Europe, Middle East, Asia and Africa.
Prominent solutions offered by Kitch in Architectural hardware and glass fitting category are:
Floor Springs
Patch Fittings
Shower Hinges
Glass Connectors
Shower Cubic Accessories
Since the company was established in 1930 in Tokyo, Sugatsune has developed a variety of cabinet hardware, including stainless steel ball-bearing drawer slides, magnetic catches and latches, and invisible door hinges. They have a rich tradition of manufacturing high-quality cabinet hardware.
Sugatsune Kogyo India Private Limited was established in 2015, the 89th Anniversary of Sugatsune Kogyo.
Every product at Sugatsune has been tailor-made for use by architects, designers and builders, and they trust Sugatsune for reliability and quality when it matters most. With over 1,600 items in stock locally, and distributors across the Country, Sugatsune offers prompt delivery of architectural and cabinet hardware. Sugatsune (LAMP) has its experience centres in Mumbai, Chennai , Pune, Delhi.
Sugatsune specialize in architectural door hardware and has some award winning designs to its credit. Here is the list of architectural hardware Sugatsune India offers:
Sliding Door Systems
Pocket Door Systems
Multiple Synchronized Sliding Door Systems
Self Closing Slide Door Systems
Sliding Door Rollers
Stackable Partition Door Systems
Rolling Door Systems
Lever Handles
Door Dampers
Door Stoppers
Ozone Overseas, an integral part of Ozone Enterprise group, is the leading player in Architectural Hardware Industry and a most popular brand in Electronic Security Segment. With striking global presence & recognition, Ozone constantly strives to provide innovative solutions for architects, builders, specifiers and home owners.
Ozone offers internationally certified Architectural Hardware & Security Solutions through its product portfolio of more than 3000 products strategically categorized under 09 product brands:
Ozone has a strong distribution network across India including dealers, distributors, C&F agents & company own display cum training Centre- The Ozone Hub. The display centre showcases all product ranges under one roof as live functional demo sets & offers technical know-how about each product's application and usage. Their global footprints include developed & matured markets such as USA, Germany, Turkey, Italy, UAE and Neighboring countries.
Prominent products offered in the architectural hardware category are:
Glassage Series (Architectural Glass Fittings)
Ozo Motion Series (Sensor Doors and Intelligent Locks)
Door Control Series
Metal Doors (Fire & Security Doors)
Balustrades Series (Railing Solutions)
Dorset is a leading brand name amongst the architectural hardware manufacturer and suppliers in India. The company designs premium quality door hardware. Some of the door hardware manufactured by the company is door handles, pull handles, door control systems, door accessories and glass solution. The glass solution has sliding door hardware like patch and fittings. Dorset brings you lifetime warranty hardware with its locks and security systems and digital solutions. Also, you get fire rated door hardware like door handles and door locks to ensure safety from fire. If you are looking for affordable door hardware then Dorset can be your ultimate choice.
Dorset has a strong presence in India with over 12000 touch points across the country. Dorset operates a 200,000 sq.ft. state-of-the-art manufacturing plant in Gurugram and employ over 1250 people. Their global reach extends to South-East Asia, the Middle-East, and Africa and their offerings are constantly enriched through global and  own research & innovation center. It has been recognized as Asia's most promising brand with 11 patents registered in its name.
Product Offerings include:
Door Handles
Pull Handles
Door Control Systems (Door Closer & Floor Spring)
Door accessories
Glass Solution (Patch Fitting & Patch Lock)
Hafele is an international company providing hardware and fitting systems and electronic access control systems with a colourful history that started in 1923. Today, customers from over 150 countries rely on the competence and performance capability of Hafele.
90 years after its founding, the Hafele family business is a worldwide leader in the furniture fittings and architectural hardware industry, as well as in electronic access control systems. Hafele employs more than 6,000 employees and has 37 subsidiaries, as well as many additional dealerships throughout the world.
Proximity to its customers is an important aspect of Hafele's operation and subject for 90 years now. Intensive service orientation is top priority.

Hafele's product range and services are therefore consistently oriented to the requirements and needs of customers. Specialists with in-depth knowledge of the industry are the guarantee of a high standard in customer support and advice that is oriented to individual requirements.
Hafele has been present in India for close to two decades now and has been growing in leaps and bounds. It has launched numerous innovative solutions in the Indian market and has been constantly evolving its product portfolio.
Hafele's Architectural Hardware catalogue consists of the following product categories:
Pull Handles
Lever Handles
Door Locks
Door Accessories
Door Seals
Door Controllers
Panic Exit Devices
Window Friction Hinges & Bolt Systems
Patch Fittings
Point Fittings
Glass Door Locks
Shower Fittings & Accessories
ASSA ABLOY, as the global leader in door opening solutions, is dedicated to satisfying end-user needs for security, safety and convenience. Since its formation in 1994, ASSA ABLOY has grown from a regional company to an international group with 47,000 employees, sales around SEK 71 billion (around SGD 11.5 billion) and operations in over 70 countries.
It has quite a dominant presence in the Indian market as well.
Product Categories offered are:
Hinges
Door Closer
Mortise Locks
Floor Spring
Cylinder
Panic Exit Device
Lever Handle
Shower Hardware
Pull Handle
Patch Fitting
General Hardware
dormakaba India is the Regional HQ for dormakaba's operations in Region South Asia and is a part of Segment AS APAC. Established as DORMA Door Controls, the company has grown from strength to strength over the last two decades and has built a strong reputation and brand image among the customers and the industry.
Post the global merger of DORMA and KABA in 2015, the full range of dormakaba products and services are now offered in South Asia through qualified Pre-Sales, Sales and Service Professionals.  The company dormakaba India Private Limited is now an integrated organisation operating out of 12 Sales Offices and a large network of partners. dormakaba India currently offers a nationwide network of Service Technicians to attend to Customer Service with a well-managed Tollfree back office support.

Products Offered:
Door Hardware (Door Closers, Locks, Fittings, Emergency Exit Systems etc)
Entrance Systems (Swing Door, Revolving Door, Sliding Doors, Turnstiles etc.)
Electronic Access & Data
Mechanical Key Systems
Lodging Systems
Interiors Glass Systems
Moveable Walls
Established in the year 1988, "Mukund Overseas", an ISO 9001:2008 certified company that is involved in the manufacturing & selling of  an extensive assortment of Architectural Hardware. The products range offered is under the brand name Magnum and includes Brass Hinges, Window & Door Handles and Stainless Steel Hinges.
 In addition, they have marked their presence in the markets of Europe and Asia for exporting  entire range.
Product Categories Offered:
Brass Hinges
Window Door Handles
Stainless Steel Hinges
Safety Locks
Door Closer
Digital Locks
Door Chains
Door Accessories
Sliding Systems
Door Parts
Door Stoppers
Surface Bolts
Flush & Tower Bolts
Casement Stays
Cabin Hooks
Cabinet Fittings
Dunex, was set up in 2000 and  has come a long way from an architectural hardware export unit to today's a full length facility with multiple products into architectural ironmongery. Dunex expanded  its wings with ultra-modern works facility at Rajkot and International works and trade office at Dubai (UAE), penetrated many markets of the world in a very short span.
Dunex quality products enjoy high credentials in many markets of the world today and its innovative fitment technology provides best customized solutions to the customers.
 Dunex products are classified into the following categories:
Door Hardware (Floor Springs, Pull Handles, Knobs, Door Stoppers, Mortise Handles etc)
Architectural Glass Fittings (Patch Fittings, Spider Fittings, Shower Hinges & Handles, Splice Plates, Canopy Fittings etc)
Modular Stairway & Railings Solutions
Specialized & Customized Hardware Solutions
GEZE GmbH is one of the world's leading developers and manufacturers of construction systems for door, window and safety technology.
As one of the market, innovation and design leaders, the independently-managed family company has decisively influenced facility engineering and building technology with pioneering developments. These developments are constantly being driven onwards in the company's technology centre. The highest of quality standards means that GEZE products contribute towards some of the most innovative building concepts in the world and ensure convenience and security in building technology.
GEZE door closers are some of the best known in the world. Daily, millions of people enjoy the obvious conveniences of automatic door systems. Individual and building-specific special constructions, for example, revolving doors or all glass systems are implemented by a subsidiary. Product solutions from GEZE can be found in renowned buildings across the  world.
GEZE offers a comprehensive range of products including the following:
Automatic Door Systems
Door Technology
Glass Systems
Geze Building Management systems (incl. things like automatic doors, smoke protection doors, emergency exit systems etc)
Window & Ventilation technology (manual & electric)
Smoke and Heat Extraction Systems
Safety Technology (Emergency Exit Systems, Access control systems etc)