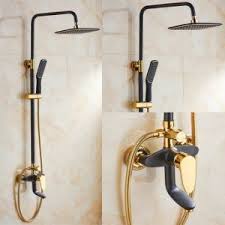 Bathroom fittings are, by their very definition, the things that are fitted in addition to the main parts of your bathroom. These are generally made of metal and include things like Faucets, Shower systems etc.
Here is a list of dominant players in the bathroom fittings and fixtures space in India.
Jaquar Group is a rapidly growing multi-diversified 'Complete Bathroom and Lighting Solutions' brand with a turnover of INR 3588 Crores in 2018-19.
Conceived way back in 1960, Jaquar Group today is an undisputed market leader in the organized bath fittings category with over 60% market share.
The Group caters to various segments of bathroom industry with different brands:
Brand Artize for Luxury segment
Brand Jaquar for Premium segment
Brand Essco for Value segment
Kohler is one of the prominent names globally, in the bathroom fittings space. Credited with many industry firsts and technology innovations, Kohler has always worked keeping user convenience and safety in mind. No wonder that it is a favourite of builders, architects and designers not just in India but across the world.
The Duravit Group has completed the 2018 financial year on a positive note, generating turnover of 464.7 million Euros. The company with a workforce of 6,469 can thus position itself successfully worldwide.
Under the motto of "Your future bathroom" Duravit presented new, holistic designs and new technologies in the bathroom. With numerous innovations, including two furniture series, innovative installation elements as well as many technological and product developments, Duravit continues to set trends for the future while simultaneously focusing its product range as a brand manufacturer of modern designer bathrooms.
HSIL, having the flagship brand 'Hindware', has emerged as a leading Indian sanitaryware and faucet brand driven by consistent innovation.
Since its inception, Hindware is recognised for quality, widest range and thereby being ahead of its time. A brand that was constantly innovating to a brand that's now synonymous with expertise. HSIL also has premium and luxury bath fittings brand Benelave and Queo.
Cera Sanitaryware Ltd a Gujarat based company was incorporated in the year 2002.The company is headed by its Chairman Vikram Somany. The company is engaged in Manufacture of Ceramic Sinks Wash Basins, Wash Basin Pedestals, Baths Bidets, Water Closet, Pans, Flushing Cisterns, Urinals and similar Sanitary fixtures. The company opened several CERA Style Galleries across India to give touch and feel experience to its customers. A household name, Cera is a go to brand for all users constructing their house.
Roca (Parryware)
Roca is the world leader in the definition of bathroom space and a benchmark reference in the world of design. Currently they are active in more than 170 different countries and have 78 production plants spread across five continents. Roca  Directly employees more than 22, 000 people across the globe.
In 2007, Roca Group came into a JV with the Chennai based Murugappa Group and by 2010, Parryware, which is India's leading sanitaryware brand, became a 100% subsidiary of the Roca Group. The expertise and revolutionary R&D technology of Roca and customer trust of Parryware proved to be a potent force and has helped both our brands to grow and challenge their respective competitors like never before. Presently, with 5 plants including the state-of-the-art plant at Bhiwadi, Roca and Parryware are equipped with leading infrastructure.
Hansgrohe SE is a German sanitary fittings manufacturer. It was founded by Hansgrohe in 1901, in Schiltach, Germany. Hansgrohe is one of the world's largest shower head, hand shower and tap suppliers, next to competitors such as Grohe and Kohler
In 2017, Hansgrohe reported sales of 1.077 billion Euro (2016: 1.029 billion Euro).The company employs about 4,962 people, 40% outside of Germany. Hansgrohe manufactures its products in factories in the United States, Germany, France and China. With 34 subsidiaries and 21 sales offices the company is present all over the world. Hansgrohe exports its products into more than 140 countries.
The product range of Hansgrohe includes:
Fittings
Showersand Shower heads
Kitchen and Bathroom Faucets
Bathroom accessories
Grohe is a leading German sanitary fittings manufacturer with its registered office in Hemer and headquarters in Düsseldorf. Since 2014, Grohe has been part of the Japanese Lixil Group. The company generated consolidated sales revenues of EUR 1.35 billion in 2017. Grohe employs about 6,000 people worldwide.
Grohe is currently Europe's biggest manufacturer of sanitary fittings and has eight percent of the worldwide market. The German market makes up roughly 15 percent of overall sales.
As an international brand, GROHE pursues the brand values of technology, quality, design and sustainability, seeking to offer the "Pure joy of water". GROHE has been developing new product categories since its inception. This includes the GROHE Blue and Red water systems and the recently-introduced GROHE Sense water security system, which is an innovative component in the growth market of smart home technology.