This year's Reddot panel saw a slew of interesting designs across categories. Apart from others, BuildingandInteriors editorial team found these 4 Reddot Award 2019 winners from "Urban Design" category particularly noteworthy.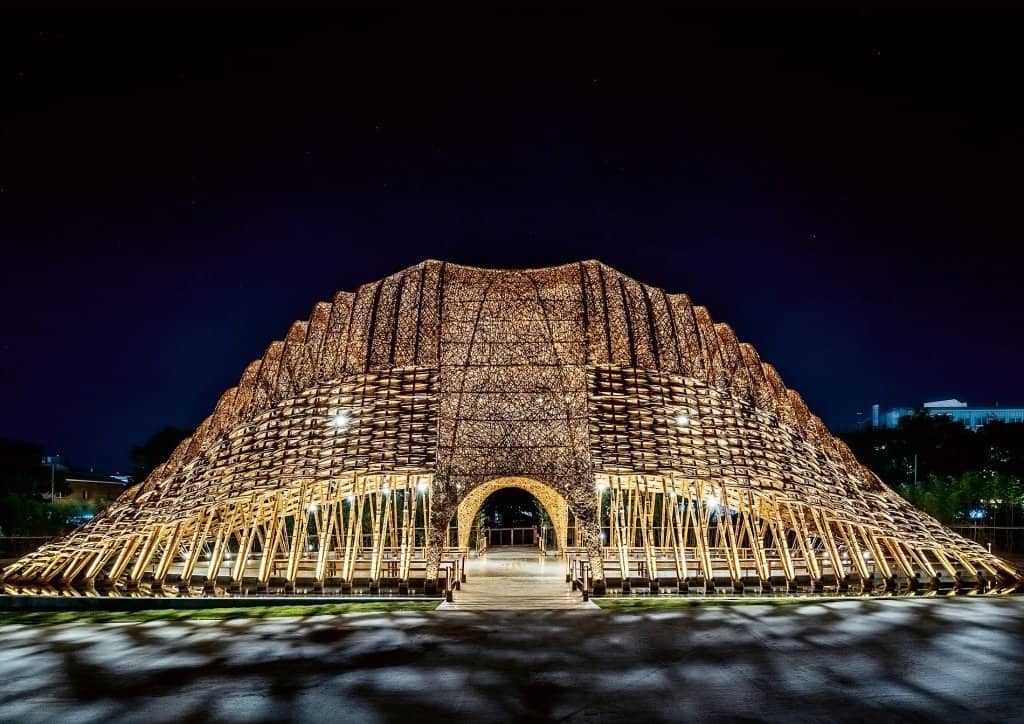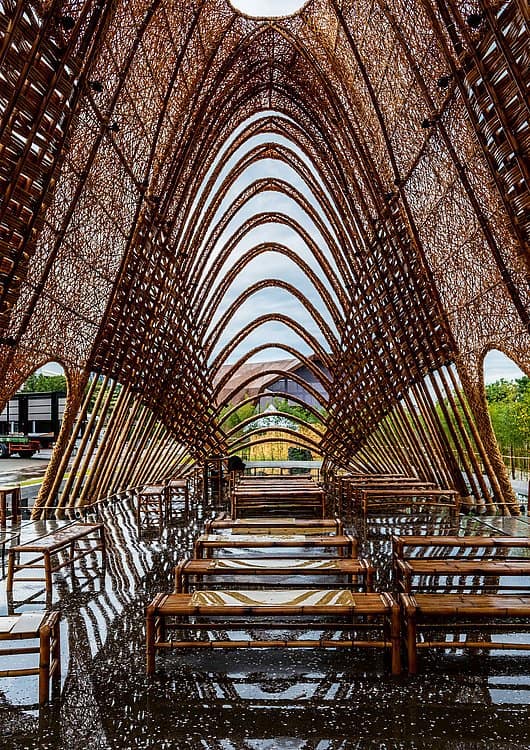 This bamboo pavilion was exhibited in the Taiwan World Flora Exposition, as a representation of the current wave of reducing carbon footprint.  The pavilion design imitates the Central Mountain Range on Taiwan Island and also represents a seed as a sign of sustainability and growth.
This pavilion which essentially is a network of bamboo, is inviting to a visitor to relax for an extended time period, apart from facilitating events and exhibitions.
Statement by the Jury
The design of this bamboo pavilion combines sustainability with both an artistic attitude and traditionally minded aesthetics in an impressive manner.
Credits
Client: Taichung Real Estate Development Association, Taichung, Taiwan
Design: Zuo Studio, Taichung, Taiwan
Pixel (Park Bench)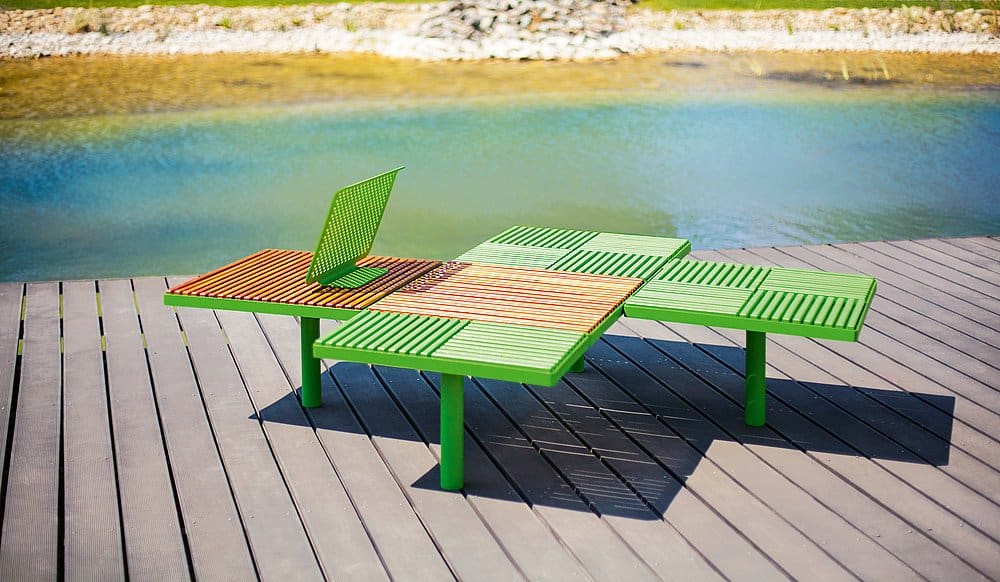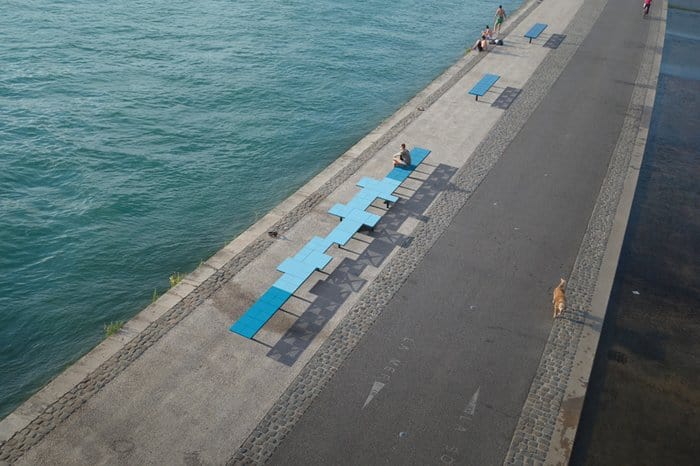 Pixel is nothing but a piece of furniture, a park bench, meant for use in public spaces. It is characterized by its modular nature and can be arranged in groups.
The design of Pixel makes it possible to create symmetrical and asymmetrical patterns, by changing the orientation of the wooden slats which are used to make these seats.
Adding accessories such as tables, flowerpots, backrest, to the whole system further adds to the modular nature of Pixel. In addition, a lot of experimentation is possible with diverse use of coloured surfaces against the contrast of natural wood.
Statement by the Jury
The refined design of the modular park bench Pixel is many-sided in its focus. In addition, the modern appearance is attractive.
Credits
Manufacturer: mmcite 1 a.s., Bilovice, Czech Republic
Design: David Karasek Bilovice, Czech Republic Eduard Herrmann Prague, Czech Republic, Matej Coufal, Prague, Czech Republic
Allium Pergola (Pavilion)
This pavilion is called Allium Pergola because of its resemblance to the bulbous plants, in quite an artistic way. It catches your attention instantly and is meant for installation in public places, so that the tired visitors can stop and relax for a while.
The curvaceous shape of Allium Pergola has been achieved using high-pressure laminate; which made it possible for designers to bend it the way they wanted.
In the centre, organically shaped wooden columns complete the impression of a bulbous plant, but also serve as a possible support for plants such as vines.
Statement by the Jury
With its organic form language and seemingly natural appearance, this pavilion skillfully draws attention to itself in an urban environment.
Credits
Manufacturer: Samsung C&T Corporation, Resort Group, Landscape Business (Everscape), Yongin, South Korea
In-house design: Sooncheol Baek Youngwoo Seo
Morning Glory (Shelter)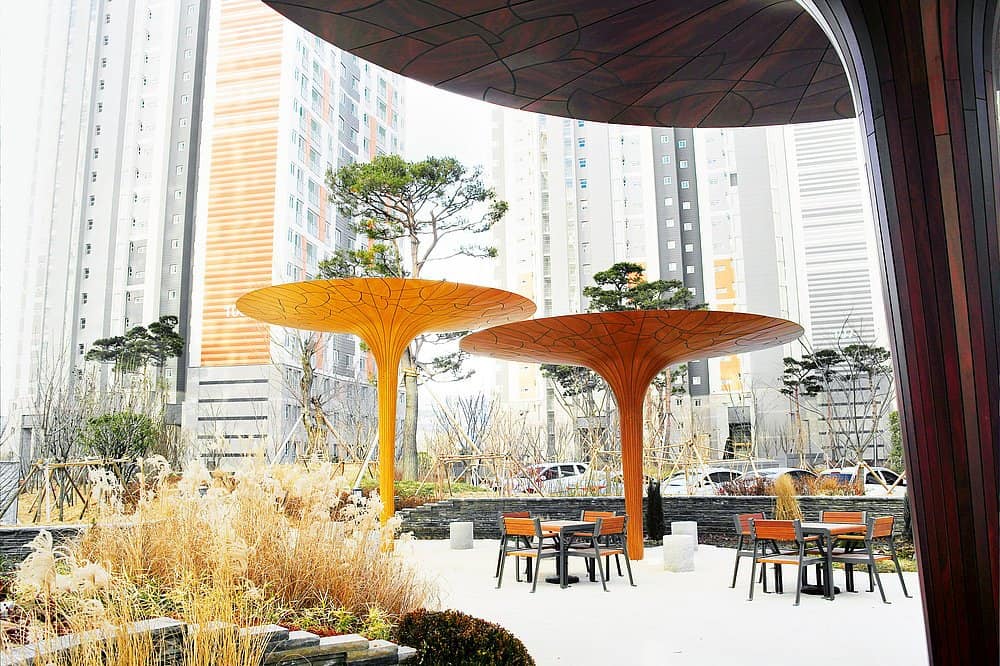 The Morning Glory shelter takes its name from a flower, apart from drawing inspiration for its design from it. The resemblance between the two is further enhanced by the use of petal motif for decoration. High-pressure laminates have been used to give circular and sweeping form.
The circular roof is seamlessly linked to the central column and offers good protection to people under it. Different models with various heights and colours can be installed together to form an attractive group.
Statement by the Jury
With its sweeping form and harmonious charisma, the Morning Glory shelter is a real eye-catcher in a public area.
Credits
Manufacturer: Samsung C&T Corporation, Resort Group, Landscape Business (Everscape), Yongin, South Korea
In-house design: Sooncheol Baek Youngwoo Seo