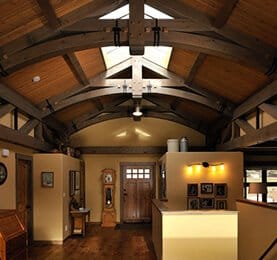 The versatility, character and individuality of wood in buildings is unmatched. It can be reused, re-purposed, and reapplied to other projects as long as it is properly maintained. And given that environment and sustainability are the key factors determining the building concepts of the future, usage of wood in buildings is assuming more importance than ever. With hardwoods becoming economically unviable for use in buildings, softwoods have started to occupy the main stage. Softwoods typically have better stability than hardwoods due to their low tangential to radial shrinkage (T/R) ratio. They are well- suited to applications across interiors, outdoors and structural uses.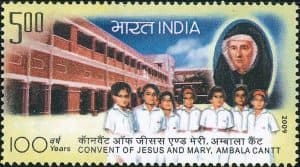 Established in 1909, the Convent of Jesus and Mary, Ambala Cantonment, Haryana (CJM) is a co-educational senior secondary school affiliated to the Central Board of Secondary Education (CBSE). The school was looking for acoustic panel solutions in it's auditorium. Inspired by the light coloured wood and acoustic properties of the materials used in the Sydney Opera House concert hall, Ar. Rajesh Jain selected to use Canadian Douglas fir for the construction of acoustic panels in the auditorium. The 45-feet wide span (of the ceiling) was a design challenge since the wood was only available in 8 to 20 feet lengths. This was overcome by end-matching the boards using inner tongue and groove joints.
Ar. Rajesh Jain, with over 30 years experience, runs his own design consultancy firm – Nirmal Rajesh Associates based in Panchkula (Haryana). His firm offers complete design solutions and services in architecture, interior design, engineering, landscaping, project management & consultation.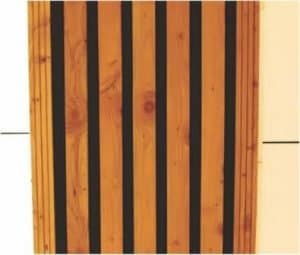 The species' medium density and ready availability as seasoned ready-to-use lumber were the big advantages in completing this project on-time and within budget without compromising on the Architect's vision. Each inverse U-panel is 75 feet in length from end-to-end and was made from acoustic backing material featuring 25×100 mm Douglas fir strips, designed with a 30 mm gap between each strip to create a shadow line.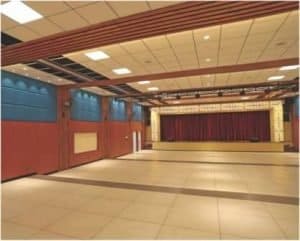 Structural grade Douglas fir was chosen due to the wood's colour, attractive grain and acoustic properties. The use of softwood expedited the installation as it was readily available from stockists on short notice, and was already seasoned and easy to process due to its good working properties. Douglas fir was used to create inverted U-panels which were acoustic in nature but also achieved the warm and natural look and feel desired by the school and their architect. The project required more than 4000 lineal feet of Douglas fir 1×4.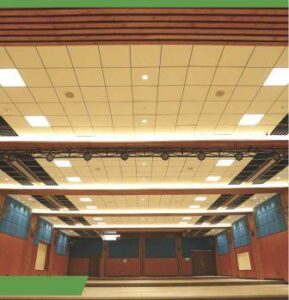 The relatively simple design concept in this application capitalizes on the natural colour and design values of Canadian softwood. The medium density of Douglas fir and ease of installation is advantageous for panelling, screening and ceiling applications. The use of Canadian Douglas fir is price competitive, both in the cost of the wood and on-site construction. Canadian Wood species produce stable lumber with consistent straight grain. The wood is easy to work, finish and glue.

British Columbia (B.C.), Canada is an international leader in sustainable forest management. Third-party forest certification – PEFC/FSC – demonstrates the rigor of B.C., Canada's forest management laws. Canadian Wood species from B.C. are separated into a wide variety of grades such that each grade is intended for a specific end use. Factory grades are intended for ripping or cross cutting to recover short clear fibre, while the clear grades help produce knot-free products. Buyers can choose a quality that suits their needs and price considerations. With low to moderate density values, wood species offered by Canadian Wood, such as western hemlock, Douglas fir, yellow cedar, western red cedar and spruce-pine fir (SPF) are easy to face laminate, edge glue and/or finger-joints.
For technical or procurement assistance free of cost, write to FII India at info@canadianwood.in or call on +91 22 49221600.