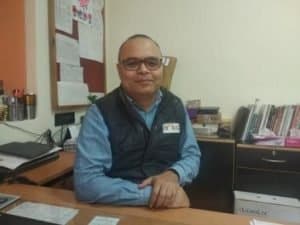 Artuis, a company passionate about timber-based solutions including doors and window-systems in solid wood, serves the premium end of the market. With a pan-India presence, the company is very well positioned to meet the needs of Architects and Interior Designers who are looking at adding 'warmth' to the projects they handle. A buildingandinteriors exclusive talk with Mr.Vivekabhilash Sharma, Director, Artius Interior Products.
B&I: Tell us about your start in door and window-systems in solid wood?
VS: Well, I was in the process of identifying a solution for the windows for my house that was under construction. I was looking at using wood but no credible solution was available in the market. Incidentally, I happened to be in Hannover in Germany during the dates that LIGNA was taking place. I am a mechanical engineer by training, and had always been interested in wood. Being at LIGNA opened me to a whole new world of wood-systems. I ended up spending a good half-a-day on the closing day of the fair (smiles) with one of the exhibitors from the Czech Republic, came back and told my family that we are putting up a plant for making doors and windows from wood. So, I myself was my first customer! We registered our company in 2011 and started commercial operations in 2012. And, there has been no looking back. Today, we are doing a turnover to the tune of Rs.50 Cr. with robust growth plans.
B&I: What were the first few challenges in the business?
VS: Financing the business was the first challenge. No bank was ready to finance a business that was a traditionally a carpenter's domain. Having spoken to more than a dozen banks, we were only able to get a bank or two to agree to our business plans, that too with all the collateral guarantees. Because we need graded wood for our systems, finding that consistent quality of wood was another challenge. We started with Burma Teak, which was imported as logs. The output from these logs was not more than 30%, since we needed wood of consistent quality. When the Burmese government banned the exports of it's Teak, we were again looking for wood. Canadian Wood representatives had been in touch with us and we started using their wood. Third challenge, I would say, was getting to convince the customer on the window-systems in wood. Termites was an often quoted concern. All the wood that we use in our factory is naturally termite resistant. Even with Canadian Wood, we tested their wood rigorously, and with good results.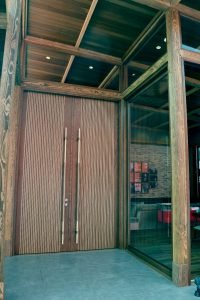 B&I: How has been your experience with Canadian Wood?
VS: We have been the first company to use Canadian Wood on a mass scale. The team at Canadian Wood has been very helpful in getting us graded wood for our consumption. They offer various varieties of wood. Today, our production line comprises 80% of Yellow Cedar (one of the wood varieties they offer) and 20% American White Oak – which I buy from USA. In India, there is a misconception that softwood (the wood that Canadian Wood offers) is not good and hardwood (like Teak) is good. Through education and demonstration (practical results shown to clients), we have been quite successful in getting over this mindset.
B&I: What has been the Architect community's response to your systems?
VS: When we started business, we were reaching out to the end-customer directly. Very soon, the Architects also started endorsing our systems. Our systems are in the range of Rs.4000-5500 per sq.ft. This is a good 3-4 times over a good UPVC systems. This is so because the cost of the raw material (solid wood) is much higher than that of UPVC. So, our clientele, both on the Architect and the end-customer side, is towards the higher-end of the market. Today, Artius is an established name in the solid wood doors and window-systems.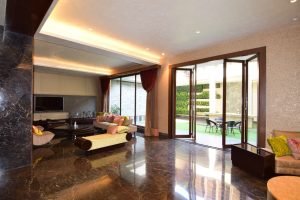 B&I: One of the FAQs in wood-based systems is one concerning the maintenance. Can you explain?
VS: We need to understand that when it comes to maintenance, interiors and exteriors of a building are exposed to different conditions. When we talk of exteriors, and talk of an element like sunlight, UV in particular, we know that UV damages all surfaces. Even with the UPVC systems, the UPVC will develop micro-cracks over time and get brittle. The life of a very good UPVC system is just over 10 years. Same is the case with Aluminium, where the coating will come off with UV exposure.
With wood, the major issue is that it absorbs water, and when exposed to the external environment, this is an additional factor. We use Glulam wood, in which grain movement is controlled by as much as 90%. Than, we use coatings that are flexible (stretchable) and not hard. This helps the wood breathe while at the same time, continues to provide the covering that protects the wood from moisture and also protects it from the harmful UV radiations. We give a 5-year unconditional guarantee on polish on our systems. We have systems in our factory that have been in use for over 8 years, and they are working fine.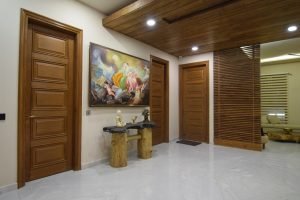 B&I: What are the typical lead times for a client working with Artius?
VS: We work on a lead time of around 90 days.
B&I: What's your geographical reach across India?
VS: We are present in major cities across India. From our two factories in Gurgaon, we can transport our solutions to any city/town in the country. Our local staff takes care of the installation and any support that the clients may need.
B&I: What about the warranties for your systems? What about the after sales service?
VS: We offer lifetime warranty against systems jamming. Against termites, rot, on hardware, gaskets/seals, we offer a 10 year guarantee, and as told earlier, a 5-year guarantee on polish. And these are unconditional guaranties. When we come across a problem with our systems, which is now quite rare, we simply stand by our guarantees, come what may. That's how we run our business, and our clients, including the Architects know and appreciate our policy.
On the after sales service part, we have a team that follows-up with our clients. But in our experience, the after sales service has never been something that our clients have had to recourse to. We are quite confident on that.
B&I: How has been your experience with the component suppliers to your solutions?
VS: Artius is a company passionate about timber. And this passion runs across our value chain, be it the suppliers or our clients. Adhesives, coatings and hardware have been a challenge. Since we are so focussed on the quality we strive for, the suppliers have also fine-tuned their systems to service us.
B&I: How do you see Artius going forward?
VS: As a company, we will continue to look at each project that we do from the eyes of a timber-based solutions provider. Having said that, we would like to handle only those solutions that we can add value to, from the project perspective. Things like cladding and flooring, where there is already a clutter, we would like to avoid. We strongly feel that when you combine precision and integrity in your solutions for the client, it makes perfect sense for all the people in the value-chain. And the end-result, like in our case – our systems, is for the end-customer to cherish for years to come.
(Mr.Vivekabhilash Sharma can be reached via email vivek@artius.in)