False ceiling designs enhance the glamour quotient of the room. However, installing false ceilings is not enough to add to the aesthetics and functionality of the room. For that, you need to have excellent LED false ceiling lighting in various designs and types for your bedroom, living room, kitchen, and bathroom as well.
It seems like an attractive topic. But they go much deeper than just buying a beautiful decorative ceiling light design from the market.
You must take into account all the aspects of decorative ceiling lights before making an ideal choice. Furthermore, there are several unanswered questions regarding false ceiling lights.
This article attempts to solve these questions so that choosing the right light design gets easier for you.
Check out all the FAQs related to decorative ceilings lighting-
What are the ceiling lights?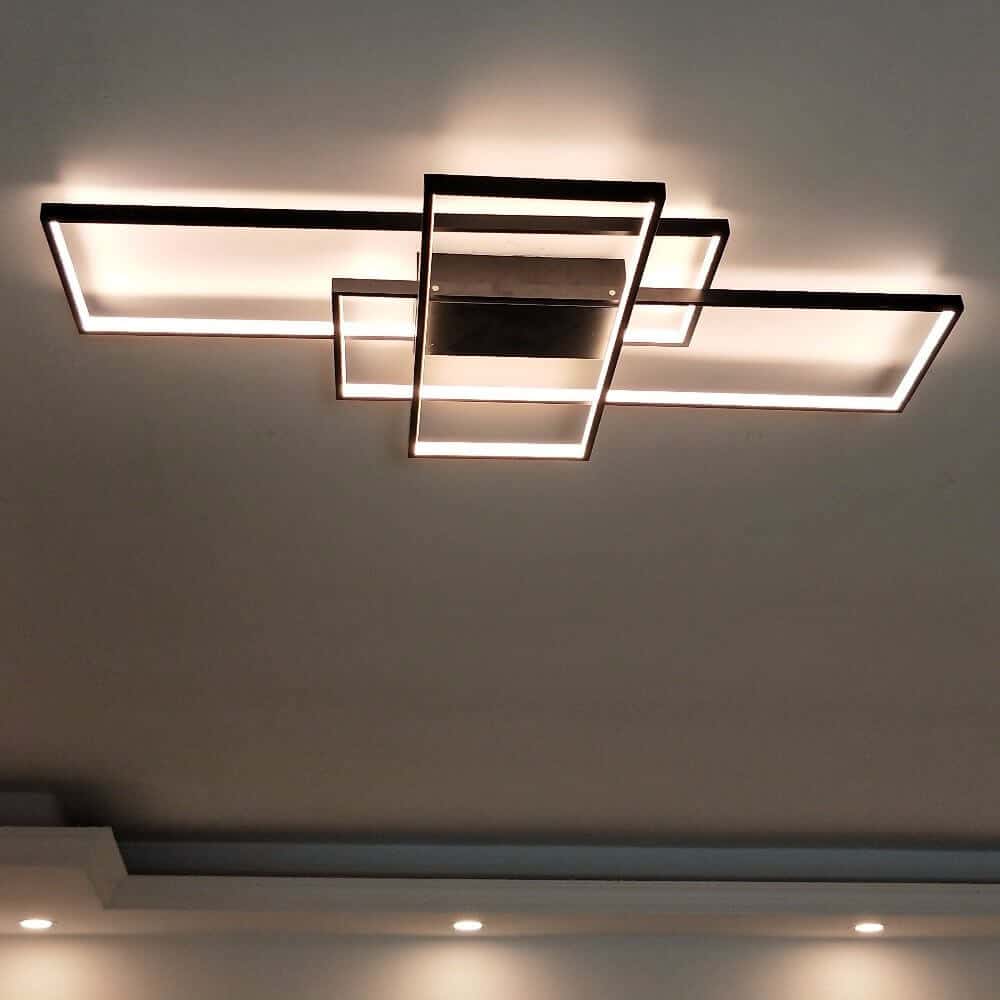 The ceiling lights illuminate the room as a whole or a specific section. They give a central glow to the room that sets the mood and adds to the aesthetics of the interior décor. These lights come in various, shapes, designs, and brands. The purpose of ceiling lights is to offer optimal lighting to the room using various lighting sources such as incandescent bulbs, fluorescent light bulbs, LED lights, etc.
What is the difference between false ceiling lighting and decorative lighting?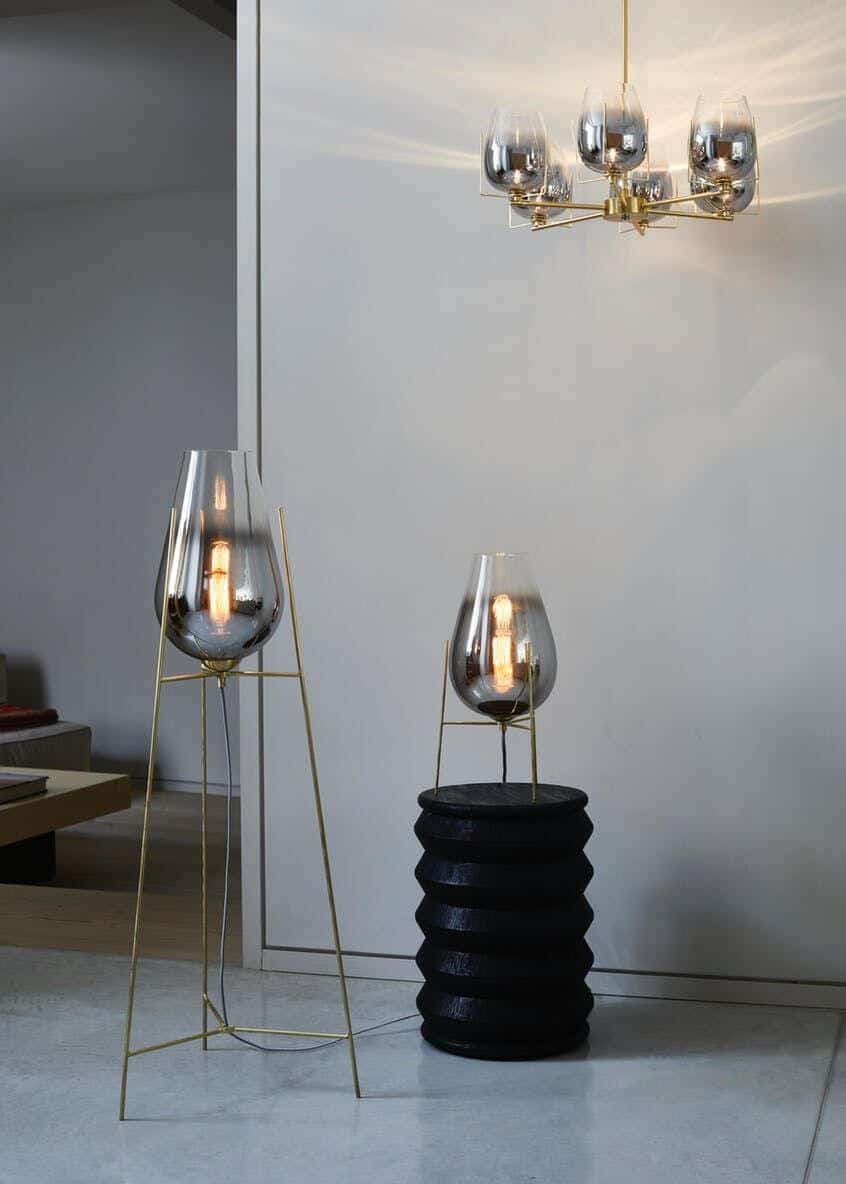 Decorative lights: Floor Lamps
The lightings for the ceiling are decorative lights installed on the ceiling of the room. They cannot be placed elsewhere. For instance, a pendant light can only be installed on the ceiling. You cannot put it on the floor or on the table.
On the other hand, decorative lights comprise all sorts of lights such as wall lights, ceiling lights, floor lights, table lights, lamps, outdoor lights, and other indoor lights.
Thus, we can say that ceiling lighting come under the broader category- decorative lighting.
Can we install ceiling lights without a false ceiling?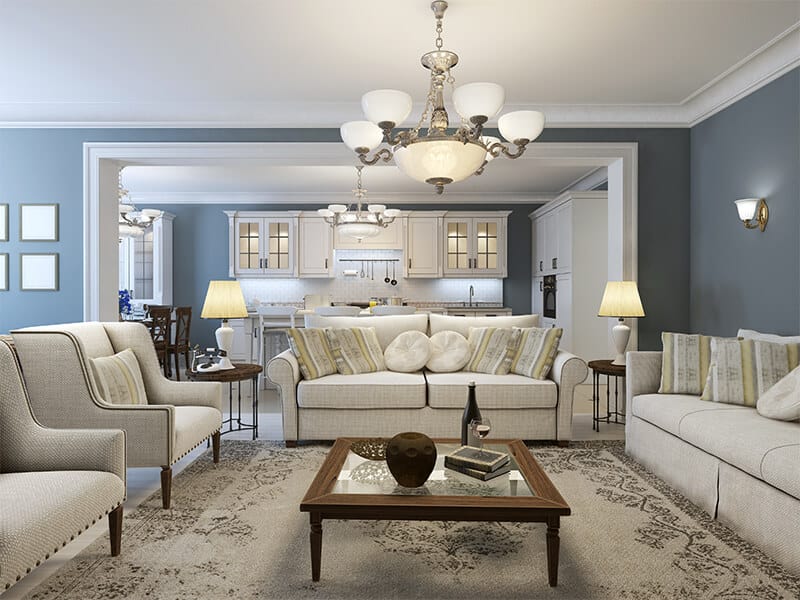 Image Credits: Wipro
Yes, you can directly install decorative luminaires without a false ceiling as well. As a result, you can install ceiling lights such as chandeliers, pendant lights, wall scones on the ceiling.
However, the false ceiling light designs in various types add to the aesthetics of the room greatly. Track lights, recessed lights, and other ceiling lighting make the room more beautiful and impressive.
Furthermore, ceiling with cove light and other decorative ceiling designs with LED lights make the room brighter and more energy-efficient.
What are the different types of false ceiling lights?
There are various types of ceiling lighting. All the decorative ceiling light designs come under three main categories according to their functions:
Ambient lighting: This type of lighting offers overall illumination and works as a primary lighting source.
Task lighting: As the name suggests, task lighting works for specific tasks and purposes such as reading, cooking, etc.
Accent lighting: This lighting provides enhanced brightness to the space. Its main objective is to offer dramatic lighting.
Therefore, all the types of ceiling lights serve as one or all of the above lightings.
Some examples of types of false ceiling lighting-
Chandeliers
Image Source: Eleglam
The chandeliers are beautiful decorative ceiling lightings that brighten up the room. Moreover, they come in many designs and can be installed in every room of the building.
Foyer lights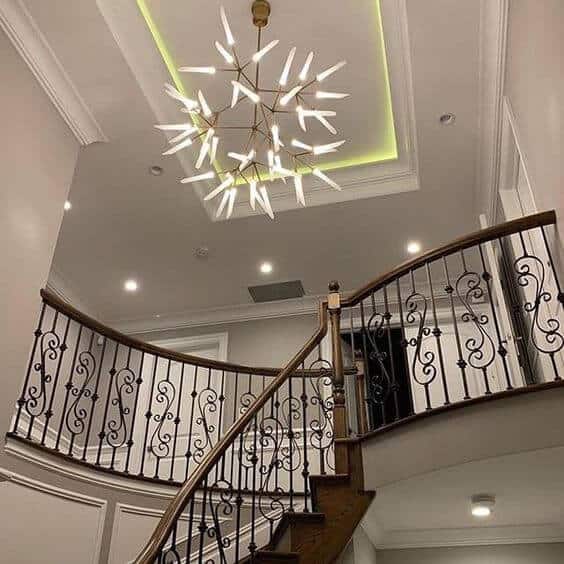 Image Source: Lumens
The foyer lights offer brightness and light up the foyer or hallway of the residential or commercial setting. In addition to that, the foyer lights make the hallway safe and secure.
Pendant lights
Pendant lights offer amazing task lighting. Additionally, they also work as wonderful decorative lights and enhance the suspended ceiling design.
Track lights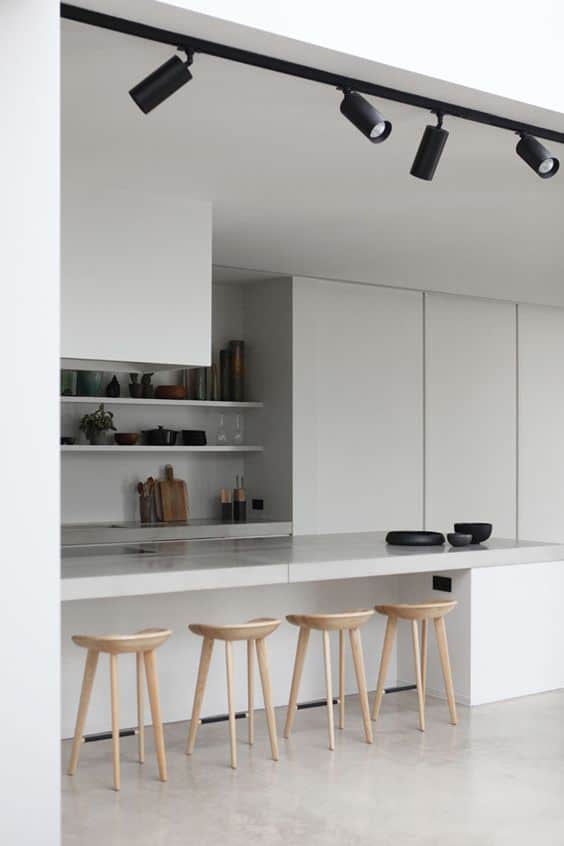 Image Source: Katrina Lee Chambers
The best part about track lights is that they offer all three kinds of lighting- ambient, task, and accent. They were initially used mostly in commercial settings. However, now, you can find aesthetic track lights even in bedrooms and hallways.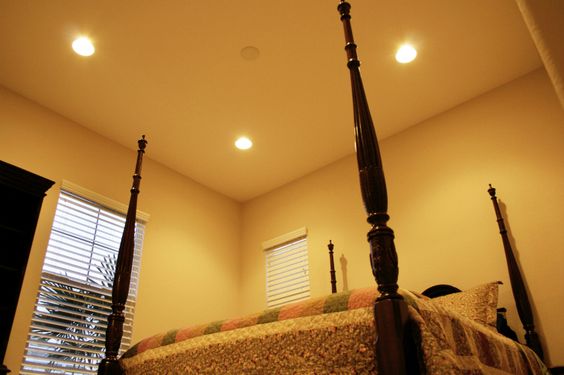 Image Source: Recessed Lighting
Recessed lights offer vibrant indoor lighting. Additionally, they also work as down-lights. The recessed ceiling lights are perfect for all residential and commercial settings.
Rail lights
Image Source: IKEA
Rail lights can be customized into many shapes and bends. Moreover, you can say that rail lights are more evolved track lights.
Cove lights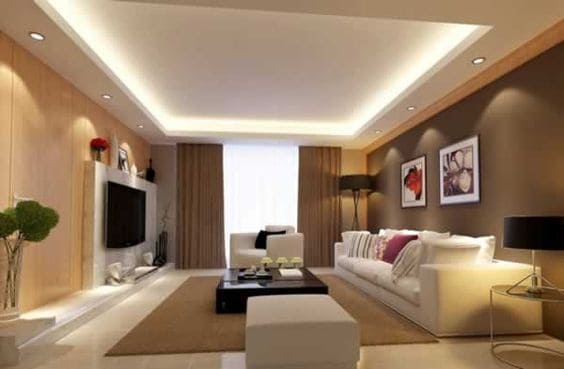 Ceiling cove lighting goes inside the vaults of the suspended ceilings. It offers subtle brightness to the room and gives it a peaceful vibe.
Strip lights
The strip lights are surface-mounted suspended ceiling lights. They can be used are task lighting, accent lighting, backlighting, and decorative lighting.
The two ways in which strip lighting can be used in false ceiling designs are: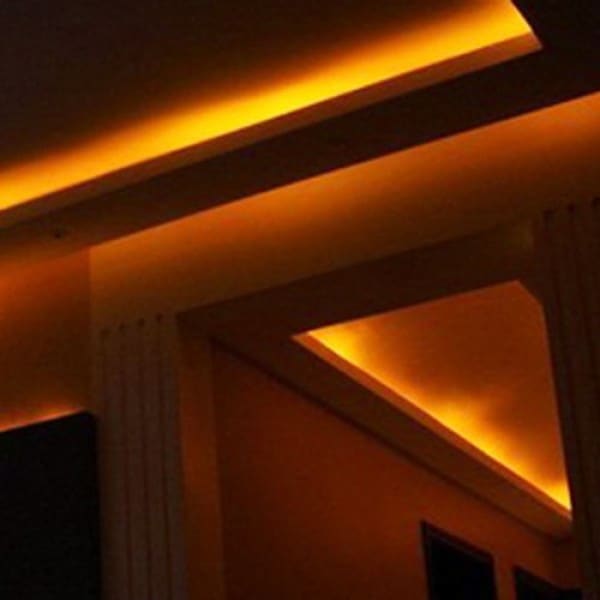 Image Source: Torchstar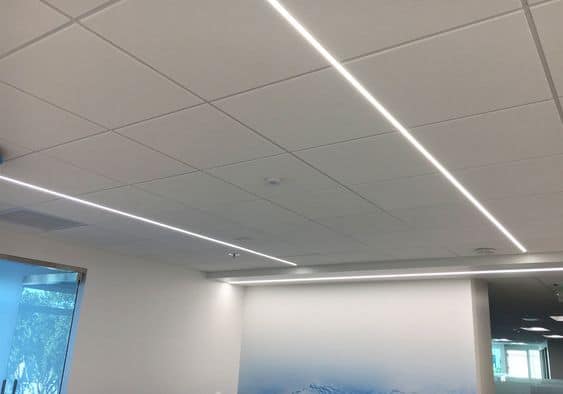 Image Source: Golden Eye Lighting



What is the difference between chandeliers and pendant lights?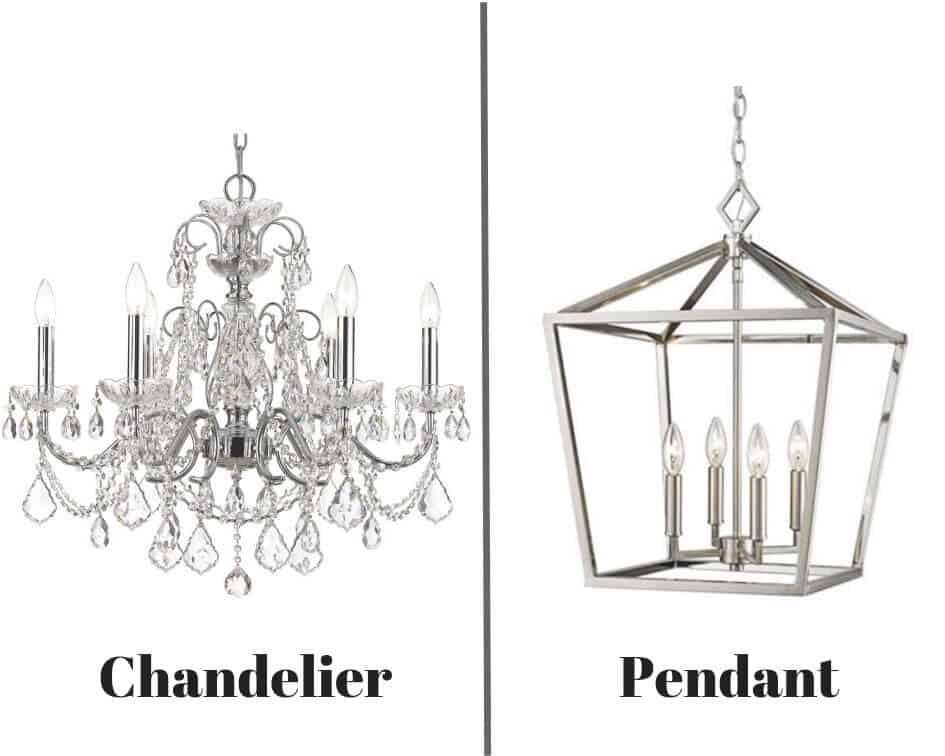 Choosing between chandeliers and pendant lights often becomes perplexing. Usually, because most people believe that they are suitable supplements for each other. However, this notion holds a big flaw.
Chandeliers and pendants are both ceiling lighting. But they differ from each other in almost every aspect.
Let's understand the difference between the two false ceiling light designs closely:
Specifications

Chandeliers

Pendant lights

Definition

Chandeliers have a central body that hangs suspended using a chain from the ceiling.

They have been in use for centuries. Their elaborate design adds elegance to the room.

Pendant lights, on the other hand, have singular fixtures (mostly). They have more defined shapes.

Suspension

They hang with a central body with individual or multiple lighted arms.
They hang as singular bodies from a central chain or rod.

Appearance

Usually more formal and intricate.
Lean towards a minimalistic and modern look.

Purpose

Designed for more ambient lighting.
Can work as a decorative ceiling lighting or a mood-setting suspended ceiling lighting piece.

Material

Usually made of glass, crystal, hand-forged iron, bronze, and steel.
Common materials- glass, plastic, metal, and fabric.
Can I use chandeliers and ceiling fans together with the false ceiling?
False ceiling lighting offers great ambiance and lighting to the room. However, sometimes, the room demands us to make a choice between a central decorative lighting piece and a ceiling fan.
If your room can accommodate a false ceiling with 2 fans, you can position a small chandelier between the 2 fans.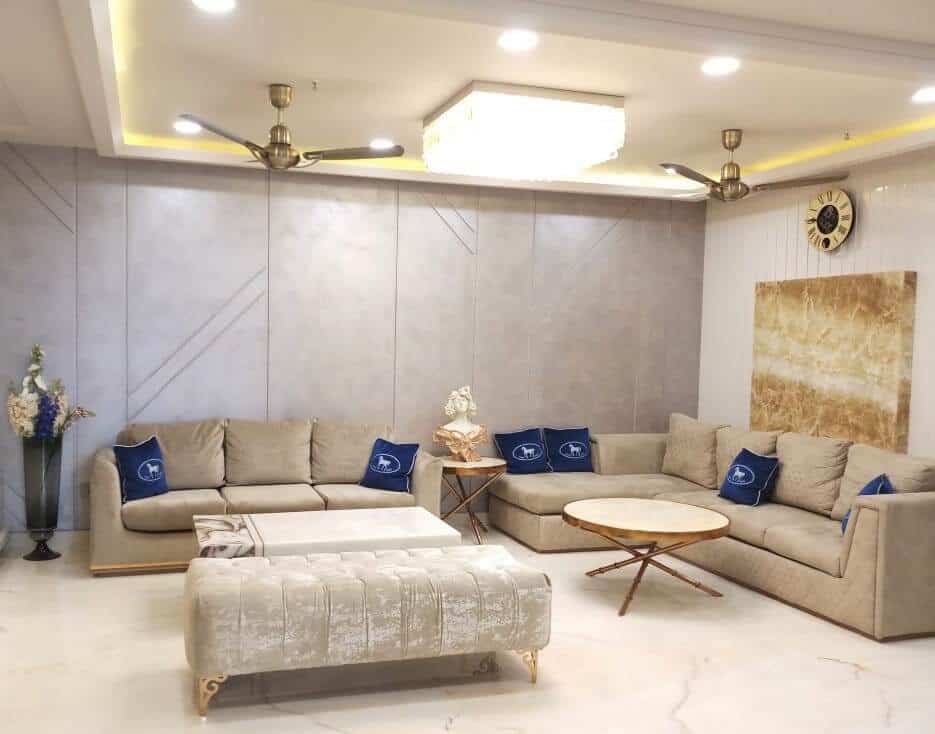 Image Source: Urban Company
However, if you have space for one fan only, you can install a ceiling fan with lights. So, this will serve the purpose of a fan as well as a decorative ceiling lighting system.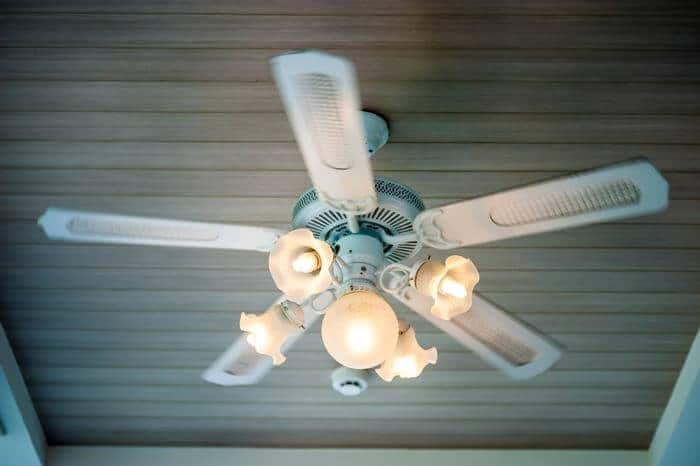 Installation Tips:
Optimum distance between fan blades and false ceiling: 8-10 inches.
Optimum distance between fan blades and walls: 18 inches.
How to choose the best false ceiling cove lighting?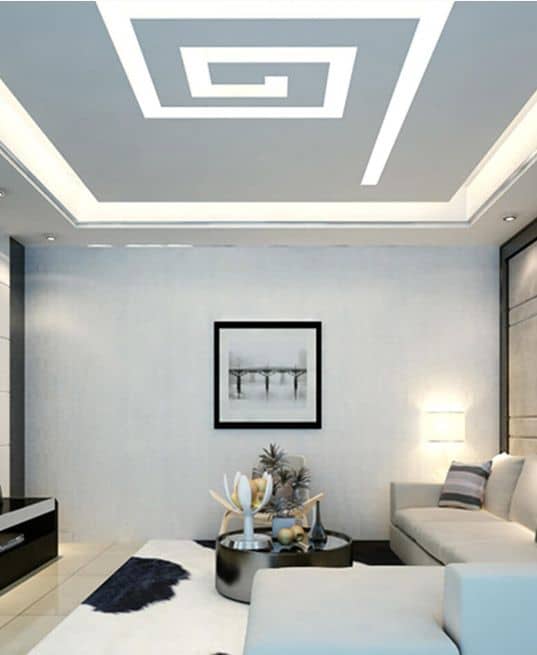 Image Credits: Gyproc
Suspended ceiling cove lights are indirect lights inserted in the ceiling depressions. Also, they add high decorative elements to the decorative ceiling light designs.
Therefore, you can ornate your ceiling with cove light to give a dramatic vibe to your room. Moreover, the false ceiling with cove light contributes to the comfort and coziness of the room too.
You must understand the types of false ceiling cove lighting before choosing the designer ceiling cove lights for your place: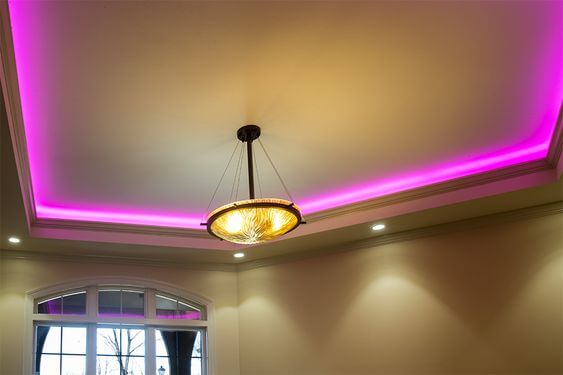 These are strong and bright lights. They last longer than rope lights. Additionally, the user can install a dimmer to control the glow of the ceiling cove lighting.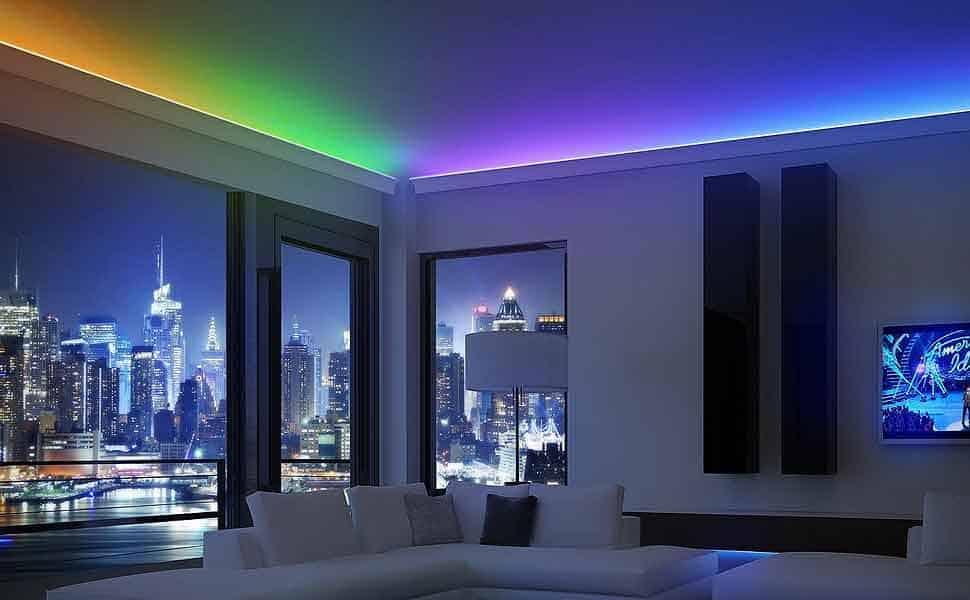 The budget-friendly decorative ceiling cove light is easy to install and looks pretty. Also, it uses minimal electricity and offers a soft glow.
These efficient lights, give eco-friendly lighting to the room. Also, they last much longer than any other type of false ceiling with cove lights.
Choosing the perfect ceiling cove lights requires consideration of the following points:
Type of ambiance required: Since the ceiling with cove lights offer coziness, they don't go well with offices and conferences. However, if you use other decorative lights such as chandeliers or recessed lights, the ceiling with cove lights will add to the beauty of the ceilings for offices.
Type of warmth needed: Fluorescent decorative ceiling cove lights are warmer and harsher than other ceiling cove lights.
Energy-efficiency: Always go for false ceiling LED light designs if you need energy and cost-efficiency.
False ceiling LED lights are energy-efficient singular bulbs. Also, these false ceiling lighting set the perfect mood and ambiance. They don't affect the eyes harshly. Moreover, they consume less power and give sufficient brightness.
False ceiling designs with LED lights can be used in a wide range of lighting such as:
Energy consumption: 4.8 Watts (minimum)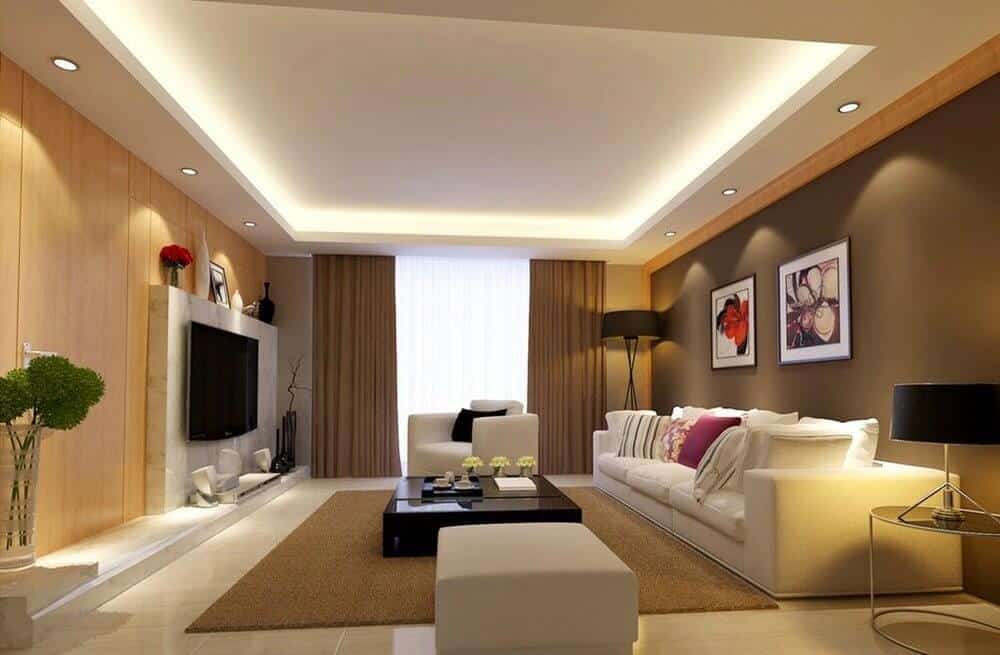 Image Credits: Home Technology
Installing LED lights for ceiling cove lighting offer subtle brightness to the space. Additionally, the use of LED lights makes the lighting energy-efficient.
Energy consumption: 5 Watts (minimum)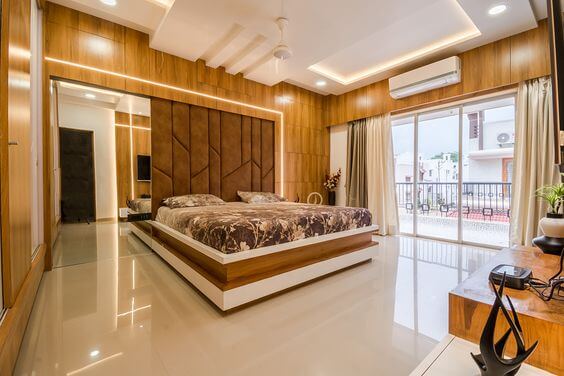 In order to enhance the ceiling design, install false ceiling LED lights all over it. Also, the LED lights can be installed as cove lighting, downlights, and recessed lights. This will offer the perfect ambient lighting.
Backlit ceiling panels with LED lights
Energy consumption: 7 Watts (minimum)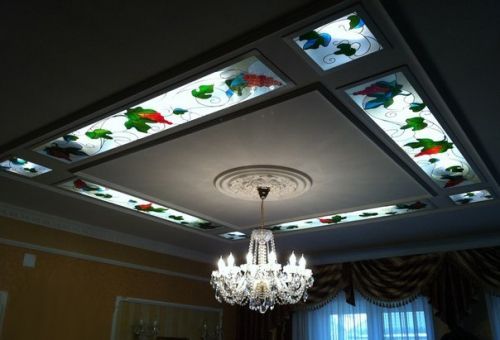 The backlight false ceiling designs are gaining wide recognition in Indian households and offices. Also, as the name itself explains, the decorative ceiling designs in such panels are enhanced by the backlights. Therefore, installing false ceiling LED lights gives you the desired efficiency.
Energy consumption: 4 Watts and above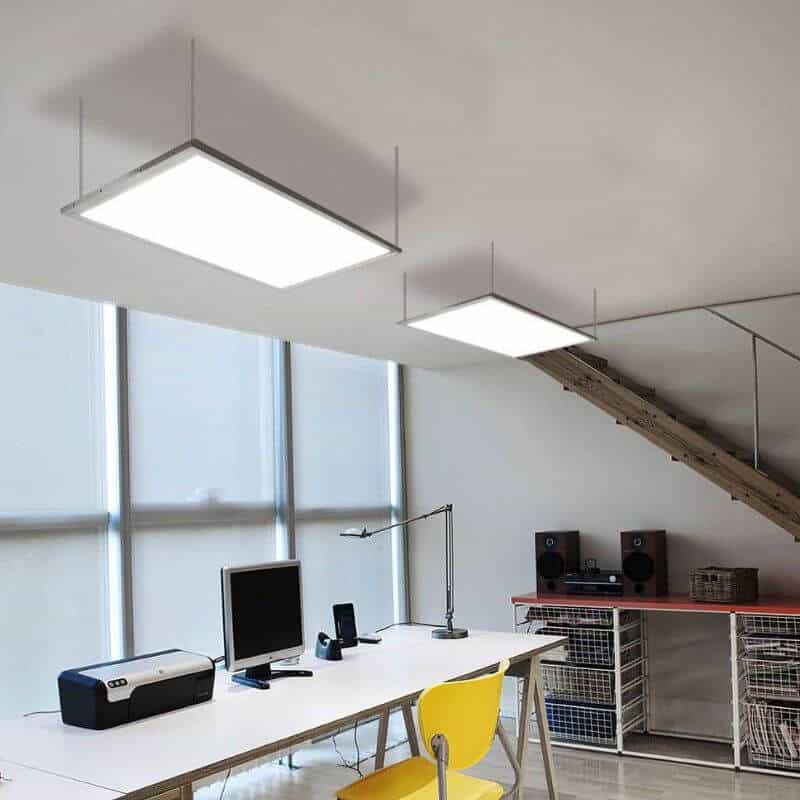 Image Credits: Alcone Lighting
The LED false ceiling light panels offer amazing task lighting. Therefore, they are ideal for offices, study rooms, etc.
Many brands offer energy-efficient false ceiling LED lights.
Why are backlit ceiling panels false ceiling lights trending these days?
The latest backlit ceiling lighting ideas have become the new talk of the town. In addition to looking extremely fancy and glamorous, backlit ceiling lights also serve the dual purpose of decorative ceiling and lighting in the same unit.
The backlit ceiling panels made of glass allow the LED lights installed inside to project outwards and spread brightness.
What are the common mistakes that people make while choosing false ceiling lights?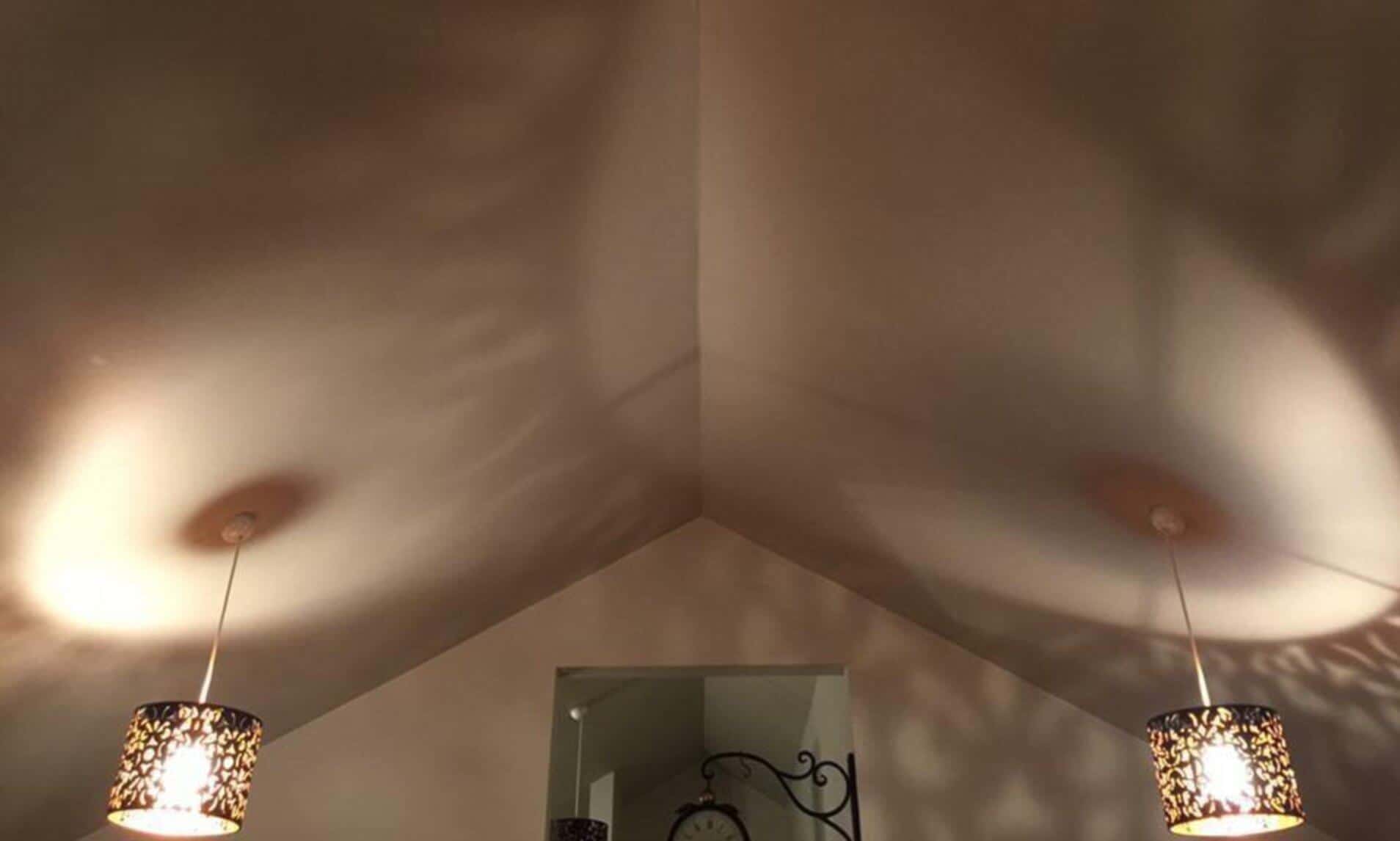 Often, the room feels dull and lifeless even with the most expensive and highly-rated ceiling lightings. Also, things look out of the place and darkness overpowers the light thrown into the room by the ceiling lights.
The reasons for such problems are the mistakes made while choosing the false ceiling lights-
Not considering where the shadow will fall
Installing the false ceiling lights in such a manner that the shadow falls in the wrong places gives uneven illumination.
Install suspended ceiling lighting in a way that lights reflect properly. Also, if you need general illumination in a big room, install ceiling lights at all corners of the room, and add a beautiful lighting piece in the center.
A huge chandelier above a small dining table looks extremely disproportionate.
Determine the size of the decorative ceiling with lights beforehand. This will give you a better idea of what you need when you finally go to buy it.
Hanging the false ceiling lights design too low or too high hampers the illumination of the room.
Therefore, install the ceiling with lights at a proper length. Also, the average distance between the lower end of a chandelier and the floor remains about 1.6-1.8 meter.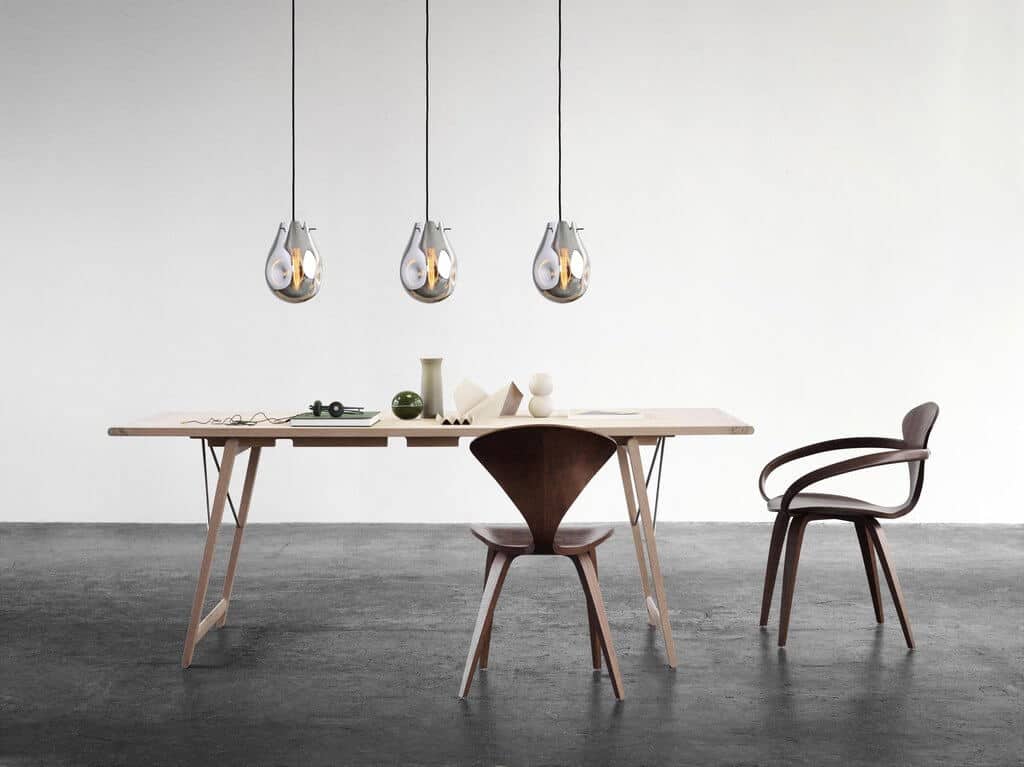 Incorrect energy source
Buying a decorative light or a ceiling light is a one-time investment. However, real investment comes with its daily use. Therefore, don't cut down on the lighting fixture budgets.
Hence, use energy-saving lights such as Philips LED false ceiling lights or Havells ceiling lights.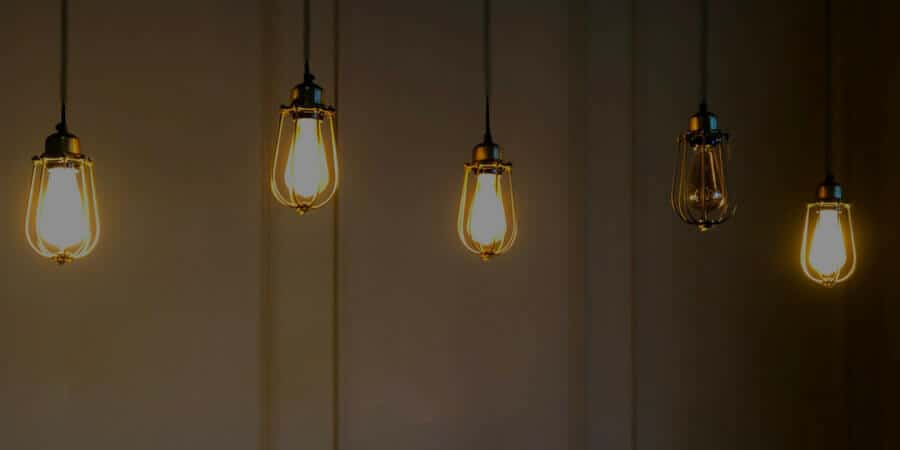 How to pick the perfect false ceiling lights for living room?
Living rooms hold great importance in any home. Therefore, you must pick the best decorative ceiling lightings for living room.
As far as choosing the right lighting for living room is concerned, we don't have a standardized set of rules or guidelines. However, we have mentioned some ways to use false ceiling lighting for living room:
These false ceiling lighting for living room offer a soft and comfortable ambiance.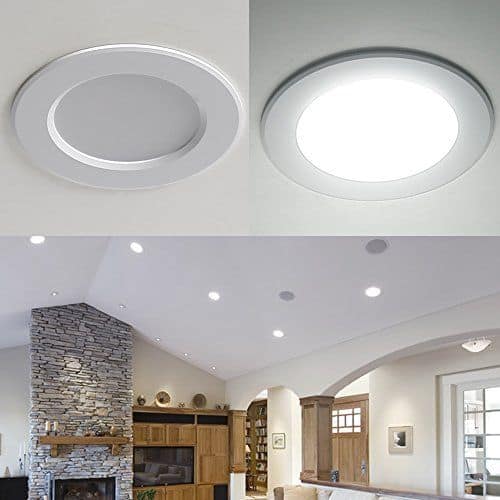 The false ceiling with cove light gives an understated sophisticated look to the living room.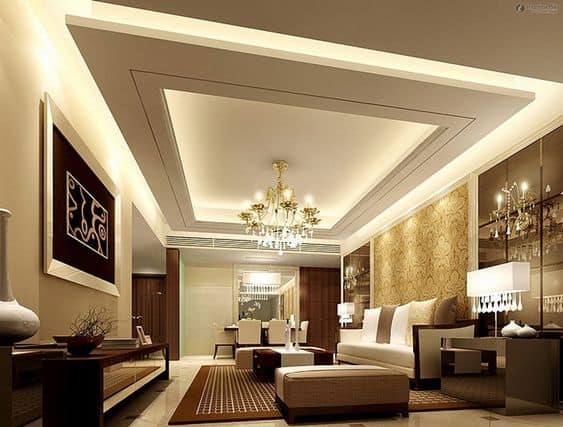 False ceiling designs with lightings for wooden panels
Wooden panels add a beautiful dimension to the living room. Also, embedding lights in these panels make the living room look extremely aesthetic.
Adding a great centerpiece to the living room ceiling does wonder. Therefore, install an exotic chandelier or pendant lights to set the right tone of the living room.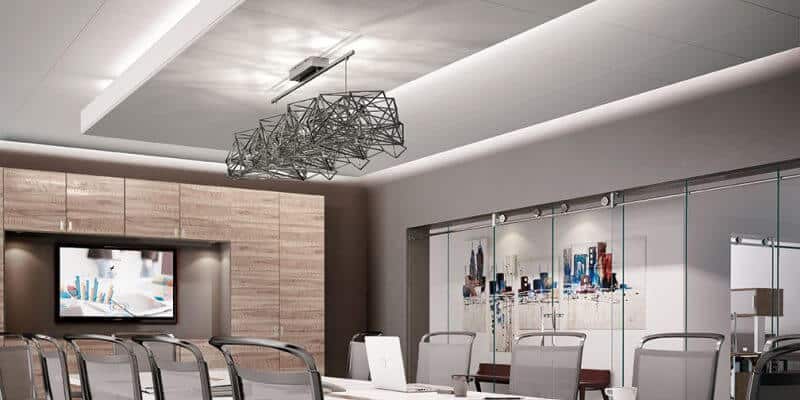 Incorporate decorative ceiling lighting into the living room. Also, you can add a false ceiling lighting piece that adds a soft style to the room.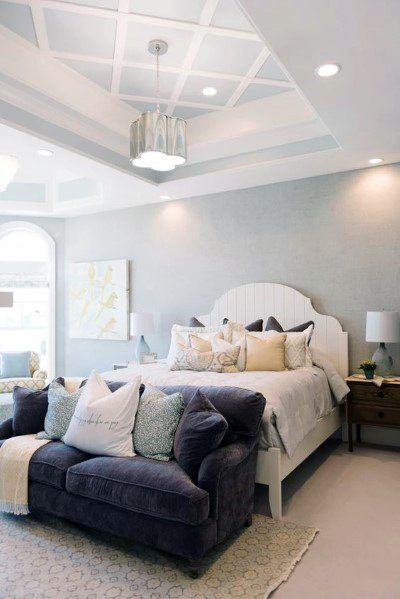 Backlit ceiling panel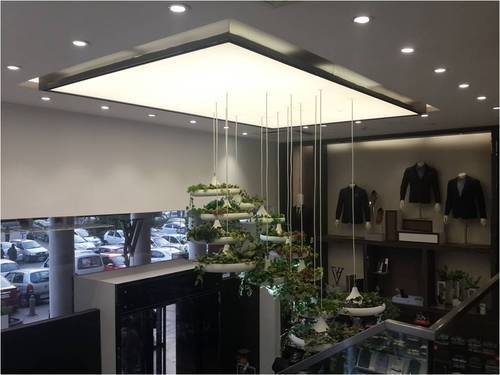 Bedrooms have always been an integral part of a household. Hence, you should put a lot of thought while choosing decorative ceiling lightings for bedroom.
Thus, we present some tips for the perfect placement and selection of false ceiling lightings for bedroom and some interesting false ceiling lighting ideas:
Install beautiful LED lightings as cove lighting or strip lighting in the trays of your modern false ceiling design for bedroom.
Use track lights for bedroom
There was a time when track lights were used only in kitchens and corridors. However, the latest trends incorporate track decorative ceiling lightings for bedroom. They add a beautiful modernistic touch to the room.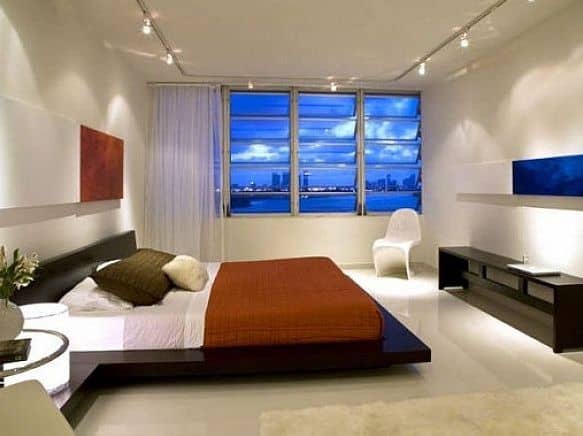 Get unparallel illumination with spotlights for false ceilings
Spotlights add stylish functionality to the decorative ceiling lights for bedroom. Also, most bedrooms also function as a study room.
Moreover, the latest work-from-home culture has converted the bedrooms into offices also. Therefore, you need sharp false ceiling spotlights. In addition to that, a row of recessed spotlights for false ceilings never goes wrong.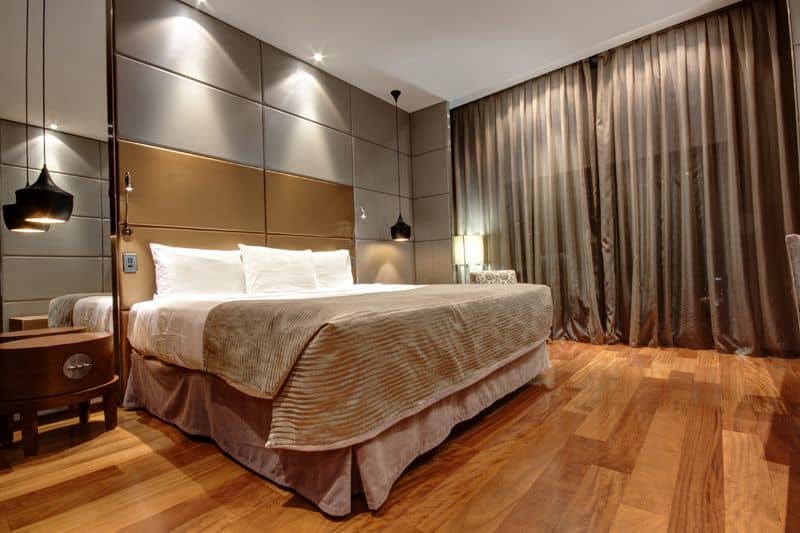 If you have kids, you don't have to look for farther to make their rooms creative and cute.
Simply, design your bedroom ceilings in playful shapes and add LED lights to them.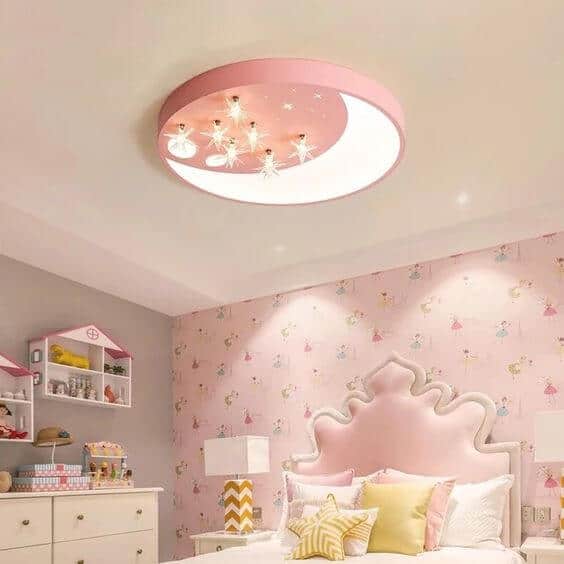 Go eclectic
Jazz up your bedroom's decorative ceiling with electric shades of ceiling lighting designs. Also, these shades will also give you the best colours for ceiling.
What is the average false ceiling lights price in India?
The false ceiling lighting price varies greatly. Also, it depends on the product, material, brand, lighting source, and many more factors.
Here is a list of some of the decorative lights price:
TISVA Castillo Chandelier luxury lights price: Rs. 4,99,000.
Havells lights price for Brito Pendant light: Rs. 2775
Oorjaa Oyster Mushroom Pendant lamp lights price: Rs. 38,526- Rs. 73,348
Syska 35-Watt lights price: Rs. 12,500
Philips LED lights price (Strip Lights for backlit ceiling panels and cove lights): Rs. 1,500
Here is a list of lighting fixtures prices:
Please include attribution to https://buildingandinteriors.com/ with this graphic.

Exclusive Gallery – False Ceiling Lights Images
Conclusion
Decorative ceiling lightings add beautiful functionality to the rooms. Also, they come in a variety of ranges in terms of functionality, design, style, and prices.
This FAQ article aimed at solving all the queries related to the types of false ceiling lighting such as cove lighting, LED, track lighting, chandeliers, etc.
In addition to that, the article also had a false ceiling lighting price list from the major lighting types and brands of India.
The article also dealt with the proper selection and installation of these decorative ceiling lightings.
Use the comprehensive visual guide attached to the article to make the right decisions regarding ceiling lighting.
If you want to buy top-quality lighting solutions from the best brands, click on the link given below to check your options and submit your inquiries:
For more details, contact below:
Email: mukul.jain@buildingandinteriors.com
Mobile: +91 99676 32127
[vvsmustread]