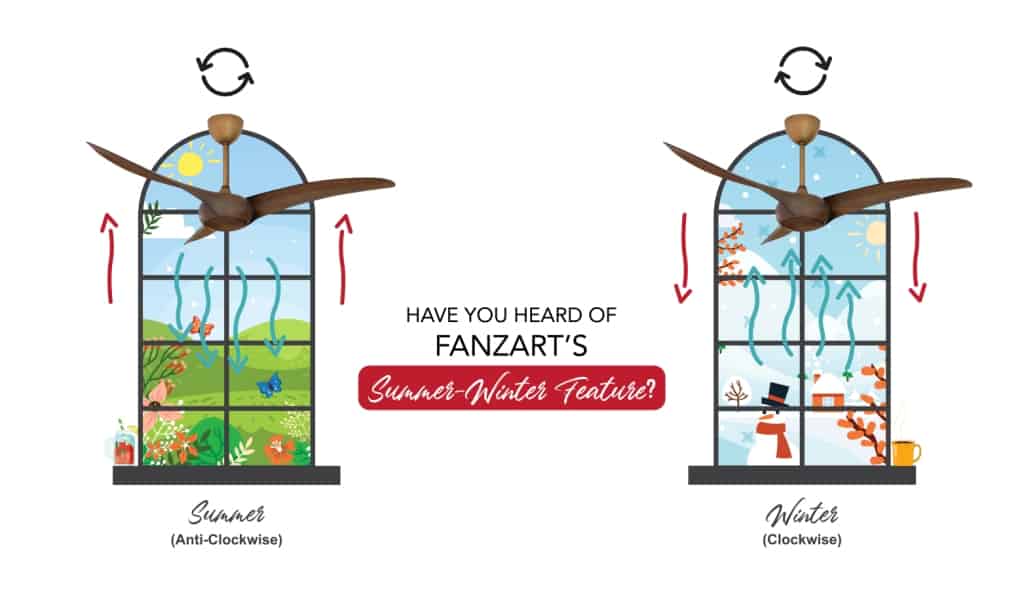 If some asks you to buy a fan during winter, what would your reaction be? Obviously, you will think that the person is crazy, otherwise who would want to freeze to death.
But what if we tell you that there is a fan that can actually be used during winters, the obvious question would be how?
Well The luxury fan maker, Fanzart has developed a fans for winters. This fan actually makes your room warmer. Sounds absurd! Isn't it. But that what Fanzart has developed – Fanzart's exclusive and unique technology: the summer-winter feature!
So, what is the summer-winter feature? Here's how a fan traditionally works: it rotates anti-clockwise to create a vortex that pushes out cool breeze, sending gusts of winds your way while pushing the hot air up.
However, come winter, we switch the fan off because we want some heat to keep us warm. However, it also causes our room to become stuffy, as there's little to no air circulation. And that's where the 'winter' part of our summer-winter feature comes in!
Fanzart's fan is bi-directional – which means they can rotate both clockwise, and anti-clockwise. During winters, you can use your remote to switch the fan's direction, causing it to rotate clockwise – that would reverse the process, and allow the fan to effectively circulate the warm air around the room! The 'cozy warm air effect', as we call it, will ensure the balminess of the room is maintained, and that the room will no longer feel stuffy either!
Furthermore, what's pertinent to note is that the Summer-Winter feature will help you save a ton of money too. You won't need to spend on an air conditioner in the summers, or a heater in the winters, as these bidirectional fans will solve all your weather woes. And oh, did we mention that these fans are equipped with an energy-efficient DC motor, and consume just 30 watts of power while in use? That's three times as less as a ceiling fan, forget air conditioners and heaters!
Speaking about the technology, Anil Lala, director of Fanzart India said, "In summers, our summer-winter fans will cut back on the need for air conditioning, without sacrificing comfort, while in winters, you can stay warm with the unique technology. Ideal for adding comfort to a bedroom or family room, the summer-winter fans can be used for cooling or heating a space year-round."
Furthermore, he adds, "In winters we usually don't have air circulation and hence feel stuffy. Our technology will help circulate cozy warm air. The fan blades can be customized to match any lacquer finish interior, too, which makes our fans charming, efficient, and versatile. Balancing aesthetics and the best of technology, these fans are sure to help users save on energy bills all year long, and its unique wooden design promises to be the center of attention in every season."
Presently, the summer-winter feature is available in over 30 of Fanzart's fans – including the Maple, a sleek five-blade fan that exudes gorgeousness. It also boasts the standard Fanzart technologies – whisper-quiet technology, three times the airflow, and low power consumption!
Alternatively, you could visit their website and learn more about Fanzart and its products here: www.fanzartfans.com