Hafele ASKO laundry Care is a comprehensive product which is an amalgamation of a set of useful products, that has been launched to make your life easy and comfortable. ASKO Laundry Care consists of the following products:
WHY ASKO WASHING MACHINE?
Since the mid-20th century, Asko Washing Machines have been built for reliability, durability and versatility. The enduring attraction of high quality components and workmanship can't be imitated, making Asko a stand-out performer in homes all around the world. All Asko washing machines achieve enviable water saving-star ratings that only the best manufacturers can provide. Achieving the right balance between technology, power output, manufacturing quality and energy efficiency is no small feat, allowing Asko to showcase the best products without distraction.
HIGHLIGHTS: WASHING MACHINE
Careful Washing
For Asko's Washing Machine by Häfele it is not an impossible equation to both care for your clothes and efficiently make them clean. The solution is its cleverly designed Active Drum™. It is perfectly balanced to maximize both cleaning and laundry care, even for wool and other sensitive garments
Save Time
A day full of commitments, a crowded agenda, and almost no time to wash. In this situation, the new and effective Quick Pro programme of Asko's Washing Machine by Häfele, comes in handy. It helps you get a perfect wash and rinse result in less than an hour.
Larger Door
To load and unload bedding, carpets or down jackets is a tough job and can cause unnecessary wear and tear on your clothes. The Asko Washing Machine has solved the problem by removing the traditional rubber bellows to get a larger, smoother and more hygienic opening. We call it Steel Seal™.
Vibration-free spinning
Quattro Construction™ is a unique yet simple system consisting of four shock absorbers that transfer the vibrational energy from the outer drum to the bottom plate of the machine. In fact, the entire construction stands inside the casing and spinning at even maximum rpm can be achieved virtually free of vibrations.
Increased number of rinses
In most washers, you can set a higher water level to improve the rinsing result. However, it's more efficient to increase the number of rinses. With Asko's Super Rinse system, the number of rinses increases to seven and all residual detergent is washed away; a must for people with sensitive skin and allergy sufferers.
Clean laundry and clean conscience
Being a considerate company, Asko tries to preserve more than just your clothes. This is why the washer has an A+++ energy rating. It's also why Asko spends so much effort to minimize water consumption using SensiSave™, which adjusts the amount of water according to the weight of laundry.
Click here to see the technical specifications of Washing Machine.
WHY DO YOU NEED A DRYER?
Dryers are convenient appliances favoured by most home owners. In a world where every family member is constantly on the go, it's all too easy to fall behind the wash cycle when relying solely on a clothes line. The problem is exacerbated when the weather is wet and cold, making Asko Tumble Dryer by Häfele the sensible alternative to unsightly clothes lines draped across verandas and living rooms, dripping water everywhere. There are several major advantages of owning a quality tumble dryer: 1: You can dry almost anything, anytime. Dry your clothes and other washables at any time of the day, regardless of the weather, and enjoy the warm, cosy feeling of dry garments. 2: You will save time and effort. Asko's Tumble Dryer programs provide automated and personalized solutions for every type of wash. There is no need to battle against rain or wait for fine weather, and urgent wash loads can be ready whenever you need them. 3: Your home can be clean and tidy at all times. With Asko tumble drying you can avoid damp, smelly items choking up the room. Your clothes will always remain clean and fresh, and there is no need to rush home to take clothes off the line whenever it starts raining.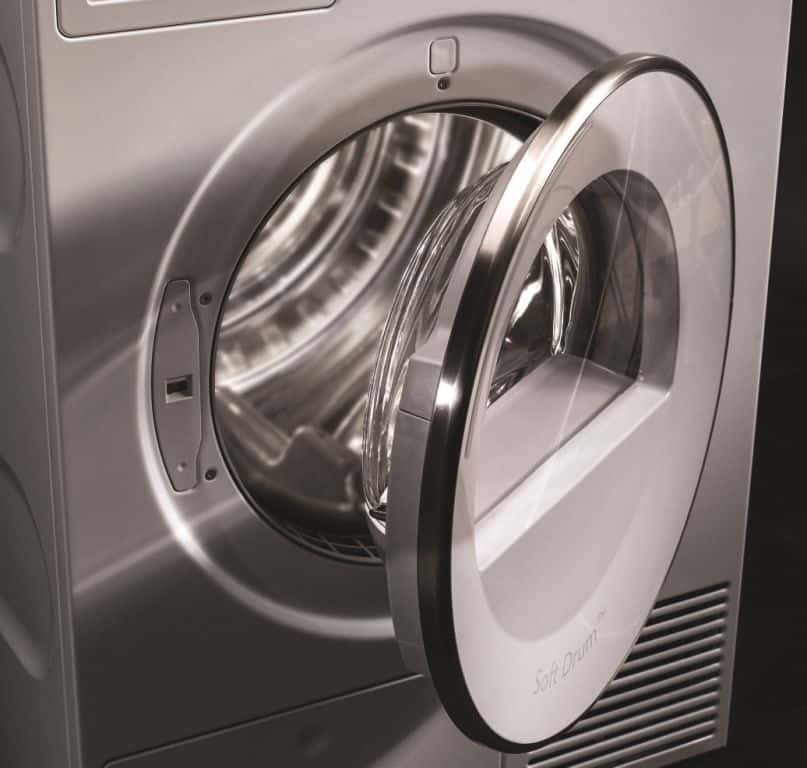 HIGHLIGHTS: TUMBLE DRYER
Ultra Silent
With all the noise of modern living, it´s nice to know that there is a tumble dryer designed to bring some peace and quiet to your home. The Asko Tumble Dryer by Häfele is so silent, you´ll barely notice it. And that means you´ll be able to focus on more important things.
Sturdy construction
The Asko Tumble Dryer is built on a solid steel base with steel feet and instead of a galvanized steel drum it uses one in high quality stainless steel. And just to ensure a smooth and trouble-free operation, it has been fitted with up to six ball bearings carrying the drum and the motor
Ready when you want
Quick Pro is a program that dries the laundry really fast within less than an hour. This is one of the many features in the new Asko Tumble Dryer by Häfele that will make life easier for you.
Non-stop ButterflyTM drying
The Asko Tumble Dryer by Häfele tumbles laundry in a figure of an eight, like a pair of butterfly wings, gently, non-stop and in less time, to spread the garments out and allow air to evenly circulate through them. This prevents bundling and minimizes creasing in your clothes. This also saves both the belt and the motor, providing greater durability
Intuitive SensiDry™ System
Your Asko's Tumble Dryer by Häfele knows when your clothes are dry. Asko's unique SensiDry™ system gauges the remaining moisture and automatically stops once the clothes are dry. Not a minute longer. This saves energy.
Twice as tough on lint
Lint impairs circulation inside the dryer, which leads to higher energy consumption. This is why the Asko Tumble Dryer by Häfele is fitted with a particularly efficient double filter. This prevents lint from gathering and increases the service life of the dryer.
Click here to see the technical specifications of Tumble Dryer.
WHY DO YOU NEED A DRYING CABINET?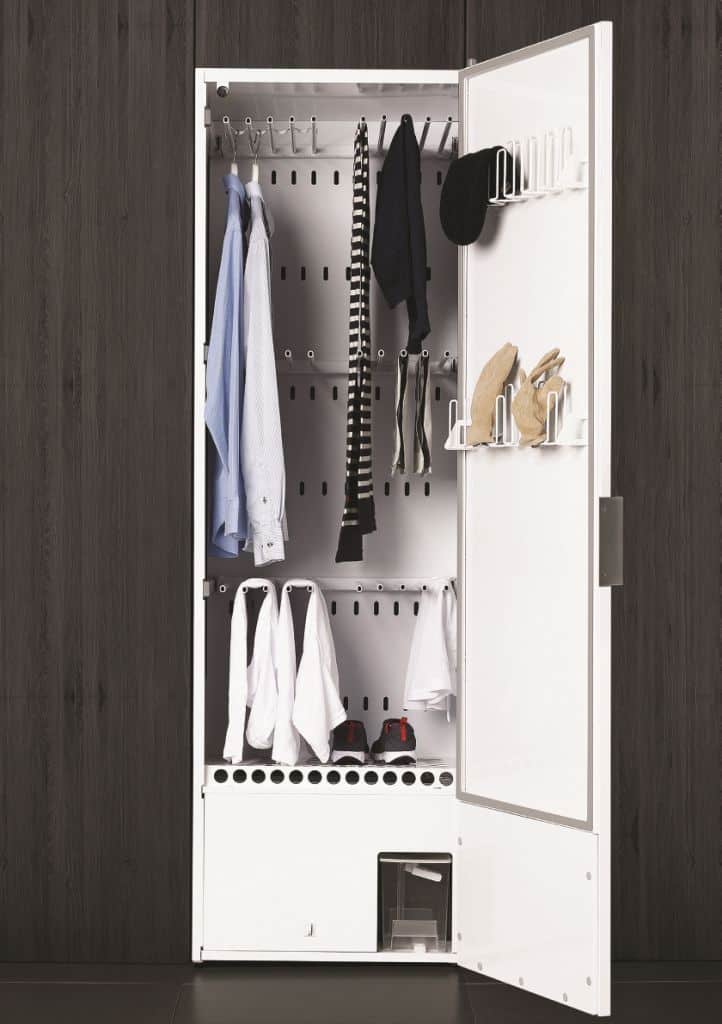 Drying cabinets are common in places where the climate often requires that you can dry all types of clothes quickly, even shoes. A drying cabinet is practical but also gentle on your most sensitive fabrics since it uses no mechanical action that can wear your clothes, the air stream transports residual moisture and it's almost like drying outdoors.
HIGHLIGHTS: DRYING CABINET
Welcome to space
A drying cabinet dries wet and damp clothes, shoes, boots, gloves, hats and many other things that can get wet without needing to be washed. Asko Drying Cabinet by Häfele has three rows of foldable pull-out hangers, equivalent to up to 16 metres of clothesline (3.5 kg capacity).
Drying with extra care
Check the labels on your clothes and you'll see that many garments and materials need very careful treatment. Silk, velvet and satin, for example, need to be handled with care. That's when the Asko Drying Cabinet by Häfele comes in handy.
Less mess
With Asko's Drying Cabinet by Häfele, you can dry your family's sweaters, shirts, coats, shoes, gloves and more in a neat, organised way. It's a brilliant way of taking care of your family's clothes while keeping the house neat and tidy.
Advanced technology makes things easier
Smart, easy to use, time and energy saving there are many benefits to the Auto Programmes built into the Asko Drying Cabinet by Häfele. Just choose the programme and options you want, and the drying cabinet will automatically turn off once it's ready and your clothes are dry.
Click here to see the technical specifications of Drying Cabinet.
HIGHLIGHT: HIDDEN HELPER
Your laundry room just got bigger with Asko's Pullout Ironing Board by Häfele!
Do you have problems finding space for your ironing board? Have you looked between the washer and the dryer? We have! Right there is a simple yet obvious and well-conceived solution that is always on hand when you need to iron your clothes, but safely and invisibly stored away when not in use.
Click here to see the technical specifications of Hidden Helper.