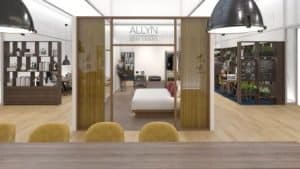 The smart hotel is the result of an intensive cooperation between Hafele and a startup hotel brand ALLYN (an acronym for ALL You Need) of the hotel industry expert Alain Cheseaux and the hotel planner and think tank Monoplan, both from Zurich. This to-the-scale-concept will be on display during BAU 2019 as a sample room and central hotel areas including foyer with self-check-in, conference and co-working ambience, "living room" and bar. Guest target group is the business traveller in medium and large cities. ALLYN is based precisely on the comfort that hoteliers need to operate in for the guests during their hotel stay. The public area serves as a living room and offers space to exchange and work. Digital components such as a perfect Wi-Fi network, self-check-in, smartphone key, the app for booking individual services are part of the overall concept.
The hotel mock-up makes it possible to experience how, with the Hafele hotel range consisting of more than 300 products, hotel rooms are designed down to the last detail – from the entrance door to the bedside lamp to the bathroom accessories. In Hafele's solutions for the hotel industry, forms and surfaces are perfectly matched. When designing guest rooms and bathrooms, planners and operators can quickly and purposefully select the matching products and systems. They also benefit from worldwide availability of solutions from Hafele, consistent quality and design.
The now realized concept "ALLYN stay smart" promises the real estate owner above-average returns and the guest, at an unbeatable low room rate, a comfortably smart ambience. This creates an all-round fascinating and inspiring win-win situation for everyone involved.
As a hotel specialist, Hafele combines international expertise with local presence, has a unique range of furniture and construction fittings worldwide and optimized procurement for every construction task. The property and hotel experts of the company reliably support Architects, Builders, Developers, Planners, Contractors and Fabricators right through all the project stages. Large assortment width and manufacturer-neutral advice around the door and the furniture are the central pillars of a 360 ° object competence, from which large hotel chains such as Hilton, Hyatt, IHG and Mariott, as well as family-run private hotels, youth hostels and the hostel market stand to profit. Numerous innovative products – heated and illuminated bathroom mirrors with sound, flexible storage space with easy storage, digital interfaces to building control and smart home – ensure comfort and future viability. All this translates into 'More life per square meter in the hotel'.