Hinges are the unsung heroes behind every properly functioning door or window. The smooth performance of all types of doors depends on the quality of the hinges. The uses and meaning of hinges are quite simple to understand. They are a type of moveable joint that connect two parts of a door together, where one part is fixed and one can move. All doors, windows, and kitchen cabinets function effectively with the use of various types of hinges.
There are different types of hinges available like butt, barrel, air, and concealed hinges among others for the different types of doors and openings. Additionally, the selection of the hinges depends on the purpose, placement, load-bearing capacity, and cost.
In this article, we will guide you about the various parts that make hinges, the different types available in the market, and their uses. Also, you can buy from our curated list of innovative and high-quality brands for hinges.
If you want to buy top-quality hinges and hardware at wholesale price from the best brands, click here:
For more details, contact below:
Email: mukul.jain@buildingandinteriors.com
Mobile: +91 99676 32127
Parts of Hinges
Before purchasing hinges you need to understand how a hinge works and for that you should know about the different parts that make a hinge. Most hinges generally have the following parts:
Hinge leaf: These are the parts of the hinge that you fix into the door frame. 

Knuckle: A knuckle means the cylindrical part of a hinge through which the pin passes.

Barrel: A barrel consists of knuckles placed in a row.

Pin: A pin is a rod-like part which slides through the knuckle.
Types of Hinges
 The different types of hinges generally used for doors and kitchen cabinets:
Butt Hinge 
A butt hinge is one of the most popular types of hinges. It consists of a set of two leaves joined by knuckles. They are generally made of stainless steel. Butt hinges are generally available in three types: spring-loaded, ball-bearing, and rising butt cabinet hinges.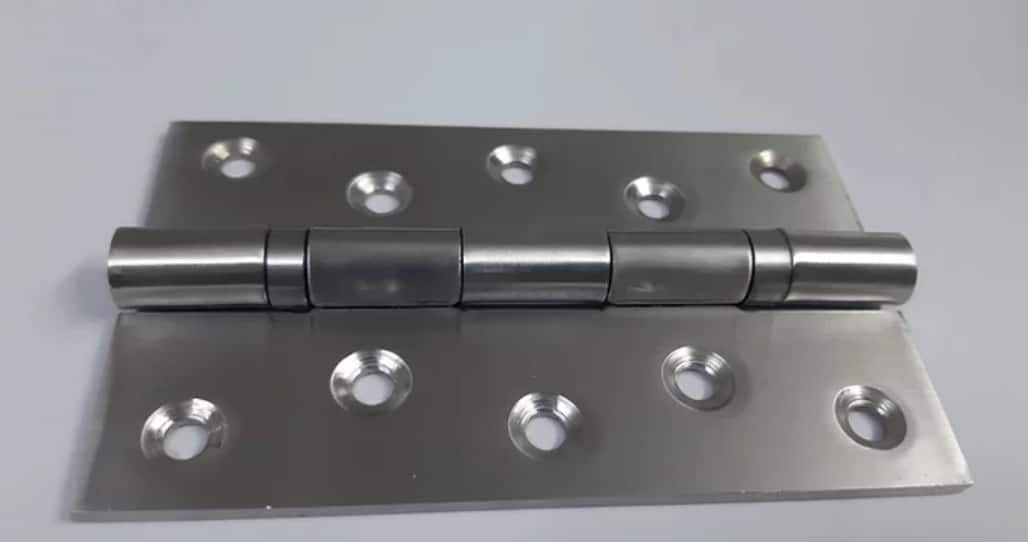 Image Source: Nature International
The ball-bearing hinge is a commonly used type of butt hinge. These have concealed bearings between the knuckles of the hinge, which minimize friction and help in the smooth functioning of doors. Since ball-bearing hinges have heavy load-bearing capacities they are ideal for main doors.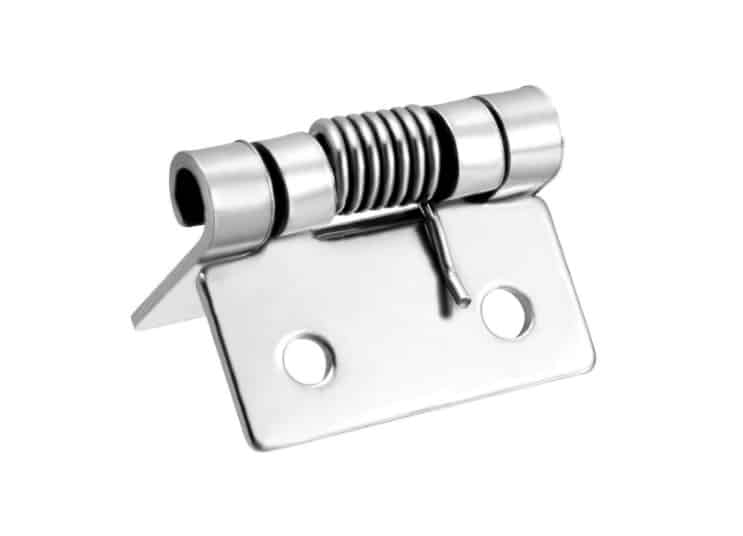 Image Source: Deal Mux
When you want a door to close on its own, a spring-loaded hinge should be used. In the case of heavy-duty doors, multiple springs can be used to ensure smooth self-closing.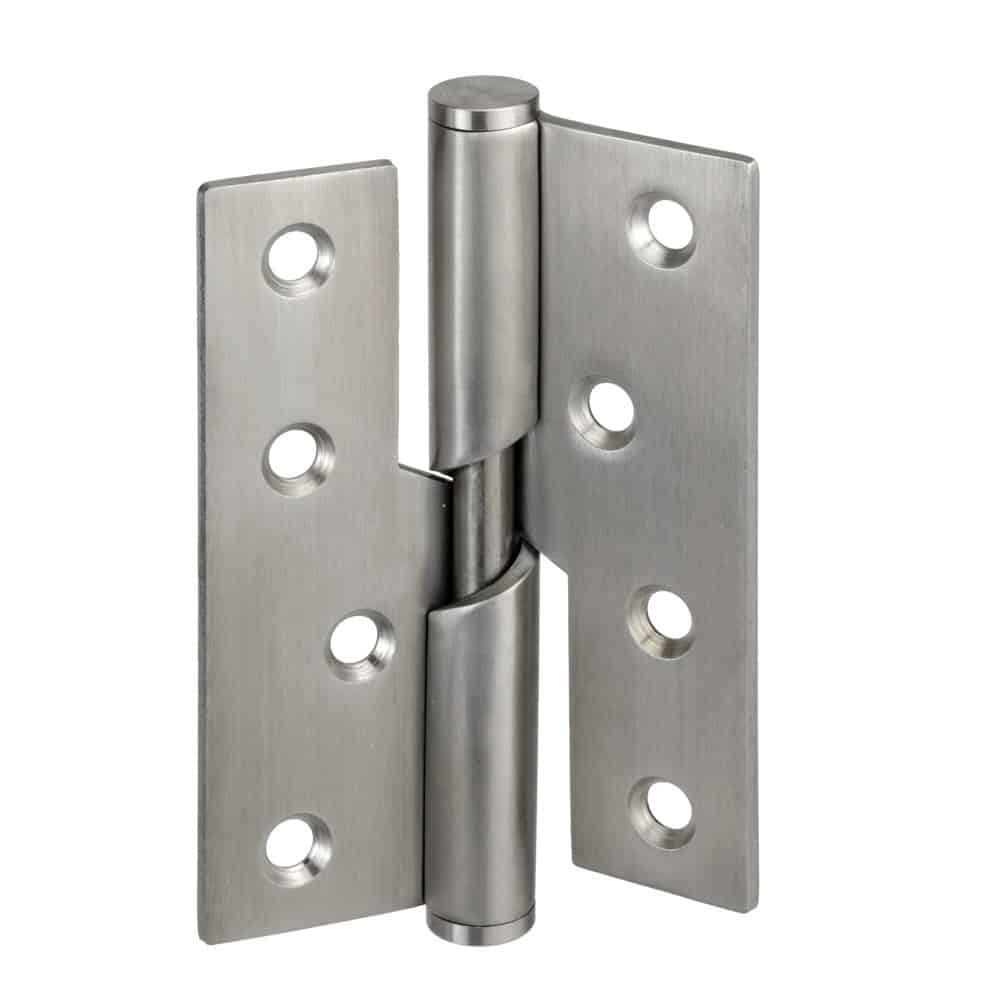 Image Source: Handle King
When you need to raise the door by half an inch to clear space for a threshold or thick carpet, you should use a rising butt hinge. It looks like a regular hinge on closed doors.
Case Hinge
Image source: Lee Valley Tools
The case hinge is also used for heavy and large entry doors like the butt hinge. However, the biggest difference is that the case hinges are more stylish and decorative compared to the butt hinges. 
Barrel Hinge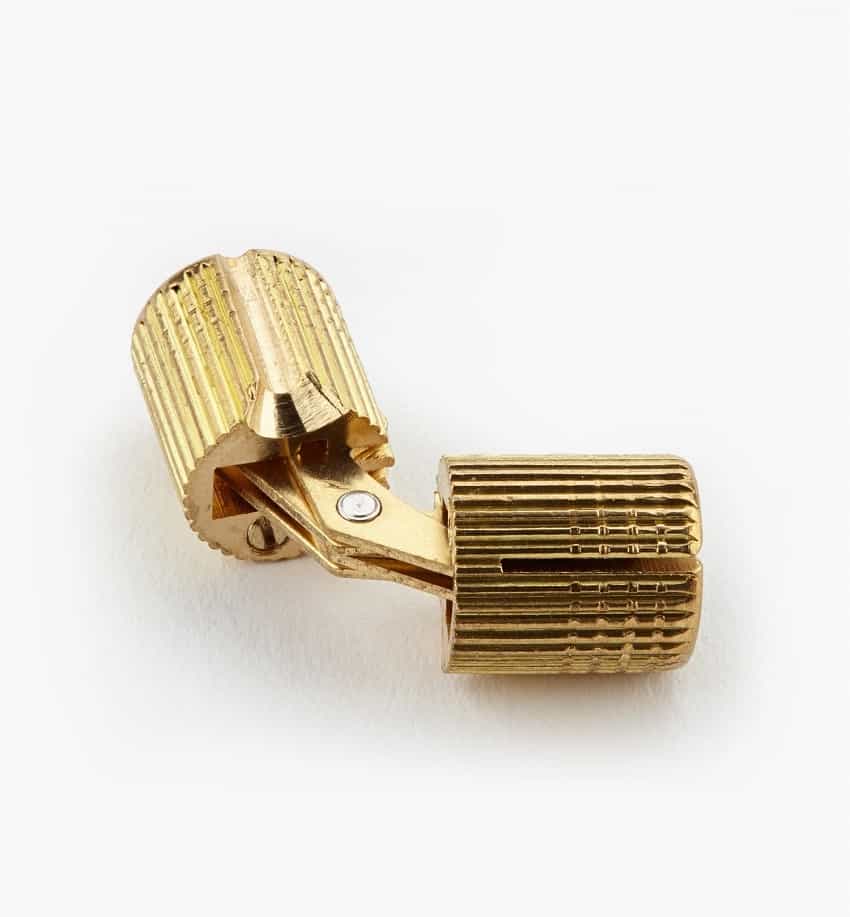 Image Source: Pinterest
Generally used for cabinets and jewellery boxes the barrel hinge is made of brass, can open up to 180 degrees, and is totally invisible on both sides. 
Concealed Hinge
Image Source: Assa Abloy
A concealed hinge has two parts, a pivot, and a bracket. The hinge should be installed in the space between the door and the doorframe to make it invisible. The pivot installed allows the door to open at a 90-degree angle.
Pivot or Knife Hinge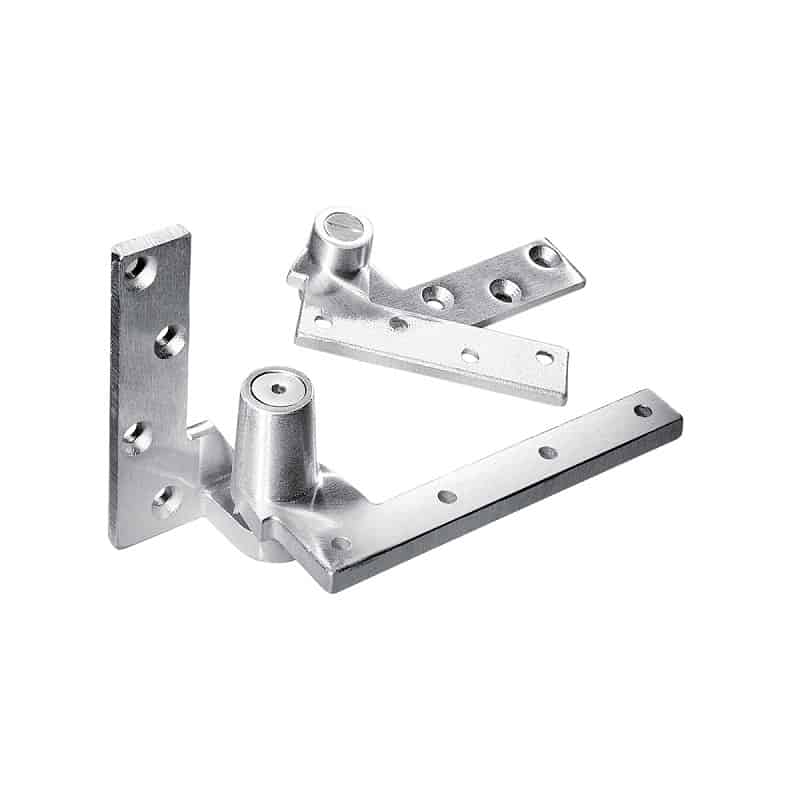 Image Source: Dormakaba
The pivot hinge also known as the knife hinge works well for large doors. These keep the door aligned by pivoting and resemble the blades of a pair of scissors.  Common for restaurant doors these allow the door to sway both ways.
Overlay Hinge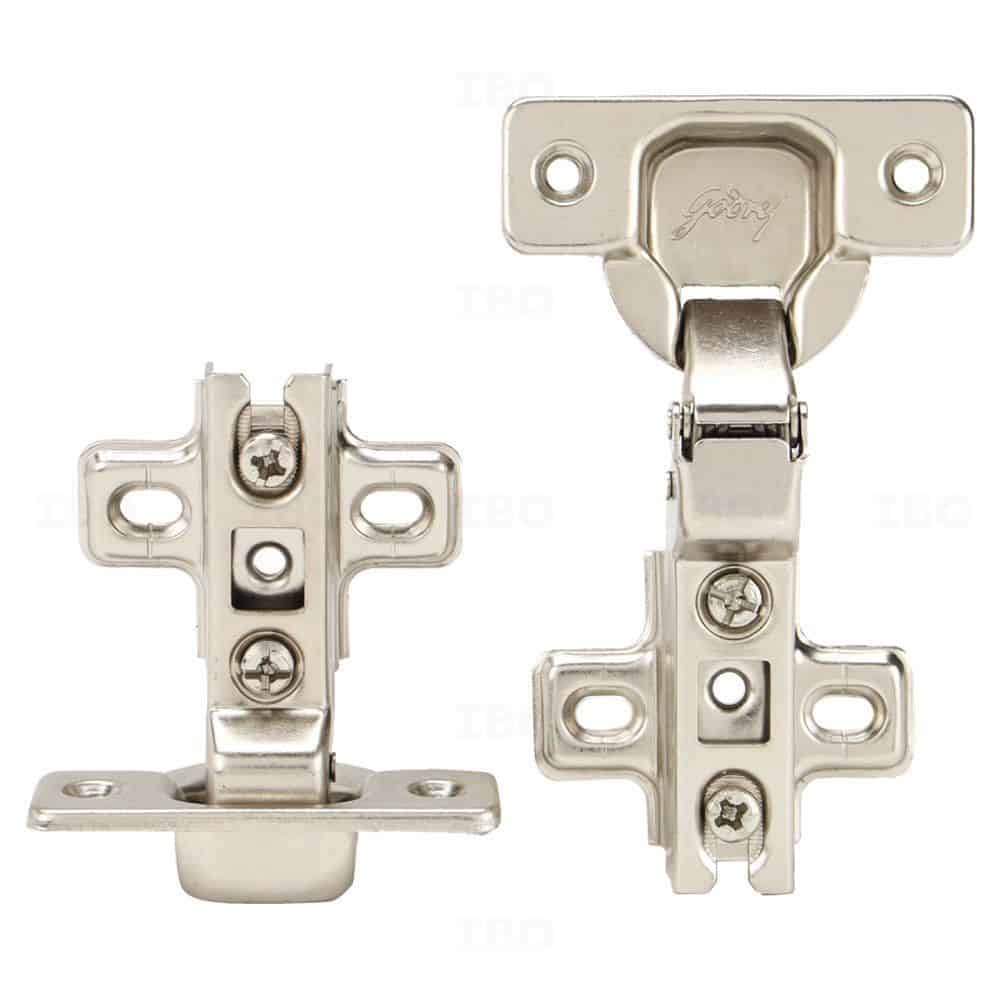 Image Source: Godrej
Mainly used in cabinets the overlay hinge is of two types: partial overlay hinges and full overlay hinges. A full overlay hinge should be used when the door covers the entire opening of the cabinet while a partial overlay hinge should be used when a part of the cabinet opening remains exposed. 
Offset Hinge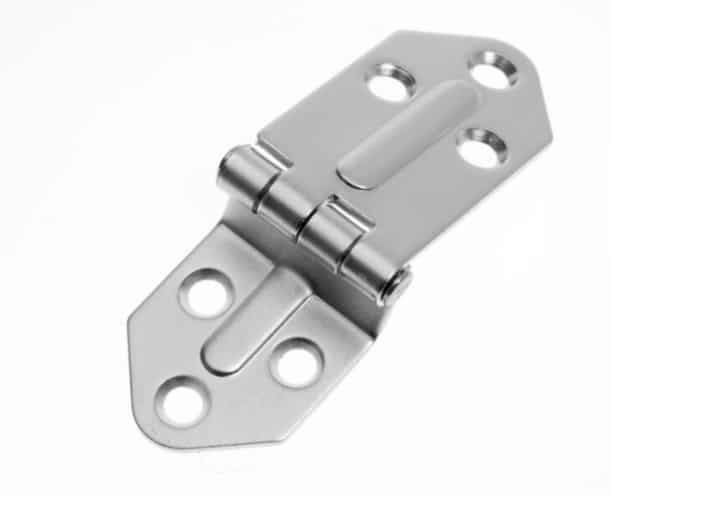 Image Source: Roca Industry
The Offset hinge should be used for doors where the opening is wider than the standard size. These allow the door to swing up to two inches away from the frame to make the opening bigger.
Piano Hinge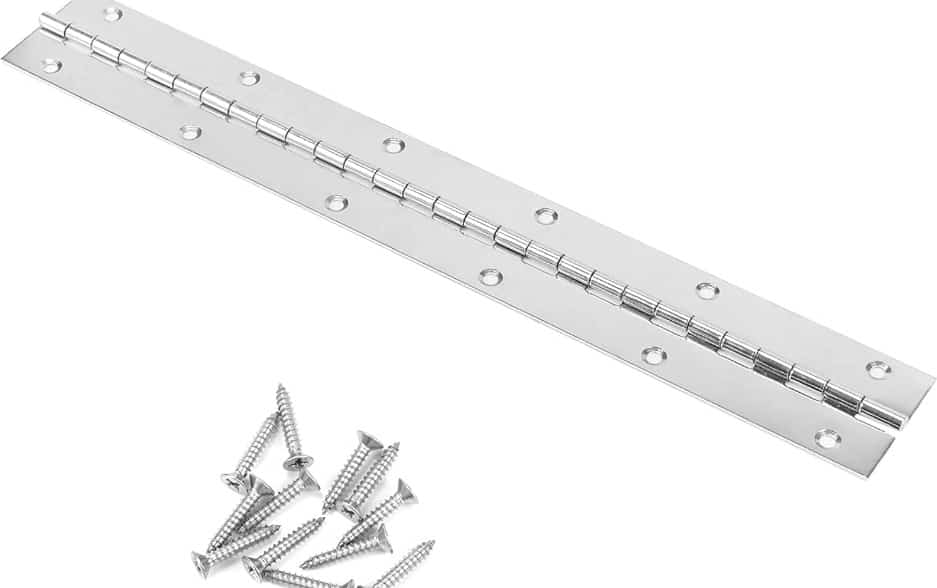 Image Source: Ubuy India
The piano hinge is also known as the continuous hinge. Commonly used for doors, pianos, toy boxes, and foldable desks this hinge runs across the length of the entire door. 
Strap Hinge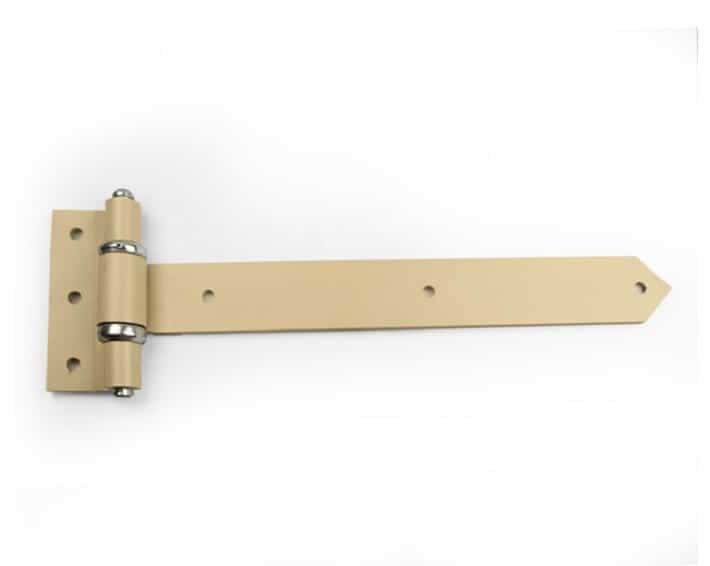 Image Source: Aarav Co
The strap hinge also called the gate hinge has long leaves and short barrels and should be used for outside gates, garages, and sheds. 
Air Hinge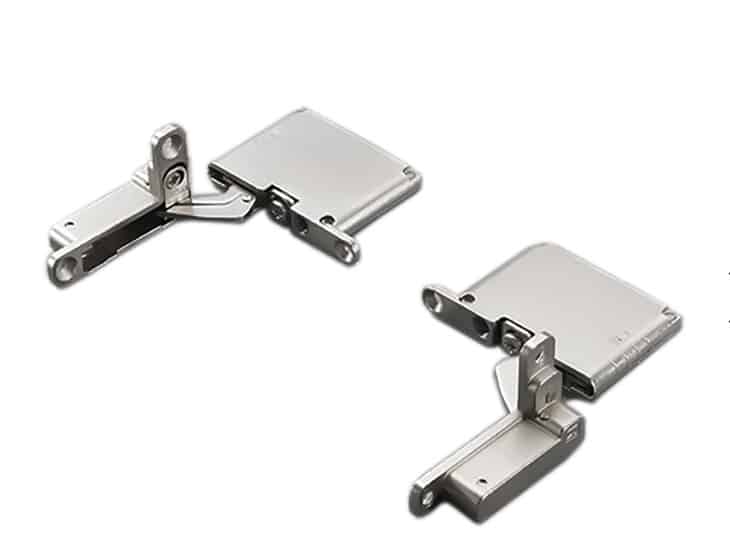 Image Source: Salice
Air hinges are innovative hinges that offer full functionality in spite of their small and compact size. These use the soft close mechanism and can also be adjusted in three directions. These unique hinges are used in modern interior design for handleless doors.
T Hinge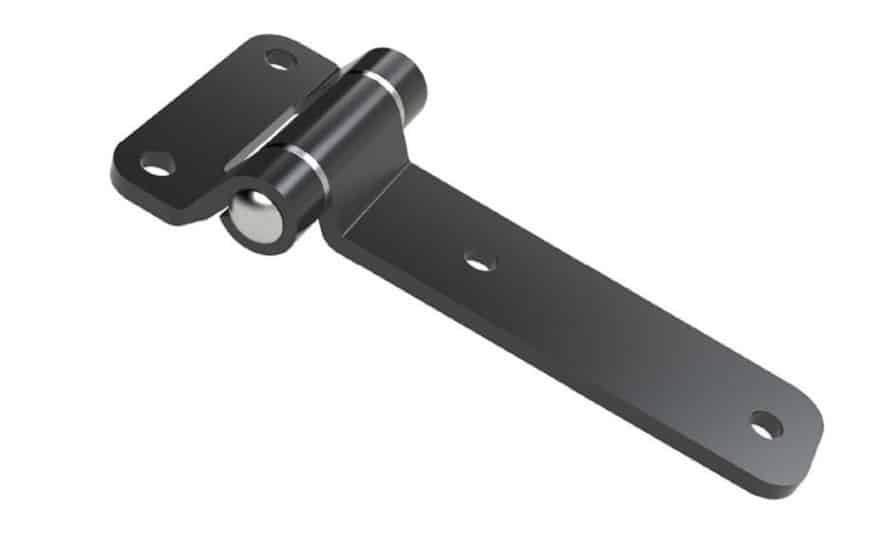 Image Source: WSD Components
A mix of a butt hinge and the strap hinge, the T hinge is generally used in narrow spaces like shed doors and tool chests. This hinge type goes well with rustic door designs. 
Flag Hinge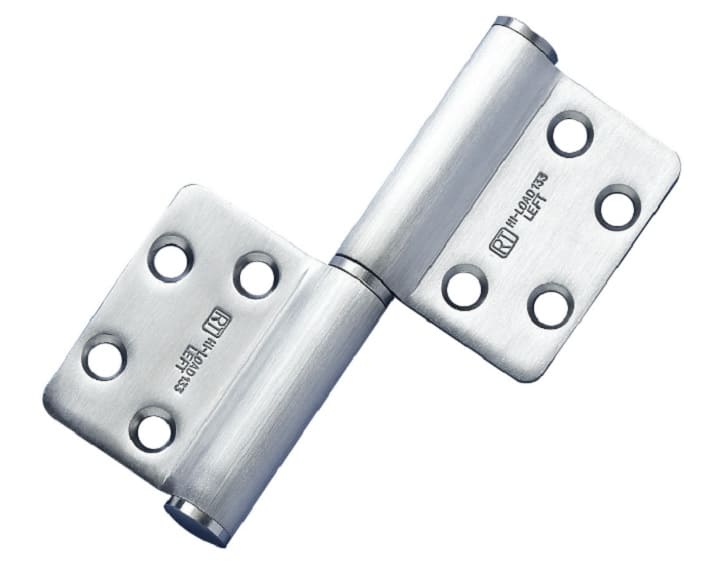 Image Source: Ratman
Used commonly for PVC doors the flag hinge consists of a fixed pin that is attached to the leaf. Additionally, this hinge type allows 360° rotation of the door.
Flush Hinge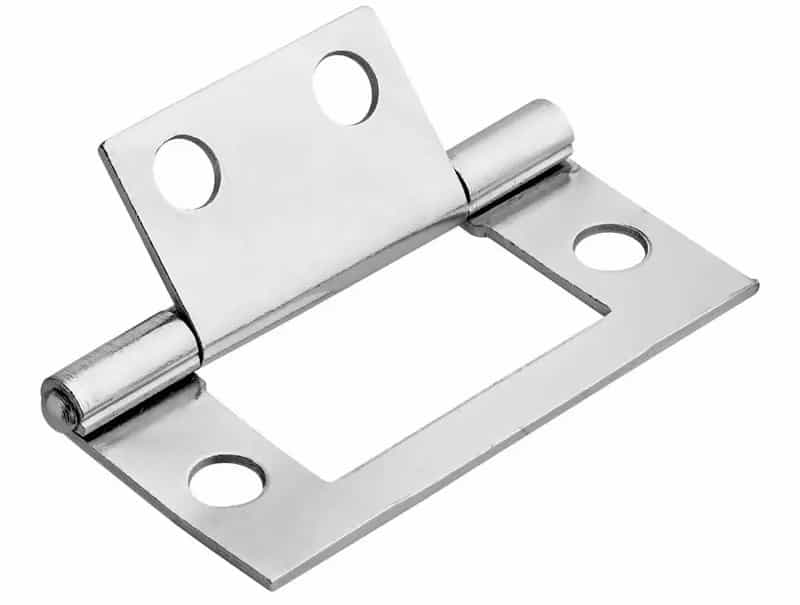 Image Source: Door Handle Store
Flush hinges are commonly used for doors in small rooms. These save space by compressing one leaf against the other when the door closes. Although they are durable, they cannot bear heavy loads.
Four Bar Hinge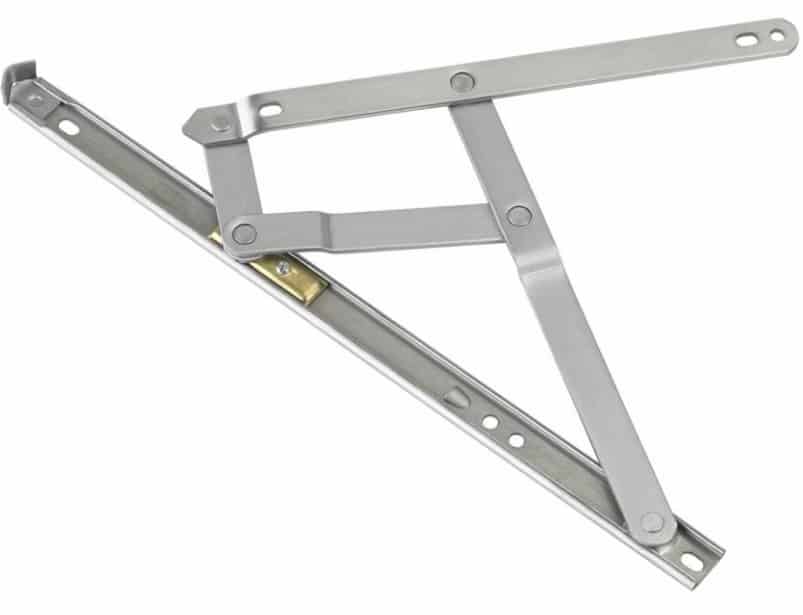 Image Source: Hardware Source
The four-bar hinge also known as the multi-bar hinge is made up of multiple bars that allow the attached part of the hinge to move outwards so that it can avoid hitting the door frame. These types of hinges are generally used for casement and parallel windows.
Olive Knuckle Hinge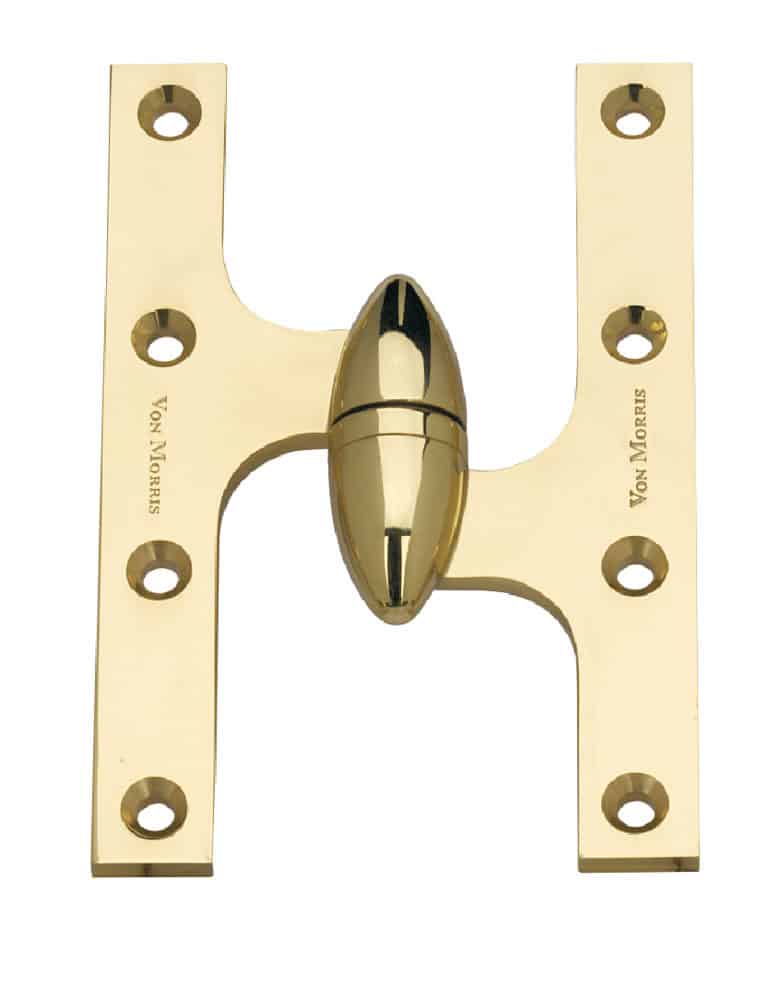 Image Source: Von Morris
The Olive Knuckle hinge forms an H shape when the door opens. This versatile hinge type is almost invisible when the door closes as only the knuckle can be seen. 
Frequently asked questions (FAQs)
What are the uses of hinges?
Different hinge types have different uses. For example, the ball-bearing butt hinge is used for heavy doors, while the screen doors should have a spring-loaded hinge. Similarly, the flush hinge is used for lightweight cabinet doors. Most restaurant doors need the pivot hinge as they help the door open on both sides.
What are the materials used to make hinges?
Door hinges are available in different materials. These materials include stainless steel, brass, and copper. Additionally, these can come in a variety of finishes like chrome plated, brushed, or polished. Rust-resistant ones are available for exterior doors. Ornamental hinges are also available to match the overall look of a room.
Which hinges are most suitable for kitchen cabinets?
Modular kitchens have the best quality hardware to increase their durability. To select the most suitable hinges for your kitchen cabinets you have to keep in mind the type of casing used in the doorframe. Also, keep in mind the weight of the cabinet door and the frequency of use. The concealed ones are a popular choice in kitchens as they are not visible when the cabinet door is closed.
Which are the best hinges for doors?
Ball-bearing butt hinges are the most commonly used type because of their durability and cost-effectiveness. The heavy-duty load-bearing capacity makes these the strongest hinge type. Lubricated bearings ensure the smooth functioning of doors.
The best brands for hinges in India (Enquire here)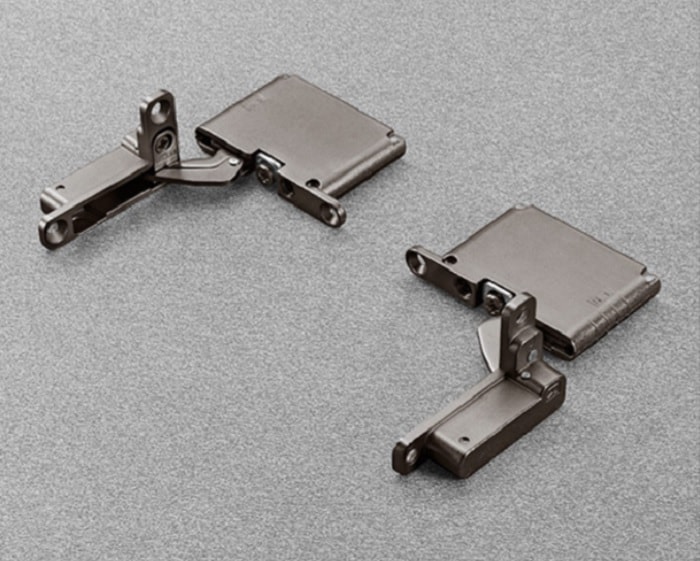 Dorset Master Soft Close hinges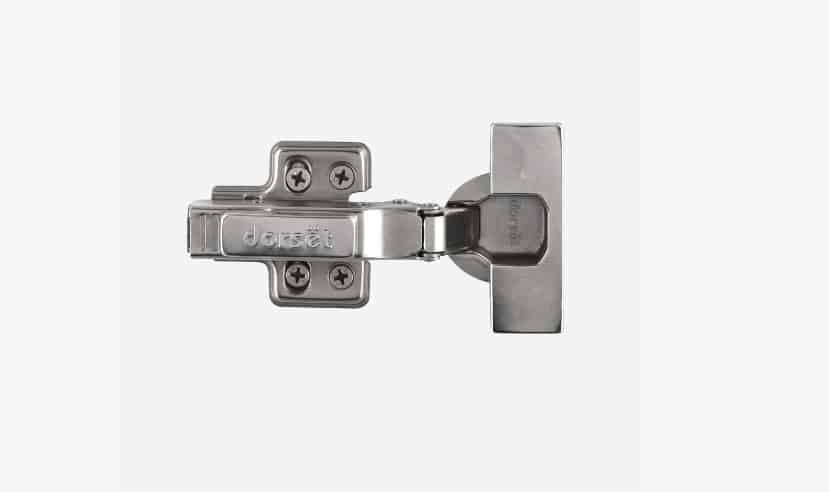 Magnum Ball-bearing Hinges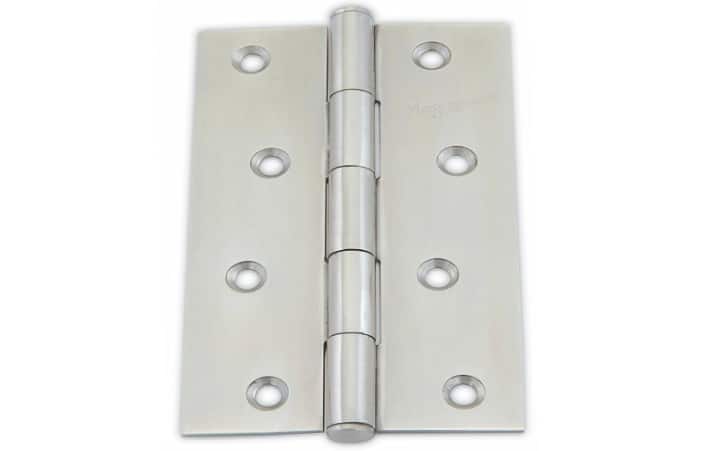 Sugatsune Adjustable 3-way Concealed Hinges
Blum Hinge Door Clip Top Blumotion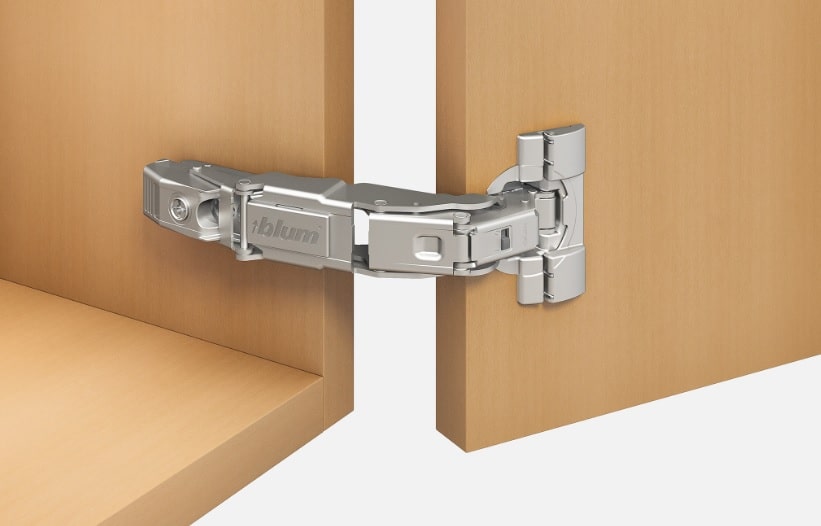 Hettich Ball Bearing Hinge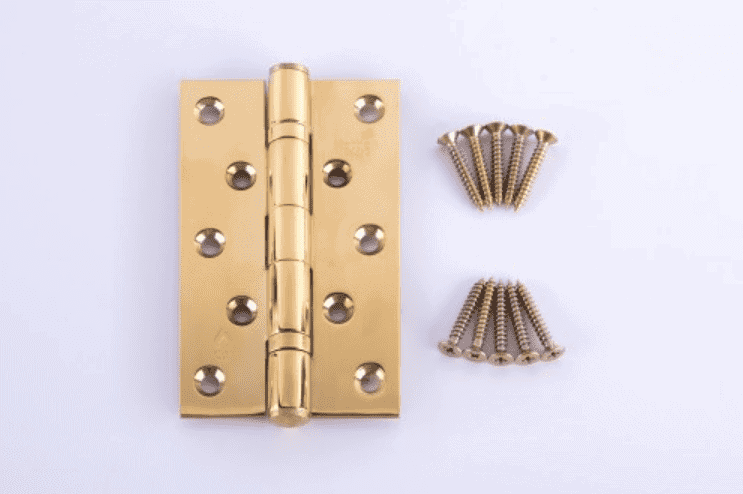 Godrej Cabinet Hinge Bi-Fold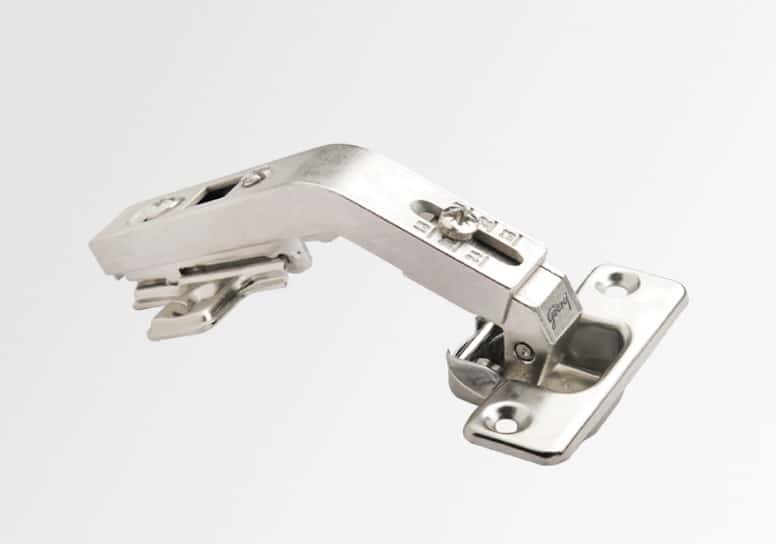 Ozone Triple Adjustable Concealed Hinge
Hafele Drill-in Hinge
If you want to buy top-quality hinges and hardware at wholesale price from the best brands, click here:
For more details, contact below:
Email: mukul.jain@buildingandinteriors.com
Mobile: +91 99676 32127
Conclusion
Door hinges are one of the most essential parts of the hardware fittings segment. Hinges are external joints that hold two elements of a door together and allow them to rotate at a fixed angle. They are generally made of various materials like stainless steel, copper, and brass among others. Additionally, these are available in different finishes as per the needs of the buyer like chrome, polished, or jet black.
The type you select will depend on your door design, space available, aesthetic value, and location. For example, you will need durable and weather-proof fittings for external doors, whereas you will require soft-close concealed hinges for your cabinet doors to complement the kitchen design.
Hopefully, our detailed guide will help you select the right hinges for your home. So, go ahead and buy from the best brands for your interior and exterior spaces.
*The featured image used in this article is from Blum
[vvsmustread]